Tagliata Scores in Harbor East
Dine here if you value impeccable service, fabulous food, and a glorious setting.
Before becoming a restaurateur, Alex Smith was a lax star who broke multiple National Collegiate Athletic Association records as a face-off specialist and captain of the University of Delaware Blue Hens lacrosse team. Now, as founder and president of Atlas Restaurant Group, the 33-year-old former Chesapeake Bayhawk has shown the same determination in tackling the culinary world. 
Clearly, Smith, who has a knack for opening instant hot spots faster than the speed of a lacrosse ball, has a keen understanding of how to compete successfully in the fierce world of running restaurants. In the past two years alone, he has opened Tagliata, The Elk Room, Loch Bar in Harbor East, and a second Ouzo Bay in Boca Raton; his Loch Bar Boca and a new project, The Bygone in Four Seasons Baltimore, are set to open any day now. With Tagliata, his latest venture in the 21202, Smith has demonstrated that he's come a long way since his freshman season when he opened his first spot, a Harbor East Häagen-Dazs franchise. 
New restaurants, like fine wine, typically need time to breathe and blossom. But the 140-plus seat Italian chophouse (pronounced "tal-e-ata"), open since August in the former Fleet Street Kitchen space, already feels like a local institution. Dine here if you value impeccable service (rarely the hallmark of any new spot), fabulous food, and a glorious setting, including a piano bar, nightly live music, and some of the best alfresco seating in town.
With linen, velvet, wicker, and wood touches, Tagliata, which means sliced meat in Italian, feels like a sophisticated supper club. And success has come straight out of its black wrought-iron gate because Smith has assembled an A-team of veterans: executive chef and partner Julian Marucci, managing partner David Goodman, and sommelier John Kelley all trained across the street at Cinghiale; chef de cuisine Michael Correll is a holdover from Fleet Street Kitchen. Smith's brother, Eric, is a partner and also on hand to help oversee the Atlas beverage program, including the 1,000-plus label wine program, purported to be the biggest in the state.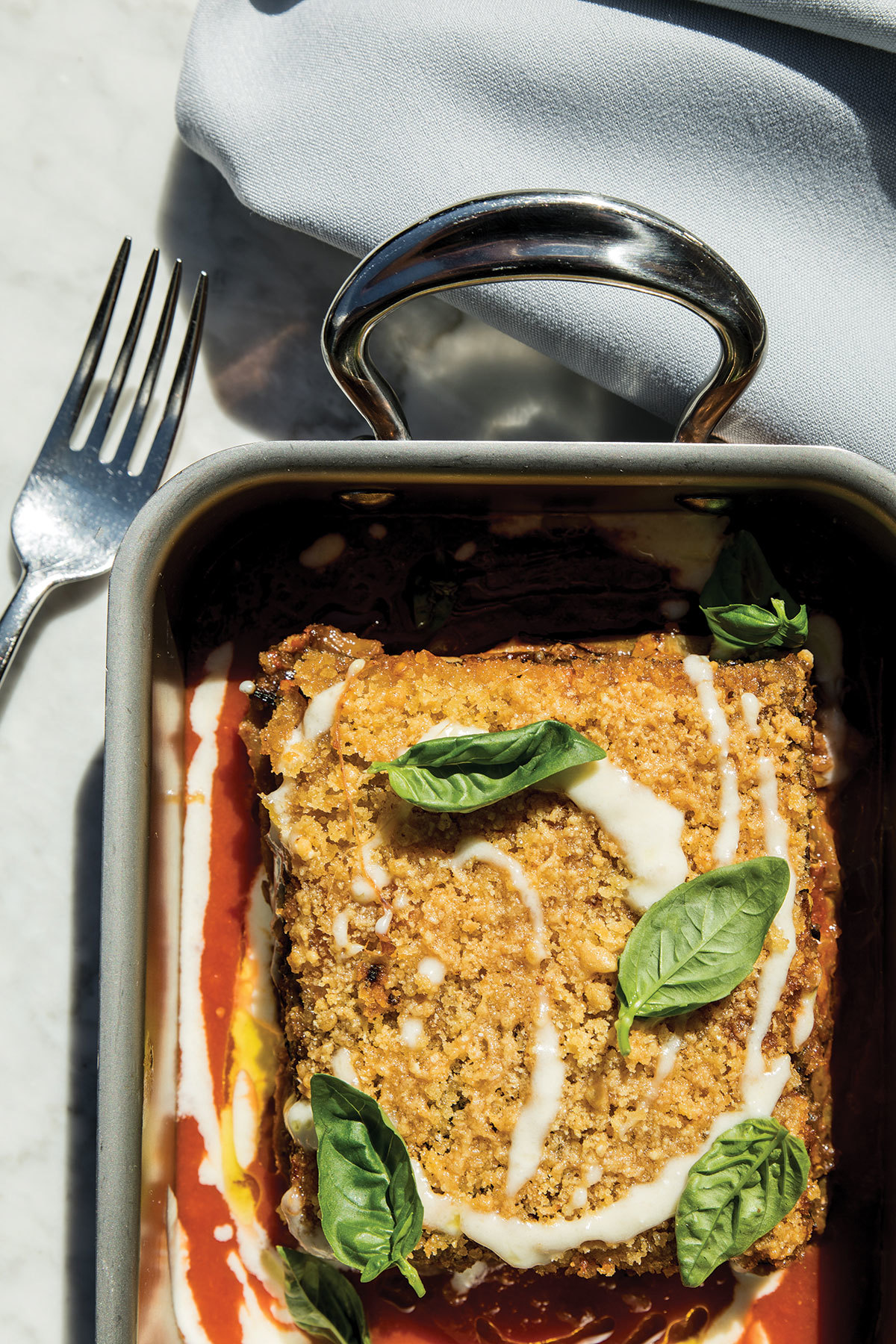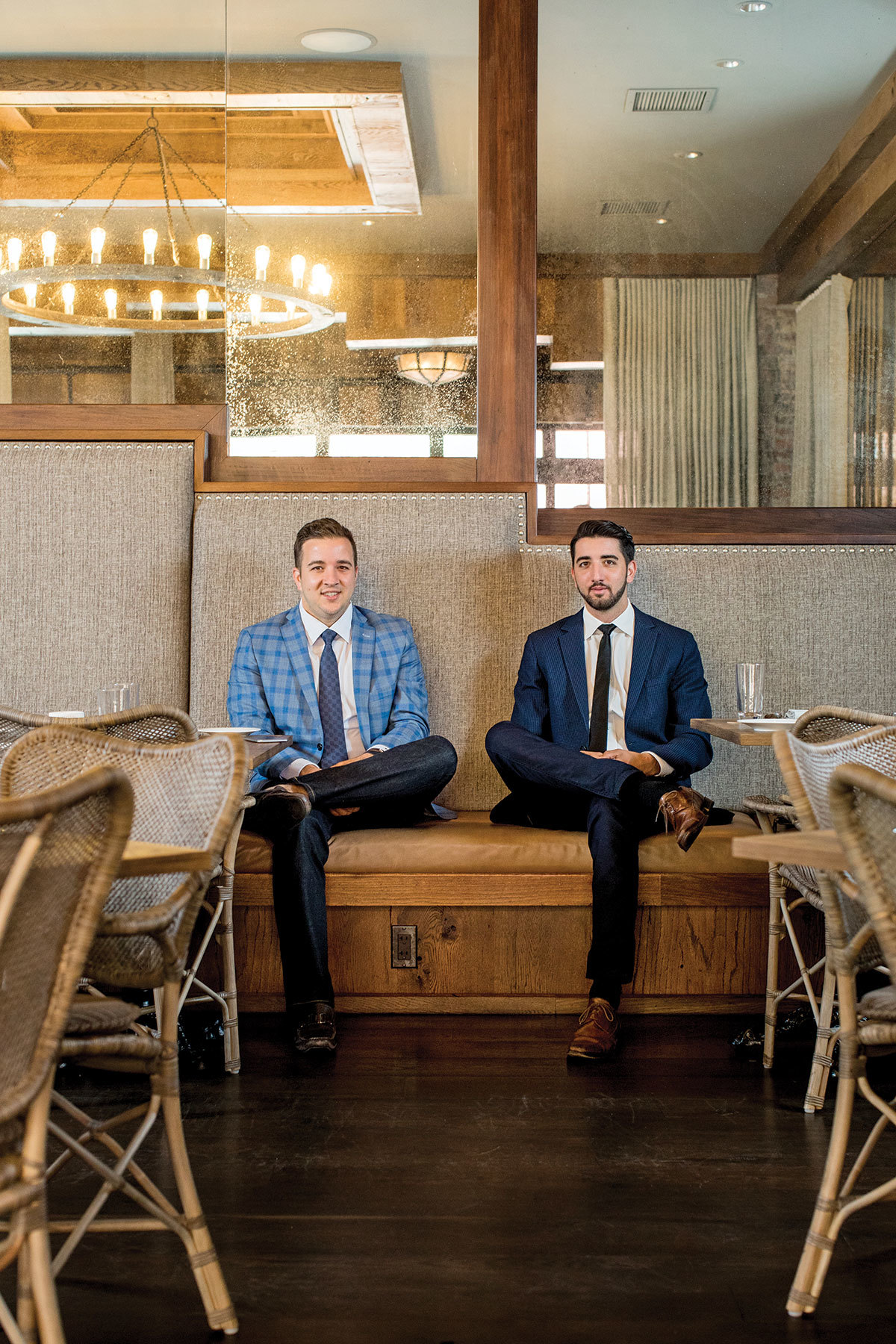 The eggplant Parmigiana, brothers Alex and Eric Smith.
The oversized menu features neo-Italian interpretations such as lasagna with rabbit ragu and bruschetta with duck confit, plus an assortment of house-made charcuteries, steaks and chops, house-made pastas, and crudi. Though they're hidden at the bottom of the menu, the holy trinity of Italian classics (chicken Parm, tagliatelle Bolognese, veal saltimbocca) are among the very best items to order. Across several visits, we sampled the better part of the menu, where Marucci's passion for precision is evident in almost every dish. The eggplant Parmigiana was pure comfort food nestled in a blanket of top-flight ingredients, including house-made mozzarella, a stellar tomato sauce, and a crispy crust of eggs, breadcrumbs, and Parmesan cheese still bubbling over the sides when it arrived at our table. While intended as an entrée, it's also great as a shareable appetizer.
Equally enjoyable was an appetizer of light-as-a-cloud meatballs accompanied by a dollop of whipped ricotta. A Caprese salad with mozzarella and just-off-the-vine heirloom tomatoes felt like a fitting farewell to the end of summer. As for entrees, the chicken marsala, featuring hen-of-the-woods, oyster and porcini mushrooms, aces every ingredient and is something to write home about, especially so when you use the Cunningham Farms focaccia to sop up the sauce.
House-made pastas are also memorable. First and foremost was a dish of ramp spaghetti and clams (cockles, manila and razor) that was beautifully briny and pungent, thanks to the garlicky flavor of the wild onions. Also of note is the visually striking squid ink campanelle with sea-urchin cream sauce and fat clumps of Eastern Shore crabmeat. This decadent dish, a study in umami, really is as good as it looks. If you want to continue your visit to the sea, move on to the seafood stew, studded with mussels, clams, rings of octopus, several shrimp, and a hunk of bronzino. This dish was inspired by Marucci's honeymoon trip to Ravello years ago and clearly comes from the heart. Additonally, options abound for the meat lover at the table. Ours ordered the beef tenderloin, a hand-cut filet that was melt-in-your-mouth divine and came with a choice of several sauces.
As with any dining experience, it's the little moments that matter, like the basket of aged Parm brought to the table at the top of the meal. (Feel no shame asking for more. On one visit, our mobile cheese monger made three trips to the table to shave shards from his 88-pound aged wheel.) Service hit all the high notes—from the well-versed staff able to explicate with clarity and confidence, to the changing of cutlery between courses, to a swift replacement round of napkins when one of my dining partners dropped his on the floor. With restaurant openings, as with many things in life, practice makes perfect. 
---

TAGLIATA 1012 Fleet St., 410-244-5830. HOURS Sun.-Thurs. 4-10 p.m., Fri. 4 p.m.-12 a.m., Sat. 6 p.m.-12 a.m. PRICES Soups/salads/crudi/appetizers: $9-24; pastas: $18-48; steaks/chops: $34-125; entrees: $19-48; desserts: $9. AMBIANCE Italian idyll.