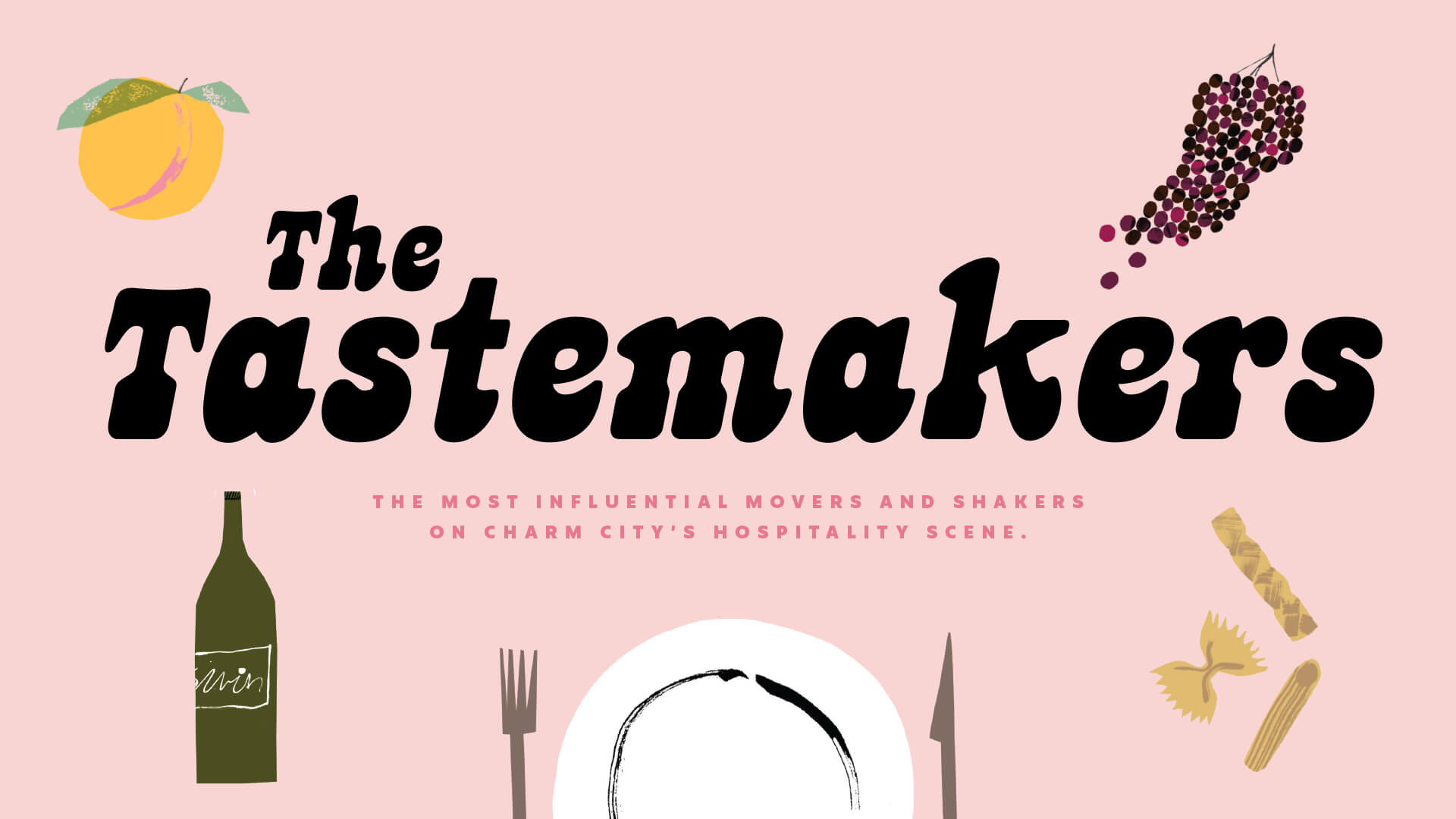 The Tastemakers
The Tastemakers: Movers and Shakers on Charm City's Hospitality Scene
Our salute to the restaurant and bar industry pros who've defined the culinary landscape, not only breaking the mold but blazing new trails to tantalize our tastebuds.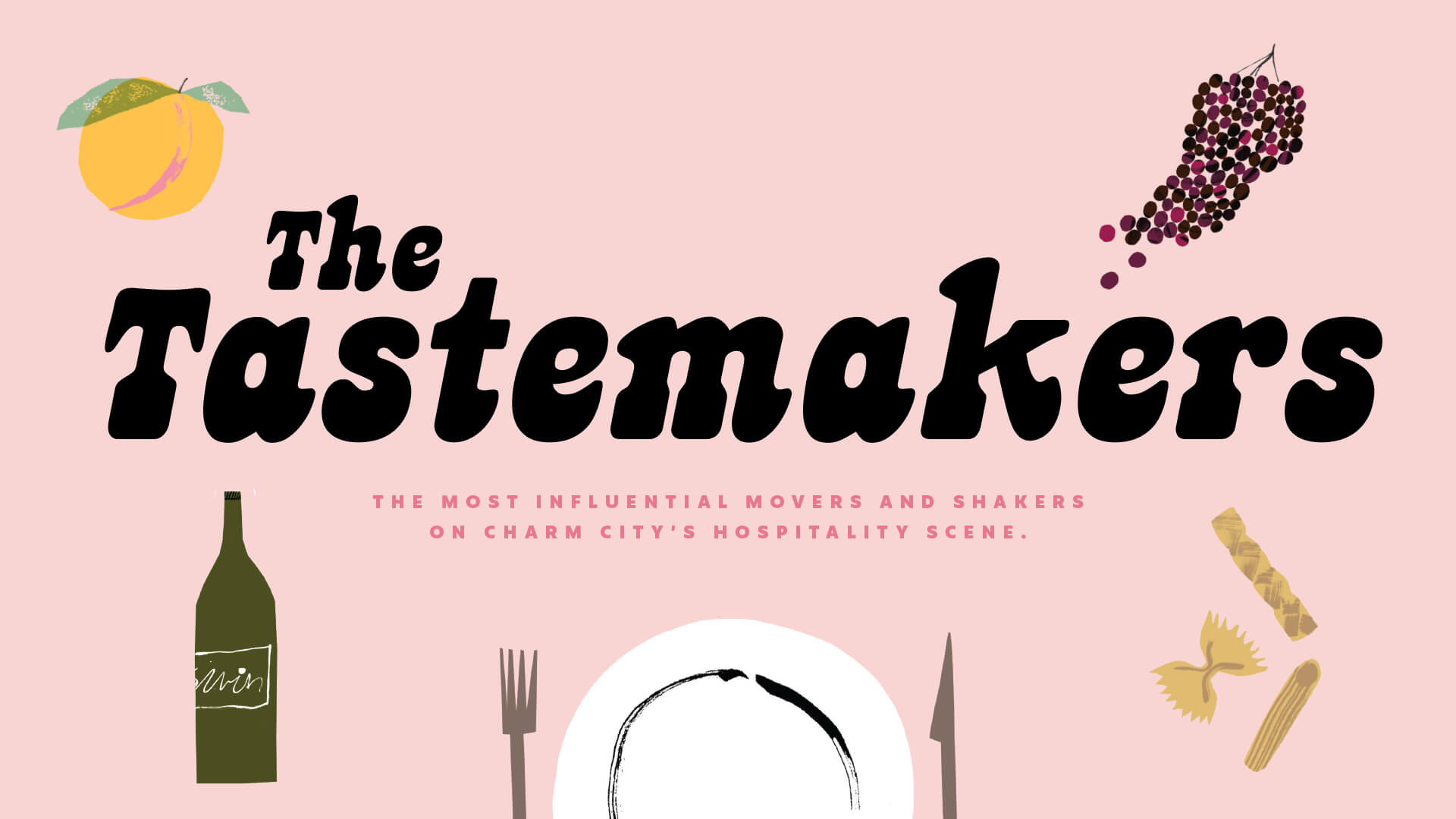 ---
By Jane Marion with Amy Scattergood
Every city has its tastemakers, the people who dictate the trends, set the standards, and stir up the scene. In this feature, we celebrate Baltimore's literal tastemakers: the restaurant and bar industry pros who've defined the culinary landscape, not only breaking the mold but blazing new trails to tantalize our tastebuds. They are the innovators, the movers, the cocktail shakers. They're the players who give us sustenance, who drive what we eat, how we eat—and even where, when, and why we eat. Simply put: Their craft—and leadership—has shaped our eating and drinking habits for the better.
Our town has its fair share of tastemakers—and while we highlight only a handful of them in this package, from living legends to hip newcomers, there are scores of others we'd like to acknowledge, too. So, let's take a moment to salute the local tastemakers who have taken us on a gastronomic globe-trot, providing new culinary experiences. Those include the Singh brothers of Peerce's and Ananda, who introduced us to the richly spiced flavors of Punjabi cuisine; the Lefenfeld brothers, who exposed us to Basque country cooking at La Cuchara; and Irena Stein and Mark Demshak, who have brought us Venezuelan fine dining at Alma Cocina Latina in Station North.
And let's praise those who have bolstered Baltimore beyond their own dining rooms. That's people like Aisha Pew and her partner, Cole, owners of Dovecote Café, who bring a community-first credo to their Reservoir Hill cafe, where the work of Black artists is always on display; Jesse Sandlin, who brought back the neighborhood restaurant with her elevated comfort-food fare at Sally O's, The Dive, and Bunny's; and Baltimore-born-and- raised John Shields, one of the first local chefs to sing the praises of our great state's foodways at Gertrude's Chesapeake Kitchen inside the Baltimore Museum of Art and now with his new nonprofit, Our Common Table. There's also Kimberly Johnson, who founded Philosophy Winery, the first Black women-owned winery in Maryland, and only the second one in the Mid-Atlantic, breaking the (wine) glass ceiling in an overwhelmingly white field.
We tip a toque to iconic husband-and-wife teams, too. There's master bakers Russell Trimmer and Maya Muñoz, reviving old artisan techniques in a region once known as "the breadbasket of the American Revolution," and turning out some of the best loaves around at Motzi Bread in Charles Village. And Karin and Bud Tiffany, whose Peter's Inn lives on as the last bastion of old school Charm City, with its loaded garlic bread and massive martinis at their rowhome restaurant in Fells Point. There's also Dylan and Irene Salmon of Dylan's Oyster Cellar in Hampden, who revitalized the oyster bar. And Qayum and Pat Karzai, who brought small plates to the city 20 years ago at Tapas Teatro in Station North.
Of course, it helps that our small, scrappy—and food-forward—city has an adventurous spirit. Anything goes here, making it easier to experiment and stand out than it might be in more attention-getting sister cities like D.C. and Philadelphia or culinary hubs like New York, Chicago, or L.A. Baltimore has always been a city that has forged its own path, with restaurateurs such as owner-chef Morris Martick, whose Mulberry Street restaurant, Martick's Restaurant Francais, was a haven for the LGBTQ+ community and, at the time, one of the few places to get bouillabaisse and pâté in Charm City; or Paris-trained Michael Gettier, who, in 1992, as executive chef at the Conservatory atop The Peabody Hotel in the Inner Harbor, helped give gravitas to Baltimore's food scene after being named one of the best hotel chefs in the U.S. by the James Beard Foundation. Donna Crivello (now the chef at Cosima) deserves a nod, too, for bringing sophistication to the coffee house scene with her roasted veggie sandwiches and Sicilian tuna on focaccia at her eponymous Donna's cafes.
That same spirit of invention has inspired this current crop of hospitality veterans, many of whom are making waves beyond Baltimore, reminding everyone that Charm City is the coolest and most creative city in America. In a proud hometown moment, in 2020, Saveur dubbed Lane Harlan (of Clavel, W.C. Harlan, Fadensonnen, and The Coral Wig) "the most interesting woman in the restaurant business." Meanwhile, Ekiben's Steve Chu and Ephrem Abebe have not only wowed us with their fusion bao buns but shown that a random act of kindness shines a positive light on our entire tight-knit culinary community.
To the tastemakers in this story and all those currently striving to make their mark, we salute you—not only for keeping us well-fed, but for paving a pivotal path sure to inspire others.