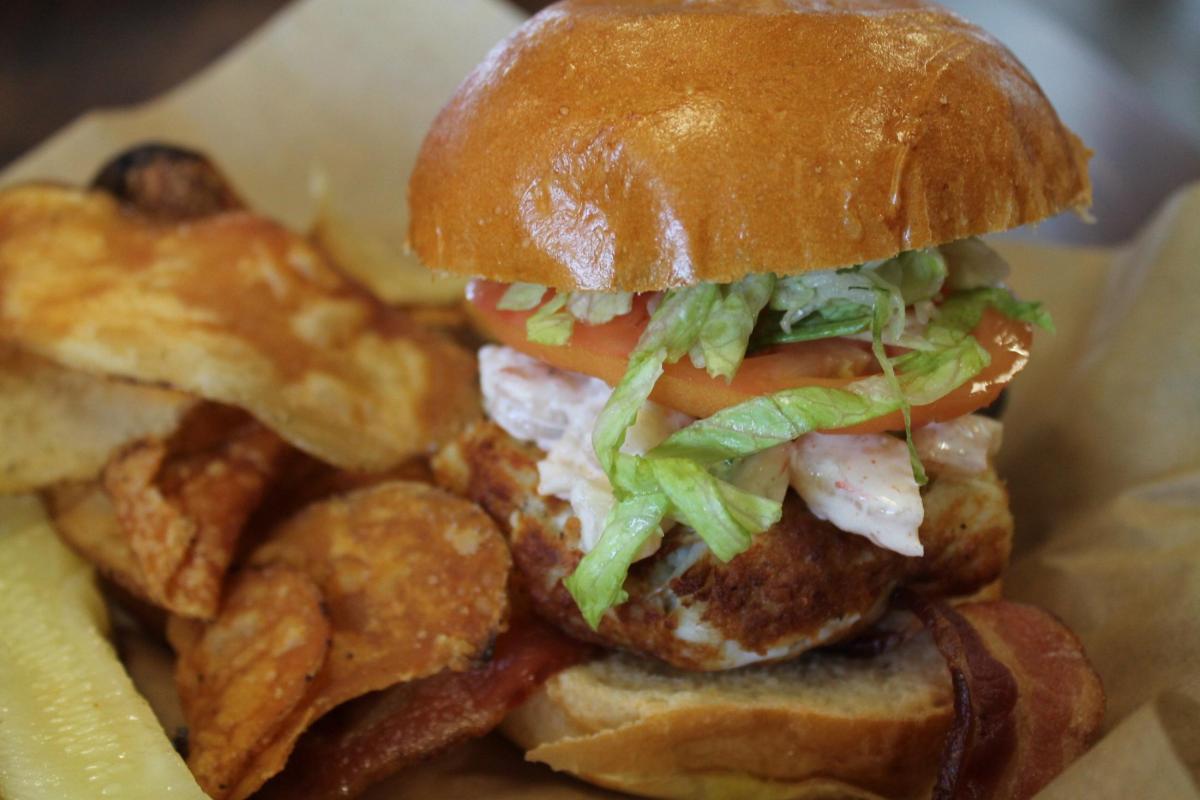 The Baltimore Club at Obrycki's. —Obrycki's via Twitter
After a year of travel restrictions due to COVID-19, it's time to take a summer vacation. But you can't jet-set away without hearty food to sustain you throughout your journey, and Baltimore Washington Thurgood-Marshall International Airport (BWI) plays host to numerous food and drink options—whether you're in the mood for a locally brewed IPA, a Baltimore-inspired sushi roll, or a simple burger.
Whether you're in need of a quick bite or searching for a spot to kill time during a layover, we've broken down our picks for the top spots to hit while passing through BWI this summer.
Burger Joints
BGR
Tapas and sushi are all well and good, but nothing satisfies hunger quite like a hearty burger. This homegrown chain—with locations scattered everywhere from Columbia to Annapolis—keeps it simple, layering juicy patties with customizable toppings including sautéed mushrooms, grilled pineapple, fried eggs, and applewood-smoked bacon. You can't go wrong pairing your burger with an order of garlic fries, and adding a classic chocolate, vanilla, or strawberry shake for good measure. Where to find it: The purple storefront is in Concourse B after security. 410-859-1900
Silver Diner
Complete with jukeboxes, neon lighting, tiled floors, and comfy booth seating, this old-school standby is an ideal choice for fueling up for a flight. Make your way up to the counter to order a breakfast platter, triple-decker sandwich, or a round of all-American sliders. While the menu lists plenty of classics, the Rockville-based restaurant has also kept up with the times with organic bison and veggie burgers, as well as colorful salads and a selection of vegan entrees. Where to find it: You can't miss the striking silver exterior, located just off of the main terminal in the food court in Concourse B. 410-694-0990
Local Comforts
Miss Shirley's 
What began as a 42-seat breakfast-and-lunch spot in Roland Park has now become a fan-favorite cafe chain with locations all over town, including a new outpost at BWI. If you're looking for Southern cuisine with a touch of Maryland flair, check out specialities such as fried green tomatoes, shrimp and grits, and coconut-cream stuffed French toast. Where to find it: Look for the orange-and-black oven mitt logo in Concourse A.
Nalley Fresh
If you're looking for something light to hold you over before you fly, this homegrown cafe has you covered. Choose from a menu of salads, bowls, and wraps, or customize your own with different proteins an array of 80 colorful veggies and toppings. Where to find it: Look out for the green-and-white signage at the food court in Concourse A after security.
Craft Beer Concepts
DuClaw Brewing Co.
Though this veteran Baltimore brewery decided to downsize its restaurant footprint a few years back, its BWI brewpub is still going strong—serving grub like wings, burgers, nachos, flatbreads, and crab pretzels. Enjoy all of the eats while sipping DuClaw favorites including the Sweet Baby Jesus peanut butter porter, Hellrazer IPA, and Misfit Red amber ale. Where to find it: Spot the massive illuminated DuClaw logo overhead while strolling toward Concourse B. 410-845-4846
Flying Dog Tap House
Speaking of pioneering local breweries, this Frederick favorite debuted its first restaurant inside of the airport in 2017. In partnership with Monkton-based Roseda Farm beef, the restaurant will feature Flying Dog releases on tap (think Raging Bitch IPA, Numero Uno Agave Cerveza, Bloodline Blood Orange ale, and the like), as well as dishes that fuse both brands. Be on the lookout for options like a beef hot dog with Doggie Style Pale Ale beer cheese, and sliders with garlic aioli made with Snake Dog IPA. Where to find it: The new wood-stained storefront sits just past the food court in Concourse A.
International Eats
The Firkin & Flyer
Thanks to this funky spot, passengers traveling to Europe can experience their destination before even leaving the airport. The British pub highlights authentic eats like fish and chips, beef and stout stew, and bangers and mash, along with plenty of American options including burgers and wraps. The beer lineup is equally expansive, highlighting everything from local brews to traditional British ales. Where to find it: Keep an eye out for the Union Jack flags just off of the main terminal in the Concourse B/C connector. 410-582-8308
Zona Cocina
Start things off with a strong margarita and an order of chips and salsa at this Latin American-inspired cantina. Aside from a list of colorful cocktails, the restaurant offers Southwest salads, burritos, sizzling fajitas, and fish tacos. Where to find it: Zona is stationed directly next to Silver Diner on Concourse B. 410-850-4846
Pizza Palaces
Tony + Benny's Pizza
Get a little taste of Brooklyn by way of BWI at this old-school Italian concept. Inspired by Old World recipes, the menu lists signature slices, stromboli, salads, and pastas, as well as its own case of grab-and-go items if you're in a hurry. Where to find it: The quick-service spot, which debuted earlier this year, sits in Concourse A just past the Gachi Sushi kiosk and Potbelly Sandwich Shop. 410-553-4346
Seafood Spots
Gachi Sushi
Snag a stool at this trendy sushi bar to watch chefs prepare pretty plates ranging from salads and shumai to tuna carpaccio and steamed mussels. Alongside classics like California and Philadelphia rolls, the menu lists its own odes to Charm City—including the Orioles Roll (shrimp, avocado, creamy crab meat, caviar, and eel sauce) and the Chesapeake Roll topped with Maryland crab dip. Where to find it: Gachi operates a bar in Concourse A, and has its own grab-and-go kiosk with packaged rolls in Concourse B. 410-859-4285
Obrycki's
Nothing says Bawlmer like this 73-year-old crab cake institution. Though Obrycki's eventually outgrew its Fells Point flagship, the legacy lives on at BWI. The sit-down spot features classics including shrimp salad sandwiches, Old Bay wings, and, of course, jumbo-lump crab cakes. If you're in need of a pick-me-up, swing by the bar to down drafts, or enjoy signature cocktails like a rye old-fashioned and citrus cosmopolitan. Where to find it: Obrycki's Restaurant sits between gates seven and nine in Concourse B.  410-859-5723
R&R Seafood
In 2017, the Obrycki's team also unveiled this sister-spot featuring sustainable seafood and local raw bar offerings. It is yet another spot to get your hands on the family's famous crab cakes, but the new bar also highlights fresh-shucked oysters, little neck clams, and steamed-seasoned shrimp. Where to find it: The seafood bar can be found in Concourse D/E connector next to Starbucks and Concourse A between gates A12 and A13. 443-883-3752
Wine Bars
Brix & Vine
Whether you're waiting out a layover, or experiencing the dreaded delay, this new bar has you covered with an international wine list and expert servers to guide you through the sampling process. Sip selections from regions as far as South Africa and New Zealand while snacking on salads, steaks, and specialty sandwiches. Where to find it: Head to Concourse D after going through security to find the brick façade adorned with plenty of decorative wine bottles. 410-834-7256
Vino Volo
Wheel your carry-on into this sleek fine-dining den, which offers a lengthy selection of worldly wines by the glass, flight, or bottle. The bar pairs all of the vino with sophisticated snacks including charcuterie platters, burrata, smoked salmon crostini, beet salads, and lamb meatballs. Where to find it: Curve around the food court in Concourse A to snag a window seat with views overlooking the runway. 410-691-2215
Additional reporting by Emily Williams