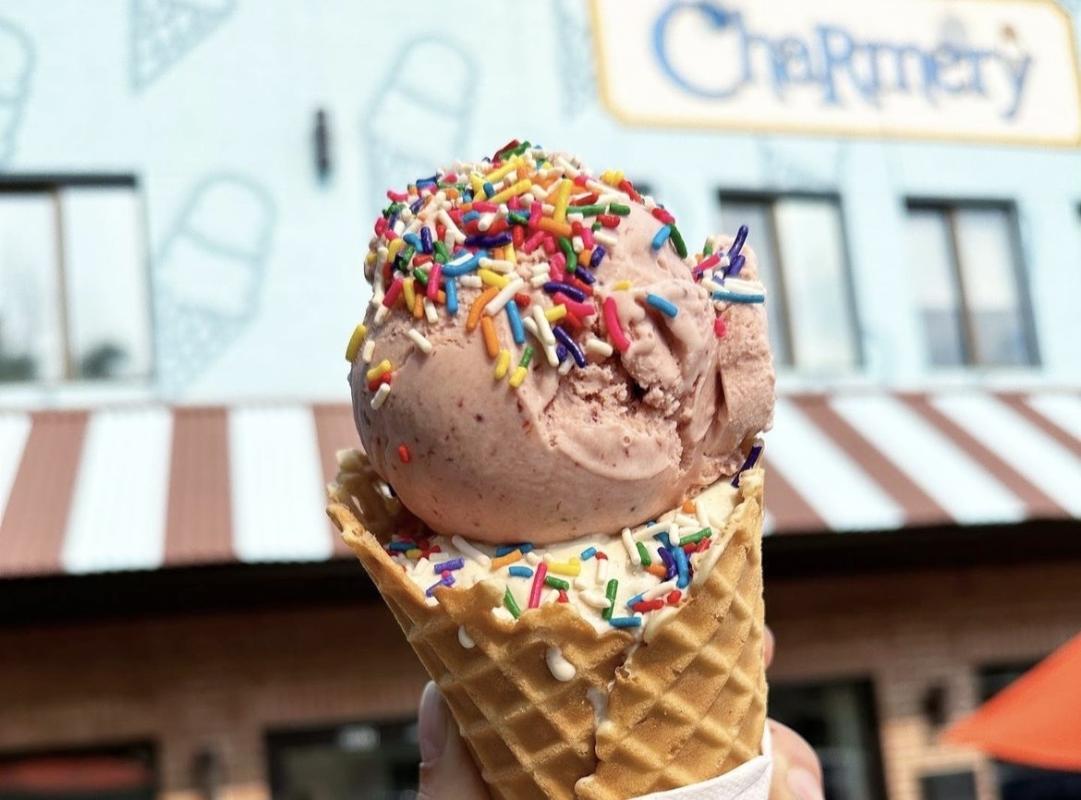 —Courtesy of The Charmery via Instagram
A lot has changed since David and Laura Alima peeled back the butcher paper on the windows to unveil their Hampden ice cream shop, The Charmery, at 801 W. 36th St. on July 20, 2013. 
For starters, the Avenue flagship now has four sister locations: a shop and production facility at Union Collective in Medfield, as well as stores in Towson, Columbia, and Chevy Chase. Another, slated to open at The Parks at Walter Reed in Washington, D.C. proper, is also on its way.
"What I really love is that The Charmerys are kind of following the story of Laura and I," David points out. "I grew up in Baltimore, she grew up in Columbia, we spent five years together in Washington, D.C. So it feels like part of us—like we're continuing the loop of our story." 
Additionally, the initial team of 15 has now grown to 150 staffers, including front-of-house scoopers, ice cream makers, delivery drivers, and store managers. 
Naturally, as The Charmery has expanded, the owners' roles have shifted to managing the logistics of the business. But every now and then they catch a glimpse of what it was like in the early days, when Laura was overseeing operations at the counter and David was experimenting with the shop's famous flavors in the back. 
"There was a brief time earlier this year when we were a little short staffed and I got to make ice cream for like three weeks straight," David says, "and, oh my goodness, it was so joyful." Adds Laura: "One of my favorite places is being at the register. People already have their ice cream and you get to give them their Big Dipper [rewards] card. It's that time where you have that last moment to talk."
But as much as things have changed—and despite each location having developed its own individual identity—the heart of the business remains committed to its mission of spreading "happiness through ice cream." 
That's that exact energy that the owners are bringing to The Charmery's big 10-year anniversary bash on Saturday, August 5. Fusing David and Laura's collective love of art and music, the parties at all locations will pay homage to musicians that hail from throughout the DMV. 
Live performances on deck include a show by local funk, rock, soul, and jazz band Lowland Tropics at Union Collective at 7 p.m.; an all-ages dance party with DJ Darian Granger at the Columbia location from 10 a.m. to 12 p.m.; and a soulful set by Baltimore's own singer-songwriter Caleb Stine in the courtyard of St. Luke's across from The Charmery on the Avenue at 12:30 p.m. Stine's performance will be a particularly full-circle moment, as he helped to paint and fix up the flagship in advance of its debut. "He's been a part of our village since the beginning," Laura says. 
Of course, there will also be specials and signature flavors that fit the theme, including the Toni Braxton-inspired "Un-Cake My Heart" (chocolate cheesecake ice cream with anniversary cake bits), Frank Zappa-influenced "Peaches En Regalia" (peach ice cream with peach jam swirl), and "We Got That P.M.A."—a vegan peanut butter, matcha, and apple coconut ice cream created to honor D.C. punk band Bad Brains. 
As regulars know, The Charmery's imaginative, experimental flavors (everything from the fan-favorite "Ice Cream Sando" and "Saturday Morning Cartoons" to "Butter Popcorn Pecan" and "Mezcal-Lime Strawberry") are perhaps what the shop has become best known for throughout the years. Many of them have been the result of countless collaborations with other creatives, special events (Ice Cream for Breakfast and the Kiddie Scoop Ball Drop on New Year's Eve have become annual favorites), or community fundraisers for organizations in need. 
In advance of the big birthday party, we asked David and Laura to narrow down the top 10 favorite flavors and synergetic scoops (in no particular order) that they've cooked up for the community throughout the past 10 years. Here's what they came up with: 
David's Top Five Collaborations
Flavor Drops with Dan Deacon and TT The Artist
Our own electronic music genius Dan Deacon and renowned rapper TT the Artist (Tedra Wilson) joined forces with the Alimas to dream up flavors inspired by their music in 2015 and 2016, respectively. Not only did they both lend their creativity to the process (Deacon's flavors included a "Drunken Blueberry" and "Ultimate Peanut Butter," while Wilson's flavors included "Art Party," a yellow cake base with Chessman cookie bits), but they also hopped behind the counter to help serve. "Many of our customers didn't know who TT was, so they'd ask her a question and she'd be like, 'Nope, you take 'em,'" David remembers with a laugh. "The fact that these people who were legends in my eyes were at our shop scooping ice cream was such a beautiful thing."
Marc Summers' Signature Scoop
In honor of The Charmery's game show-themed birthday festivities in 2017, the shop teamed up with the Double Dare and Unwrapped host to combine two of his favorite treats—peaches and dark chocolate—into one special scoop whose proceeds benefited pediatric cancer foundation Alex's Lemonade Stand. "He actually came to the store to try it and said, 'You guys make some of the best ice cream I've ever had,'" David says. "To get that kind of validation was really special."
Milk and Honey: A Tribute to Dennis Brown
Paying homage to David's love of reggae music—and his days working as a publicist for reggae bands on the West Coast—this caramelized honey ice cream with honeycomb candy mix-ins was created to pay tribute to late reggae prince Dennis Brown on his birthday in 2021. "This one combined everything I love," David says. He sought feedback from reggae expert Harrison Stafford—leader of international reggae band, Groundation—who was able to come to The Charmery to celebrate the release and give a portion of its proceeds back to working musicians in Jamaica. 
The Extraordinary Educator: Ms. McCoy's 27 Sprinkles
As a way to give thanks to all of the teachers who went above and beyond the call of duty in the wake of the pandemic, David and Laura—parents of two—put out a call on social media for customers to nominate their favorite local educators. "We got thousands of responses," David says of the March 2021 contest. "It was so moving." They were able to send pints and pies to the top 20 teachers, and the winner, Ms. Nyasha McCoy of Roland Park Elementary/Middle School, was honored with her own flavor. Named after her 27 students (and in honor of her 27th birthday), "Ms. McCoy's 27 Sprinkles" combined a cinnamon yellow cake base with chocolate chips and sprinkles, with a percentage of sales being donated back to the school. 
Devin Allen's Cookies N' Cream
As a fundraiser for local youth nonprofit The Nolita Project in November 2022, this joint flavor with Baltimore photographer Devin Allen—who focuses much of his work on putting cameras in the hands of young people—fused Golden Oreos and black-and-white cookies (a nod to his iconic black-and-white images that have been featured by the likes of Time magazine, The New York Times, and The Washington Post.) "Baltimore needs to shine the brightest spotlight on Devin Allen," David says. "To be able to work with someone like that was really inspirational."
Laura's Top Five Flavors
Maryland Mud
A Charmery constant, the chocolate base with Oreos and chocolate chips is "our most popular flavor by far," Laura says. After living in Washington, D.C., the couple spent five years in Northern California, where they frequented a shop called Screamin' Mimis in Sebastopol. "'Mimi's Mud' was one of those hyper-chocolate flavors you just had to get," Laura says. "In thinking about flavors for The Charmery, that was definitely the inspiration."
Pistachio Toffee
Another OG that comes back on the rotating roster from time to time, this flavor had a special taste tester: David's father, Shlomo. Before they first opened, David had his dad—a lifelong pistachio lover—sample the pistachio base. His feedback was that it needed a little crunch. Enter: toffee. "It speaks to David's commitment to amazing ice cream," Laura says. "When people tell us this is their favorite flavor, we automatically attribute them as an old soul." 
Mango with Sticky Rice
"We joke that this is David's white whale of an ice cream flavor," Laura says. The aromatic mango base with sticky rice pieces calls back to a garage that David and Laura stumbled upon while traveling in Vietnam. It sold "the most amazing" ice cream popsicles, in flavors like mango and coconut, out of a chest freezer. "We went there every day," Laura says. Although this one hasn't showed up on the menu in a while, David says he's committed to bringing it back. 
Cheese and Crackers
The blend of Ritz cracker dust and sharp cheddar cheese has sparked a lot of curiosity throughout the years, and, according to the owners, it's easily the flavor that people request to come back the most. (Their close friend, Clavel chef and co-owner Carlos Raba, raved about it to us in 2018.) "I think that's the mark of a true Charmery flavor, when people want to taste it and then end up ordering a scoop," Laura says. Adds David: "We always want to do things that are fun and different without taking the ice cream too seriously."
Whole Bean Coffee
To Laura, this one is the definition of a labor of love. "David is so methodically creative with the flavors," she says. "He tried so many different ways of infusing coffee, and the result is an off-white ice cream that tastes like a latte with a beautifully delicate coffee flavor." David is quick to credit Jay Caragay of Hampden's former Spro Coffee, who helped him figure out how to prioritize the pure coffee flavor in a heavy cream base. The owners agree that their "Whole Bean Coffee" speaks to their community spirit. (They currently source their coffee beans from Vent Coffee Roasters, located just across the hallway at Union Collective.) "We're so lucky to be surrounded by a community of makers who are constantly inspiring us," David says.