Lord of the Land
The French Kitchen takes hotel dining to a new level.
We refused to be deterred by the dismantled lobby obviously going through a makeover. Persevering to the right and heading up a short flight of stairs, we soon entered a two-story-high dining room that left us gasping at its opulence. With its dreamy cornflower-blue walls, gilded trim, chandeliers dripping crystals, tropical palm plumage, and elegant candelabra-topped tables, we felt like we'd stepped into Versailles. The luxe space is decidedly anachronistic amid today's no-nonsense industrial, brick-walled eating spaces. But the fancy décor works at The French Kitchen at Lord Baltimore Hotel. The dining room is inside the stately hotel, which opened in 1928 and was the largest hotel in Maryland at one time. Myriad years and owners later, the French renaissance landmark is once again reliving its glory days with a massive renovation from top to bottom. The French Kitchen is one of its centerpieces.
It even impressed its executive chef, Jordan Miller, who opened The Chesapeake in the Station North Arts and Entertainment District last year and has cooked at restaurants across the nation. "When I was looking for a new place to land, the dining room was a selling point for me," he says. "It's a pleasure to work here."
The restaurant isn't just about appearances. The thoughtful menu, with a dozen entrees, reflects the culture of its location with classical and updated French fare. You'll find bistro staples like a croque-madame sandwich (that's the one with the fried egg), an omelet, and a quiche of the day, as well as heartier plates like steak frites, duck, and fish (monkfish, the night we visited).
Miller creates deconstructed-style dishes that are layered, shaped, and stacked into artistic wonders. While the boeuf bourguignon may not be Julia Child's excellent stew-like version, Miller's showcases a succulent short rib atop a pool of rich burgundy sauce surrounded by colorful root vegetables as pretty as a Cézanne still life.
"I'm taking classic preparations and flavors and then cleaning them up a bit," Miller says. "We're also doing old school like coq au vin and pot-au-feu."
But before we got to our main meals, an aromatic bread basket with house-made baguette slices and boules (there's a baker and pastry chef in the kitchen) was delivered to our table with condiments like in-house cured olives and a tangy orange marmalade—a welcome rustic offering in the cavernous room dotted with banquettes, bare wood tables, and plush seating.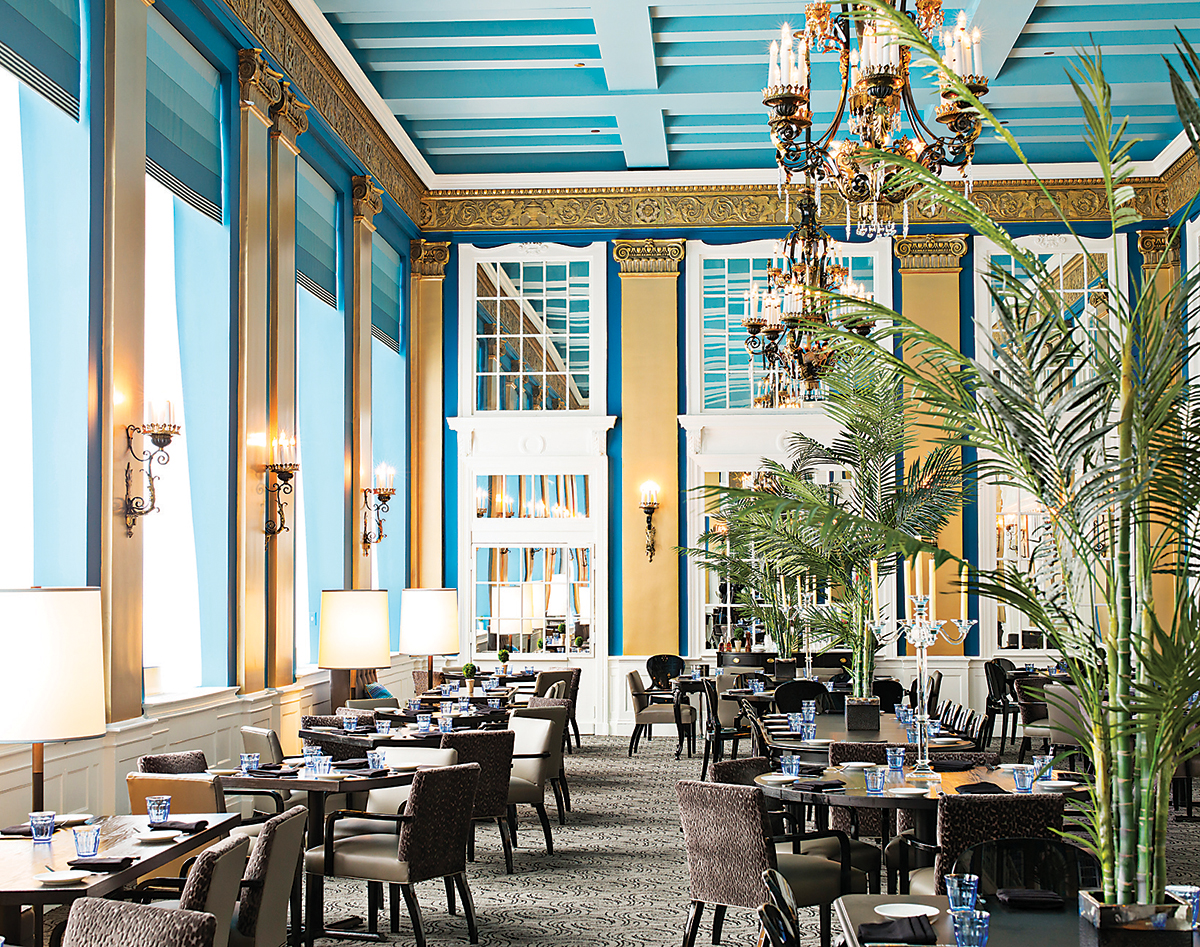 Even though our waitress was new to the restaurant that very
night—struggling to remember specials and having to go to the kitchen to
talk to the chef—we were well cared for. It undoubtedly helped that we
were the only patrons in the dining room until the end of our dinner
when a few stragglers arrived. Given the deliciousness of our meal, we
hope more people will be attracted to the restaurant's charms. Hotel
management even offers discounted valet parking to entice guests.
For
starters, we sampled a traditional onion soup that had depth and scored
points for cleverness. The Comté cheese was melted on top of a toasted
baguette slice to avoid the annoying strings of cheese that often make
eating the broth a challenge. We also enjoyed a stunningly beautiful
beet salad featuring several preparations, including roasted, pickled,
puréed, and raw with pecans and fresh cheese.
We really liked
the salmon appetizer, too. The fish was cured with fennel and dressed
with dill, crème fraîche, potatoes, and an everything-bagel tuile, all
assembled in a carefully composed tableau.
There is also
charcuterie and beef tartare to kick off your meal and salads like
roasted vegetable, frisée with bacon, and a niçoise with tuna, olives,
egg, tomato, and beans.
Our lamb entree was another
picture-perfect dish. The medium-rare chops were adorned with carrots,
rutabaga, and greens. And shades of molecular gastronomy. Was that foam
on the plate? Very avant-garde for Baltimore. Our scallops were fat,
glazed spheres dressed with frisée, potatoes, beets, and apples in a
successful combination.
The wines, as you might expect, are
French—from a lovely Domaine de Orgnes Côtes du Rhône to a crisp Mont
Gravet Côtes de Gascogne Blanc—with bottles priced from $20-76 and by
the glass from $7-12.
We wrapped up our meal with
profiteroles and a chocolate mousse. Both were fine, but the one we're
still talking about is the popcorn ice cream. Its silky, buttery texture
and flavor captured the snack in a wonderfully unexpected way.
For a
less formal setting, Lord Baltimore Hotel also has LB Tavern in the
lobby with LB Bakery opening soon. This venerable property has
transformed itself into a delightful food destination, even if you're
not staying in one of the 440 rooms.