West Baltimore's First Food Hall Rises on North Avenue
When it opens next year, The Mill on North will house seven tenants that all have a connection to the neighborhood.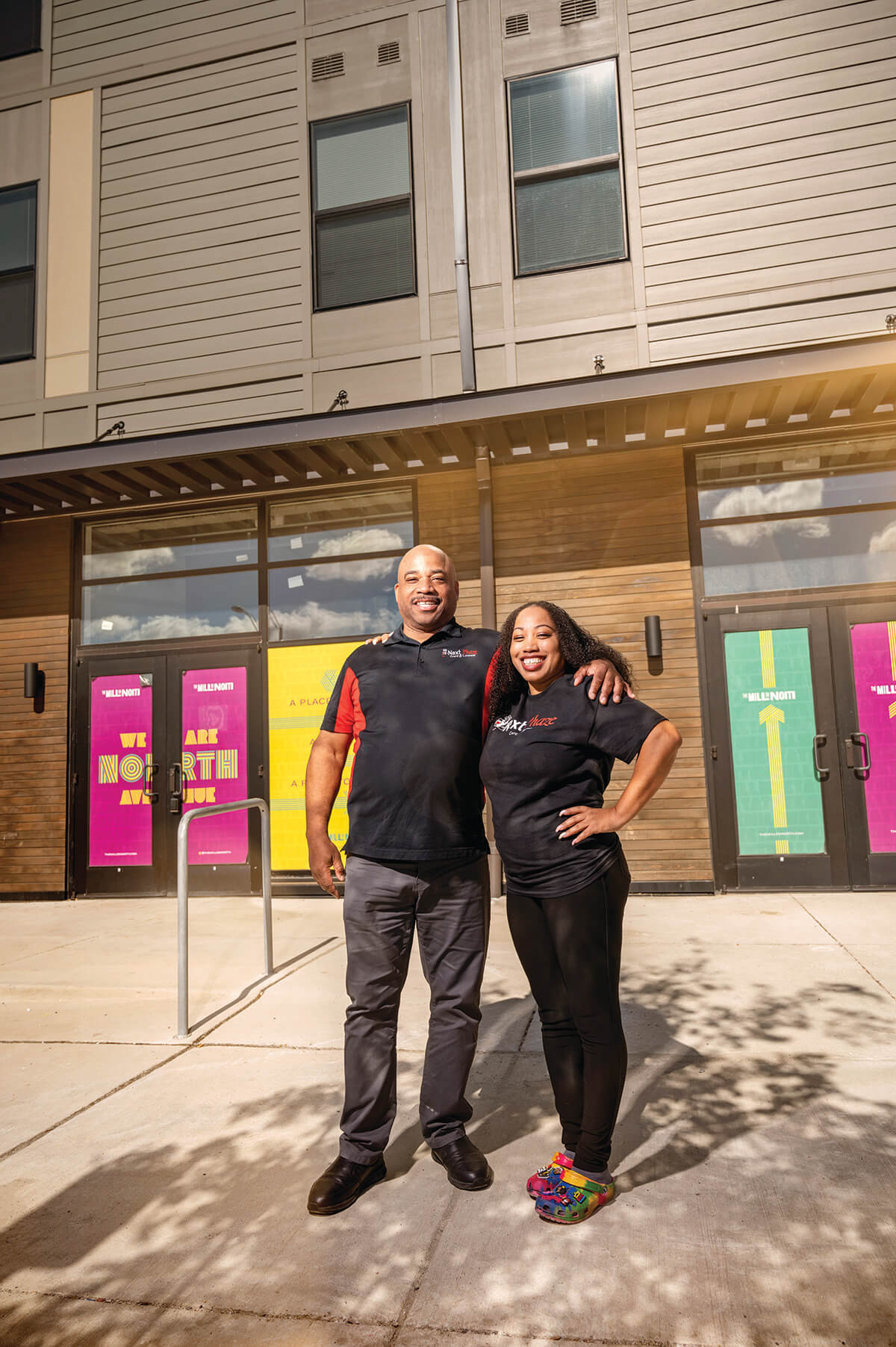 When Tameeka Randall arrives home after a long day making Southern food at her family's downtown restaurant, Next Phaze Cafe, she'd rather eat out than cook an entire meal. But the options are limited when it comes to sit-down restaurants in Southwest and West Baltimore, says Randall, who lives near Edmondson Village and co-runs Next Phaze with her father, Tony, pictured: "There's really not many places to eat at all."
But early next year, the father-daughter duo and a roster of six other food businesses will help address that dining dearth with the launch of The Mill on North, a 7,800-square-foot food hall at Walbrook Mill at West North and Braddish avenues.
Ground broke on the project in June and construction is projected to finish in the spring, with development partners including Coppin Heights Community Development Corporation, Timonium's Osprey Property Co., and the nonprofit Neighborhood Housing Services. So far, the partnership has enjoyed success with its $25-million mixed-use transformation of the former Walbrook Mill & Lumber Co. yard, which opened in 2020.
This next phase, which will cost an additional $3.9 million, adds the new food-centric Mill on North to cater to the surrounding neighborhoods, as well as an eager audience of students and staff from Coppin State University next door. Each component adds momentum in breathing life into a long-underinvested section at the western end of North Avenue, says Dan Ellis, executive director of Neighborhood Housing Services.
"Does building a food hall solve the problems of West Baltimore? No," says Ellis. "But if you build the housing and the food hall and you do economic development, each of these investments cumulatively makes an impact."
Plans call for incorporating many of the classic elements—cafeteria-style seating and a sleek aesthetic, for instance—found in other popular local food halls like Remington's R. House or the Mount Vernon Marketplace downtown. But Gary Rodwell, executive director of Coppin Heights CDC, said The Mill on North will stand apart with its all-Black vendor lineup, as well as by catering directly to both westside neighborhoods and one of the city's two prized historically Black colleges.
"You're going to have the intersection of the college community, with Coppin State University students and faculty being a part of it; you're going to have a unique food hall situated in an African-American community; and you're going to have a neighborhood institution that has the flavor of the [project's] leadership and of West North Avenue in it," says Rodwell. "It's not replicated throughout Baltimore City, those three dynamics."
The Mill on North's vendor roster includes Next Phaze's soul food, a baked potato project called Dancing Potatoes, a burger joint called The Blissful Burger Bar, sandwich purveyor D&B Deli, baked confections from Cupsey Cakesy, seafood specialist Dream St. Cuisine, and Caribbean-style brunch from 3 Chefs, plus a yet-to-be-named full-service bar.
April Richardson, a management consultant who formerly operated Savor food hall in Prince George's County, says it's been a careful process to assemble vendors through community outreach, noting that all seven tenants have some connection to West Baltimore.
"It wasn't a short vetting process," she says. "We met with them, interviewed them, tasted their food, listened to their story to figure out if they were a fit."
After encountering years of delays, all parties are anxious to see the food hall launch in 2023. Randall's father, Tony, emphasized the importance of working together to serve Greater Mondawmin and draw more visitors to the neighborhood.
"I'm looking forward to not just offering our food but being part of something to improve the economic state of the community," he says. "This project offers that, and we're just blessed to be a part of it."