The Newest Prime Rib
Baltimore's venerable steakhouse plays to win at Maryland Live.
It's no coincidence that The Prime Rib's swank, supper-club vibe has been showcased in a TV show like The Wire or often brings mention of the retro era of Mad Men. The restaurant exudes an elegance and allure that appeals to diners—whether it's a young drug-gang leader like D'Angelo Barksdale trying out the luxe life or a slick advertising guy like Don Draper.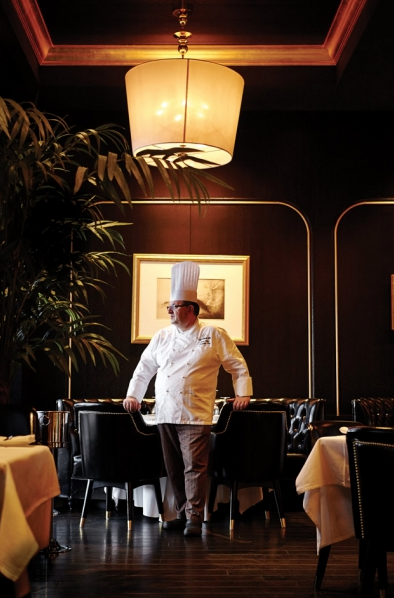 In real life, The Prime Rib lives up to its billing. It's been reeling in Baltimore sophisticates since its founding in 1965, wooing customers with big food and heady cocktails. You'll find steaks as thick as a phone book and martinis as smooth as Daniel Craig—all in a sleek setting with leopard-print carpet, a Lucite grand piano, black lacquered walls, and skin-soft leather seating.
Over the years, the steakhouse parlayed its success to D.C. and Philadelphia. More recently, it opened a fourth location at Maryland Live Casino in Hanover, where it's betting that hungry gamblers will want to take a break from the action and luxuriate in a plush setting.
But its proximity to the shops at Arundel Mills will also attract outsiders looking for a taste of Baltimore nostalgia. On a recent visit, a large party was celebrating a matriarch's birthday. There wasn't a slots player among them.
The dress code is more relaxed here than the tie-and-jacket attire usually seen at the North Calvert Street address. When I called to make reservations, a hostess told me that the only time jackets are required is when someone is wearing jeans. The restaurant's website recommends business-professional or business-casual wear. These seem to be loose requirements. It was all across the board on a Sunday night.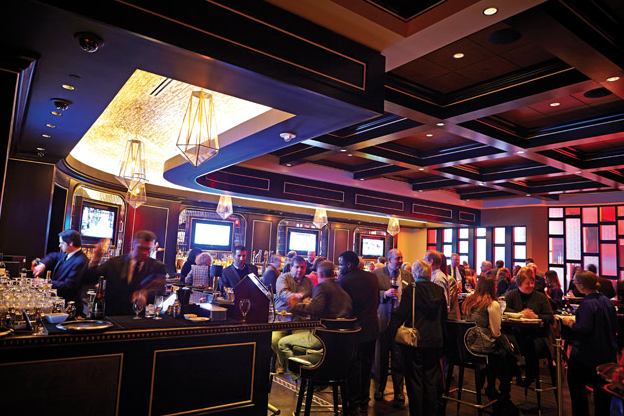 Unlike the city restaurant's intimate space, The Prime Rib at Maryland Live is spacious. The entrance lounge area is huge with an L-shaped bar; the dining room is bright and open; and an outdoor patio with a retractable roof and an expansive gas fireplace is a destination unto itself.
Not to worry, the beloved accoutrements are still here—from the carpet to the piano.
The menu is familiar, too, though you'll notice some new additions. The tried-and-true Buzz's salad (named after The Prime Rib owner Buzz Beler) was as great as always with its crisp compilation of romaine, tomatoes, avocadoes, and chopped egg in a sweet white-balsamic vinaigrette. The oysters Rockefeller were delicious, hefty morsels with a generous blanket of spinach and a hint of Pernod. And the Maine lobster bisque was silky, creamy, and resonating with a pleasant shellfish undertone.
Before we even tucked into our appetizers, though, we were presented with a complimentary amuse-bouche. This tidbit of roasted-corn purée atop a buttermilk biscuit with bacon dust assured us of the chef's cooking cred.
We just wish our server had been more competent. It was really our only complaint. There were long lags between courses and a general forgetfulness on his part, including not delivering our bottle of wine until we were well into our entrees. We definitely missed Bobby, one of our favorite servers at The Prime Rib in Baltimore.
But the food was too good for us not to have enjoyed our evening. The 12-ounce signature roast prime rib with fresh horseradish yielded medium-rare goodness. The eight-ounce prime filet mignon proved to be a stellar, charcoal-singed round of meat.
Although many people associate The Prime Rib with beef, its seafood choices should not be ignored. The two jumbo-lump crab cakes we sampled would make any Marylander proud.
We also enjoyed a mound of steamed, slightly garlicky broccoli rabe—plenty for a table of four—and the restaurant's well-known Greenberg potato skins that have been on the menu since The Beatles first crooned "Help!" and "Day Tripper." We never tire of these crispy spuds, which are served with two dipping sauces—a spicy mayo and horseradish sour cream.
Desserts are just as sumptuous as the savory offerings. The apple tarte Tatin inspired awe with a baked apple perched on a pastry crust. The bread pudding with bourbon sauce and Key lime pie were ample servings that would satisfy any sweet tooth.
The Prime Rib is expensive with steaks soaring to $64 and seafood to $76, but, except for our novice waiter, the experience left us feeling like winners no matter what was going on in the noisy casino outside the restaurant's stately doors.