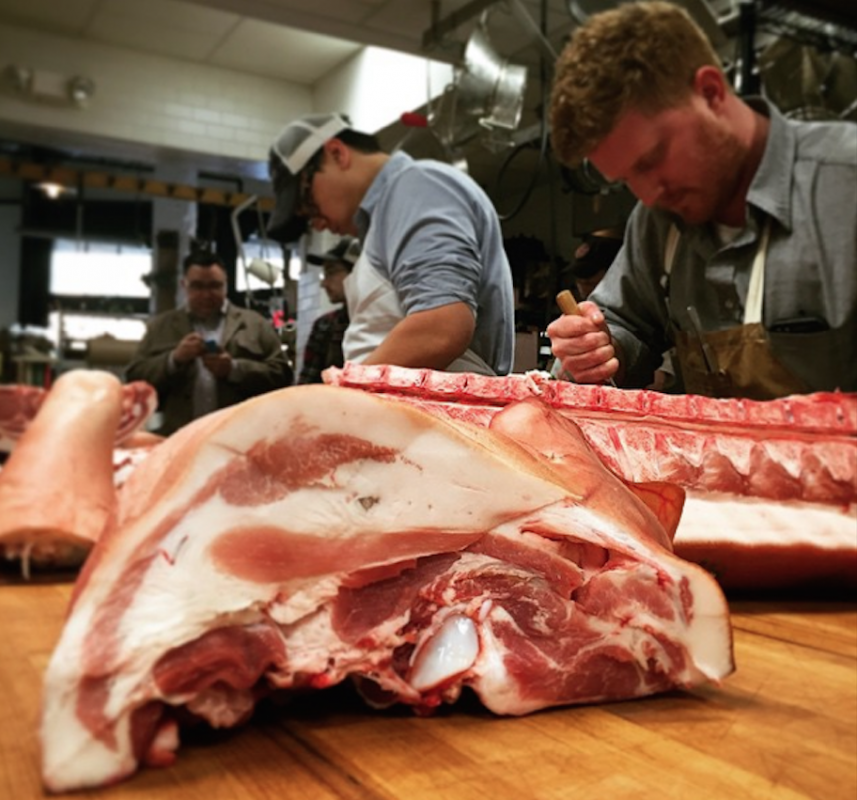 Courtesy of The Remington Chop
Peter DiPrinzio and his friends wanted to organize a food event in Baltimore—a way to educate the general public on the creative endeavors of chefs in each neighborhood. But, they thought, how do we make it more fun?
Of course, stick it inside a beer garden.
Thus, The Remington Chop was born.
Taking place in Miller's Court, a Seawall development on the corner of Howard and 26th Street, the June 13 event will feature six interactive workshops throughout the day led by top chefs and brewmasters from around and near the Remington neighborhood. All the while, a beer garden with food and brews will be going on in the other part of the courtyard. From 12-5 p.m., guests can meander back and forth between the two.
"The idea is to create an atmosphere that's fun and also that gives you the learning component," says DiPrinzio, one of the event's four organizers. "It's kind of like choose your own adventure."
And there will be plenty to choose from as the hour-long workshops include a lamb butchery class with Geroge Marsh of Parts & Labor, an introduction to mezcal from Lane Harlan of W.C. Harlan and Clavel, a tutorial on rustic gazpacho from Dave Sherman of Café Cito, an oyster shucking workshop from Dylan Salmon of Dylan's Oyster Cellar, sausage making from Pen & Quill, and the art of craft brewing from Monument City Brewing Company.
"These chefs and brewers know their product and specialty better than anyone, so we just let them do whatever they wanted with the workshops," DiPrizino says. "But we also encouraged them to have fun—for example Dylan is kicking it up a notch with champagne pairings at the end of his."
The beer garden, of course, will encourage fun too, by offering roast pork tacos from Parts & Labor and Clavel, oysters from Dylan's, and brews (including a brand new IPA) from Monument.
One $45 ticket will include a guest's choice of workshop, two beers, and access to the beer garden all afternoon. Food is pay as you go. Each workshop is going to be capped at 30 people, in order to guarantee an intimate experience.
DiPrinzio's hope is to replicate this idea in future neighborhoods—Federal Hill Chop, Charles Village Chop, for example—on a likely seasonal basis.
"There are tons of folks that show an interest in food beyond just eating it," he says. "If they want to get on a level deeper, like wondering why a certain cut of meat ends up on their plate, this is the event for them."