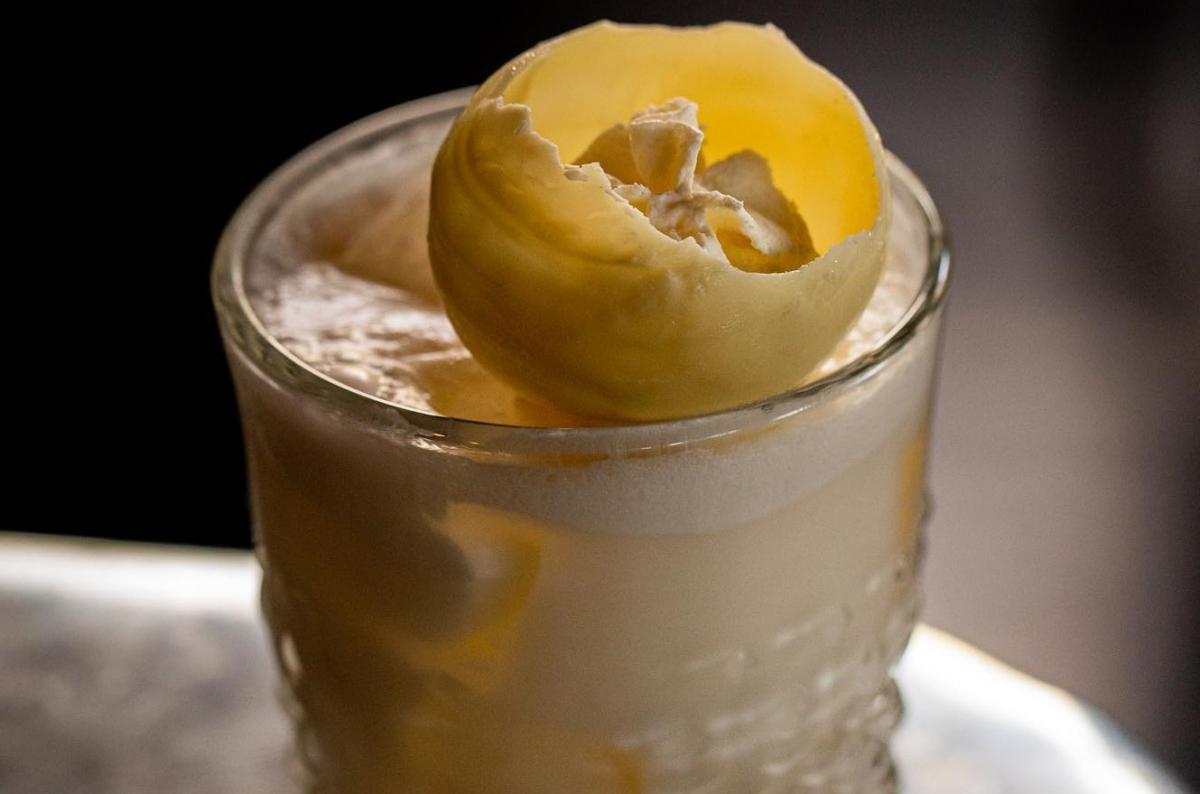 Bluebird owner Paul Benkert shares his recipe for the bar's signature eggnog (sans garnish.) —Courtesy of The Bluebird Cocktail Room
With another COVID variant surging, and some bars and restaurants closing until the end of the year, we turned to a few of our favorite cocktail bars in town to collect three recipes to try at home this winter. So whether you turn to whiskey to keep you cozy as the temperatures drop, or to the classic flavors of cinnamon and nutmeg to sustain you when the sun sets much too soon, you're sure to enjoy these winter warmers.

If you're like us and switch from tequila to gin as soon as the leaves change color, you will appreciate this recipe from Dutch Courage co-owner Eric Fooy and bartender Danny Jung. With gin on the rise, this selection from the Old Goucher bar's festive "GINgle Bells" menu (available until the end of 2021) is both refreshing and reminiscent of the holidays with a housemade spiced red currant syrup and the use of port.
Ingredients
1.5 oz. Farmers Organic gin
0.5 oz. Fonseca Bin 27 port
0.75 oz. Spiced Red Currant Syrup (recipe below.)
0.75 oz. lime juice
2 dashes of Angostura bitters
Soda to top
Instructions: Shake gin, port, syrup, lime juice, and bitters with ice and strain into a highball glass over fresh ice. Top with soda. Garnish with three skewered cranberries and a dehydrated lime.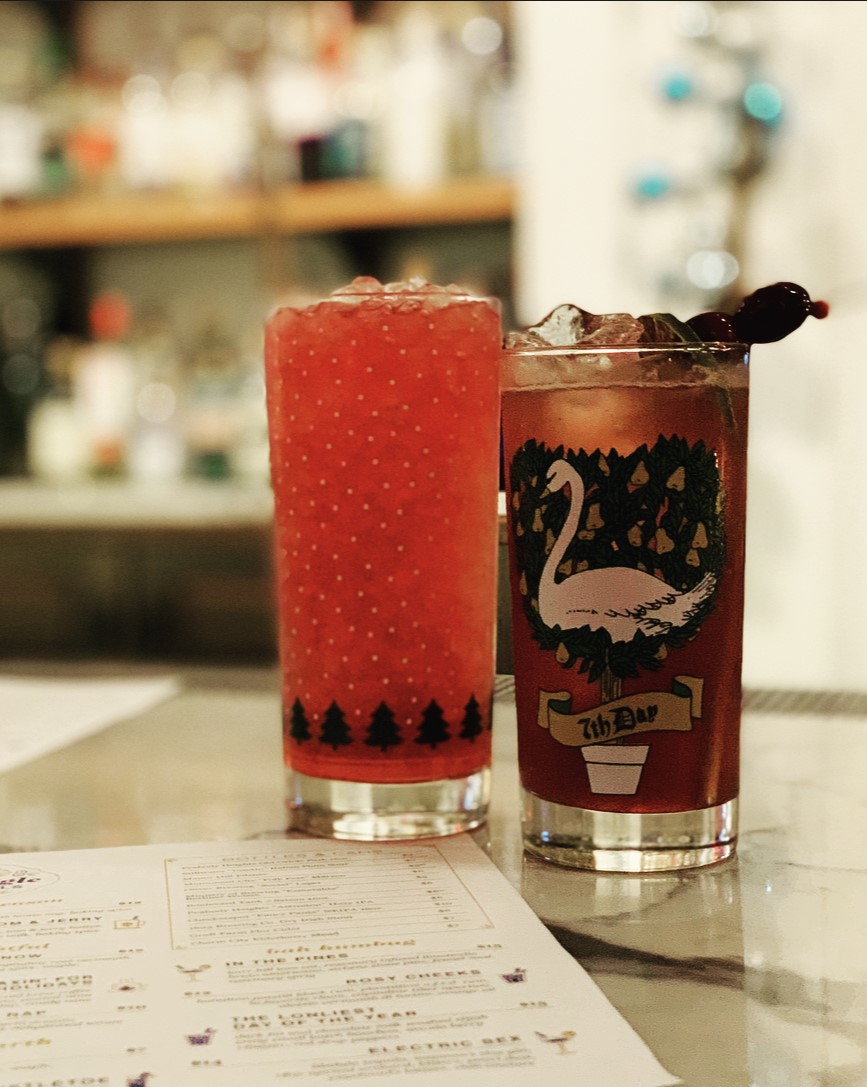 To make Spiced Red Currant Syrup:
Ingredients:
1 cup sugar
1 cup cranberry juice
1/2 cup dried red currants
1 cinnamon stick
10 allspice berries
5 star anise pods
5 cloves
1 crushed whole nutmeg
Instructions: Combine all ingredients in a small sauce pot and simmer over medium heat for 10 minutes while occasionally stirring so the sugar doesn't burn. Remove from heat and allow to cool before fine-straining out all the red currants and spices. Pour syrup into a covered container and store in the refrigerator until ready for use.

Not in the mood to temper eggs? Paul Benkert, owner and creative director behind Hampden's literary-themed cocktail bar The Bluebird Cocktail Room, shares this fairly traditional, yet lighter spin on a holiday eggnog. Now, this recipe doesn't include the beautiful white chocolate garnish you've likely seen on social media, so you'll have to wait until The Bluebird reopens on Dec. 29 (it recently closed due to COVID concerns) to sample the sweet topper at the bar. "Unless you want to make this a Sunday project, that's up to you," Benkert quips, "but unnecessary." 
In keeping with its sustainable mission, Bluebird has done a lot of work in the past few years to transition its supply chain to support local. More than 90 percent of the spirits used in its program has been distilled in the Chesapeake region. And the eggnog is no exception with its use of white rum from Lyon Distilling in St. Michaels. 
Ingredients:
1.0 oz. Lyon White Rum
0.5 oz. Pedro Ximenez medium-dry sherry
1.5 oz. 100 percent grass fed heavy cream
0.75 oz. simple syrup
0.50 oz. water
1 whole pastured egg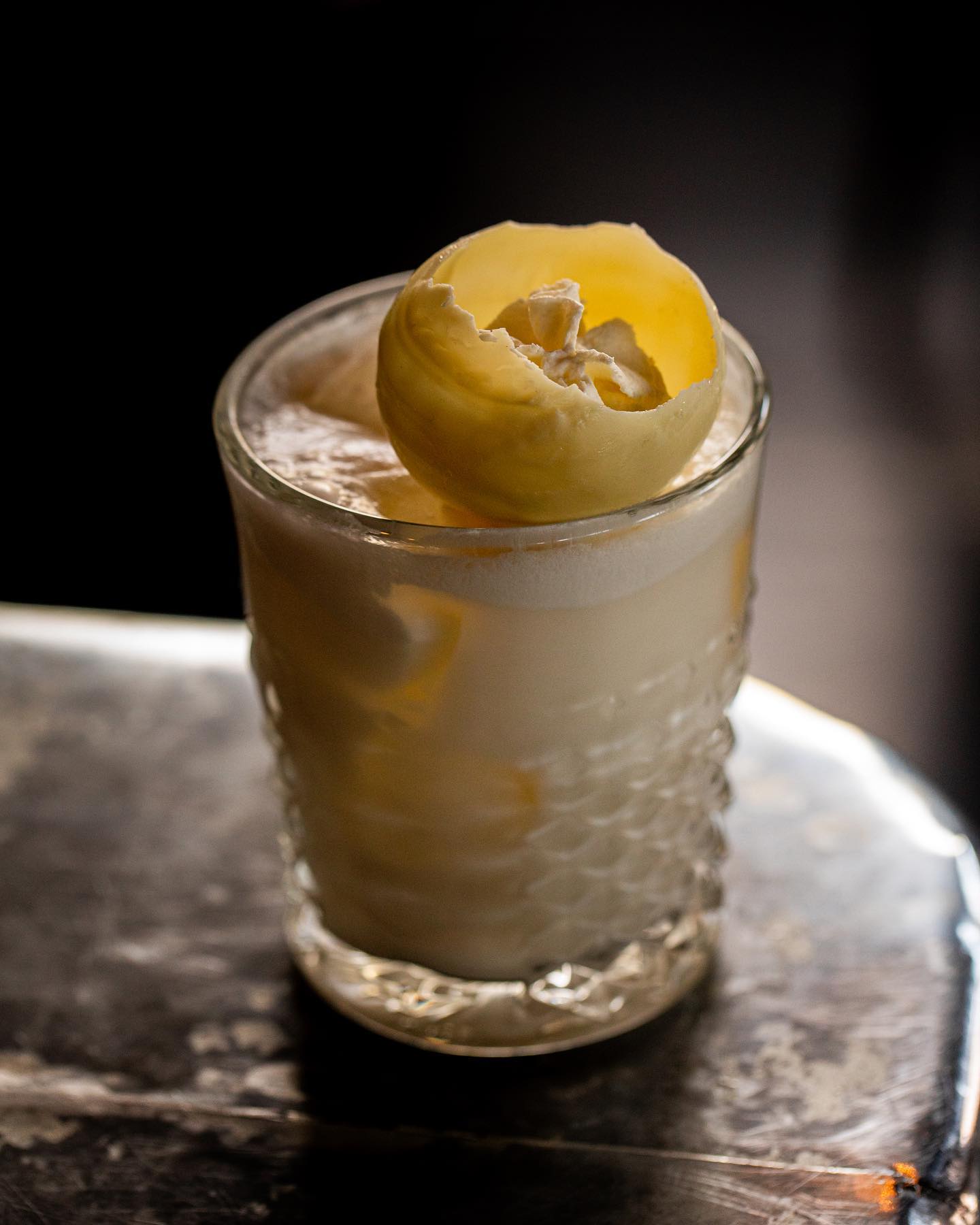 Instructions: Combine all ingredients into a shaker. The first shake will be a vigorous "dry shake." Shake for about 15 seconds (all ingredients should be incorporated and foamy.) Then add ice and shake again. Strain into a rocks glass with light ice. Garnish with a chocolate egg (optional). Note: Every egg and type of milk is different. Adjust water as needed, using more water if it's too rich, and less water if it's not rich enough.
This final recipe comes to us from Mt. Vernon's cozy subterranean spot, Sugarvale. Paige Tyler—beverage director for Sugarvale, as well as it's sister-concepts including Dooby's, Noona's, and Fat Tiger inside Broadway Market—uses aquavit (a spicy, grain-distilled spirit) in the seasonal sip.
For those of you unfamiliar with aquavit, a favorite among bartenders, it's a clear Scandinavian liquor that ranges from clear to pale yellow in color. It is distilled from fermented potato or grain marsh. As Tyler describes, "It's almost like gin with savory notes of dill, caraway, and anise." The spirit derives its name from the Latin "aqua vitae," which translates to "water of life."
Best made in a large batch for a holiday party, Tyler says this is a recipe that even bartending beginners can whip up. If you're planning to sample the cocktail at the bar, be sure to check out Sugarvale's happy hour from 5-7 p.m. Wednesday through Sunday. Plus, experience this year's winter decoration of fresh pine and evergreen with flickering candles. "It feels almost like a ski lodge," Tyler says. "It's that comfy winter feeling."
Ingredients:
1 stick butter
1/2 cup brown sugar
1 tsp. white peppercorn
1 tsp. caraway seed
1 tsp. cardamom
Pinch of salt
8 oz. aquavit (Sugarvale uses Svöl Swedish-style)
2 cups apple cider, store bought or homemade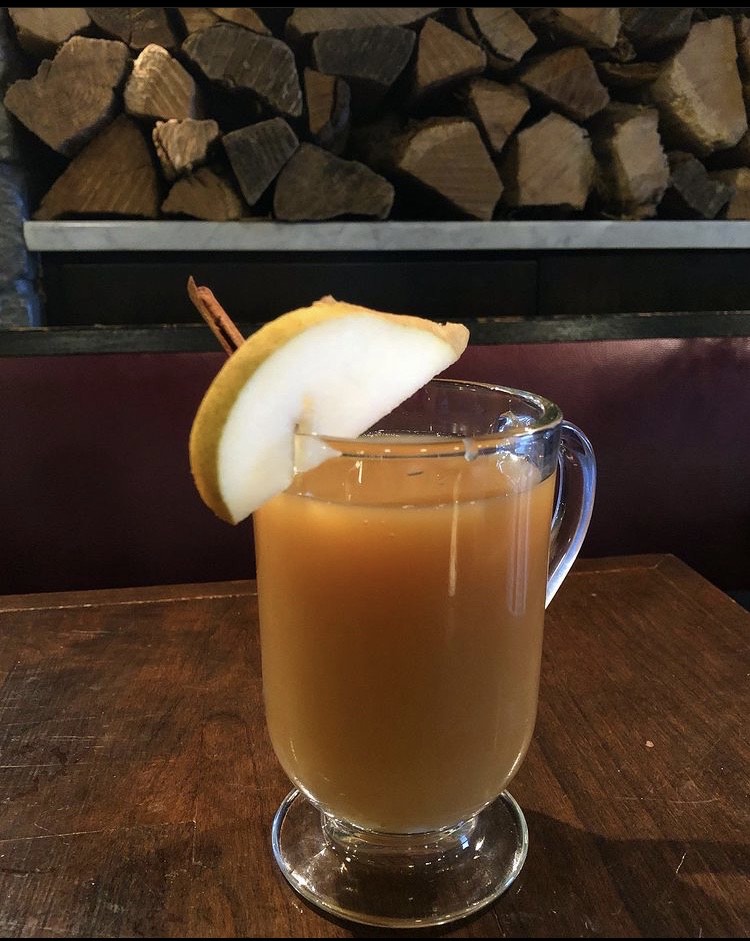 Instructions: Using an electric mixer, combine butter, brown sugar, spices, and salt until blended and smooth. Transfer mix into a large pot. Add aquavit and boiling cider. Stir until the butter mixture is completely dissolved. Garnish with a dehydrated bay leaf and cinnamon stick. Serve warm.