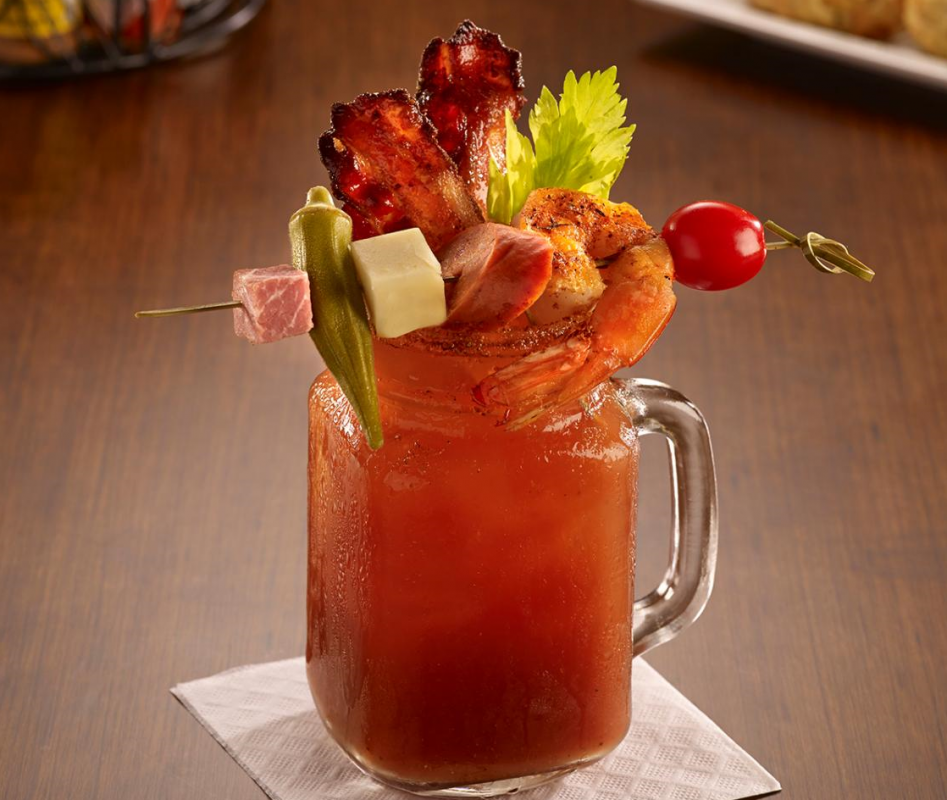 Courtesy of Miss Shirley's
When it comes to boozy brunches, mid-morning mimosas often steal the show. But there's nothing like the sweet and spicy combination of a refreshing Bloody Mary when you're in need of a serious hair-of-the-dog hangover helper. In the spirit of National Bloody Mary Day (which just so happens to fall on New Year's Day), we've rounded up the top 10 spots to sip spicy Bloodies all over town this weekend.
The Food Market: In addition to bellinis, champagne, and breakfast shooters (think Bailey's, triple sec, and blueberry vodka), this Hampden haunt serves up some of the most unique Bloodies in town during brunch service. You can't go wrong with the versions shaken with jalapeño or bacon and thyme-infused vodka, but if you're feeling really adventurous, the Spicy Red Eye combines The Food Market's house Bloody mix with New Belgium Brewing's Blue Paddle pils. 1017 W. 36th St., 410-366-0606
Wine Market Bistro: This South Baltimore gem keeps the secret to its house-made Bloody mix under wraps, but combines it with basil leaves, lime, and tomatoes to create its own Basil Bloody Mary. Pair the signature sip with brunch bites like the bacon breakfast burrito, banana ricotta pancakes, or a truffle omelette. 921 E. Fort Ave., 410-244-6166.
One Eyed Mike's: From Bloodies garnished with lump crab and shrimp to bacon and cream cheese-filled celery, this Fells Point favorite has it all. One Eyed Mike's offers its Classic Bloody (vodka, a secret mud mix, V8 juice, and an Old Bay rim), while also putting its own unique spin on the traditional recipe with offerings like the "Crabby Morning," which fuses lump crab meat into the mix itself. 708 S. Bond St., 410-327-0445
Iron Rooster: Line your stomach with plenty of house-made pop tarts, bacon, and chicken and waffles while sipping on one of many breakfast cocktails at this Canton newbie. In addition to crushes, breakfast bombs, and vodka drinks, Iron Rooster's expansive booze menu also includes its signature Bacon Bloody Mary, created with Svedka and house mix, and garnished with asparagus, bacon, olives, and an Old Bay rim. 3721 Boston St., 410-990-1600.
Mama's on the Half Shell: A weekend brunch visit to this Canton corner fixture isn't complete without ordering the signature Pickled Green Bean Bloody Mary. Filled to the rim in a large pint glass, the peppery drink is garnished with lemon, lime, green beans, and olives, and pairs well with brunch specials like scrapple egg and cheese sandwiches and yellow tomato gazpacho with jumbo lump crab. 2901 O'Donnell St., 410-276-3160
City Café: Head to this Mt. Vernon hangout to chow down on inventive brunch staples like tiramisu French toast, kimchi breakfast wraps, duck confit pancakes, and cheesesteak flatbreads while sipping on its house Bloody Mary with infused organic Crop Cucumber or jalapeño vodka and garnished with an Old Bay rim. 1001 Cathedral St., 410-539-4252
Miss Shirley's: This well-known brunch spot (which will soon be featured on the upcoming season of Food Network's Diner's, Drive-Ins, and Dives) is famous for its novel of a menu boasting everything from oatmeal and omelettes to fried green tomatoes and grits. Among the long list of boozy cocktails is the "Spicy Shirley," fused with Deep Eddy Citrus Vodka and garnished with pickled okra, celery, green olives, and jumbo lump crab meat. In addition, The Born on the Bay-O Bloody Mary features Southern-inspired ingredients like Tasso ham, Andouille sausage, and jalapeño-smoked bacon. Multiple locations including 513 W. Cold Spring Lane, 410-889-5272
Bread and Circuses: This quaint Towson bistro, known for its hearty New American dishes and fun outdoor patio, offers an Ultimate Bloody uniquely fused with Sriracha and garnished with lime wedges, olives, Old Bay, and a dried meat straw—which is essentially a chipotle Slim Jim with a hole in the middle. 401 Delaware Ave., Towson, 410-337-5282
Maggie's Farm: Fried-to-order donuts and brioche French toast are among the noteworthy weekend brunch offerings at this homey Hamilton spot, which serves up its signature Bloodies with a base made from peppery Gochujang paste. The spicy mix also fuses raw garlic, and the drink is garnished with olives stuffed with caper berries, lemon, and lime. 4341 Harford Road, 410-254-2376
The Grill at Harryman House:This Reisterstown restaurant puts a local spin on the classic Bloody recipe by combining Old Bay-seasoned vodka, house made mix, and lemon juice into its signature Maryland Bloody Mary, which is garnished with a celery stick and a lemon wedge. Sip on the regional cocktail while digging into hearty brunch offerings ranging from steak and eggs to Reuben benedicts. 340 Main St., Reisterstown, 410-833-8850