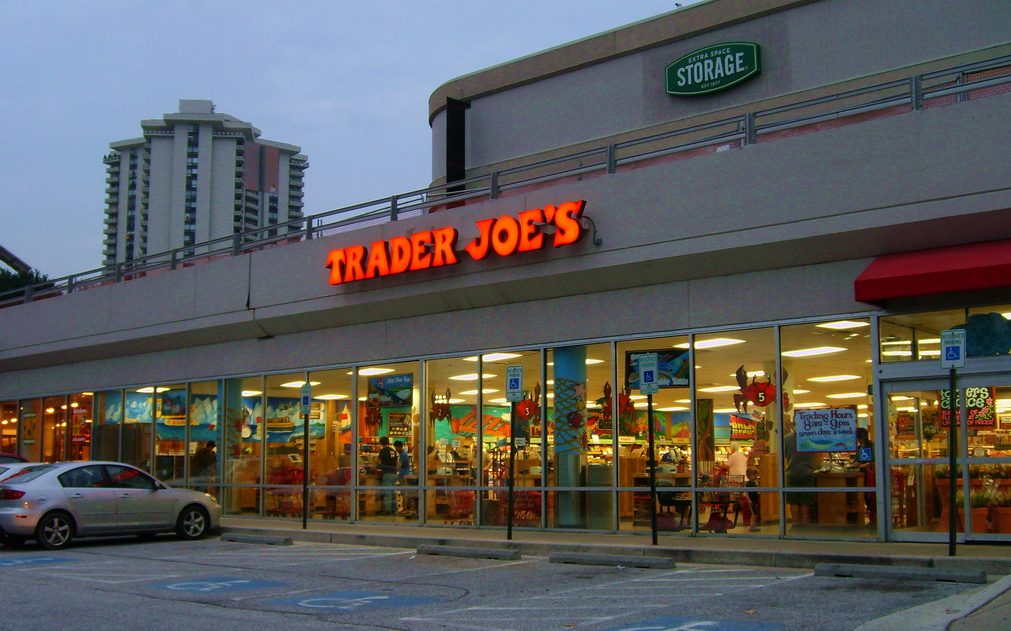 Courtesy of Flickr
As if we needed more proof that Towson is on the up-and-up—Trader Joe's recently announced that it will move to a larger (and soon-to-be revamped) spot one mile away from its current location on the Towson Circle.
The California-based specialty grocery store, which has operated on the circle for 15 years, will relocate to a 12,475-square-foot space on the second floor of The Shops at Kenilworth in the spring of 2017. The new market will be about 500-square-feet larger and allow for 800 parking spots—a significant leap from its old home that only offered 150.
News of the move comes in the midst of the mall's $20 million renovation efforts, which will eventually produce a rooftop garden, a transformed concrete exterior, and updated interior designs incorporating warm wooden floors and natural light.
"We're adding another terrific anchor that has been successful in the Towson market for many years," says Tom Fitzpatrick, president of Greenberg Gibbons, the property management group behind The Shops at Kenilworth. "Trader Joe's is an exceptional grocery store in the community and it will be the perfect complement to what already exists in the mall."
Fitzpatrick says that the food store will move into the second floor space currently occupied by longtime tenant Stebbins Anderson. In April of 2016, the home décor retailer will downsize to a remodeled outpost on the first floor. Once Stebbins is all settled in downstairs, production of Trader Joe's will begin in its former home.
Baltimore County Councilman David Marks agrees that Trader Joe's will fit in nicely at the mall, noting that plans for the proposed Towson Circulator will increase accessibility to the grocery store for locals.
"Generally I've heard a lot of positive comments about this," Marks says. "A lot of people don't like the parking situation at the current location, and as Towson grows we have to make sure we improve mobility in general."
Marks mentions that the proposed plans for the free circulator, which have gained the support of Governor Hogan, include a route from Loch Raven Village to The Shops at Kenilworth.
Although Trader Joe's has yet to comment on the reason for the move, the chain faces competition from the multi-million dollar Towson Row project—in the works only a few blocks away from the Towson Circle—which is slated to debut a Whole Foods in 2018.
Fitzpatrick adds that the market's interior will reflect Trader Joe's most updated prototype when it is revealed in 2017.
In the meantime, locals can look forward The Shops at Kenilworth's signature train garden display, which is habitually featured throughout the holiday season.
"Kenilworth is a special mall," Marks says. "With the train garden and all of the unique Baltimore stores like Jos. A. Bank and Stebbins Anderson, it's very distinctive in the community. But it's a mall that could also use some upgrades, and it's great that Greenberg Gibbons is putting funding into it."