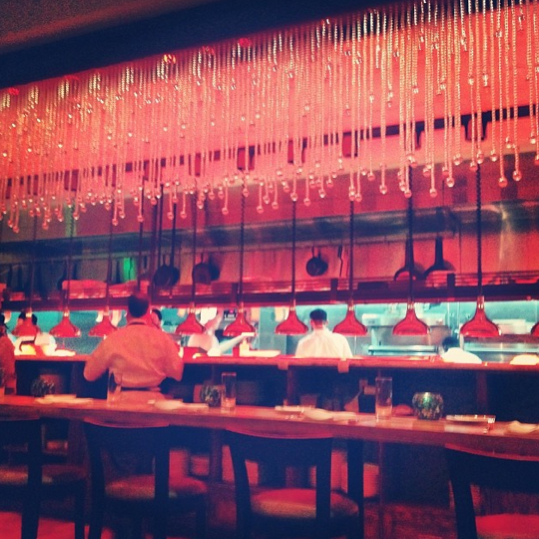 Instagram
This past week I've been able to attend two exciting openings. The first was Cunngingham's, a farm-to-table restaurant in Towson created by the Bagby Restaurant Group, which opens to the public this Friday. And last night I got to try out The Nickel Taphouse, which is the old Blue Sage/The Falls space in Mt. Washington that was opened by Birroteca owner Robin Haas, and opens tomorrow.
Cunningham's, pictured at top, as a space was stunning, which food and travel editor Suzanne Loudermilk has already written about. I loved the open kitchen, beautiful lighting and decor, and sizeable square-shaped light-up bar (a signature at Bagby restaurants). The three-course meal we got was excellent (stand-outs included the beet salad, short ribs, and apple tart).
I also sampled a few cocktails, my favorite of which was the Pistols for Two a concoction of Madeira, bourbon, Eastern Shore peach shrub, honey, lemon, and nutmeg sprinkled on top of crushed ice. The drink was bright and tart, with just the right amount of sweetness from the local peaches. While not available the night we went, Cunningham's will also be featuring barrel-aged cocktails, which are sure to have an extra bit of smoky flavor. Also available was a good wine selection (which you choose from an iPad!) and a handful of local beers on tap.
Another great addition to the local bar/restaurant scene is The Nickel Taphouse, which Haas says is a Buffalo, New York-style tavern. Menu items like smoked whitefish dip with Saltines and beef on weck reflect this. We opted for one of their six varieties of burgers, The Works, which had mushrooms, caramelized onions, bacon, and a fried egg sandwiched by a perfectly soft brioche bun. We also loved the fries with tarragon aioli and clever deviled eggs with bacon jam on top.
The restaurant also had some cocktails on their menu, but we opted to go with a seasonal beer. Unfortunately, Evolution's Jacques au Lantern wasn't on tap yet, but they will have plenty of the local brewery's selections soon. We tried a Bruery Autumn Maple, which was made with yams and satisfied the fall craving.
The Mt. Washington space is heavily transformed with very dark woods, romantic lighting, and stone detail. The space feels open, yet intimate, which I'm sure was not an easy task to achieve. It will be nice for neighborhood residents to have another tavern to go to for a change.
Both spots are a welcome addition to the North Baltimore landscape.