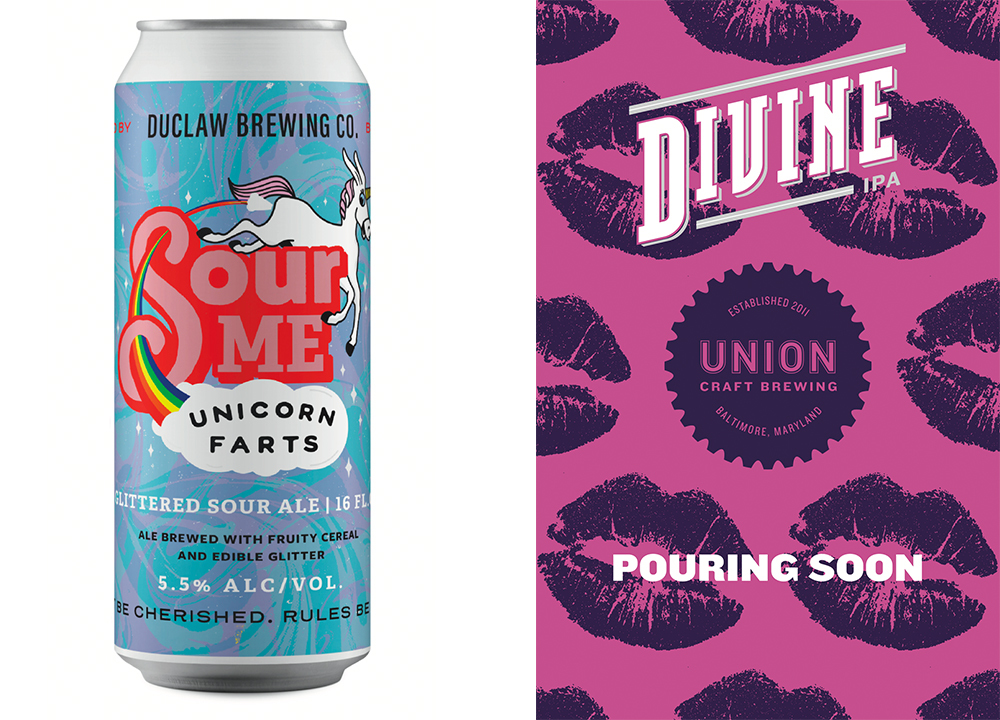 DuClaw Brewing / Union Craft Brewing
Brewers have drawn inspiration from a ton of things about Baltimore—its history, its landmarks, its sports teams. And this spring, two local breweries will be debuting progressive pours that shed light on Baltimore's LGBTQ community.
Adding to its year-round, core lineup for the first time in two years, Union Craft Brewing is releasing Divine IPA in March, a "perversely hoppy ale" with notes of orange, guava, and tropical fruit hops. That same month, DuClaw Brewing is debuting Sour Me Unicorn Farts, a collaboration between the Rosedale brewery and Diablo Doughnuts that tastes like a familiar fruity cereal.
"Yeah, I mean we sat around the bar and ate cereal. We had to start there," says brewer Mike Kulha of DuClaw. "We then did research on what the flavors actually were, and this took a fair amount of trial and error. Drinking a beer is also very different than eating a doughnut. We used real fruit puree, which adds a fuller mouthfeel so the texture is more like a doughnut. It was an interesting process for sure."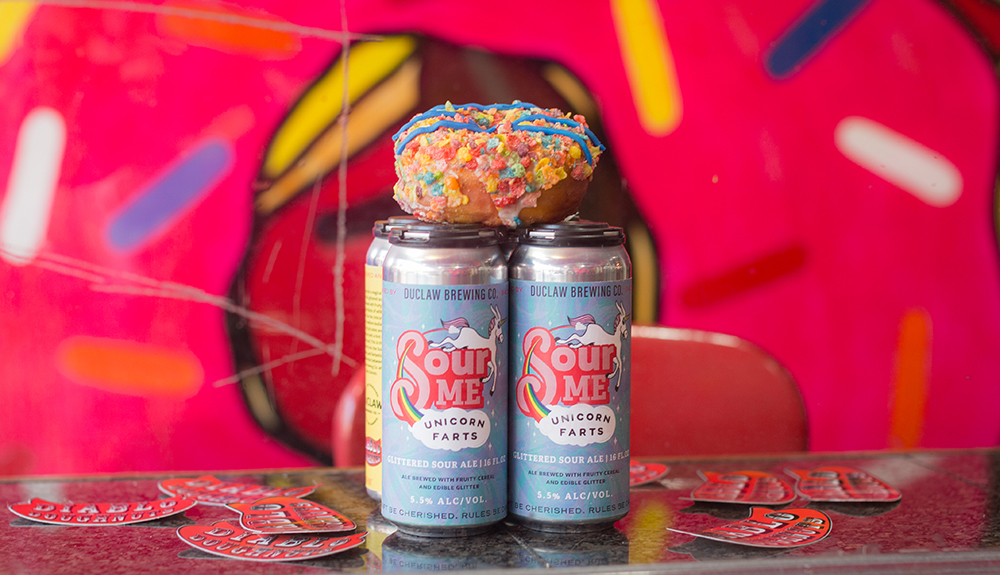 Unicorn Farts is the latest iteration of DuClaw's "Sour Me" series and its most unique yet, drawing inspiration from the dessert of the same name at Diablo Doughnuts. The pilsner and wheat grain base includes Fruity Pebbles notes and edible glitter mixed in for a colorful, slightly tart sour with a bouquet of fruits and hint of biscuit. Similarly, for Union, it was about doing something special and standing out from the crowded IPA pack.
"When adding a beer to our core lineup, there are a lot of boxes to check," says Union co-founder and creative director Jon Zerivitz. "It has to draw from Baltimore culture and have a unique story. We really wanted this brand to stand out amongst all the competition, especially in the IPA category. Divine checks those boxes and more."
He notes that the pink and purple color palette and more "feminine" look of the beer sets it apart and avoids some played-out branding cliches in the beer world. This idea is also echoed in the flavor profile of Divine IPA, which is described as a "bright, juicy, hop-forward beer with a soft pillowy malt background." Kegs of the beer will be tapped in the DMV area in March, followed by cans in April. DuClaw will be releasing its unicorn-themed beer at a party on March 16 at the brewery with hopes of additional events during Baltimore Pride.
"We are hoping this beer can do even more for Baltimore once it's released this spring, specifically in support of our LGBTQ community," says DuClaw's director of marketing Madeline Caldwell. "We're talking with GLCCB/Pride about a potential partnership, and are sponsoring TechniQ, the monthly queer dance party on the third Friday of every month at The Crown. I think we're just scratching the surface here, though."
While Union says this beer wasn't made specifically for any demographic, they like that the ethos of Divine—both in name and spirit—is a fitting symbol for more inclusivity in the beer world and beyond.
"We didn't set out to market to women on the LGBTQ community, but wanted to recognize their place in the consumer market," Zerivitz says. "Divine, the actor and character, represents an open-minded, free to let your freak flag fly, more progressive and tolerant Baltimore."