In The Kitchen With Jennifer Franciotti
WBAL-TV's Jennifer Franciotti flies high in her Westminster home.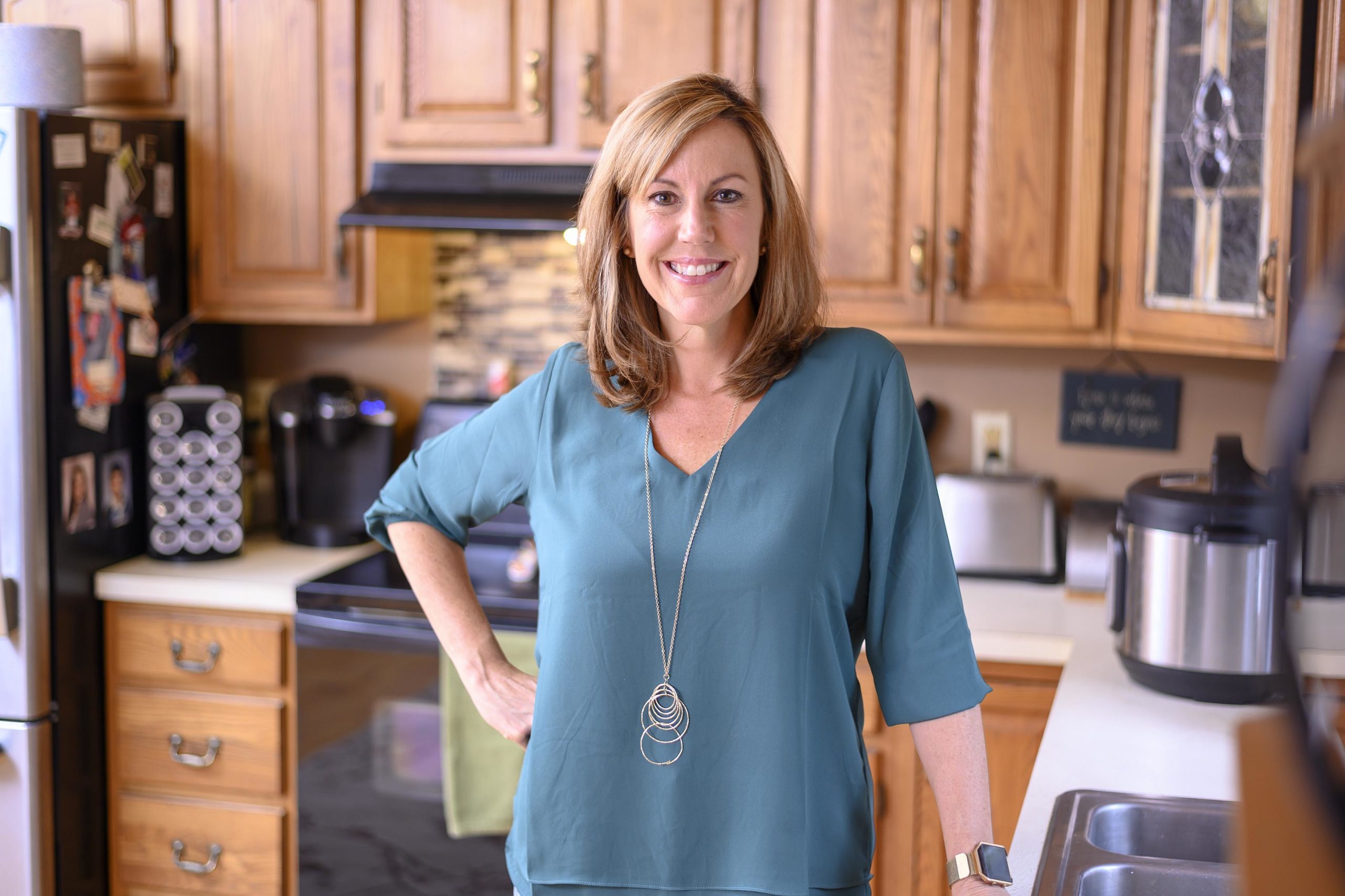 As a military brat, WBAL-TV weekend morning anchor and weekday morning reporter Jennifer Franciotti was a bit of a nomad in her formative years. "I was born in Guantanamo Bay," says Franciotti, "then we lived in Iceland and Hawaii and Groton, Connecticut." After her father retired from the service during her sophomore year of high school, the family settled in St. Joseph, Missouri, "where the Pony Express began and Jesse James ended," she says, laughing.
But it wasn't until 1997, when she moved to Baltimore, that she finally felt like she had a permanent home. "We moved all over the place, so I never felt like I belonged anywhere," says Franciotti, sitting on a Victorian-style wooden chair at her homey dining-room table. "When my husband, Mike, and I started dating, he took me to Ocean City for the first time, and I instantly fell in love with Maryland, with Ocean City, with the accents, with the crabs, with the Bergers cookies, with the little neighborhoods. For me, my greatest pride is saying I'm from Maryland."
Even so, the avowed Ravens fan brought along with her a piece of the past. When Franciotti left home for the first time, her mom gave her a box of index cards filled with family heirloom recipes such as ham and potato casserole, chicken crunch casserole with Chinese noodles, and traditional Christmas cookies. "These are way-back-when recipes," she says. "I still keep them in my cupboard. As I learned to cook, I started reading cookbooks and would do things on my own."
These days, Franciotti, who recently lost 25 pounds, takes a health-conscious approach to cooking. "I've gained and lost 25 pounds so many times in my life," she says, "I've struggled with my weight my whole life—I've been lucky that it's never gotten so high that it has affected my career—but I've been able to keep it off this time."
When Franciotti left home for the first time, her mom gave her a box of recipes.

In addition to preparing the meals for her work days, which start when she leaves the house at 2:50 a.m. to go on air at 5 a.m., Franciotti exercises daily. "I love to walk," she says. "I usually walk two to four miles every day. I'll walk between my live hits in the studio and on days when I'm anchoring. If we have a break between shots, I'll put on my tennis shoes, and then when I'm reporting and out in the field, I walk between 6 and 6:45 a.m. whenever I'm able to before getting ready to go back on the air."
Franciotti, who is a graduate of Northwest Missouri State University, has been working at WBAL for 17 years now, but she got into broadcast journalism quite by accident. "I had no idea what I wanted to do," she recalls. "My mom had the course catalogue to the university, and one day she opened the catalogue and saw 'broadcasting,' and she said, 'You'd be good at that.' And I was such a rule follower and so close with my parents, I figured that they knew what was good for me. So, I was like, 'Okay.'"
Franciotti landed a full-time morning anchor gig right out of college, after an internship at a small ABC affiliate in Missouri at the tender age of 20. After a move to Maryland, she worked in radio for a time and was a traffic reporter from 1998 until 2001. "It was so much fun," she says. "And being in a helicopter was a great way to learn the area and also to see why traffic is so messed up. I knew it wasn't going to last forever, and I probably shouldn't say this, but I took everyone up in the helicopter with me that I could. I took my optometrist, I took my hairdresser at the time, because it was such a unique experience."
Even since becoming an anchor, she still enjoys logging time in the sky. In her years as a reporter at WBAL, one of her favorite stories was flying with the Blue Angels four years ago. "They put a GoPro on my head, and I was smiling the whole time," she says.
But her happiest place is back at home on terra firma with Mike, her 15-year-old daughter, Olivia, her mutt Leila, and cat Kit Kat. Franciotti can most often be found in the kitchen whipping up healthy dishes, from a taco soup riff on a Weight Watcher's recipe to lasagna. (The lasagna recipe here is calories-be-damned, but she also makes a low-fat version.) Says Franciotti, "Mike calls me 'The Galloping Gourmet,' because it looks like a bomb has gone off after I've cooked my meals."
---
Lasagna

Ingredients
1 lb. extra-lean ground beef
1 large onion, diced
4 cloves of garlic, crushed
2 cans stewed tomatoes
1 32-oz. jar spaghetti sauce (whatever is on sale)
16-oz. part-skim ricotta cheese
2 tbsp. oregano
1 cup light Parmesan cheese
3 cups shredded low-fat mozzarella cheese
6 lasagna noodles
Directions
In a large pan, add ground beef and drain. Add onions, garlic, drained stewed tomatoes, and sauce. Cook together for 20 minutes on low-medium heat. In separate bowl, mix together ricotta, Parmesan cheese, and oregano. In a 9×13 pan, begin layering. Start with sauce on bottom and top with three noodles. You do not need to cook noodles first. On top of noodles spread a thin layer of the ricotta mixture. Cover with layer of meat sauce and top with covering of mozzarella cheese. Add remaining three noodles. On top of noodles, spread a layer of the ricotta mixture. Cover with layer of meat sauce and top with covering of mozzarella cheese.
Cover with aluminum foil and bake at 425 F for 45 minutes. Uncover and bake for 10 more minutes or until cheese on top is brown and bubbly. Remove from oven and let sit for at least 10 minutes before cutting into eight pieces. Serves 8-10.
---
Franciotti's "Chiapparelli's Salad"

Ingredients
1 head iceberg lettuce
2 tbsp. of oregano
4 cloves of crushed garlic
1 cup light Parmesan cheese
1 small can sliced black olives
1 tbsp. crushed red pepper
1/2 cup of extra-virgin olive oil
4 tbsp. of red wine vinegar
Directions
Chop head of lettuce and place in a bowl. Add oregano, crushed garlic, Parmesan cheese, black olives, and crushed red pepper. Top with olive oil and red wine vinegar. Mix well. Serves 4.
---
Taco Soup

Ingredients
1 lb. of extra-lean ground beef or extra-lean ground turkey
1 large onion, diced
2 cloves crushed garlic
Two cans of stewed or diced tomatoes
1 can of black beans
1 can of kidney beans
1 can of cannellini beans
1 can of corn
1 packet of taco seasoning
1 packet of powdered ranch dressing
2 tablespoons of chili powder
Directions
In a large soup pot, add ground beef or turkey and drain. Add together all other ingredients and mix well. Bring to a boil and turn back heat. Let simmer for about 30 minutes. Sour cream and cheddar cheese optional when serving. Serves 4-6.