On High
A long-awaited casual dining destination opens in Howard County.
Eager diners in Howard County must have breathed a sigh of relief when Brian Boston's Highland Inn finally opened in January, and Boston, co-owner and executive chef of the highly successful The Milton Inn, must have been pretty gratified, too. It's been five years since Boston conceived of opening an upscale, but casual, dining destination in restaurant-starved southern Howard County. Numerous bureaucratic hurdles, two canceled openings, and $4 million in renovations later, the restaurant, housed in a lovingly restored 1890s farmhouse on a rural corner, is up and running at last. So . . . was it worth the wait? Highland Inn's pastoral setting and historic look are certainly a plus. On a chilly Saturday evening in late April, the outdoor dining terrace overlooking an idyllic meadow wasn't open yet, but the handsomely appointed upstairs dining room (with a second one on the terrace level) was buzzing with equally well-turned-out diners. Boston, an accomplished equestrian, has chosen an array of hunt-country themed paintings by Owings Mills artist Sam Robinson to decorate the walls, while brightly colored murals of jockeys on horseback by the same artist grace the far end of the room. The mural lends a fun, casual vibe to the white-tablecloth formality of the space, a mix the menu strives to achieve as well.
Boston aimed to create a venue that, unlike The Milton Inn, won't be reserved mostly for special occasions. Although the price point is higher than what you might expect for everyday dining, the offerings are less elaborate here in order to showcase the pure flavors of local, seasonal ingredients. Chef Mark C. Davis, who was there on our first visit but has since left the inn, created a roster of approachable entrees, with some inventive appetizers thrown in for good measure. Wilbur Cox Jr. of B&O American Brasserie was at the helm on our second go-round and did not disappoint, though we're told he will add his own touches to the table. The menu is designed to appeal to a fairly wide swath of diners, and mostly, it works quite well.
The menu is designed to appeal to a fairly wide swath of diners, and mostly, it works quite well.
There were so many appealing choices on the list of appetizers that decision-making was the most arduous task of the evening. Should we pick a classic like the clams casino (a Milton Inn standard) or go for something novel like the avocado-green pea-asparagus dip? In the end, we chose well. A plate of seared scallops was a deliciously gorgeous contrast of colors and flavors, the fat scallops atop translucent pink rounds of beet "carpaccio," the plate streaked with ruby red beet "mustard" and contrasting wilted greens. The crispy pork belly with PB&J was, frankly, spectacular. What's not to like about peanut-crusted pork belly, its unctuous richness leavened by the sweetness of spiced apple butter and earthy pistachio butter? The Hudson Valley foie gras was slightly less successful. A luxury item like this needs to be treated gently, but ours had been seared a bit too much, lending a bitter edge to the delicate morsel.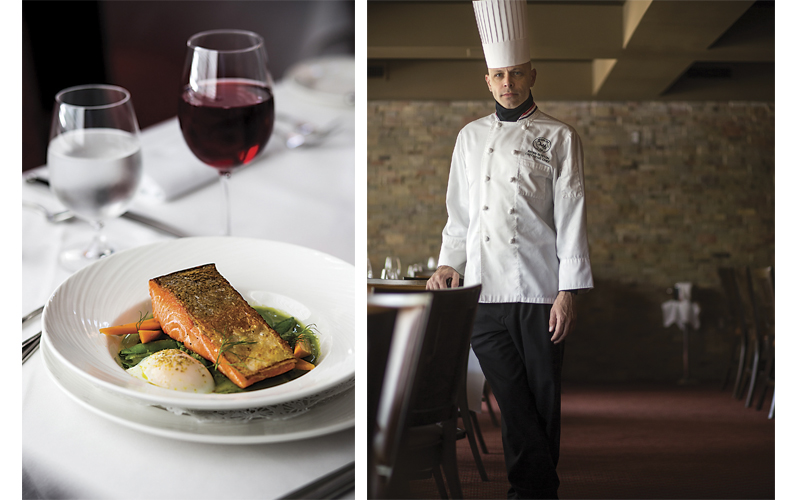 Among the entrees, there really wasn't a false note. Entrees are an assortment of standard offerings—dry-aged pork chops, corn-dusted rockfish, and rack of lamb—dressed up with nicely prepared sides and sauces. The kitchen is focused on execution rather than flash, as with the herb-brined roast chicken, which was a crisp-skinned bird cooked to juicy perfection and excellent braised kale served on the side. Perfectly cooked, too, was the New York strip, medium-rare, as specified, and sided with a layered square of pavé potatoes and grilled asparagus. It's always nice to see seriously large shrimp in a dish of shrimp and grits, and Highland Inn's were not only jumbo, but also generously portioned. The grits almost outshone them, though, with their bits of pork belly and creamy texture. We couldn't discern any of the advertised lobster within, but they were addictive anyway. Other menu highlights include crispy-skinned Irish trout on a bed of English pea emulsion.
You won't find any elaborate or fancy creations on the dessert menu here. On offer are usual suspects like crème brûlée, carrot cake, a chocolate torte, and several flavors of Häagen Dazs ice cream. (We're always curious as to why anyone would choose an $8 dish of ice cream you can buy by the pint at half the price.) Our party—weight watchers all—split the vanilla crème brûlée, properly creamy beneath its crackling top, and called it a night.
All in all, everything is in place for Highland Inn's success. We were pleased to see reasonably priced wines on the extensive wine list, and our friendly waitress was helpful throughout the meal, recommending her favorites dishes. The only impediment we can see to the inn's status as a mainstay of Howard County casual dining is that less-than-casual price point. Dinner here is expensive, albeit not as pricey as Brian Boston's The Milton Inn. That said, there are more than enough solid qualities here to reward diners seeking a pleasant evening out, special occasion or not.
---

HIGHLAND INN 12857 Highland Road, Highland, 443-276-3202.
HOURS Dinner: 5:30 p.m.-9 p.m. Mon.-Fri., 5-9:30 p.m. Sat., 4-8 p.m. Sun.
CUISINE Contemporary American.
PRICE Appetizers: $7-21; entrees: $18-48; desserts: $8-15.
ATMOSPHERE Upscale, yet laid-back dining in an appealing 1890s Howard County farmhouse.