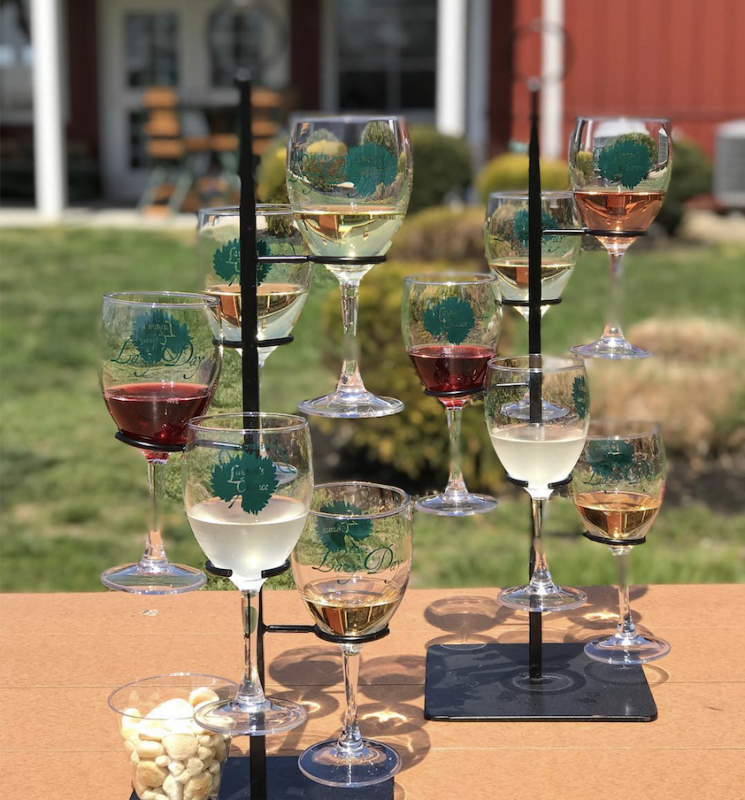 Courtesy of @sarahkulbicki via Instagram
It's easy to think of wine in simple terms of red or white, but as the industry has evolved, we've seen a shift toward embracing the eccentric. Now, it's not uncommon to see shelves stocked with colorfully designed bottles (and cans) that incorporate ingredients like java and dragon fruit.
"Shopping for wine has changed a lot," says William Layton, co-owner of Layton's Chance Vineyard & Winery in Dorchester County. "It used to be that people knew they liked their merlot or chardonnay, but as time has gone on, labels have gotten more creative. People are seeing it as more of an adventurous thing, rather than just a sit-down-with-dinner kind of thing."
To showcase all of the innovative blends that the local scene has to offer, the Maryland Wineries Association (MWA) is gathering more than 20 vineyards from across the state for the inaugural Weird Wine festival at Union Collective on Sunday, May 5.
Organizers are transforming one of the vacant spaces inside the multi-purpose warehouse into a whimsical wonderland (think twinkling lights, bubble machines, and neon paper lanterns) where guests will sample wines made with everything from crabapples and heirloom tomatoes to fish peppers and Black Lotus flowers. There will also be a DIY popcorn bar, charcuterie and focaccia from Well Crafted Kitchen, live watercolor portraits by Frederick artist Goodloe Byron, and a pop-up shop with wine for purchase.
Grow & Fortify, the consulting firm for local craft beverage organizations including the MWA, hopes that the turnout is a mix of seasoned wine enthusiasts and millennials who might have misconceptions about how approachable Maryland wine can be.
"We've really noticed a portion of that millennial generation that hasn't embraced local wine as much as we hoped they would," says Grow & Fortify's chief strategy officer Kelly Dudeck. "It's funny, when they do come to events they're usually asking us, 'Can you tell us which one tastes most like,' and they'll name one of the big non-Maryland brands out there."
The breadth of the state's wineries will be fully represented at the showcase, where attendees will be able to sip outside-of-the-box blends from Baltimore City and beyond. Highlights in the lineup will include a bourbon barrel-aged blueberry wine from The Urban Winery in Silver Spring, a wine made from French-American hybrid grapes by Romano Winery in Southern Maryland, and the popular mango comapeño mead from our own Charm City Meadworks.
James Boicourt, co-founder of the Mt. Vernon meadery, says that the flavor was partially inspired by his farmers' market neighbor Joao Narona, who imports his comapeño chili peppers from Veracruz, Mexico.
"We were messing around with mango meads, and I thought it needed a little zip of something to perk it up," Boicourt says. "There's a misconception that traditional meads have to be sweet, but we generally do a lot of dryer, lower ABV meads that are light and super refreshing. That's more of a rarity."
Layton has adapted to a similar style. He says that he and his team are always thinking of unconventional approaches to winemaking.
"I'm not growing merlot, cabernet sauvignon, and other grapes most people are familiar with anyway," he says. "Our grapes are a little different, so we feel free to do different things and not stick within the same confines. We just like to experiment and see what happens."
Among Layton's showcased varietals will be his award-winning lemonade wine and the Rise Up Red, an estate red infused with fresh brewed coffee from Easton-based Rise Up Coffee Roasters. In fact, many of the state's so-called "weird" wines are crafted using local produce. Dudeck explains that this, in turn, helps to sustain Maryland agriculture as a whole.
"It's not only through grapes," she says, "but when these guys are using some of the more odd ingredients like crab apples, fish peppers, tomatoes, and peaches, they're getting them from Maryland, too."
Participants agree that the event will serve as a good representation of what's to come as the winemaking industry continues to evolve.
"In general, [the local scene] tends to have a pretty creative, inventive spirit," Boicourt says, mentioning big players like Old Westminster Winery and the Millstone Cellars founders who went on to start Graft Cider in New York. "We're doing some really unconventional, wonderful things, and that ilk is really catching on."