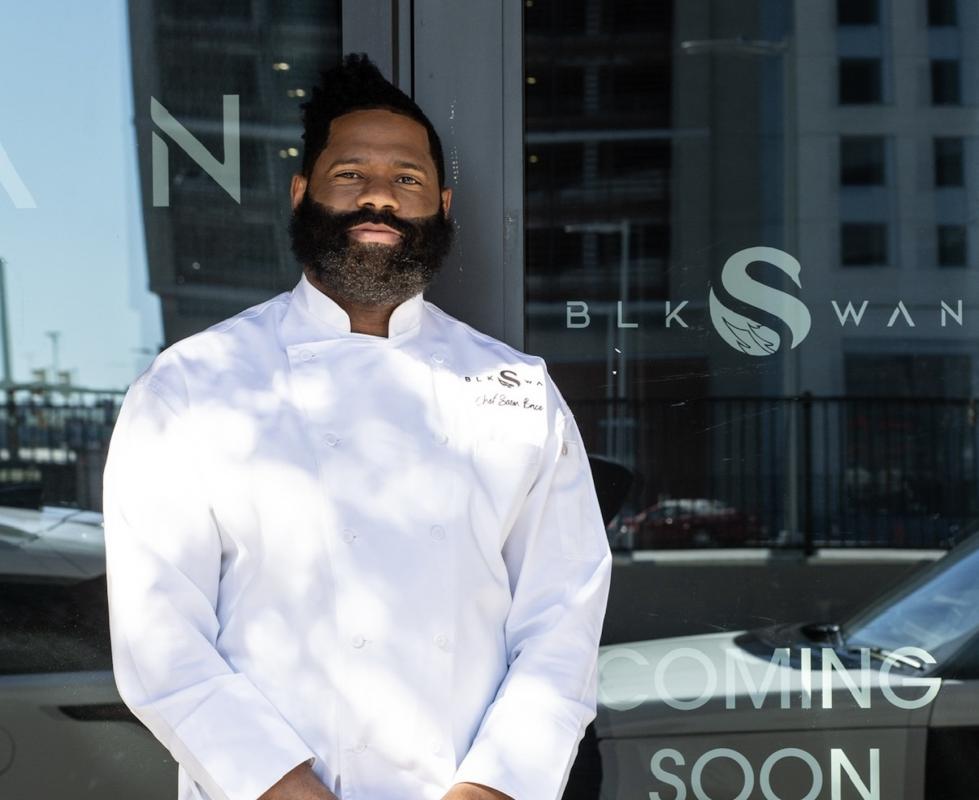 Chef Saon Brice outside of BLK Swan in Harbor East. —Courtesy of BLK Swan
Though chef Saon Brice has spent the past two decades developing his passion for cooking—working under local greats like Linwood Dame of Linwoods and Kevin Miller of Copper Kitchen—he admits that food wasn't his first love. 
"To be honest, it was actually music," he says. "I grew up as a drummer, so my first love was learning and playing music. Then one day I started working in a kitchen washing dishes. I would see the pastas and different plates coming out and be like, 'Oh man, that looks good.' That turned me into a prep cook, then I started training on the line, and then all of the sudden I was running my own station." 
After years spent climbing the ranks in the local dining and catering scene (Brice eventually became the executive catering chef at Linwoods, where he worked for more than 15 years), the West Baltimore native is now preparing to step into a role that will fuse his love of cooking with his deep appreciation for local music, arts, and culture. 
Come spring, Brice will head up his own kitchen as the executive chef of BLK Swan—a social spot with an "urban elevated" vibe that is taking over the former home of Cava Mezze on Fleet Street in Harbor East on May 14. 
Highlighting a New American menu, curated cocktail program, live music by resident DJs on Friday and Saturday nights, and walls that exhibit local artwork, the restaurant and lounge is aiming to provide a middle ground between the city's more casual bars and swanky fine-dining spots. 
"We want people to know that we're a fashionable, elegant establishment," Brice says, "but also a place where you can come and have a great time."
Celebrating Charm City culture is a huge part of the restaurant's mission, according to Brice and owners with the Outkrowd Restaurant Group. One of the many ways that the team will pay homage to area traditions is through the menu, which will feature refined takes on local delicacies. (Diners can look forward to Brice's crab cakes, as well as cheesesteak spring rolls inspired by city carryouts.) 
Though the full menu is being kept under wraps until the opening, Brice teases other options like honey-glazed salmon, whole branzino, and lamb chops. Weekend brunch service will also be a highlight, and the team plans to have live DJs—including local favorites DJ Impulse and DJ P-Drama—spinning throughout the day for groups that want to stick around for afternoon drinks. 
The "urban elevated" theme will also translate to the 130-seat interior, which will juxtapose original concrete floors with velvet banquettes, candelabra chandeliers, artsy Instagram backdrops, and a mixed-media gallery wall that presents work from local artists. 
Additionally, BLK Swan will boast a private dining area, 16 seats outside, and its own adjacent carryout space where diners will be able to grab bites like a breakfast sandwich or salmon BLT on the go. Brice is grateful to be able to offer this option, especially as the pandemic wears on. 
"We have a specific carryout menu that will allow our guests to still get a taste of who we are, even if they're uncomfortable dining in at the moment," he says.  
Of course, the restaurant will adhere to all COVID-19 restrictions and implement a health screening program for employees in conjunction with the grand opening in May. But, looking ahead, the team is excited for diners to fully experience the concept when it's safe. 
"The black swan theory is described as an event that came as a surprise and had a major impact," Brice explains. "That's exactly what we want. We want people to come in and be surprised. We want to have a major impact on their lives, and on Baltimore."
The owners hope that their presence is felt not only within the dining landscape, but also by the community at large. They're looking forward to hosting events including holiday toy drives, cooking classes, and fundraisers benefiting neighborhood organizations.
For Brice's part, he's excited to use his food as a way to formally introduce himself to the Baltimore dining scene.
"I'm most excited about bringing who I am to Baltimore, and allowing my city to experience that," he says. "Coming up under leadership like Linwoods and Copper Kitchen put me in a position where I wanted to be one with a company. Now that I have a place of my own, it's much more personal."