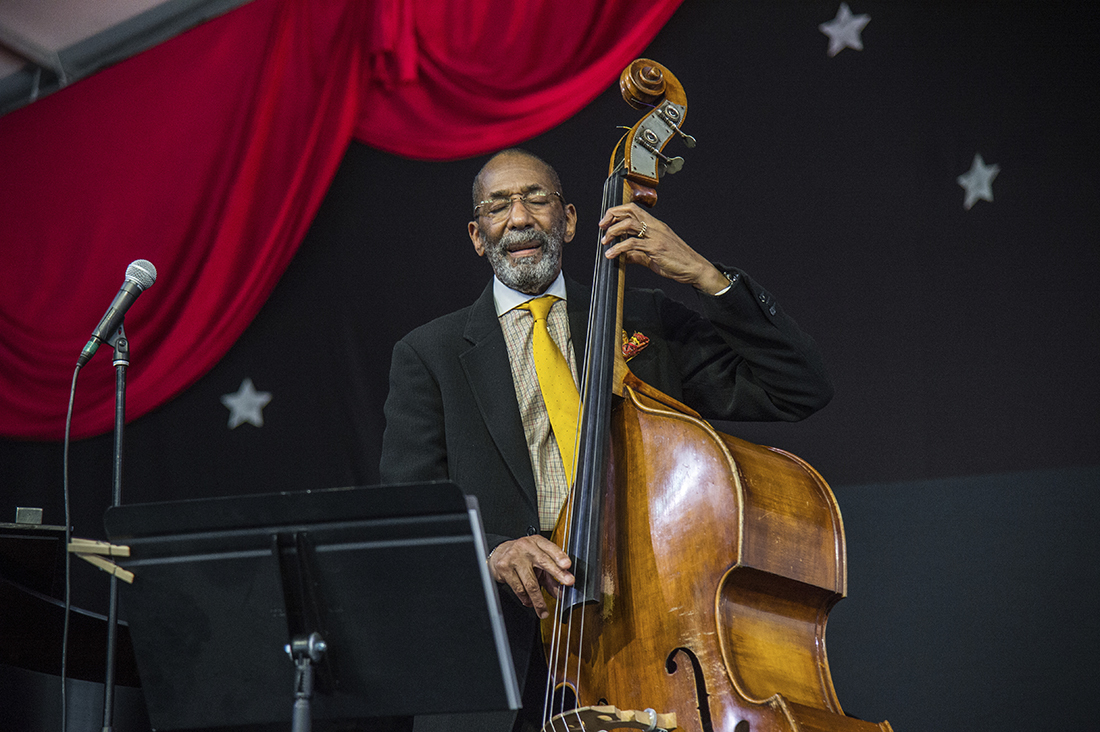 Photo by Amy Harris/Invision/AP
Like many things in Todd Barkan's life, the opportunity to revive his West Coast jazz club, Keystone Korner, in Baltimore seemed serendipitous. "That's how a lot of good things happen," says Barkan, who struck up a friendship with restaurateur Robert Wiedmaier when the chef hosted the National Endowment for the Arts' (NEA) Masters awards dinner at Marcel's in Washington, D.C. almost exactly one year ago.
"It was a byproduct of the music," says Barkan, who was being honored with an NEA Jazz Masters' award that night. "Had I not gotten the award, I would have never met Robert. The music brought us together."
A few months later, Wiedmaier suggested that the duo reactivate his former Mussel Bar space in Harbor East as a modern iteration of Keystone Korner. While the new spot will take inspiration from the original San Francisco club, which Barkan operated from 1972-1983, it will have an identity all its own—paying homage to Charm City's rich jazz history.
Read more about the club, which debuts with a performance by legendary double bassist Ron Carter, with guitarist Russell Malone and pianist Donald Vega, on April 30.
The new club will take after the original Keystone Korner in San Francisco.
Just 11 days before the grand opening, a team of nearly 20 people whizzed around the former raw bar—rearranging furniture, interviewing potential employees, discussing menu details, and planning interior decor. "This is what I like to call the calm before the storm," says hostess Dajerel Gray, in between answering phone calls and taking reservations. By her count, the club has already sold 107 tickets for its lineup of shows booked throughout June.
Similar to the original Keystone Korner, most of the staff members are either performers themselves, or aficionados who are deeply passionate about jazz. Take visual consultant Lucas Novaes, a local artist and musician who is curating all of the art in the space. There's also general manager LaRone Duplessis, whose deep-rooted connection to jazz dates back to his upbringing in New Orleans.
Barkan, of course, is also a champion for the scene. The seasoned pianist moved to San Francisco and took over Keystone Korner in the early-'70s—the heydey of rock and roll.
"People told me I was nuts," he says. "The rock scene was at a peak. That was the era of The Grateful Dead, Carlos Santana, and Jefferson Airplane. They said, 'Barkan, what are you doing?' And I said, 'I'm opening a jazz club.' I'm rather idealistic, I didn't know any better."
Under Barkan's reign, the club became a hub visited by jazz legends like Dexter Gordon, Bobby Hutcherson, Stan Getz, Buster Williams, Ron Carter, and Rahsaan Roland Kirk. "It was all about the music," Barkan remembers. "We're going to try to make this place the same."
Menu will feature spins on American staples paired with classic cocktails.
One aspect that will differ slightly from the original Keystone Korner is that the new iteration will have a larger culinary focus. Wiedmaier's restaurant group will oversee kitchen operations, offering a menu that the Michelin star chef describes as "retro Americana refined."
"The food is very American, but with cheffy touches," says Wiedmaier, who researched the menu at jazz clubs in New York City with Barkan a few months back.
Wiedmaier is particularly excited about his deviled quail eggs topped with whipped yolks, mangalica pork, caramelized onions, and a remoulade sauce. He also mentions pan-roasted sea scallops with bacon-potato hash, and a smothered chicken in tarragon butter sauce.
The beverage program will offer 20 beers on tap, eight champagne varieties, and more than 30 wines by the glass. In keeping with the jazz club feel, there will also be plenty of classic cocktails. (Think martinis with cheese-stuffed olives and after-dinner grasshoppers.) "We want to marry the food and the music together," Wiedmaier says.
The entire project came together in less than four months.

On January 8, 2019, the same day Barkan got the call from Wiedmaier pitching the idea to open Keystone Korner in the former Mussel Bar space, he was advising students at the prestigious Jazz Congress in New York City.
"He calls and says, 'I have some good news. We want to open up Keystone Korner in Baltimore,'" Barkan recalls. "And that was it. Three months ago, I didn't even know this club was going to exist."
Barkan relates it to the opening of the original Keystone Korner, which he purchased from its former owner in a deal that took only two days to close: "The parallel is Robert calling me in January," he says. "It's now April, and we have Ron Carter opening up on International Jazz Day. It's like a wonderful movie."
Locally inspired design spearheaded by MICA grad Lucas Novaes.

The 200-seat space is equipped with a large centerpiece bar, wooden accents, a back lounge, intimate booth seating, and multiple communal tables. Throughout the club, designer Lucas Novaes plans to incorporate old photographs, mixed-media works, chalk portraits, and murals of local icons including Billie Holiday, Cab Calloway, Eubie Blake, and Ethel Ennis.
Both the music, as well as the history, aren't lost on Novaes: "Jazz is one of the most sophisticated forms of expression," he says. "It came from struggle, and Baltimore is a beacon of that."
Live music will be performed seven nights per week.
The team assures that, no matter what night you choose to pop in to the club, there is sure to be a performer gracing its custom-built, carpet-lined stage: "There has to be," Barkan says. "I'm not going to run a club like this and just have a jazz album playing."
Aside from hardcore jazz musicians, the lineup will also incorporate genres like samba, funk, and psychedelic rock. Wiedmaier hopes it also becomes a platform for local musicians studying at the Peabody Institute and Baltimore School for the Arts. "We want to bring in these straight-up jazz musicians, but we also want to bring in younger performers," he says. "It's going to be a venue for everybody."
Tickets for all shows, which range from $10-45, will be offered in both general admission and premium seating with direct views of the stage.
Baltimore jazz legend Cyrus Chestnut helped to choose the club's new Steinway.
When picking out the club's piano, Barkan enlisted the help of his old friend Cyrus Chestnut. The Baltimore-based composer, pianist, and Howard University professor—who got his start playing at the Mount Calvary Star Baptist Church on Harford Road—says he was honored to help pick the instrument for such "an iconic and historic venue."
"It wasn't necessarily about what I liked," Chestnut says of the process. "It had to have a range to encompass various different points of view. It had to be something that had good sound. Not too bright, not too dark, right in the middle. Just a joy to play."
After trying out a few, the seven-foot Steinway B model proved to be the winner: "I sat down and started playing, and it felt really good to me," Chestnut says. "I just kept playing and playing, and after about 20 minutes, everybody looked at me and said, 'Oh I guess that's the one, huh?'" Chestnut will grace the piano keys once again when he performs with Buster Williams and Lenny White at the club May 22-26.
Keystone Korner is an indicator of a local jazz revival.
As Chestnut puts it, "I think Keystone will really be the start of a new jazz renaissance in Baltimore," he says. "This place is really going to up the ante. We'll once again have that jazz hub that Baltimore had for so many years."
While there are many local venues that have become known for hosting jazz bands—including An Die Musik, Germano's Piattini, and Bertha's Mussels—Keystone fills a void left behind by clubs like Ethel's Place, Blues Alley, and the Left Bank Jazz Society.
Another club called Bentley's is expected to open in the former Cookers Music Bistro space on Howard Street in the coming months—contributing to the overall revival of Charm City's storied jazz scene.
"I remember when I first got to New York and I said I was from Baltimore, people looked at me differently because it was just this known thing that cats from Baltimore had something special," Chestnut says. "Just as cats from New Orleans and Chicago, Baltimore was like 'Okay, oh you're from Baltimore.' There was a certain expectation. That is really something special."