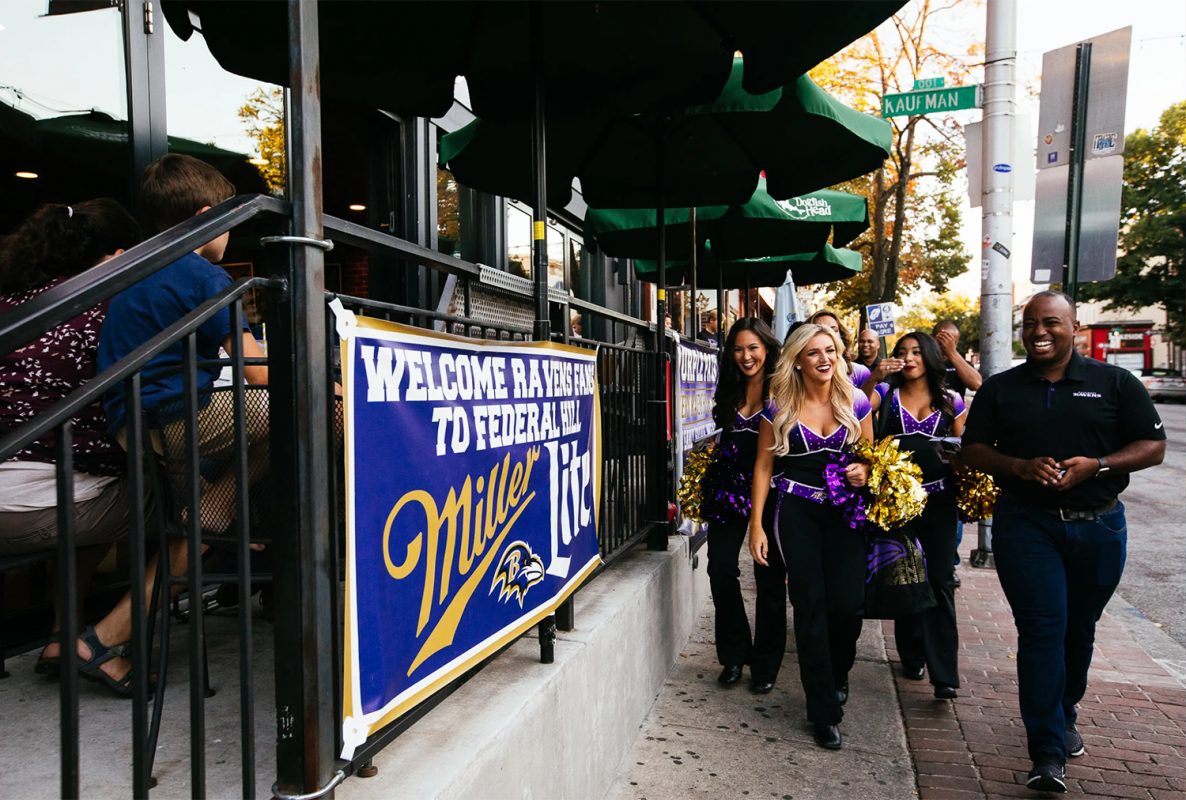 The Baltimore Ravens are giving purple pride an entirely new meaning this season. The Lamar Jackson-led flock—which has been undefeated since October and subsequently inspired a heightened sense of hometown pride—is heading into its first playoff game against the Tennessee Titans on Saturday, January 11. Of course, there will be plenty of "Big Truss"-themed watch parties and food-and-drink deals on game night. But if you're looking to get into the spirit well ahead of time, the team is hosting a number of community rallies leading up the first AFC divisional round. So throw on a jersey, crack open a beer, and celebrate the Ravens' stellar season at these community events and purple parties this week.
FLOCK FESTIVITIES

1/8: Car Stenciling in Canton
Pull up to the Safeway on Boston Street from 6-7 p.m. to have your car decorated with an official Ravens decal. Former players Adalius Thomas and Cary Williams will also be on hand to sign autographs and hype up the crowd.
1/9: Flock Party at White Marsh Mall
Beginning at 4 p.m., the section of White Marsh Mall near the Macy's Home Court will transform into a full-blown Ravens headquarters—complete with spirited cheerleaders, former players, marching band performances, and a visit from Poe himself. Snap selfies with all of the attendees while entering into contests and giveaways.
1/9: Ravens "Pup" Rally at Checkerspot Brewing Company
In what we're sure will be one of the most adorable Ravens events ever, Checkerspot Brewing—located just a stone's throw away from M&T Bank Stadium—is hosting this "pup" rally for dogs to come decked out in their purple bandanas, bowties, and jerseys. From 5-8 p.m., pups will enjoy dog treats from Sweet Paws Dog Bakery while running around on their own mini football field. Plus, humans can take advantage of $5 pints of Checkerspot beer and shop signature Dogs of Charm City merch. A portion of all proceeds will be donated to The Humane Way Animal Rescue and its work for dogs in need.
1/9: Bud Light Rallies in Federal Hill
Former Raven Jarret Johnson will be bouncing around bars on South Charles Street in Federal Hill on Thursday night from 6-8 p.m. Head to spots including Ropewalk Tavern, Wayward Smokehouse, The Charles, Mother's Grille, Bandito's Bar + Kitchen, and Don't Know Tavern on Light Street to catch the legendary linebacker and enter to win tickets to Saturday's playoff game. There will also be bar bingo, autographed merchandise, and, of course, discounted Bud Lights.
1/10: Purple Friday Fuel Up
Start your Purple Friday off right with this morning tailgate in Lot D at M&T Bank Stadium. From 6-10 a.m., enjoy car stenciling, food, and a live broadcast with 98 Rock's morning show. Former players Edwin Mulitalo and Chris McAlister will be on site to give away a pair of tickets to the divisional round.
PLAYOFF PARTIES

Alexander's Tavern: Starting at 7:15 p.m., one hour before kickoff, this Fells Point staple will be backing the birds with tons of drink specials. Watch the game on one of the many big screens while taking advantage of $3 Bud Light drafts, $15 hard seltzer and microbrew beer buckets, $5 wings, and half-priced orders of Alexanders' famous tots.
Purple Postgame at The Admiral's Cup: Depending on the final score, prepare to celebrate a victory or dance away your sorrows at this post-game party in Fells Point. Local cover band In Too Deep will take the stage following the game at 11:15 p.m. to perform its roster of early-aughts hits by the likes of Weezer and Blink 182.
Cardinal Tavern: What's a Ravens watch party without flowing pints of Natty Boh? Gather with fellow fans at this Canton corner bar to enjoy $4 Boh drafts, as well as $4 rail drinks, $6 appetizers, and $6 craft drafts during all-night happy hour. There will also $3 Narragansett and Bud Light beers and $10 Bud Light buckets if you're drinking with a crew.
Charles Village Pub Towson: Grab a spot at this popular Towson haunt to share discounted beer buckets while digging in to an array of tailgate-themed food specials. Among them are $5 buckets of fries or tots, $8 boneless Buffalo bites, and $10 crab pretzels, chicken tender baskets, and all-American burgers.
The Charmery: It should come as no surprise that this fan-favorite ice cream shop has dreamed up a whimsical flavor to celebrate the team. Stop by one of the locations in Hampden or Towson to sample the "Lamarshmallow Twirl," a tribute to our MVP featuring Nutella, graham crackers, and cereal marshmallows.
Playoff Purple Patio at Mother's Grille: Mother's in Federal Hill is starting game day with brunch service at 9 a.m. before opening its famed Purple Patio at 12 p.m. Show up early to grab a grape-flavored "Ravens Crush" and claim your spot in front of the massive outdoor projector. The bar's popular all-you-can-drink package starts at 4 p.m.
Nacho Mama's: Both the Canton and Towson locations of this Elvis-themed cantina will be offering cleverly named specials in honor of the playoff run. Chow down on nachos and quesadillas while sipping $5 "Lamar-garitas," "Gus 'The Bus' Crushes," and "Judon Juices." To make the evening even more fun, bartenders will also be pouring free shots for every Ravens touchdown.
Ottobar: If you're planning to cheer on the birds from Remington, head upstairs at the Ottobar to sip discounted drinks while watching the game on a giant HD screen. In true tailgate style, there will also be a potluck—so come equipped with your favorite game-day dish.
Papi's Hampden: Belly up to the bar at this Falls Road hangout to enjoy a combo of three crunchy-shell tacos and a draft beer for $8 during the game. Other specials will include $1.50 Naturdays cans, $3.50 Loose Cannon IPAs, and $5 Ravens bombs that mix Deep Eddy's lemon vodka with blueberry Red Bull.
The Sporty Dog Pop-Up Party at Safari: Hot dogs are essential at any tailgate, and local pop-up The Sporty Dog will be slinging its signature franks with outside-of-the-box toppings at this game-day takeover in Canton. Stop by to dance to live DJ music and get in the spirit with the "Ravens Dog," which is topped with sautéed mushrooms, caramelized onions, and red cabbage curry slaw to give it a festive purple color. Other party highlights will include raffles, open bar access, and "Lamar-velous" swag by This Sporting Life.