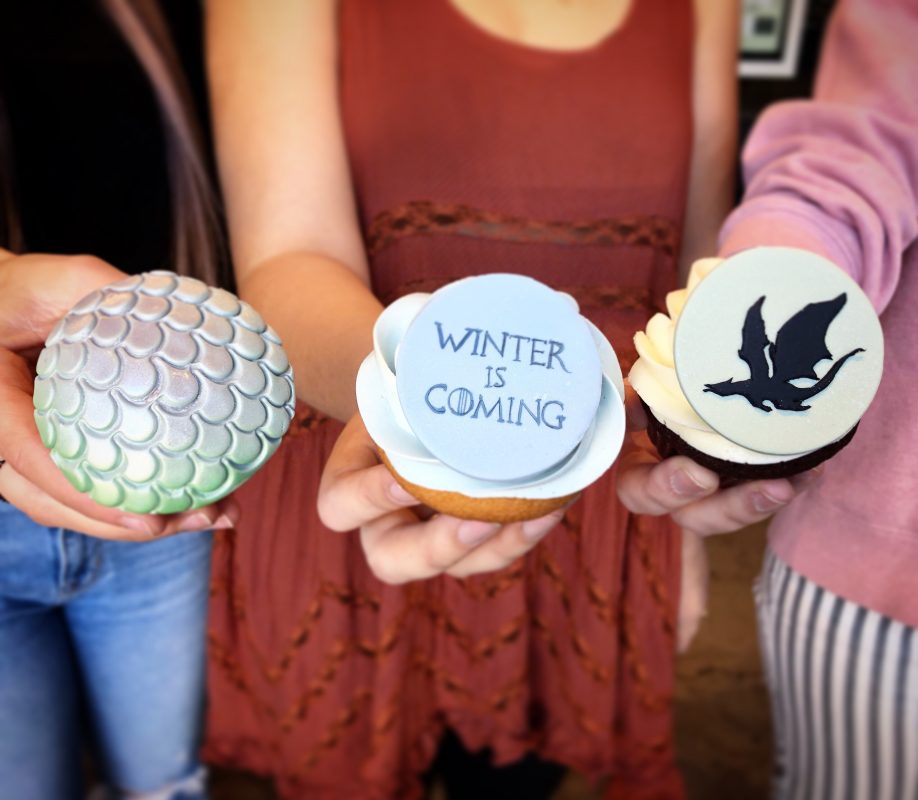 Courtesy of Order & Chaos Coffee
In Westeros, the night is dark and full of terror. In Baltimore, the night is full of dark ales and terrifyingly good drink specials. Game of Thrones, the HBO show about frowning and dragons, begins its final season on April 14 and establishments around the city are ready for the premiere. Here are the best places to go before your watch has ended.
Baltimore Improv Group: Improv gets a bad wrap. Some might think of it as a bunch of goobers repeatedly shouting bawdy innuendos, but when done by skilled performers, it is uproariously hilarious. For the next six Thursdays, the Baltimore Improv Group at the BIG theater will host a Game of Thrones-inspired variety show. Come watch Baltimore's funniest turn incest into high comedy. 1727 N. Charles St.
Camden Yards: On May 21, the Baltimore Orioles will force the Minnesota Twins to bend the knee during Game of Thrones night. Ticket packages are available and include access to an exclusive pregame party and a Game of Thrones bobblehead. Adding to the cross-promotional synergy, the only thing colder than a White Walker is Chris Davis' bat. 333 W. Camden St. 410-685-9800
The Charles: Spring may have sprung, but winter is undoubtedly coming to The Charles. Starting on April 14, this Federal Hill watering hole will host watch parties on its massive screens throughout the GoT season, celebrating the show's return with a bevy of drink specials and bar snacks. 1110 S. Charles St. 410-727-2333
The Charmery: We're just putting this out there, but our favorite raft of angsty Westerosi characters would probably be a lot more laid back if they had ice cream—especially if they could gather around this Hampden creamery's "Game of Cones" pints. Pledge your allegiance to "House Lannister" (a pinot noir caramel base flecked with golden white chocolate bits), "House Targaryen" (a dragonfruit base with Atomic Fireball swirl), or "House Stark" (a wintergreen and spearmint base with peppermint chips). The pints will be available for pre-order only and can be picked up from The Charmery's ice cream factory inside Union Collective from April 13-21. 1700 W. 41st St.
Donut Stop Believin': On April 20, chef Doug Wetzel's donut pop-up will return to the 32nd Street Farmers Market serving the "You Know Nothing Jon Sno-nut." The chocolate cake doughnut, topped with vanilla sea salt glaze and charcoal Oreo frosting, is the kind of outside-the-box—or, more fittingly, beyond-the-wall—thinking that has made Wetzel one of Baltimore's most acclaimed chefs. 400 E. 32nd St.
Live! Casino & Hotel: Here is your chance to prove that you drink and you know things. At this Game of Thrones trivia brunch on premiere day, channel your inner Tyrion Lannister for the chance at winning a seven-day trip to Croatia and visiting the real life King's Landing. There will also be a special menu of GoT-inspired dishes including Littlefinger-ling potatoes, Wolfswood free-range turkey, Robert's Rebellion bacon, and Ramsay's crispy breakfast taters. Tickets are $50 in advance and $60 at the door. 7002 Arundel Mills Circle.
Order & Chaos: No, "Order & Chaos" is not the name of the next entry in the original book series that you will never read. Rather, this South Baltimore coffee shop is offering a cornucopia of Game of Thrones' eats and drinks. Stop by for the "Valar Morghulis" mocha (espresso, mocha syrup, and milk, topped with dragon art) and try not to think about the fact that all men must die. There will also be fittingly named cupcake flavors including the red velvet "Dragon Egg," vanilla "Winter is Coming", and chocolate "Dragon" with buttercream icing. 1410 Key Highway. 410-244-1111
The Outpost American Tavern: Here's your chance to sit on the Iron Throne. Well, sort of. This Federal Hill restaurant will be outfitted with Game of Thrones decor—such as the sigils of major houses that are vying for the throne—and will serve a specialty brunch menu of GoT grub on April 14. 1032 Riverside Ave. 443-388-9113