—Courtesy of Atwater's
After experiencing the ease of having last year's scaled-down celebrations catered, many families are opting to go the carryout route again this Thanksgiving. Even if you're not ready to fully break with tradition, the local dining scene is offering plenty of ways to supplement your family's time-honored turkey recipe with heat-and-eat sides and pies. Plus, some spots are taking reservations and preparing prix-fixe menus if you want to ditch dish duty altogether. However you decide to celebrate, local dining establishments have got your back.
Here, we've put together a list of restaurants that are ready to share their take on classic holiday dishes, both savory and sweet: 
SOMETHING SAVORY
Atwater's: This homegrown cafe has everything you could possibly need for your savory spread. Check out the online menu for turkey dinners, jarred autumn squash soup and rockfish chowder, and an array of sides, plus Atwaters' signature breads, jams, and cheeses. Orders are due by Nov. 21 for pickup or delivery on Nov. 24.
Braglio Farms: Place your order for broad-breasted turkeys, fresh or smoked, from this Randallstown farm in advance of the holiday. Pre-orders can be picked up at the farm, or at the Fells Point or Crofton farmers markets on Nov. 20. (Delivery is also available on orders more than $100.) In addition, Braglio is hosting a special Friendsgiving dinner party on Nov. 24 featuring craft brews, old fashioned turkey sandwiches, mac and cheese, and Turkey Day hoagies with apple sausage dressing.
The Corner Pantry: True to form, this Mt. Washington favorite is preparing a fabulous spread for the holiday. Get your orders in by Friday, Nov. 19 to set your table with butternut squash grits, scallion and nutmeg mashed potatoes, turkey and cornbread stuffing roulade, sausage rolls, cornbread loaf with apple butter, pumpkin s'mores pie, and more one-of-a-kind dishes. Pickups will be on Wednesday, Nov. 24 from 8 a.m.-3 p.m.
The Classic Catering People: This renowned Owings Mills caterer is offering a robust list of mouthwatering proteins, veggies, and desserts to choose from. The team has curated a menu including everything from classic turkey and honey-glazed ham to a fall salad with goat cheese and pistachios, butternut squash lasagna, and mushroom bread pudding. Desserts include mini sweet potato cheesecakes and bourbon pecan pie. 
Cindy Lou's Fish House: Classic American comfort foods (think fried chicken, chicken-fried steak, and hearty macaroni and cheese) paired with warm, flickering fireplaces make this Harbor Point destination a perfect place to spend Thanksgiving with your loved ones. Reservations are open from 12-5 p.m., with the last seating at 4 p.m., on the big day.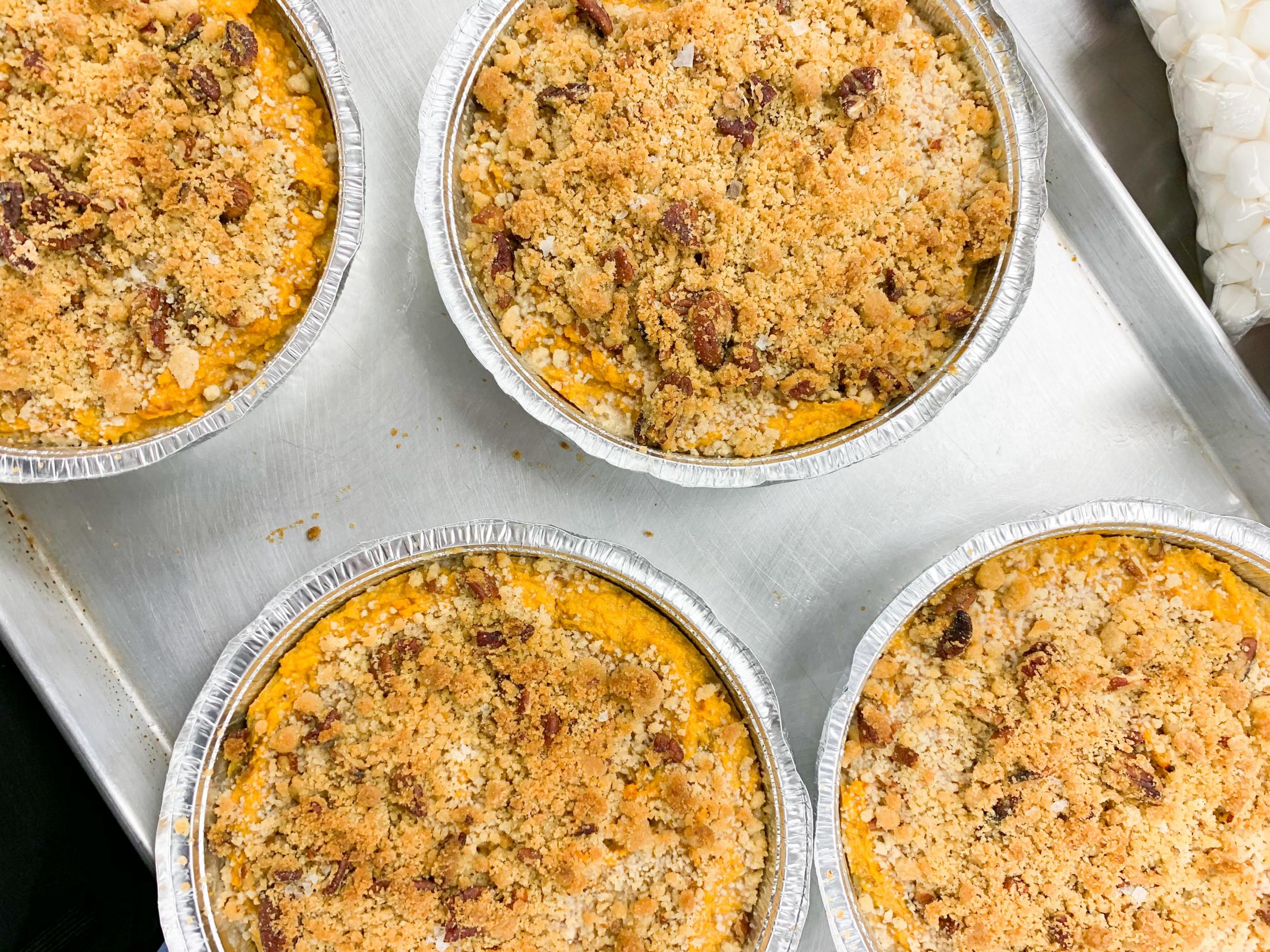 Duck Duck Goose: At this French brasserie in Fells Point, a three-course dinner for four ($175) includes a choice of either prime rib or honey- roasted turkey with three sides and dessert. Order before Wednesday, November 17th for pick up on Wednesday, November 24th. 
Eddie's of Roland Park: You can always count on this Roland Park mainstay to handle all of your holiday needs. In addition to turkey, ham, and beef tenderloin main courses, the menu includes lump crab cakes, lobster tails, and an array of appetizers. (Brie and fig bites, anyone?) Plus, for every turkey dinner sold this season, Eddie's will donate $5 to the Maryland Food Bank—which will, in turn, provide 10 or more meals to neighborhoods currently without support. 
Four Seasons Baltimore: Chef Norma Whitt is pulling out all of the stops for a gourmet brunch in the Cobalt Ballroom at the Four Seasons in Harbor East, where guests can sip bottomless mimosas and bellinis before digging in to homestyle truffle mac and cheese, brioche and apple stuffing, herb-roasted ham, marinated turkey, and other festive fall sides. Satisfy your sweet tooth cravings with pumpkin and pecan pie, apple streusel, and white chocolate cherry bread pudding made in house. All available with a reservation starting at $105 a person from 11a.m. to 4 p.m.
The Gourmet Girls: As its name signifies, the gourmet experts at this Owings Mills favorite—which recently unveiled a new location in Pikesville—bring more than 35 years of experience to their catered offerings. Not only does the Thanksgiving menu list the classics (think turkey, stuffed chicken, pork tenderloin, cornbread stuffing with cranberries, sautéed spinach) but it also includes fresh flowers from Flowers & Fancies and rainbow cake from Bertucco's Bakery in Hampstead. 
Gertrude's Chesapeake Kitchen: Gertrude's at the Baltimore Museum of Art has put together a curbside menu highlighting planked apricot glazed organic salmon, honey-glazed ham, roasted turkey breast, candied sweet potatoes, and more. If your celebration is going to be a bit more low-key, classic Thanksgiving sandwich kits are available for $60. 
Gundalow Gourmet: Mouthwatering holiday sides—such as mushroom-leek stuffing and honey, thyme, and pomegranate-roasted carrots—are available for pick up at Gundalow Gourmet in Hampden's Whitehall Market. There are also vegetarian options and six packs of Gundalow's chocolate chip cookies if you're looking for a straightforward, but delicious, dessert. 
H3irloom Food Group: Chefs David and Tonya Thomas are featuring a customizable family feast for four ($150) with options including two types of turkey, jerk chicken, vegan meatloaf, sauerkraut, braised greens, green beans, candied sweet potatoes, cranberry hibiscus preserves, and spiked apple cider pound cake. All of the dishes—also available a la carte—will be ready for curbside pickup on Nov. 23. Orders are due Nov. 18.
NiHao: Visit this Canton fixture for a non-traditional Thanksgiving feast featuring Chef Antoni Szachowicz's signature Cantonese duck with plum sauce, sweet potato mantau, mapo macaroni, and Brussels sprouts in spicy shrimp sauce with pistachios. The to-go menu is available for pickup Tuesday, Nov. 23 or Wednesday, Nov. 24 between 5 pm and 9 pm. 
Santoni's Marketplace & Catering: Whether you're planning to feed the whole family with a prepared meal package, or just in need of a few sides to round out your menu, this go-to Glyndon market is ready to serve. A traditional feast includes turkey, stuffing, mashed potatoes, gravy, cranberry relish, green beans almandine, dinner rolls, and your choice of apple or pumpkin pie. Bakery items, side dishes, and turkeys priced by the pound are also available a la carte. 
The Walrus Oyster & Ale House: This Columbia seafood spot is featuring a holiday meal deal with your choice of protein (traditionalists will opt for glazed turkey breast, while others might be in the mood for The Walrus' beloved lobster roll) bread, two sides, a starter, and dessert of pumpkin or pecan pie.
SWEET TREATS 
Bramble Baking Co.: At this small-batch bakery—which recently opened its brick-and-mortar storefront in Hamilton-Lauraville (read more in our upcoming January issue)—passionate bakers are celebrating their first holiday in their new home storefront with desserts such as a cranberry buttermilk pie for $32 and an apple cider layer cake for $46. 
Cafe Dear Leon: Your contribution will be the talk of the dessert table with one of the picture-perfect pies from Cafe Dear Leon in Canton. Pre-orders are live now for the bakery's apple pecan pie with vanilla mascarpone cream and pumpkin pie with maple meringue. The desserts will be available for pickup Nov. 23-25.  
Cake by Jason: Shop award-winning cakes, pies, and more Thanksgiving-themed treats Jason Hisley's Timonium spot. Lattice blueberry, cinnamon sugar-topped apple, and pecan pies are available to pre-order. All will add a chef-inspired piece to your holiday potluck or Friendsgiving. 
The Charmery: For $30, up to ten of your family or friends can enjoy spiced ice-cream pumpkin cheesecake, brown sugar molasses pecan pie, or a vegan Maryland mud pie from The Charmery. Order by Nov. 19 for delivery on Nov. 23 in Howard County and Nov. 24 in Baltimore. Pies will also be available for in-store pickup at the shop's locations in Hampden, Towson, and Columbia. 
Charlsie's Bakehouse: Order a gluten-free apple spiced cake, pumpkin cheesecake, or smoked paprika cornbread from Charlsie's Bakehouse at Cross Street Market in Federal Hill. Seasonal hand pies are also available for $30 per dozen.
Little Fig Bake Shop: Sweet bites are available at this small-but-mighty vegan shop. Look out for chocolate chip cookies, cinnamon bun kits, cherry danishes, and special donut flavors such as pistachio-glazed. 
Pie Time Baltimore: If you haven't yet visited this Patterson Park pie shop, Thanksgiving presents the perfect opportunity. Swing by to place your orders for apple, apple almond, pecan, sweet potato, or caramel pumpkin pies before Nov. 17 for pickup Nov. 20-21 and Nov. 24.
Red Emma's: Pre-order whole pumpkin pies and savory pot pies on Red Emmas' website for vegan-friendly options this Thanksgiving. All dishes are available for pick up on  Nov. 24.