GameChanger: Imani Black
We catch up with the founder of Minorities in Aquaculture.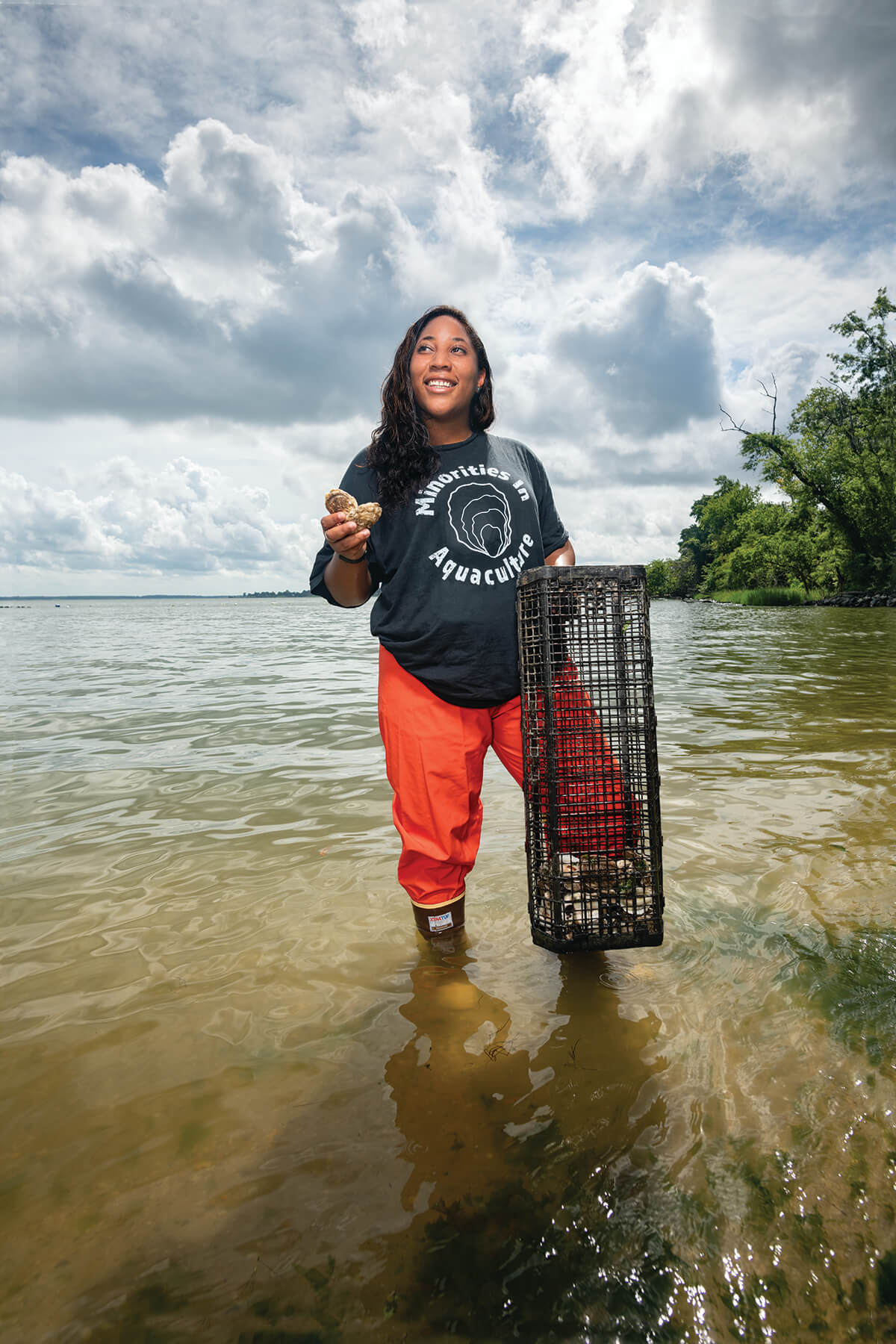 Thanks to global demand, aquaculture, aka the farming of seafood, has quickly become the world's fastest growing food system, and Eastern Shore native Imani Black is working to ensure that more minorities are included in the conversation. An alum of the Chesapeake Bay Foundation (CBF), Virginia Institute of Marine Science (VIMS), and currently a faculty research assistant at the University of Maryland's Horn Point Laboratory, the 26-year-old oyster farmer has launched a nonprofit aimed at nurturing a more diverse and inclusive industry, while also honoring the historic contributions of African Americans on the Chesapeake Bay.
What was your first connection to the water?
Since childhood, my family and I would always go down to the Chestertown wharf [on the Eastern Shore] and fish on Sundays after church. When I was seven, I went to an overnight environmental science camp at the Horn Point Laboratory [of the University of Maryland Center for Environmental Science in Cambridge]. We learned all about striped bass, blue crabs, oysters, submerged aquatic vegetation. I was an active kid who loved being outside and on the water. I just understood it. From there, I got into 4-H and community cleanups and volunteering, and it just stuck with me.
You graduated with a degree in marine biology at the Old Dominion University in Virginia before pursuing a career in aquaculture, working with two strong women-led teams at CBF and VIMS. When did you connect that there were still not enough women, let alone women of color, in this industry?
After college, I worked at an oyster farm in Virginia and got smacked in the face being the only woman. I was coming out of playing Division 1 lacrosse, but I'd be carrying totes from one end of the dock to the other and three guys would be like, "Oh no, no, that's too heavy." The owner would say, all hands on deck, but not you, this is a man's job.
It was frustrating. The only other people of color I saw were Hispanic and African-American men who were laborers on the farm. I had just one girl of color in my marine classes in college. But growing up on the Eastern Shore, I was the token Black girl most of the times. My lacrosse team was white. My coaches were white. My teachers were white. I was comfortable in that role. It didn't affect me until later on.
What made you start to see it differently?
Because I'd been the token, I never really wanted to call things racist. If somebody was being a certain way, I'd be like, maybe they're just having a bad day. But eventually I got to the place [in my career] where I'd done all I could do, been a great employee, showed up my best, worked on myself, and still kept hitting walls. That's when I really had to be like, okay, maybe…
When did the idea for Minorities in Aquaculture come about?
I actually had the semi-idea last January. I had seen this Netflix show, Chef's Table, with Mashama Bailey, a Black chef in Savannah, Georgia, who converted a once-segregated Greyhound bus station into a five-star gourmet restaurant. In her episode, there are two Black oyster farmers, which was the first time I'd ever seen a Black-owned oyster farm. I asked myself when the last time was that I saw a person of color in a leadership role in aquaculture.
Then May came. Ahmaud Arbery was probably the one that really shifted my view, because when I found out, I had just gotten back from a jog. It became so real. The few in our industry who put out statements [following the death of George Floyd] talked about conferences and forums to make aquaculture more diverse. I thought, what are people who don't even look like me going to do? A lot of Black scientists had the same thought at the same time, with like 12 organizations being formed last summer. Black By Nature. Black Birders. Black in Marine Science. I knew when I started MIA that it was a lot bigger than me. And if you don't do it, who's going to?
What are some of the biggest obstacles for minorities entering marine sciences?
Exposure. A lot of people, let alone people of color, don't know what aquaculture is. They don't know that more than 50 percent of the seafood that we eat is farm raised. And when you're not from an area that has a connection to the water, how can we ever expect you to? We can't ask people to be biologists or conservationists if they don't understand their environment.
Also, representation. I had an interview at the Hudson Valley Steelhead Trout Farm facility in upstate New York and saw one Black lady who worked there. When I got the job, I took every chance I could get to talk to her. I can only imagine what more experiences like that would mean for the industry.
What has it been like to find resources and even members for MIA?
Super hard. People generally think there's some list of Black women that I have in my back pocket. I'm like, do you know any black women? Please, give them my name! We're starting from the ground up with a few PhD students. We can support their research and be a soundboard. Right now, we're looking at battling some of the obstacles they face in this industry.
You've also been diving into the history of Black watermen on the Chesapeake, which includes your own family. How have you gone about your research?
I first learned about Kermit Travers—this highly respected Black skipjack captain from Blackwater, where I had been driving every single day for work. Then I came across Vincent Leggett and his Blacks of the Chesapeake organization, where I really learned from his writing about where we had been and what we had done.
I'm not doing something new; I'm doing something that was a part of my family and so many other people's families for centuries. There are 12 active Black captains on the Chesapeake today, all over the age of 60, and we used to have 900. This is a part of our history that's actively dying, and there have been thousands of stories of Black watermen that have never been written. It's about getting more people of color involved, but also preserving this history.