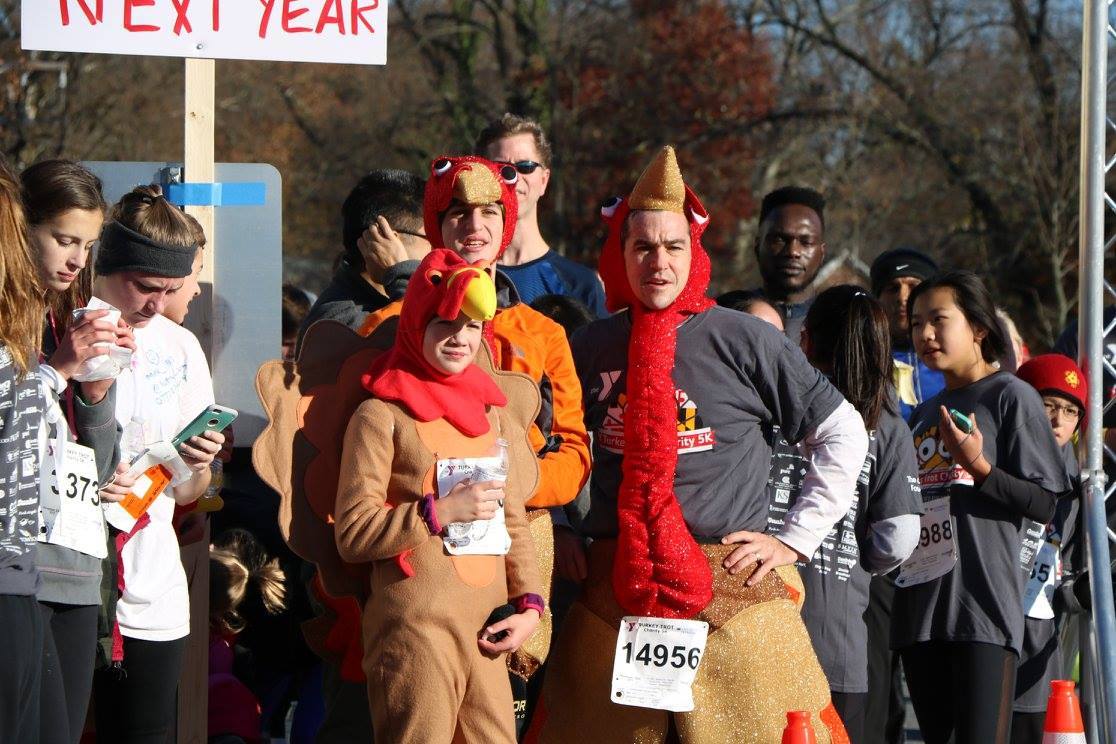 Facebook: Y Turkey Trot Charity 5K
While the typical Thanksgiving Day exercises might work for some people (think: flag football and mashed potato smashing), there are tons of other ways to work up an appetite before and after the big feast.
From charity races and fun runs to yoga practices and bootcamp classes, these are some of the best ways to lose that turkey tummy in Baltimore this Thanksgiving.
Turkey Day Dashes
YMCA Turkey Trot Charity 5K: Grab your fitness-loving family and head to the YMCA's Turkey Trot Charity 5K on Thanksgiving morning. The races start at 8:30 a.m. and are being organized by YMCA's in Arnold, Bel Air, Ellicott City, Westminster, Perry Hall, Towson, as well as Baltimore City. From cheering on the sidelines to breaking a sweat, everyone can get in on this Turkey Day tradition. Various locations including 900 E. 33rd St.
Turkey Chase Charity Run: The 36th Annual Turkey Chase Charity Run starts at 8:30 a.m. on November 22 and includes a 10K race, a two-mile fun run, a 1K race, and a 50-meter tot trot. From workout newbies to routine racers, everyone can participate in this harvest holiday tradition. 9401 Old Georgetown Rd, Bethesda
2018 Gobble Cobble Turkey Trot: Rise and shine on Thanksgiving morning for downtown Baltimore's annual Turkey Trot. Hosted by the Maryland Athletic Club and Falls Road Running Store, the 5K contest kicks off at 8 a.m., and the proceeds from the race will be donated to the Sol Goodman Pancreatic Cancer Research Center at Johns Hopkins and the Greater Maryland Chapter of Alzheimer's Association. 655 President St. 410-296-5050
Thanksgiving Day Turkey Trot Emmitsburg: Gobble and waddle your way through this neighborhood turkey trot starting at 8 a.m. on Thanksgiving morning. The festivities include a five-mile run and one-mile walk, and the proceeds will benefit Seton Center Inc, an organization that provides support services for the Emmitsburg community. 201 W. Lincoln Ave., Emmitsburg, 301-600-6300
Catonsville Turkey Trot: Throw on your sneakers and join the Catonsville High School Cross Country team for the 15th Annual Turkey Trot sponsored by MedStar Sports Medicine. The one-mile run and a 5K race will start at 8:10 a.m., and the proceeds will go to Portalli's restaurant in Ellicott City, a local favorite that was recently devastated by flooding. 421 Bloomsbury Ave.
Feast Fitness
Turkey Burn Yoga: Release stress from holiday hassles and join Keep It Simple Yoga on November 23 for a core-based yoga class. The session runs from 10-11 a.m., and no yoga experience is necessary. Use a class pass or drop in for $15. 5405 East Dr., Arbutus, 443-29-78293
Thanksgiving Day Yoga at YogaWorks: Get ready to burn off those baked goods at Federal Hill's YogaWorks on November 22 from 10-11 a.m. The hot yoga session is the perfect way to escape the chaos in the kitchen, even for just a little while. 1024 Light St., 443- 345-2790
Thanksgiving Day Yoga at Rolling Brook Yoga: Before you put the pies in the oven, step onto your mat and cultivate a sense of gratitude on a day that's all about giving thanks. Rolling Brook Yoga will host an all-levels class from 9-10:15 a.m. on November 22. The class costs $18 for non-pass holders, and you can check out their website to reserve your spot. 1715 Edmondson Ave., Ste. C, Catonsville, 410-744-0946
Black Friday Zumba Turkey Burn: Twist, two-step, and twirl away that Turkey at Freedom Fitness' annual Black Friday Zumba Master Class. The class runs from 10-11:30 a.m. on November 23, it's open to members and non-members, and tickets are $18 in advance and $20 at the door. Proceeds will go to local food bank Carroll Food Sunday. 1950 Dickenson Rd., Sykesville, 410-795-9101
BeachFit Baltimore Turkey Burn: There's no better way to sweat out servings of stuffing than at BeachFit Baltimore's annual turkey burn workout. The session runs from 8:30-9:30 a.m. and will feature strength and cardio moves that build muscle and shred calories. 1400 Aliceanna St., 410-753-4354
Amazing Grace Flow: Hosted by Towson's 4 Warriors Yoga studio, this Thanksgiving Day practice starts at 9:30 a.m. on November 22 and aims to be an empowering class that instills a new sense of gratitude and serenity in participating yogis. There's no better way to start your Turkey Day than with namaste. 31 Allegheny Ave. Suite 302, Towson, 410-828-9642