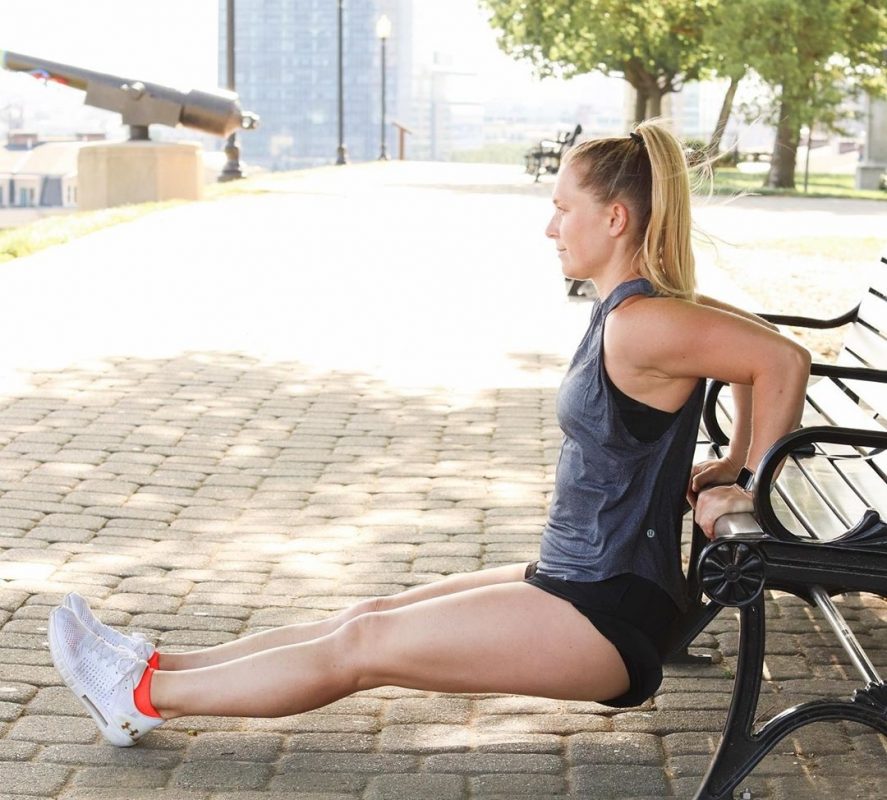 In an effort to decrease the spread of the coronavirus, Governor Hogan took Maryland's social distancing efforts a step further by ordering the closure of bars, restaurants, movie theaters, and gyms.
We are all feeling a bit on edge and, while our wellness sanctuaries have just closed, it continues to be important to prioritize our mental and physical health.
"Exercise helps keep you focused and centered. I know it helps me reset my mind when I'm getting stir crazy," says Reed Sothoron, general manager and personal trainer at the Under Armour Performance Center. "It can be tough to workout from home…we join gyms and classes for accountability. But, with all these changes, we're going to have to get creative. We can use this time with ourselves to cultivate practices that better our bodies and minds."
Baltimore has already begun, proving that, as a community, we can make the best of a challenging situation. Local gyms, studios, and personal trainers are taking their support online, providing digital access to their services with streaming videos, workout ideas, customized programs, and more.
Now, more than ever, it's important to support your favorite local businesses. And joining digital workouts and sharing with others helps your local gyms and instructors.
As Sothoron reminds us, "If you believe in the person you've been working with, continue to support them if you can. You helping out, even a little bit, could be the way to help them get through this."
Here, we round up a list of available and planned opportunities from the fitness community in Baltimore. Be sure to check back throughout the week as we continue to update with more classes
Reed Sothoron, will be hosting a daily workout at 5:45 p.m. on his Instagram page. "With routines mostly in disarray, I want to help create some normalcy and focus for people," he says."Go in your backyard or down to your basement and we'll get in a good sweat for the day."
Free Baltimore Yoga is taking some of their regularly scheduled classes online. You can currently follow a 30-minute surrender yoga flow with Emily Fleming. Check on their Facebook page for virtual sessions Tuesday night at 6:00 p.m. and Thursday evening at 6:30 p.m.
Knockout Fitness has committed to doing two virtual workouts for those at home. This week, they will be sharing a workout at 9:00 a.m. and 6:00 p.m. every day on their Instagram and Facebook pages. In addition, you can also follow co-founder Jason Nissley on Instagram for daily workout moves. They will also be working on meal plans and personalized home workouts. Reach out directly for more information.
YogaWorks is offering access to their online platform, MyYogaWorks, for free until further notice with code ONLINE.
November Project Baltimore has shared a simple (but intense) workout for all on their Instagram page, and they plan to share additional at-home workouts Wednesday.
Nick Rodricks, local instructor and runner, plans to share workouts every Tuesday and Saturday morning on his Instagram page. He promises, "they will be goofy. They will be tough. And I'll be joined by a Baltimore fitness legend for each one."
Jason Williams of Charm City PT, is hosting a Morning Movement class via ZOOM for $10 Thursday at 5:00 p.m and Friday at 12:00 p.m. He also has a variety of workouts, meditations, and stretches available for home-use on his YouTube page and on the free Insight Timer app. Stay tuned to his Instagram for announcements about more live classes.
Marissa Walch, local fitness and wellness professional, is offering free flows and workouts on her YouTube channel, as well as small group, outdoor workouts where students can stay at least six feet apart.
Oksana Koval of Fitness by Oxy will be setting up online live workouts, private training, and small outdoor workouts. She has multiple barre, bootcamp, and TRX video workouts on her Instagram page that you can try at home. She will also be creating a two-week customized plan for people based on their at-home equipment. Reach out directly for more information.
Katie Ficca, local vinyasa, aerial, and SUP yoga instructor, has begun sharing videos on her Instagram page and plans to create more yoga and family workouts for those working from home with kids.
Alexa Bedingfield, former owner of the LIFT Baltimore studio, will be offering her minimal-equipment workouts through a 30-day at-home plan. She's bringing together some of the past workouts from LIFT and will be offering the plan for $30 via her Instagram.
Sokol Baltimore will be posting a daily video on their Facebook page of a new exercise move meant for all ages.
Movement Lab will be offering virtual one hour NIA classes on Facebook Live and Vimeo to join on your own time.
Barrevolution in Timonium is hosting virtual classes through their website. Some of their instructors are creating five to 30-minute on-demand video workouts for clients to download and complete from home.
Reflex Functional Fitness will be hosting live workouts on their Instagram page Monday through Friday at 11:00 a.m. and Saturday at 9:00 a.m. All classes will be Reflex-style HIIT, but modified to be completed at home.
Industry Athletics, including CrossFit Federal Hill and CrossFit Harbor East, will be providing live workouts on their Facebook pages, as well as through Zoom and SugarWOD.
Charm City Fitness is offering daily classes on Facebook Live and Vimeo. Reach out directly and check back on their Instagram page for more information.
M. Power Yoga has live streaming now available on ZOOM, starting Wednesday at 9:00 a.m. Wednesday will also have class at 5:00 p.m. and 8:00 pm. Online classes will be free to members and available for purchase to others for $10 drop in. To participate, you must sign up online on their website.
Rev Cycle Studio will be hosting daily live workouts through their Instagram account. Check Instagram for the detailed schedule.
Maryland Athletic Club will be offering a virtual club for members with hundreds of classes lead by some of their top fitness professionals.
Core Cycle Studios will be taking their classes to Burn Along, an online fitness platform. They are offering access for free if you email [email protected]corecyclestudios.com. There will also be private one-on-one barre, cycle, and yoga sessions. Email for further details.
FX Studios is now offering free access to their digital fitness app using the promo code: fitfromhome.
Towne Barre in Towson will be offering virtual classes every day. In order to participate, you must download the ZOOM app and sign up online through their website (as you would for a one of their normal studio classes). All students signed up for the virtual class will receive an email prior to class with a link to the live stream.
Core Power Yoga is offering free, on-demand classes on their website Additionally, special member-only classes will be launching March 19th.
Pilates House is uploading mini mat Pilates workouts to their website You can also schedule a virtual private class with one of their instructors by emailing [email protected].
Mantra Fit in Severna Park is offering free daily bodyweight metabolic strength workouts in their Get Mantra Fit community group on Facebook Anyone is welcome to join.
Baltimore Yoga Village is offering live streaming of their yoga classes on ZOOM.
SoulBody, a Baltimore based barre program, can be found on the fitness-sharing app BurnAlong with many of their local instructors. Once logged in, search "soul body" to find classes.
Bamboo Moves Yoga is streaming live classes to their Facebook page and Zoom. Check the page daily for updates on time and instructor. In addition, they have uploaded free class videos to their YouTube page for access any time.
Fit2Go, local Baltimore in-home personal training team, is streaming live home workouts daily on their Facebook page. They also have an extensive database with full home workouts and exercise tutorial videos on their website that they are updating regularly.