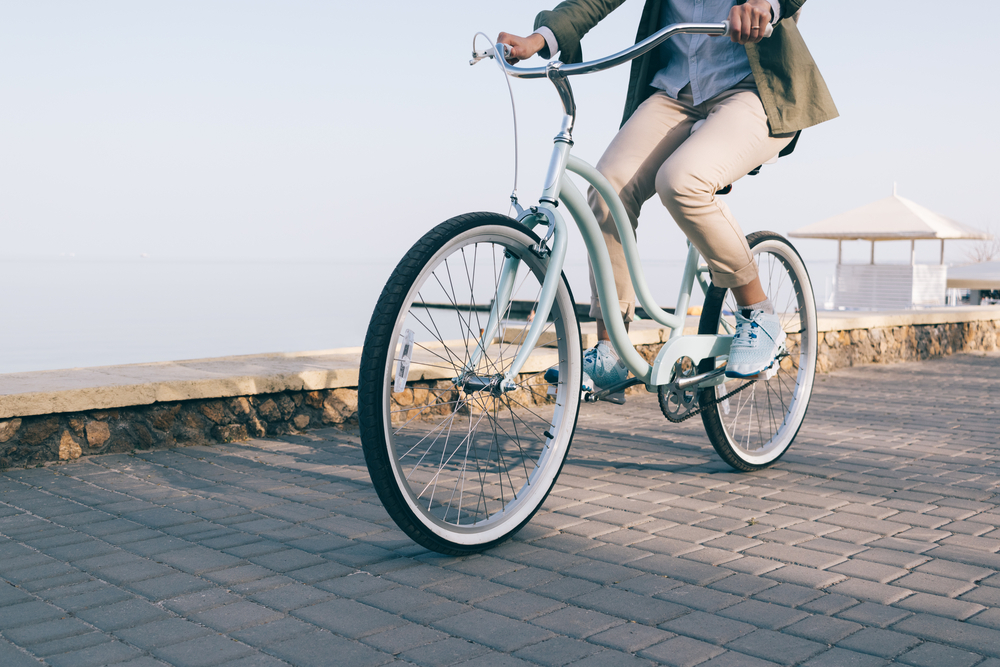 Shutterstock
Welcome to "Life Lines," a new column on aging gracefully by writer Laura Black.
The Eastern Shore bike shop was jam-packed with merchandise. I combed through mazes of racing bikes, mountain bikes, road bikes and even bicycles-built-for two. But, I couldn't find what I was looking for. Before too long, a pony-tailed salesman with tattoo-covered biceps greeted me and asked, "Can I help you?"
And, in the same voice I used the first time I asked a male drugstore clerk for a box of tampons, I muttered, "Do you have any adult tricycles?"
To his credit, he didn't laugh, "Give me a minute, I think there's one in the back." And, before I had time to change my mind, he came out with a red three-wheeler. It looked like an adult-sized version of the ones I bought my kids when they were toddlers—minus those multi-colored plastic strips hanging off the handlebars.
"Let's take it out to the parking lot so you can give it a try."
Hoping no one else was watching, I climbed upon the seat and pedaled. I hated it. It was heavy and unwieldy—not an acceptable replacement for my two-wheeled Schwinn. I love that bike, with its fat tires, cushy seat, and clunky wire basket that holds my water bottle, lock, and purse. But I've been afraid to ride it since my fall last summer.
My husband and I were riding our bikes to breakfast. As we approached the restaurant, he took a sharp right turn, over the curb and into the parking lot. I tried to follow. But, the next thing I knew, I was splayed on the ground as awkward as a lineman in a tutu.
Passersby offered help, and I declined with embarrassment. Charles lifted the bike off my chest, and we assessed the damage: bruises and blood, but nothing gushy nor stitch-worthy. (Though later, my left knee swelled, seemingly with humiliation, and I had to have it drained.)
Charles helped me to my feet and after, "You okay?" He said, "Honey, your bike was parallel to the curb, that's why you fell. You should have turned the wheel and crossed it at a right angle." I thought, "How was I supposed to know?" And in that moment, my confidence as a cyclist collapsed. I walked the bike home and buried it in the back of our storage closet. I have not touched it for over a year—and, I miss it.
Unless I count walking, biking was my only outdoor activity. (I never mastered tennis, diving, hiking, surfing, skiing, to name a few alternatives.) At the beach, I would ride up and down Coastal Highway, exploring bayside and oceanfront communities. I'd cycle south to the Boardwalk and north to downtown Bethany. On a trip to Wyoming, Charles, my daughter, and I pulled over for a herd of buffalo as we biked the mountain trails. And, in Vancouver, I rode with my sister and our daughters around the Seawall Trail in Stanley Park.
Biking has allowed me to see myself as active. Now, since the fall, I am afraid to ride—and, afraid not to. A tricycle, with its two back wheels for balance, was a last-ditch attempt to resurrect my self-image.
When I'm honest with myself, I must admit that the problem is bigger than bicycling. Like another wrinkle between my brows, anxiety has marred my self-assurance: I hesitate before driving my rental car on I-95 from Miami to Delray Beach. I hang my trifocals from my blouse before stepping on steep escalators. And, I go out of my way to avoid walking in ice and snow.
I concede apprehension—but, fear capitulation. Isn't giving up, giving in? I do not want to succumb to self-imposed limitations. I have little control over the insidious losses that come with aging—but, I can control how I handle them. I can choose fight over flight.
When I return from the tricycle fiasco, I drag my Schwinn out of the storage closet, pump air into its tires and toss my stuff into the basket. Grabbing the black rubber handlebars, I maneuver it into the elevator and out to the street. Then, I buckle the strap of my helmet under my chin and straddle the seat. Inhaling courage, exhaling fear—I pedal north on Coastal Highway. I am free. Turns out, it's just like riding a bike.