Why Pickleball is All the Rage in Baltimore Right Now
We talk to Coppermine pickleball director Lynne Coburn about the smash hit.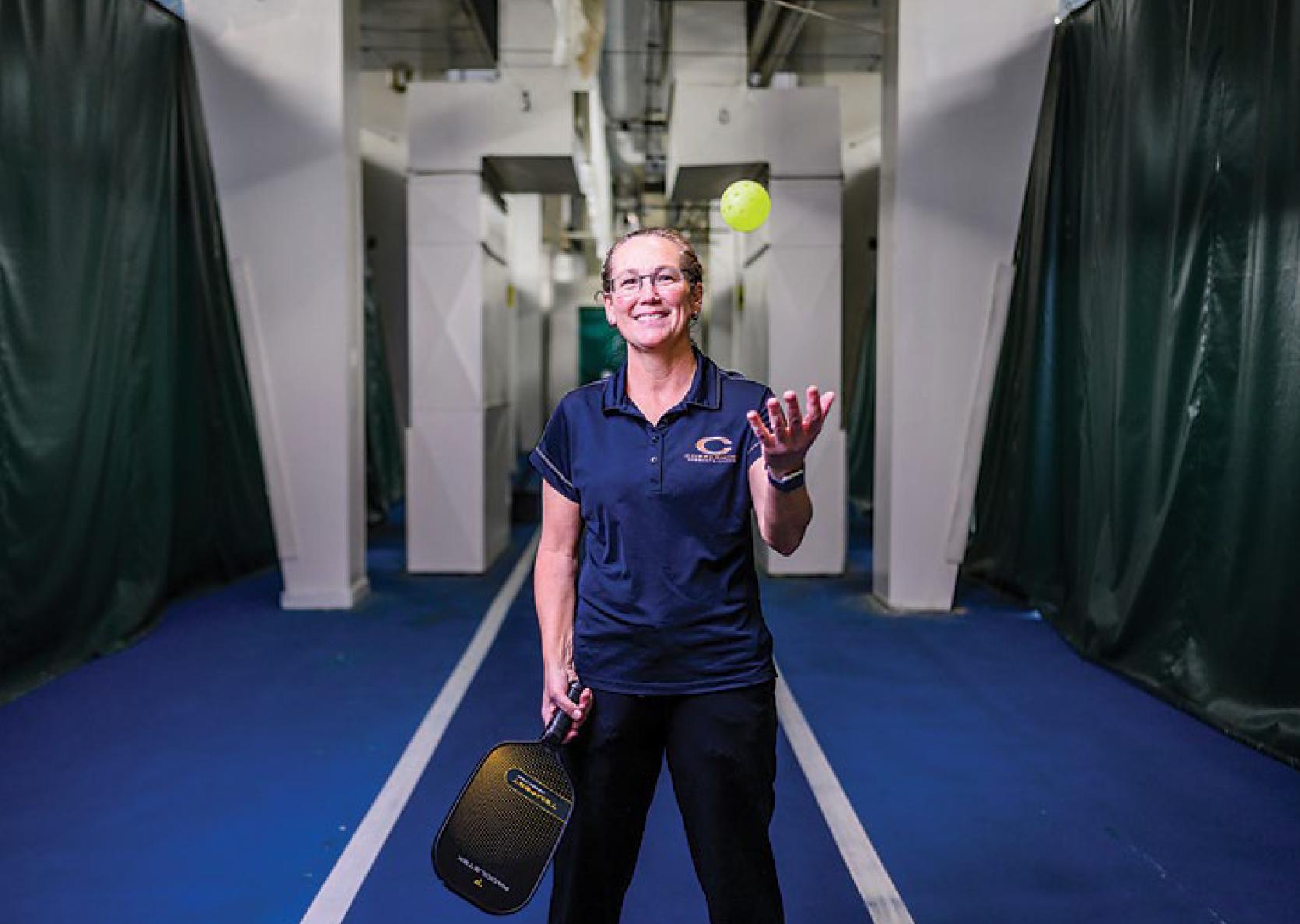 Pickleball is having a moment right now. If you've recently passed by a public park, country-club tennis court, or suburban driveway, you might have spotted people swinging what look like oversized Ping-Pong paddles at yellow wiffleballs and wondered what the heck they're playing. The answer is pickleball—considered one of the fastest-growing sports in America.
"Pickleball is booming," says Lynne Coburn, pickleball director at Coppermine, which offers the sport at its Roland Park and Pikesville fitness centers. "It's awesome to see the growth here in Baltimore, and also around the country and around the world."

While participation exploded during the pandemic—growing more than 21 percent in 2020, according to the U.S.A. Pickleball Association—the sport is not new. Just ask Coburn. A retired physical education teacher, she was drawing chalk lines on tennis courts 30 years ago to teach her middle-school students how to play the game, which is said to have been invented in 1965 by Seattle dads to entertain their bored kids. (Legend also has it that one had a dog named Pickles who kept running off with the balls.)
Today, Coburn runs Coppermine's pickleball programs, teaches clinics at multiple Baltimore country clubs, and lobbies the local recreation departments for more courts. There are some 70 lined pickleball courts in Baltimore County—four pickleball courts can fit on one tennis court—while in the city, examples exist from Riverside Park to Druid Hill Park. Buy a portable net on Amazon and you can play on any hard surface.
The rules are unique. Players serve underhand and points can only be scored by the serving team. Using a variety of shots, the first person (or team, as you can also play doubles) to 11 points wins. There are rules about when the ball must bounce and where you can step, generally outside of "the kitchen," a non-volley zone on either side of the net. What's the appeal of this fast-paced sport that some still dismiss as a leisure pursuit for retired people? Coburn chalks it up to word-of-mouth: "People hear about how fun and social pickleball is," she says. "It's a game for everyone."
Indoors and outdoors year-round, skill level can vary widely from casual to professional, with Major League Pickleball launching last year. At Coppermine, open-play times are divided into competitive and non-competitive. But be forewarned: Pickleball is addictive, says Coburn.
"You don't even know that you're exercising because you're having so much fun."