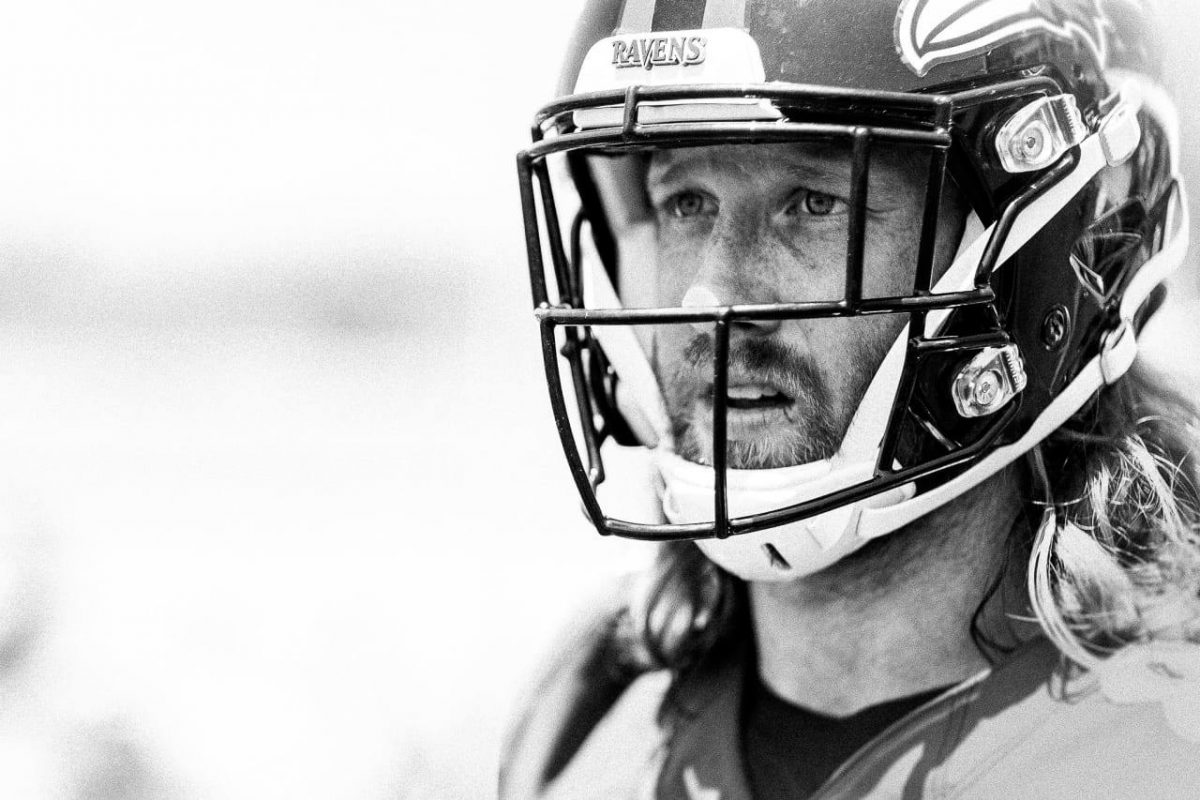 Shawn Hubbard / Baltimore Ravens
Five years ago, long before he became what he is today—a rookie tight end with the Baltimore Ravens—Hayden Hurst stood alone on the elevated dirt of a pitcher's mound in Bradenton, FL, the center of attention, as a 6-foot-5 hard-throwing major league pitching prospect making his first-ever spring training start.
The anxiety began in warmups. His thoughts raced. Who was watching him today? What would they think about him? The Pittsburgh Pirates had paid him a $400,000 signing bonus. How disappointed would they be if he didn't live up to expectations?
Hurst's heart pounded. His right hand trembled. His stomach was queasy. He felt blood rushing from his arms and legs. And his palm dripped an inordinate amount of sweat onto the baseball in his grip. Then he tried throwing it across home plate, 60 feet away.
Nerves rattling more than he ever felt before, Hurst walked all five batters he faced and threw two wild pitches in one terrifying inning. And that was just the beginning.
"It happened all the time, for three years. I was having panic attacks," Hurst says. "I wanted nothing to do with being out there. I wanted to get away. I wanted to escape."
Like he'd done as a high school star, Hurst just kept throwing hard, listening to his coaches, and hoping it would change—that what he'd always known how to do since he was an eighth-grader on the varsity team, to throw hard strikes (as a freshman he threw 90 miles per hour and was the winning pitcher in the state title game), would suddenly come back. That the dreaded yips, as the sudden loss of a skill is often called in sports, would disappear. But they never did.
Hurst's thoughts of pitching in the major leagues quickly unraveled. That game, Hurst's first professional start as a 19-year-old, was his last.
For the next two years, unbeknownst to even his family, any time he stepped near a mound, Hurst's mind went haywire. But he attempted to fight through it, like he was trained to do as a young, tough, strong athlete in and around the private Bolles School in Jacksonville. He masked the type of anguish he really felt.
"Everything's fine," he told his parents when they called to ask how things were going. These were physical issues, he said. He believed that, too, even though the anxiety from the pitcher's mound had begun to translate into depression off the field. By the spring of 2014, Hurst's preferred way to spend a day was in the dark watching television inside his dorm room, avoiding people.
Then, one day in a practice game, Hurst unintentionally hit an Orioles' prospect, coincidentally, in the helmet with a 94 mile-per-hour fastball, a pitch hard enough to knock the batter unconscious. That made everything worse. Hurst had totally lost control. Of his fastball. Of his mind. Of his body. And, with no exaggeration or hyperbole, his life.
"It's such a darkness that comes over you," Hurst says of the depression he sunk into, his baseball dreams disappearing with no alternative outcome in sight. "You don't want to go anywhere or do anything, and you don't ever think you're going to get out of it. It's the worst feeling in the world, and I don't wish it upon anybody."
Hurst's pitching coach with the Pirates, former major leaguer Scott Elarton, phoned Hurst's dad, Jerry: "You need to come see your son."
"He didn't want to disappoint us," his mom, Cathy says. "He didn't want to feel like a failure, so he internalized everything. We were shocked at how far down he'd gotten."
This is what the yips looked like for former MLB prospect Hayden Hurst, now projected by many to be the first tight end taken in the NFL draft. pic.twitter.com/eP7owr3z7P

— Dan Pompei (@danpompei) April 4, 2018
Sitting across from Hurst at an outdoor patio table overlooking the practice field at the Ravens' training facility, it's clear that brighter times have now arrived. He appears more imposing than he does on television, where he runs alongside athletic giants of his similar 6-foot-5, 245-pound size.
When he's on the football field, with a red beard and a long mane of ginger shoulder-length hair that protrudes from the back of his purple and black helmet, paired with mammoth muscular arms, Hurst is downright Viking-like. He certainly doesn't fit Hollywood's stereotypical description of a person who has struggled with his or her mental health.
But that's really the point—of why he's here on a sun-splashed afternoon in Owings Mills, calmly describing the painful details of his history with anxiety and depression, and why it's so important for him to talk about it—instead of addressing more trivial locker room topics like curl routes, blocking assignments, or next Sunday's game.
"In sports, you hear, 'We have to be tough men, we can't talk about mental health.' Or 'If you seek help, it's weakness.'" Hurst says, wearing his purple number 81 jersey, his elbows on the lunch table making straight eye contact. "I think that's a load of crap now. It's incredible that it affects so many people, and in so many different ways. It needs to be talked about."
So he's talking. Hurst wants other people to learn from his story, to help rip the stigma off mental health treatment, to encourage teenagers, young adults, or anyone else to find some hope and support in his tale. He was a teenage, multi-sport, all-star athlete. "He was always the big-name guy, the big pitcher," says his friend and former high school teammate, the Orioles' D.J. Stewart.
Hurst felt pressure, then confusion, fright, and hopelessness, when everything he worked for slipped away. Then he found awareness, of what anxiety and depression really is, and make a choice to triumph, by finally accepting what was tearing him up inside and ditching a professional baseball career to head to college at almost 22 years old with the idea of starting over as a football player.
Just months after the official end of Hurst's baseball flameout—when, at the start of his third year of spring training, he walked off the mound after hitting the fence with yet another pitch in a practice session and sobbed in the clubhouse, he walked on the football team at the University of South Carolina.
And after just three years there, two as a starter, Hurst became one of the top collegiate tight ends in the nation. He joined the Ravens in April when they selected him in the first round of the 2018 NFL draft, seven picks before quarterback Lamar Jackson.
Hurst may still be making his name on the field—he missed the first four games of the season with a foot injury and, as the second tight end on the Ravens' depth chart, his stats for the year are 10 receptions for 102 yards and a touchdown. His best game came against the Tampa Bay Buccaneers this past Sunday, when he caught three passes for 20 yards, and screamed and pumped his fists after one of them. He's not a superstar (yet), but as a more mature and hardened 25-year-old rookie, he's already embraced the visibility and platform that comes with having an NFL roster spot of any kind.
In September, Hurst launched The Hayden Hurst Family Foundation, a nonprofit whose mission is to help adolescents in Baltimore, as well as Columbia, SC, where Hurst went to college, and Jacksonville, his hometown, deal with mental health struggles. His mom has retired from a 30-plus-year sales career to help run the foundation.
Approximately one in five adults in the United States experiences mental illness in a given year, according to the National Alliance of Mental Illness. And one in five children ages 13 to 18 have or will have a serious mental illness, with 75 percent of all cases beginning by age 24.
Yet a stigma about addressing mental health in public, or private, remains, especially in the testosterone-inundated world of pro sports. "When I was going through it, I didn't think that I would have ever talked about it," Hurst says. But add his name to growing list of elite athletes that are speaking out, doing their part to soften the taboo, and shed some light on why and how to seek help.
Former Ravens players Steve Smith and Jamal Lewis, basketball's Kevin Love and DeMar Derozan, and hockey goalie Robin Lehner of the New York Islanders have all shared their stories. Like Love, Hurst wrote a first-person account of his struggles in The Players' Tribune. It's titled "The Things You Can Control." And he's talked about it in articles for BaltimoreRavens.com and Bleacher Report. Other high-profile athletes like former world No. 1 tennis player Novak Djokovic are more private, but have cited their mental health as reasons for stepping away from their respective games.
"You never really know what someone else is going through," Hurst says, "Even my own family."
It wasn't until almost two years into his pro baseball nightmare that Hurst honestly spoke to his family, first his father, about his real struggles—and that he then learned of theirs.
His father, a former Jacksonville University baseball player, still suffers from obsessive compulsive disorder and panic attacks, that also began when he was in his 20s. "My dad told me his history, how he saw therapists, and how it helped him," Hurst says. "My sister as well. I had no idea she had seen therapists all throughout high school."
There were tragedies, too. Hurst's uncle, Dennis, was an alcoholic and committed suicide. So did his cousin, D.J. Hurst. Both struggled with anxiety and depression. Becoming aware of the family history—some research suggests a majority of mental health disorders are inheritable, but they can be caused by other circumstances, too—was one of the first steps for Hurst to start addressing his own struggles.
"When I was younger, I didn't really notice it. I thought it was just nerves," Hurst says. "The older I got, I could see some things in myself, and some signs in my dad, but we really didn't talk about it until I started going through it, where we felt like we could relate and we could talk about it."
In Florida, as Hurst tried to figure out what was wrong with him, he visited eight different doctors and made more than 70 different appointments, spending thousands of dollars.
He didn't really like talk therapy, but it helped. "I didn't want to admit that I was weak," Hurst says. "But the biggest thing is just talking to people, getting it out there, and addressing the issue." He tried anything in addition, though, even hypnotism. That didn't work, nor did another technique called tapping—on his forehead to unlock his mind.
A psychiatrist that the Pirates recommended diagnosed Hurst with attention deficit disorder, and recommended he take Prozac. Hurst balked at medication, primarily because he thought antidepressants had contributed to his cousin's suicide, though Hurst understands that antidepressants have helped other people.
The Pirates' sports psychologist suggested that Hurst keep a journal as a way to express his emotions. Of all the suggestions for addressing his mental pain, that's the one that worked most for him. He wrote every day for two and a half years, "just to get it out, kind of like I was talking to somebody," he says.
A sampling: "I do not know why but I feel as though everything has gone to shit," Hurst wrote in mid-June 2014. "I feel nervous and unable to focus. I can't get remotely close to obtaining the badass in me. And I have been doing a poor job at separating it on and off the field. I am lost, losing faith, and searching for answers and stability in my life. This is getting hard to face each day and to be honest I feel like giving up. Why me? What have I done to deserve these 2 years of confirmed hell?"
Hurst signed himself up for a third and final year of spring training to try to make things right in his baseball life one more time, afraid of disappointing the organization and his family. He tried and tried until he finally gave up after yet another unsuccessful throwing session. He and Elarton cried when Hurst couldn't even have a simple catch. He'd had enough.
In May 2014, he called the Pirates' director of minor league operations Larry Broadway to tell him he was quitting. "Well, I hope there's something you can stick to in your life," Broadway said. The words stung.
By this time, Hurst had already started to seriously think about playing football. He bulked up by 20 pounds lifting weights in the Pirates weight room, and had already called one of his childhood friends, Perry Orth, who was the backup quarterback at the University of South Carolina, to ask him how things were going there, and float the idea of joining him.
Hurst played only one year of football in high school, as a junior at Bolles, before his mom told him he should really decide between baseball and football, in case he got hurt in the latter, which would have prevented him from pursuing the former. And baseball, after all, was what everyone told him he would make millions playing, his natural talent for throwing a 95 mile-per-hour fastball and all. It was an ambitious pivot.
"You're crazy," Cathy Hurst told her son when he said he wanted to head to college and try to play football. But it was what he wanted to do. She now reflects back on the turning point and says, "It gave him hope."
"I knew that I wasn't ready to stop dreaming," Hurst wrote in The Players' Tribune. "As long as there was the smallest chance that I could keep playing sports, that was enough."
Given Hurst's size and speed—he could run the 40-yard dash in about 4.55 seconds—Orth convinced South Carolina assistant coach Steve Spurrier Jr. to consider giving Hurst a chance, and he was offered a walk-on spot.
"I always had a feeling deep down that I was going to be really good at football," Hurst says. "I got burned out from baseball, going through that for three years. And maybe having baseball taken away from me fueled my fire for football. It made me pretty determined. That's kind of why I play the way that I do."
At South Carolina, Hurst played wide receiver for a year before a new coaching staff led by Will Muschamp took over and moved Hurst to tight end. He put his natural athleticism to work right away, setting program single-season records for catches (48) and receiving yards (616) by a tight end, and was the first sophomore to be named a captain in team history.
"The fear and anxiety I'd at one point associated with pitching had been replaced by a sense of joy and freedom I experienced on the football field," Hurst says. "I felt in my element again."
After catching 44 passes for 559 yards as junior, with one year of college eligibility remaining, he declared for the NFL draft, and was considered one of the best prospects at his position. He was a captain again and a first-team All-SEC pick. Former Heisman Trophy winner Tim Tebow, a college football TV analyst, even named Hurst his "Freak of the Week,"—a compliment—during the season.
On draft day, he hugged his mom and dad hard after Ravens general manager Ozzie Newsome called, and NFL commissioner Roger Goodell announced Hurst's name on television as the 25th overall selection. The millions he thought he'd always make in baseball now came from a football team, and he was happier. His four-year contract guarantees him $10 million.
"As awful as it was for those three years in baseball," Hurst says. "I'm kind of thankful I went through it, because it made me stronger, that's for sure."
The foot injury, a stress fracture which occurred at the end of an impressive preseason, set Hurst back and he's essentially blended in this year as part of a four-man tight end rotation, but just this week coach John Harbaugh spoke with optimism about Hurst's future, and his three catches last Sunday.
"His confidence has been good all along, but he was chomping at the bit for an opportunity to prove it," Harbaugh said. "He made a couple big, tough catches out there, and you could see it in his emotions [that] it mattered to him. Like, 'Finally, I had a chance to show what I can do here!' That's just going to make him even more hungry to do more. That's what you want to see as a coach."
About three months ago, on a warm mid-September Monday night, an off day for the Ravens, Hurst stood inside on the basketball court at Towson University's SECU Arena, looking up in the bleachers at close to 500 of the school's athletes, not at all much younger than his 25 years.
He was there as part of an event put on by the "We're All A Little Crazy" Global Health Mental Alliance, which has visited college campuses nationwide to raise awareness and break the stigma associated with talking about mental health. Hurst is one of many athletes and celebrities to serve as ambassadors.
"How do you work through your depression and anxiety now?" Darren Rovell, the former ESPN sports business reporter and the event's moderator, asked Hurst as part of a question-and-answer session.
He leans on his family—The Core Four, they call themselves—of his parents and sister. And his dog helps, too, a Border Collie. Hurst also talked about his journal, the pages and pages he began writing at rock-bottom in Florida.
Afterward, students asked questions and Hurst fielded one from a Towson softball player.
"How do you find time to write in a journal?"
Hurst, on this night his Viking hair tied back in a bun, looked right at her.
"You make time," he said. "For me, that's my therapy."
So is football.
Back at the Ravens' training facility after a mid-week practice, Hurst explains that for as nervous, anxious, and panicked he was on the pitcher's mound all those years ago, he's just as excited to wear a helmet and pads and run out onto M&T Bank Stadium's field.
"I never had an issue in football with it," Hurst says. "It's two separate sports. Baseball is slow. When you're a pitcher, you have the ball in your hand and you control the flow of the game. For me, tight end is different, and football is such a different sport. You get to run around and hit people, catch a pass. I feel like I can take out my aggression out there."
When he returned home to Jacksonville after quitting baseball, broken-hearted, gut-wrenched, and unsure exactly where he was headed, Hurst had one question: "Can I have that picture?"
He was looking at a painting that had been in the family for decades. A Phoenix, the mythical bird that symbolized rebirth and renewed youth. A friend of Hurst's parents painted it when they were all in high school together. The Phoenix was their mascot.
"Absolutely," his mom said, and the painting now hangs in Hurst's house in Baltimore. He walks by it after every practice and game. The Phoenix, rising again.
"It's a reminder of how strong he was," Cathy Hurst says, "that he could pull himself out of the embers, and have this opportunity in a whole new life."