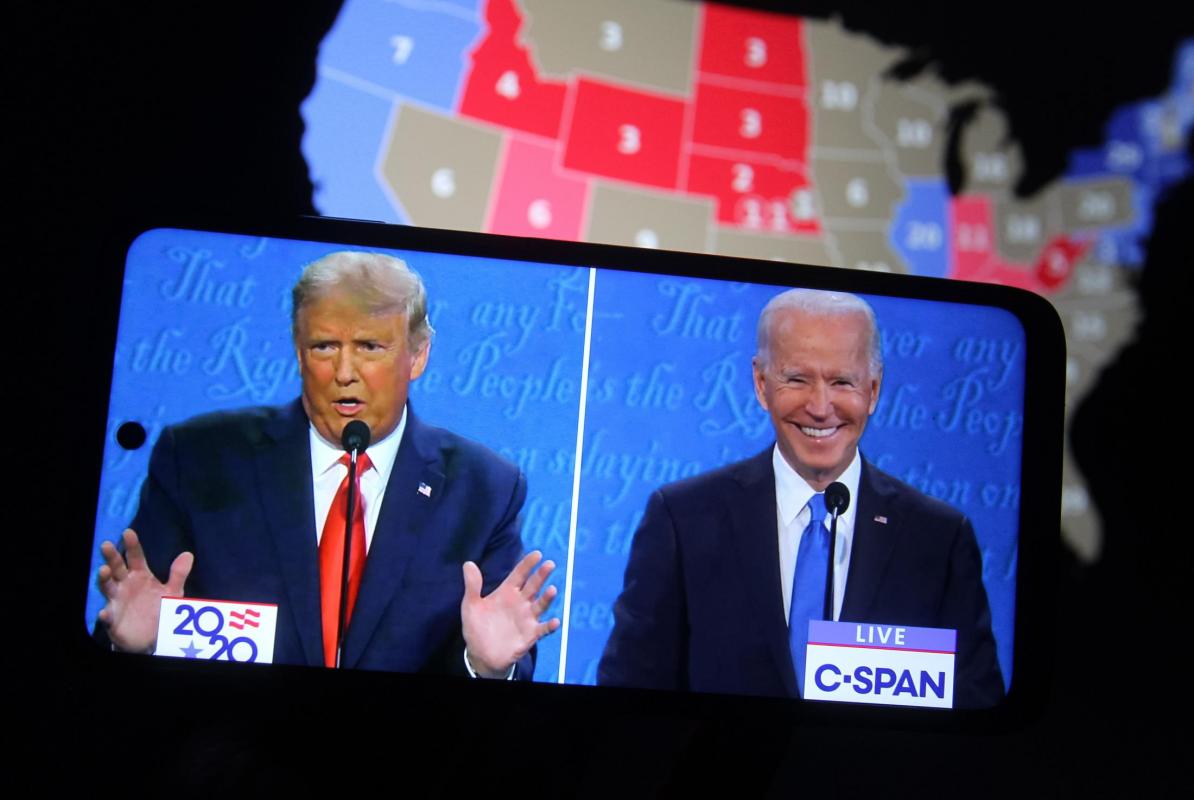 —Shutterstock
Voters in Maryland and around the country went to bed Tuesday night not knowing who will be the next president of the United States.
That hasn't changed as of Wednesday afternoon. The election between incumbent Republican President Donald Trump and Democratic challenger and former Vice President Joe Biden will likely take days, and possibly even weeks, to finalize after recounts and legal challenges are completed. Largely because of the record-breaking number of absentee mail-in ballots, driven by concerns around in-person voting as the COVID-19 pandemic continues to spread, the initial results in several key states continue to be tallied.
With the country on edge as the first round of ballot results continue to roll in, numerous battleground states, including Pennsylvania, Michigan, Georgia, North Carolina, Nevada, and Arizona have yet been to be decided.
In Maryland, as expected, Biden won in an overwhelming fashion, garnering 62.9 percent of the vote to 34.9 percent for Trump.
As of Wednesday afternoon, with mostly outstanding mail-in ballots—which have tilted Democratic this year—Biden appeared to have a clearer path to victory with slight leads in too-close-to-call Arizona, Wisconsin, and Michigan, which would all represent red-to-blue flips since Trump's 2016 electoral college win over Hillary Clinton. As in 2016 when Clinton won the popular vote by several million ballots, Biden is projected to win the 2020 presidential popular vote by several million ballots. If Biden loses, it would mark the third election in the past two decades that a Democrat nominee would have captured the popular vote in the country, but lost the presidency to a Republican.
If the Biden and vice-presidential nominee Kamala Harris ticket is ultimately declared the winner, Harris, the U.S. senator from California, would be the first woman elected to the second-highest office in the country.
Both candidates addressed their supporters early Wednesday morning with the election still hanging in the balance. Trump attempted to prematurely declare a reelection win and made the false claim that efforts to steal the election were underway, even as legally cast ballots across the country—as well as those of overseas members of the military—were still being tallied. Biden asked for patience as votes continue to be counted and the results certified by state election boards.
No matter who wins presidential race, Democrats will not achieve the big win they were looking for given Biden's larger edge in the polls going into Tuesday. Nor does it look likely that they will flip the U.S. Senate.
After 2016, when polls in key states underestimated Trump's support—although his upset wins in key states like Wisconsin, Michigan, and Pennsylvania fell within the margin of errors—polls in several states now appear to have been misleading. Again, polls that underestimated Trump's support in key states will be one of many topics of debate after everything is decided.
In a tweet, Goucher College associate professor of political science Mileah Kromer, founder of the Goucher Poll—which focuses on Maryland politics and accurately modeled the presidential outcome in the state—said "pollsters worked to correct the mistakes of 2016." She added, however, that despite a good 2018 cycle, and even if Biden secures an election college victory as polling predicted, the industry as a whole "clearly did not."
Pollsters worked to correct the mistakes of 2016. But despite a good 2018 cycle & even if Biden eventually secures an EC victory—we clearly did not.

Our Oct poll of MD largely reflected the current state electoral projections. I still need to take a critical look at my work.

— Mileah Kromer (@MileahKromer) November 4, 2020