After the Finish
Eighty years ago, two horses at Pimlico gripped the nation, but for many it was far more than a race.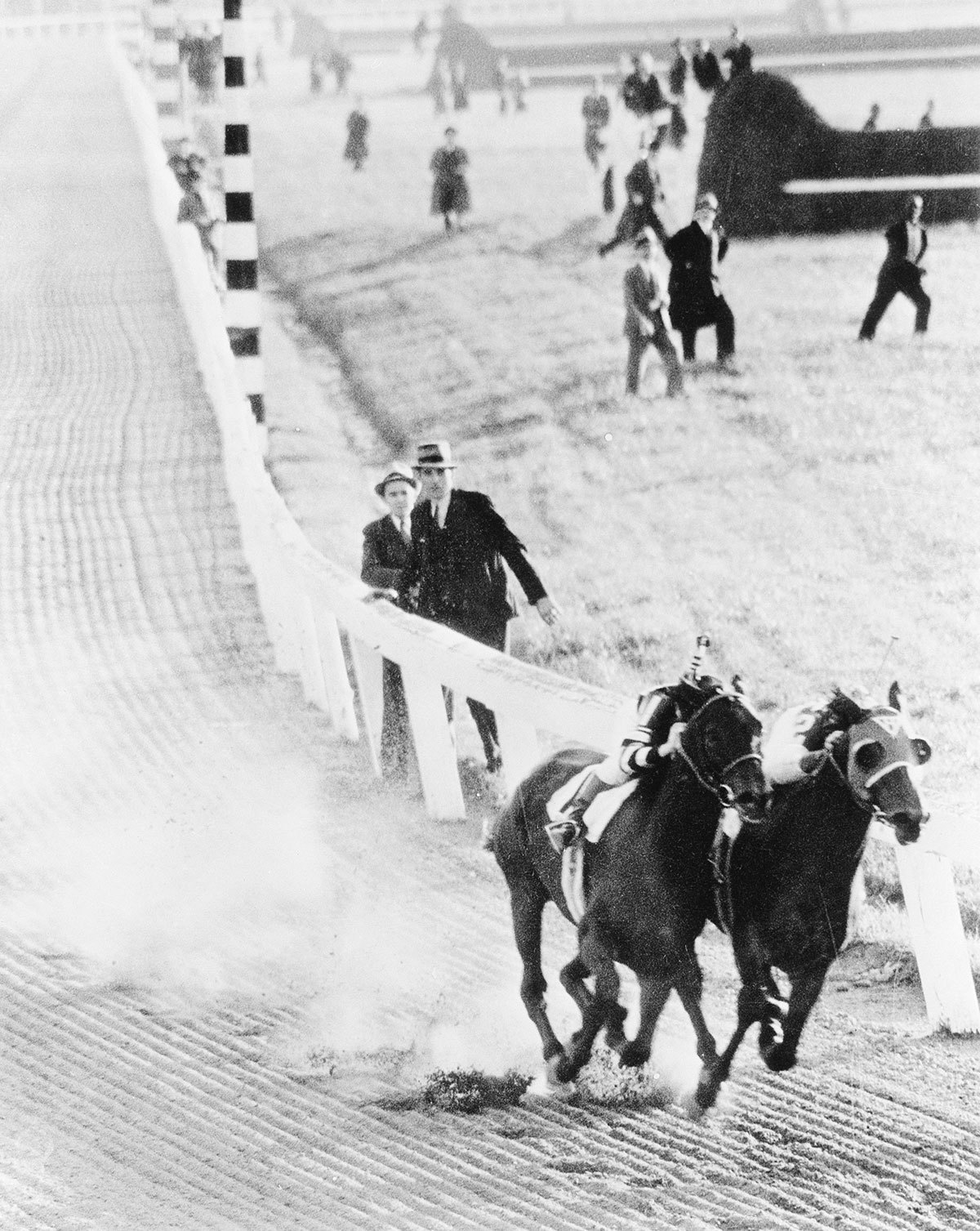 The world froze for about two minutes on November 1, 1938. Cars idled, and people leaned on doors and windows, listening. Families gathered around living room consoles, and President Franklin D. Roosevelt paused his cabinet meeting and turned on the radio. All dials were tuned to a broadcast live from Pimlico Race Course, where a beloved underdog and a dominating force in the world of horse racing would face off on the muddy track to finally settle the question: Who's the greater horse, Seabiscuit or War Admiral?
The largest radio audience in history was listening when Clem McCarthy called it: "Seabiscuit by three! Seabiscuit by three! Seabiscuit is the winner by four lengths!" An ugly little horse from California had beaten a Triple Crown champion, and it wasn't even that close.
Whether you're a fan of sports or not, you've probably heard of Seabiscuit. Eighty years later, the race persists in our collective memory partially because of the sport's epic proportions at the time and mostly because of its pop culture resurgence. While the average person in 2018 probably can't name a race outside the jewels in the Triple Crown, horses and jockeys were once as popular as baseball and basketball stars today.
"They used to get 60,000 [spectators] on a normal Saturday, and now it's just the total opposite," says National Museum of Racing and Hall of Fame historian Allan Carter. "But you could make an argument that it was the most popular spectator sport in the United States. Good horses ran a lot longer than they do now, too."
Fans would track horses they liked the way people track their fantasy football teams now, and though they didn't have all-hours access to highlights and statistics, radio allowed fans to tune in to races across the country for free.
Legendary as it might be among horse-racing fans, part of the legacy of this epic matchup must be attributed to Laura Hillenbrand, author of Seabiscuit: An American Legend, which was turned into a blockbuster film. Hillenbrand brought to light the history and endearing details of a race that loomed large in the memories of those who experienced it, but had been forgotten by many.
"When I was shopping the book around, people didn't know who Seabiscuit was anymore," says Hillenbrand. "But this race, it still is something that's remembered. And I think that's because of two names. I don't want to give War Admiral the short shrift. He was magnificent. But Seabiscuit, more than any horse before or since, captured the American imagination in a permanent way."
Seabiscuit's path to greatness wasn't a direct route. He was foaled in Lexington, Kentucky, and sired by Hard Tack, a son of Man o' War. Despite good breeding and an all-time great trainer in "Sunny Jim" Fitzsimmons, Seabiscuit made a bad impression on those around him and finished poorly in his first 17 races. His ornery nature wasn't worth cracking for the prestigious Wheatley Stable of Kentucky, even after he showed some promise in his two-year-old season.
So, in August 1936, Seabiscuit was sold off to auto magnate Charles S. Howard for $8,000 and entrusted to trainer Tom Smith. The unorthodox trainer and the undersized, knobby-kneed horse got on famously, and with Canadian jockey Red Pollard on his back, Seabiscuit began to come into his own. And as he won more and more races, he also won over the American public.
"He wasn't very pretty. He looked like America. He looked the way people felt about themselves."
The country was still in the depths of the Great Depression, and one in five Americans was out of work. People needed an escape, and they needed something to root for. The meteoric rises of radio and Seabiscuit provided both.
"Americans have a very deep-set belief that people can rise from anywhere and succeed. And the Depression blew that away," says Hillenbrand. "People attached themselves to Seabiscuit, not simply because he was such an extraordinary athlete . . . this was a horse from the wrong side of the tracks, from a very unfashionable sire, and he came from the West, which was considered the backwater of horse racing. And he wasn't very pretty. He looked like America. He looked the way people felt about themselves. People attached themselves to him, and he ran as their proxy."
He became beloved and ubiquitous. During Hillenbrand's research for her second book, Unbroken, Olympic runner and army veteran Louis Zamperini told her stories of listening to Seabiscuit's races over the loudspeakers at his own track competitions. Scores of men would stop running and crowds would go silent so they could hear how the horse was doing.
While Seabiscuit was winning hearts and minds, War Admiral was winning the 1937 Kentucky Derby, Belmont Stakes, and Preakness Stakes to make him the fourth-ever Triple Crown champion. A son of the great Man o' War (yes, Seabiscuit and War Admiral would have been nephew and uncle if horses kept track of that sort of thing), War Admiral had met and exceeded all expectations, clinching the Triple Crown even after shearing off part of his hoof during the start of the Belmont Stakes. He appeared in the winner's circle having set a track record and with his belly covered in blood.
War Admiral beat out Seabiscuit, 1937's top earner, for Horse of the Year, and by the time the Admiral recovered from his Belmont injury and returned to racing, fans of the sport were clamoring for a race between the East Coast great and the West Coast people's champion.
When Seabiscuit crossed the finish line to win the Bay Meadows Handicap in April 1938, he was met with a crowd chanting, "Bring on War Admiral!" "They were [both] just extraordinary," says Hillenbrand. "Everyone wanted to see a match race."
Although match races, events pitting just two or three horses against one another, are no longer run, they were once a fairly regular part of the sport. Man o' War won a 1920 contest with first-ever Triple Crown winner Sir Barton, and in 1955, Nashua, of Maryland's Belair Stud, won a grudge match of sorts against Swaps, who had beaten him in the Kentucky Derby that year. But match racing came to an abrupt halt in 1975, when star filly Ruffian was tested against Derby champion Foolish Pleasure. Horse racing's battle of the sexes ended in tragedy when Ruffian broke down on the backstretch at Belmont, snapping both sesamoid bones in her right foreleg. The event was witnessed by a full crowd at Belmont, as well as a stunned television audience. Ruffian was put down shortly after.
"That ended match races forever. It sickened the country, and they said this really is not the way to go," says Carter. "I think a horse's worth is proven more in a race with seven other great horses rather than a match race, because the horse that's a speed horse will normally beat one that comes off the pace [paces itself against its competition]. In Seabiscuit's case, he did something he'd never done before."
Despite the newsreels, radio broadcasts, and sportswriters encouraging the public's call for a matchup between the racing giants, War Admiral's owner, Samuel Riddle, was reluctant to schedule the event. Months of bad tracks, scratches, and interpersonal issues among owners and trainers delayed a meeting between Seabiscuit and War Admiral. Finally, Pimlico President Alfred Gwynne Vanderbilt II successfully arranged for the event to be held at his Baltimore track. The young Maryland Jockey Club president saw the value that could come from hosting what would be billed as "The Race of the Century." The news broke October 5, 1938. The long-awaited race was on, and it was set for Opening Day at Pimlico, November 1.
With a sly "So long, Charlie!" from Woolf that would go down in history, he and Seabiscuit were gone.
"Because of Mr. Vanderbilt's charisma and connections and enthusiasm, he managed to convince Sam Riddle, who didn't want War Admiral to race," says April Smith, a Pimlico advocate and former tour guide at the track. "[Riddle] thought his horse had proven enough. But Vanderbilt said just think how great it would be for the sport and how your horse would really go down in history and managed to convince him."
His reluctance was assuaged partially by an agreement that War Admiral would compete only if Riddle was able to dictate the circumstances of the race. Because War Admiral didn't do well with starting gates (a relatively new addition to the sport), it was determined that the race would be a bell start. War Admiral also held the classic match-race advantage: He was faster from the start. One-on-one, the horse that dictated the pace nearly always won the race. These two factors tipped the odds—and the betting—heavily in War Admiral's favor. What those placing their bets didn't know, however, was that Smith was retraining Seabiscuit. The horse known for slower starts and playing around with his competition was learning to break fast with the help of a jerry-rigged alarm clock and a whip. With a ring and a crack behind him, Seabiscuit got faster and faster from the jump as race day approached.
When that muddy morning at Pimlico came, Seabiscuit, Tom Smith, and George Woolf, the jockey who replaced the injured Pollard for the race, were ready. Woolf had walked the track the night before and found a stretch of track near the rail that was solid. Woolf would lead Seabiscuit there, and the horse would have to do the rest.
As luck, and possibly a bit of light tampering, would have it, the bell that officials intended to use for the race went missing, and Smith gallantly supplied his own bell as the replacement. War Admiral would have the start he wanted, but Seabiscuit would have the start he knew so well.
The jockeys, Woolf on Seabiscuit and Charles Kurtsinger on War Admiral, rode to the start line on that cool afternoon for the sixth race of the day, but the only one that really mattered. Forty thousand people packed into Pimlico, and thousands more craned their necks from fences surrounding the track and perched in the rafters and trees. A steeplechase fence broke under the weight of spectators. Nominally, the stakes were $15,000 and a glittering silver trophy. But to those watching and listening, they were much higher than that.
The alarm clock bell rang, and they were off.
Woolf kept the race close at first, backing Seabiscuit off in the middle on Pollard's advice, just long enough for the horse to get a look at his competition. Once he saw War Admiral, it was over.
It was finished in just under a minute and 57 seconds. And as the race came to its end, the celebration began. Men spilled onto the track from the infield and grandstand, ducking or jumping the rail along the way. Rowdiness, it seems, has always had its place at the track.
"When Seabiscuit crossed the wire, it was pandemonium," says Hillenbrand. "It staggers the imagination how thrilling this race was. Seabiscuit, on fair terms, cracked War Admiral, and for Americans in that era, in that time, that the underdog won the race fair and square was everything. One American in every four was listening to that race on the radio. They could turn off the radio and feel better about themselves and their prospects in the world because that little horse pulled it off, and if he could do it, they could, too."
Nearly a century later, it's hard to imagine any sporting event that could quite match up to the 1938 Pimlico Special. The 1980 Miracle on Ice comes to mind, but even that wasn't experienced by as large a portion of the population. Politicians and athletes still evoke Seabiscuit to let people know that, though no one might have expected their success, they had it in them all along.
"I have written letters and suggested for years that they put at least a plaque up at Pimlico, if not an equine statue, [stating] that this is the place, on November 1, 1938, where The Race of the Century occurred. It was important," Smith says. "The story of this little horse became so famous, and people attach themselves to heroes."
The thrill of the race was over in moments, and the horses and their jockeys are long gone. Even the storied track at Pimlico may soon be lost to time as Laurel Park continues to grow. But The Pimlico Special endures not only as one of the ultimate examples of greatness found in the unlikeliest of places, but as a moment of joy and unity amidst dark days. The kind that it's hard to imagine anymore. In the midst of the Depression and in a world careening toward war, people stopped and listened, and then they cheered.