Tall Order
John Olszewski Jr. pledged to move Baltimore County government into the 21st century. Has he?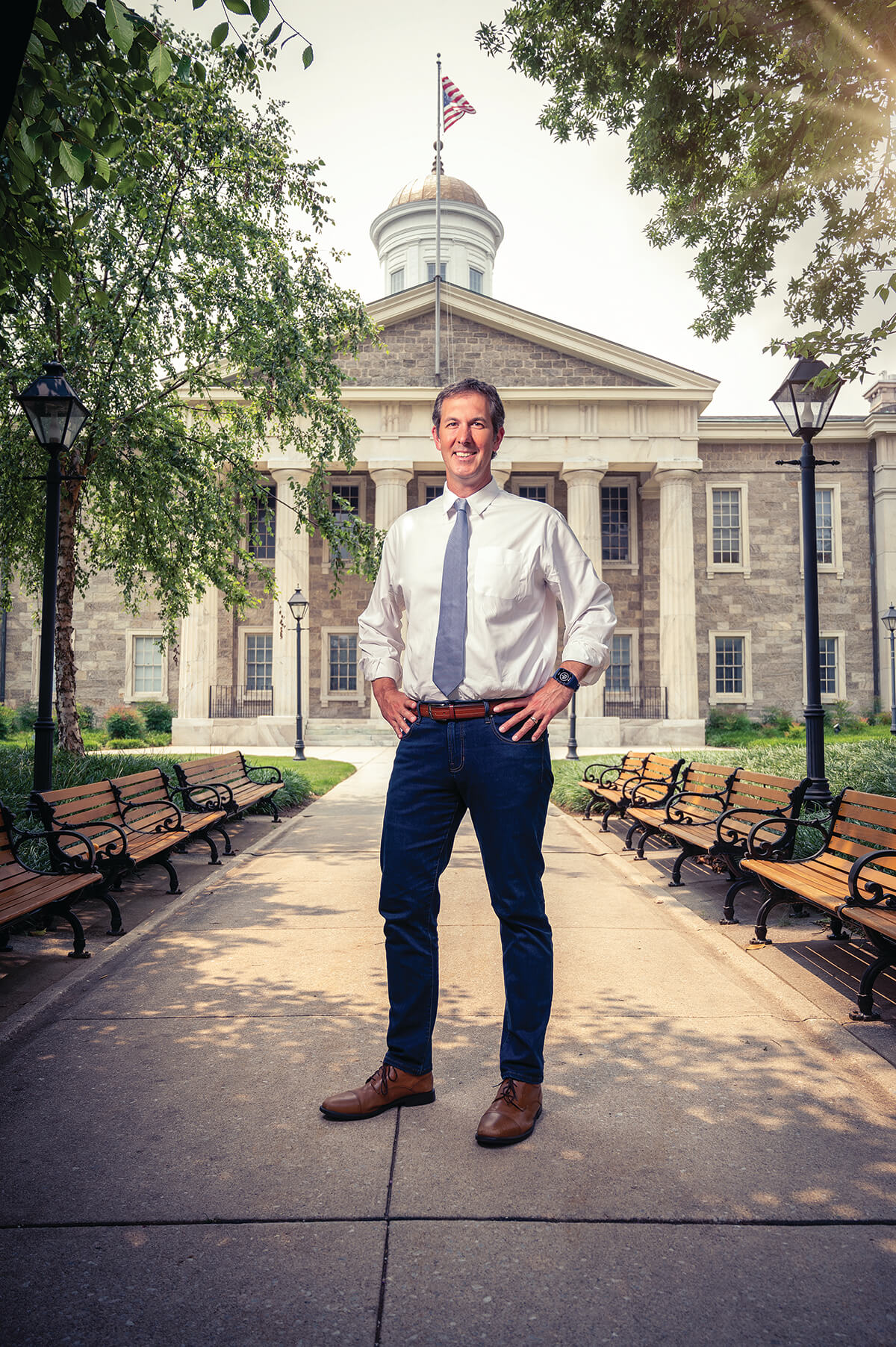 John Olszewski Jr. was seeking a comeback. For four years, he'd served as chairman of Baltimore County's delegation in Annapolis. Then, in 2014, looking to move up to the state Senate, he lost to Republican newcomer Johnny Ray Salling, which suddenly made him a former politician at the tender age of 32.
The same night, Larry Hogan, who like Salling had never held elected office, upset then Lt. Governor Anthony Brown at the top of the GOP ticket. One question that emerged in Baltimore County was whether Olszewski had simply been swept up in the GOP's "red wave" or whether some of his votes had alienated the increasingly conservative voters in his heavily blue-collar district.
He'd cast what many considered the deciding vote in favor of same-sex marriage in 2012. He voted to allow undocumented students to attend state colleges at in-state tuition rates and raise the Maryland minimum wage. He'd also sponsored a bill, which later became law, mandating paid sick leave. Some of [those votes] were very controversial for his district," the late House Speaker Michael Busch told the Baltimore Sun later, "and it did catch up to him in the next election."
"It was a very hard loss," Olszewski admits. "I grew up in Eastern Baltimore County. I went to high school here, taught here, and still live here."
Nonetheless, he quickly picked himself up after the tough defeat. He and his wife had a daughter almost a year to the day after the loss, and that helped keep things in perspective. A year after she was born, he created an advocacy group called "Better Baltimore County" that he used to discuss community needs with residents across the county. He also finished his PhD in Public Policy at UMBC—his dissertation, which seems particularly relevant at the moment, centered on making data-driven policy decisions.
Recharged and recommitted, he was the first candidate to get into the 2018 Baltimore County Executive race. On primary day that summer, his last stop was at the busiest intersection in Dundalk, Wise Avenue and Merritt Boulevard, where the 6-foot-6 Olszewski held up an umbrella in the rain and waved to honking voters. As the polls closed, he headed to nearby Key Brewing to see if he still had a political future.
A Sun/University of Baltimore poll released just days before the start of early voting had placed him running a distant third in the Democratic primary behind longtime state Sen. Jim Brochin and former County Council Chairwoman Vicki Almond. But as Brochin and Almond began trading barbs in the final weeks, Olszewski stayed out of the fray. The speculation on the ground was that he was benefiting from the crossfire between the two favored candidates. To what degree was anybody's guess, however, as he pulled a couple of tables together for his team at the Dundalk brew pub that evening.
"The very first precincts that came in were from Owings Mills, which was supposed to be Vicki's area, and those numbers were good, a positive early sign," Olszewski recalls. "At that we point we thought, 'Well, this might be a long, interesting night.'" That long, interesting night lasted nearly a month. Once the initial tally was finished, less than 1,000 votes separated the three hopefuls. Olszewski was fewer than 10 votes ahead. Brochin, the runner-up, petitioned for a recount, which didn't conclude until July 14—and widened Olszewski's lead to 17.
"The difference was nine people's votes," Olszewski says, alluding to the fact that if nine people had cast their ballot for Brochin instead of him, the 18-vote swing would've meant another loss. "Do I think about who those nine people were?" he says during a recent "district day" visit and walk through downtown Arbutus. "All the time."
Olszewski had run as the progressive Democrat in the primary. He stood by his record in the General Assembly, and made clear that his vote against the assault weapons ban, a nod to his conservative district at the time, had been a mistake. He was the only candidate to call for legislation to address housing discrimination in the county and the legal action brought by the Baltimore County chapter of the NAACP, residents, and housing advocates.
Winning a three-way primary by 17 votes hardly seemed a mandate to push a progressive agenda in the general election, but Olszewski, who taught in the county public school system for seven years, ran on raising teacher salaries and universal pre-kindergarten that November against Republican Al Redmer, a former state insurance commissioner. His platform included improving mass transit, bike, and pedestrian access, as well as addressing the county's sustainability and climate change efforts. He said he'd bring county government into the 21st century and put the county budget online.
Olszewski captured a convincing 57 percent of the vote even as Hogan, who strongly endorsed Redmer, cruised to another big win at the top of the ticket—and in Baltimore County, specifically.
The question that night around Olszewski was a very different one than four years earlier. Broadly: How did a progressive candidate for county executive garner such a resounding win in a jurisdiction that Hogan has twice carried by big numbers?
For starters, Olszewski comes off as a likeable, practical-minded candidate. Whatever their policy differences—and they are profound—both Hogan and Olszewski are happy warriors on the campaign trail. Most importantly, he'd spent his time on the sidelines solidifying and building relationships in every nook and cranny of the county. So that was enough to get him elected three years ago.
But now, as re-election looms next year, a new question emerges: How has Olszewski done implementing and selling his progressive agenda in the third-largest county in Maryland, a sprawling jurisdiction with pockets of deep red voters and a population bigger than four states? The short answer: There was a lot of talk in Democratic party circles about Olszewski running for governor in 2022 before he decided this summer to seek re-election.
That's how highly regarded he is and the clout he now carries.
"HE HAS WHAT EVERYONE SAYS THEY'RE ALWAYS LOOKING FOR—AUTHENTICITY."
"The Democratic candidates for governor are going need to do well in Baltimore County next year," says Mileah Kromer, a professor of political science at Goucher College, and a friend of Olszewski's after sitting on his dissertation committee. "And they're all going to want his endorsement."
To fully understand Olszewski, you have to know he still makes his home in the place he grew up. He graduated from Sparrows Point High School in 2000 and lives nearby in Millers Island. His formal political education got an early start. He served as the student representative to the county school board as a teenager. It began outside of school early, too. He grew up in the shadow of what was once the world's largest steel mill and saw firsthand the detrimental effects that the mill's closure had on friends and family.
"I remember when the blast furnace was still going and what the shedding of those good-paying jobs, good health benefits, and good pensions did to the community," Olszewski says. "I'd grown up hearing steelworkers tell their stories and their pride in making steel. I grew up hearing about the local history around the War of 1812. The Fourth of July was important in Dundalk, too, and there was always this close relationship to the water and the Bay for people here. And then I witnessed this slow-motion decline [when Bethlehem Steel was sold and then shuttered]. The American Dream became a dream deferred for many people. That's what I want to turn around."
Following high school, he stayed in the county, attending Goucher College, where he graduated with a bachelor's in political science and American studies. He began teaching at Patapsco High School and Center for the Arts, also in Dundalk, a year prior to his first election in 2006. He's got two brothers. One is a Baltimore County police offcer; the other works in code enforcement for the county (his employment predates Olszewski's election). The local roots run deep, in other words.
"He has what you can't teach," says former County Executive Don Mohler, himself a former educator. "He has what everyone says they're always looking for—authenticity. I think in terms of being 'progressive,' what Johnny is doing is modernizing county government, which needed to be done. It's like turning a battleship around."
Three years into his first term, Olszewski's achievements are already compelling. Transformational, really, for Baltimore County and more remarkable given the COVID-19 pandemic. Two years ago, he fulfilled a major commitment and passed the HOME Act, long overdue legislation that will prevent landlords from discriminating based on a tenant's source of income, namely a federal housing voucher, commonly referred to as Section 8. Early this year, he signed legislation creating the County's first dedicated department of housing. Olszewski also followed through on several good government items—getting public campaign financing enacted, creating an Office of Ethics and Accountability, and publishing the county's budget online. He also appointed Baltimore County's first-ever chief sustainability officer.
Despite his progressive bonafides, Olszewski has worked across the aisle as well. In 2019, Olszewski passed legislation with bipartisan support that requires gun retailers to install security systems to protect their inventory from potential burglaries. This summer, he finally got the decade-in-the-planning Towson Loop moving with federal grant support. It's a free public bus service that will link the core of Towson's downtown with nearby attractions and large employers.
Not that it's been easy. It took three years for the Olszewski administration to settle a high-profile wrongful death lawsuit that it inherited, which stemmed from the police shooting of 23-year-old Korryn Gaines in 2016. There have been other struggles and controversies—his tacit support of a curfew for "unsupervised youth" at the White Marsh Mall, for example. His administration's support for the Red Maple affordable housing project in East Towson has garnered, not unsurprisingly, community pushback. School overcrowding remains front and center. So, too, do issues of poverty and homelessness, which can be less outwardly visible in the county.
The homicide total this year surpassed last year's total by July. And changing the complacent culture of Baltimore County government has not exactly been smooth sailing: This spring, several council members slammed the efforts of his new inspector general, Kelly Madigan, after one of her reports was deeply critical of a politically connected, now former deputy director of at the Department of Economic and Workforce Development.
Initially, Olszewski caved to council pressure and sought legislation to create a council-led oversight board for the inspector general's office. Then, when activists and a national watchdog group raised red flags and about the politics at play and the potential conflicts in the council overseeing the inspector general's work, Olszewski reconsidered. Instead, he set up a work group to study the best path forward as far as the makeup and responsibilities of the oversight board. It was a disconcerting, if brief, step back in terms of a commitment to accountability.
The COVID pandemic, of course, demanded immediate action, and Olszewski and the County received kudos for its vaccination rollout, which included a mass site in partnership with the state at the at the fairgrounds. County mask mandates and COVID-related closures and occupancy limits have essentially aligned with state mandates, occasionally prompting protests.
Before all that, however, Olszewski faced an $81-million budget shortfall when he was sworn into office in December 2018, which would've demanded deep cuts to county services. In response, Olszewski pushed for and passed Baltimore County's first income tax increase in nearly 30 years—no small political feat—as well as a new tax on residents' cell- phone service. Notably, that first partisan fight out of the gate did not prevent Olszewski and the council from working together in bi-partisan fashion moving forward. "I did vote against the housing policy legislation and the income tax bill," Marks says. "With him, however, it's just a very cordial relationship."
One other potentially fraught bill that Olszewski introduced was police reform legislation that banned chokeholds, prevented cops with records of misconduct elsewhere from serving in the police department, and required additional implicit bias and de-escalation training. That was approved, to Marks' point, with a 6-1 bipartisan vote. "I think the biggest reasons he is successful is that he builds the right kinds of political relationships and when he picks his battles, frankly, he's prepared," Marks says. "He's very smart, let's not forget that, and he's accomplished a lot already. I'm the youngest council member and he's 10 years younger than me."
Many outside observers expected Olszewski to run for governor, but ultimately his decision to stick around did not surprise those who know him well. Mohler believes a large part just comes from his desire to do right by the place he's always called home. "He's a Baltimore County guy," Mohler says. "I think he wants to make a lasting impact."
Olszewski pretty much says the same thing.
"If I get a second term, a lot of it will be about building on things we've started. We've still got work to do with transportation, sustainability, and schools." He also recognizes, whether it's a future run for governor or congressional seat, time is on his side. "Sometimes, the best way to get your next job is to do the one you have as well as you can."