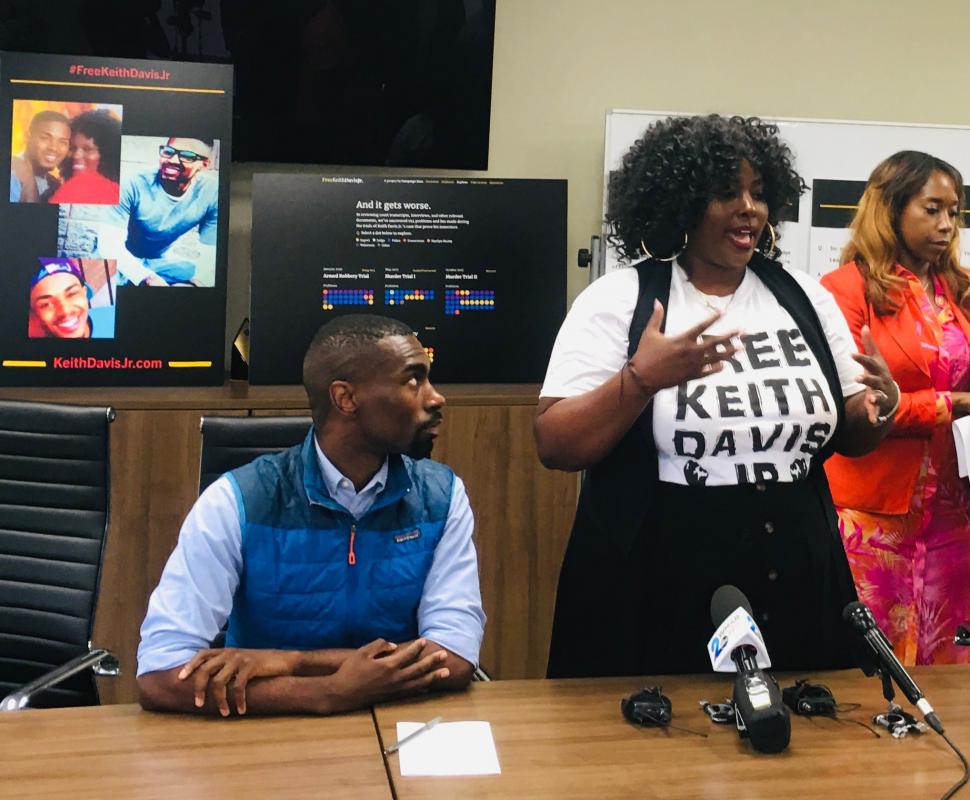 Advocate DeRay McKesson, Kelly Davis, and Keith Davis Jr.'s former defense attorney, Latoya Francis-Williams at a press conference in 2021. —Ron Cassie
The defense counsel of Keith Davis Jr., who awaits a fifth trial on the same murder charge and sixth trial overall, filed a motion to dismiss Tuesday, alleging a vindictive prosecution by City State's Attorney Marilyn Mosby.
After being fired at more than 30 times and nearly killed by Baltimore police in June 2015, Davis Jr. was found innocent of the armed robbery of an unlicensed taxi driver when the driver testified police had the wrong man. A week after his acquittal, Davis Jr. was then indicted with the seemingly unrelated homicide of a 22-year-old Pimlico security guard the same morning as the armed robbery—a murder charge the City State's Attorney Office has taken to trial an additional four times without success.
Davis Jr. remains incarcerated with the fifth trial on the murder charge scheduled to begin May 16. He also awaits a seventh trial overall—involving the alleged attempted murder of a fellow inmate—from an incident related to what the witnessing prison guard reported as a "closed fist" fight. The City State's Attorney's Office brought that charge forward a full year after the alleged incident took place, and not until after Davis' conviction in his fourth murder was overturned.
The motion to dismiss filed in the Circuit Court of Baltimore alleges City State's Attorney Mosby, after failing to secure an armed robbery or murder conviction against Davis, "has proceeded with vindictiveness and personal and political animus, and in doing so, she has denied Mr. Davis his right to due process."
The indictment highlights several incidents in which Mosby and members of her office directed actions or comments toward Keith Davis Jr.'s wife and supporters of her husband, as well as false public statements from Mosby about the Davis case. The indictment cites a controversial incident last spring at an outdoor bar in Baltimore when Mosby gave the middle finger to a man on a bicycle who said "Free Keith Davis Jr." twice as he passed by her and several members of her staff. Mosby initially denied making the gesture, and her official Twitter account posted a misleading video and claim about the incident. She subsequently admitted making the gesture when confronted with irrefutable video evidence by local media.
The motion to dismiss request also documents that several days after the incident, Mosby went on Baltimore's 92Q radio station to defend giving the finger to the Davis supporter and the prosecution of Davis. During the radio interview, Mosby falsely asserted that "Keith Davis is a convicted murderer, he's been convicted three times."
"When you layer it all together, I think there is enough in the motion to get a hearing," said University of Maryland assistant law professor Maneka Sinha, who has followed the Davis case closely, highlighting the timing of the charges by State's Attorney Mosby and her office among other issues. "The allegations in the motion are disturbing, including calling Mr. Davis a convicted murderer just days after the verdict in his fourth trial is overturned and he's won a new trial. So are [Deputy State's Attorney] Jan Bledsoe's comments about his wife."
Earlier, in 2018, Mosby also referred to Davis as a repeat violent offender during a reelection debate when, in fact, Davis did not have any previous or current violent felony convictions.
The 29-page motion, which includes 42 exhibits, alleges Mosby possesses disdain for Davis' outspoken wife, Kelly Davis, and his vocal "Team Keith" supporters, who have advocated for years for that the charges against him be dropped and that her disdain "extends to her prosecutors." In particular, the indictment documents that Mosby's now chief deputy, Jan Bledsoe—who has engaged with the public on social media about the details of the case—sent unsolicited text messages to then-independent journalist Amelia McDonell-Parry condemning Kelly Davis' parenting. The messages also allegedly shared personal information about Kelly Davis, which was apparently acquired many years ago when she was a teenage student of Bledsoe, a former teacher.
In terms of the trials themselves, the indictment notes the use of a jailhouse informant in Davis case—subsequently discredited—a prosecution practice that Mosby has since disavowed. It also notes discrepancies between a Powerpoint presentation given to a jury and the Powerpoint presented during the pending appeal, as well as the withholding of potentially exculpatory cellphone records and surveillance video from Davis's defense team.
Additionally, the indictment highlights the timing of both the initial murder charge against Davis—which wasn't brought forth until after his acquittal on charges of assaulting police officers and armed robbery—and the subsequent attempted murder charge last May of an inmate, which wasn't brought forth until after the conviction in Davis' fourth trial got overturned, as evidence of vindictive prosecution. (In the initial report written by the prison guard who witnessed the incident, he described the altercation as both inmates "throwing closed fist punches at one another" and that Davis and the other inmate "were given direct orders to stop fighting, which they complied to.")
The indictment notes that previously courts have "held that a presumption of vindictiveness arose where the government charged the defendant with a new crime after he prevailed on another action." In both cases, Davis' defense alleges, little to no new investigation was done in the intervening months between the new charges and actual alleged incidents, and the timing of the charges indicates a desire by prosecutors to keep Davis incarcerated and limit his ability to participate in his defense. In its request for a motion to dismiss hearing, Davis' public defense attorney, Deborah Levi, also seeks discovery information regarding several issues, including how many murders the State's Attorney Office waits a year to indict (after the basic investigation is completed) and how many prison fights they choose to indict a year after the alleged incident or at all.
The standard for a hearing on the motion, according to the indictment, is showing that a "reasonable likelihood of vindictiveness exists."
In filing the motion to dismiss, Levi acknowledges it is "admittedly rare for a court to question the motives of a prosecutor."
Defense attorney and former prosecutor Ivan Bates, who is running against Mosby in her bid to win a third term this year, issued this statement:
"Mr. Davis has had four trials, and with his pending fifth trial, he is on the brink of becoming the second-most prosecuted man in America. Mr. Davis' first [murder] trial in 2017 resulted in a hung jury. A conviction in his second trial was overturned as a result of prosecutorial misconduct. His third trial ended with another hung jury. The conviction prosecutors secured after his fourth trial was thrown out by the court. More than six years have passed, and Mr. Davis continues to be imprisoned. Legal teams can argue about evidence, but this is clear: the justice system must be fair and unbiased. The public must have trust in the system and confidence that prosecutors are not using it as a weapon of vengeance. It is time for the case against Mr. Davis to be dismissed, and with the filing of today's Motion to Dismiss, I am hopeful that will be the outcome."
The City State's Attorney's Office did not respond to an email seeking comment.
Meanwhile, Mosby faces her own trial on allegations of falsifying two mortgage applications and perjury related to COVID-hardship claims and early withdrawals from the City of Baltimore's Deferred Compensation Plans. She has made claims of bias in her case, alleging the federal prosecutor who brought the charges is a political opponent.
In fact, the Davis motion to dismiss, according to one of its footnotes, "is in large measure modeled after and take from the Motion to Dismiss that Ms. Mosby filed on her own behalf in her own criminal prosecution for perjury."