Her Turn Now
Odette Ramos' ascension as Baltimore's first-ever Latinx City Council member did not come easily.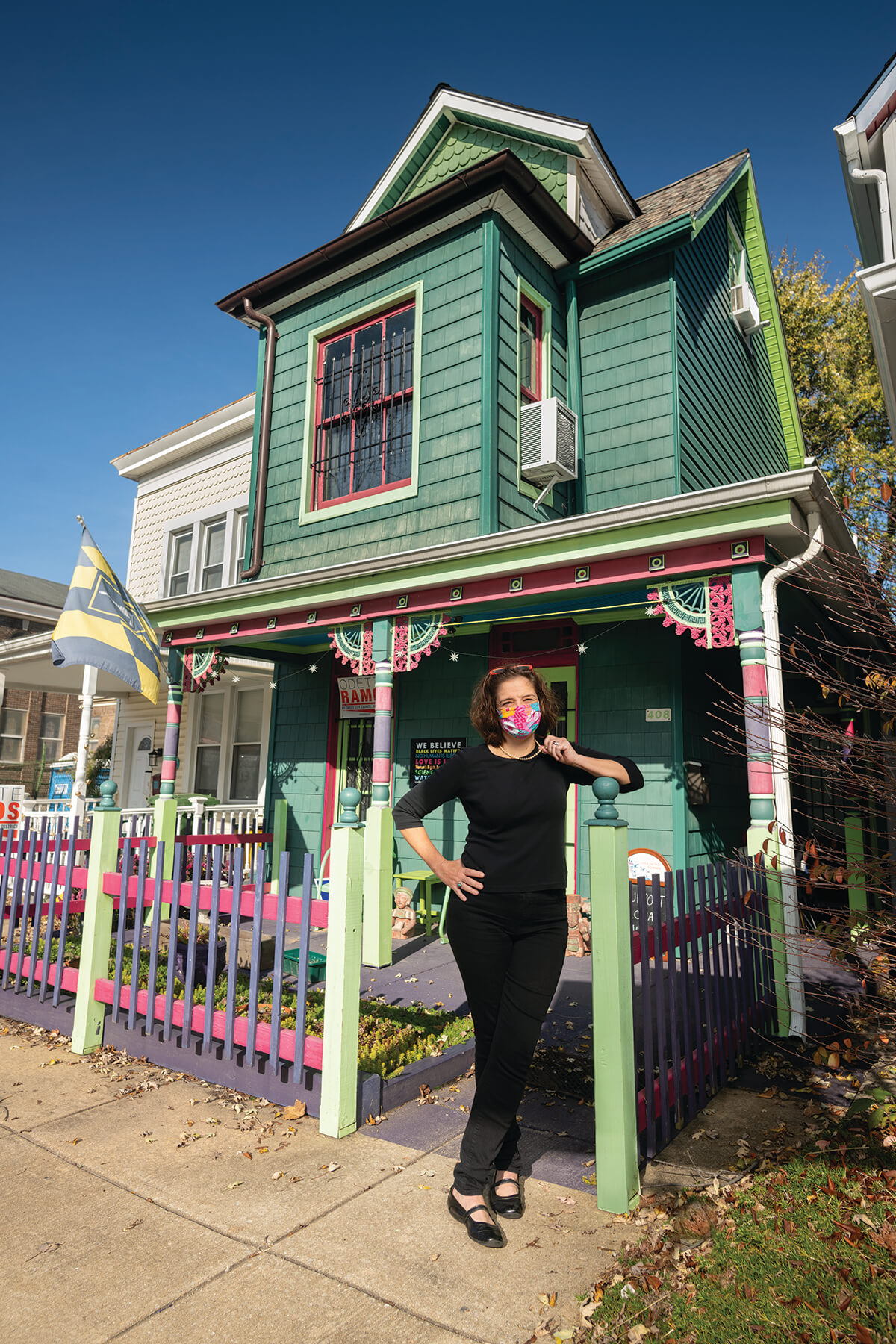 Standing on the sidewalk outside of Odette Ramos' home in Abell, a smattering of residents perform the awkward dance of trying to interact socially while simultaneously remaining socially distant. A few neighbors occasionally pull down their masks to sip beer, despite the election night chill, as they await the first vote counts.
Ramos, a Democrat who is on ballot, is wearing a purple blazer with black trim and a black face mask with white lace, a nod to the late Supreme Court Justice Ruth Bader Ginsburg. With her bright orange, rectangle-framed glasses pushed atop her head, she sets pizza and wine out on a table in front of the Victorian cottage she shares with her daughter and husband. A neighbor lugs a big-screen television onto their lawn so folks gathered outside can watch cable news coverage of the presidential election. Across the street, another neighbor blasts disco from a sound system.
The attempt to create a festive vibe, however, only exacerbates the tension surrounding the presidential election. That anxiety mounts as Donald Trump unexpectedly surges to a big lead in Florida, dampening the mood among Ramos' backers. The results from her contest provide some lift, however, as supporters process the drip, drip, drip of the initially disappointing national news (for Democrats). The first count released online by the Baltimore's Board of Elections shows Ramos dominating her race against Republican Charles Long and likely to succeed retiring City Councilwoman Mary Pat Clarke in District 14.
Indeed, the early returns are so lopsided—with 91 percent of ballots cast going to Ramos—it's immediately clear voters in North Baltimore overwhelmingly voted to make history and elect the first person of Latinx heritage to serve on the Baltimore City Council. It's no small coincidence that Ramos is filling the shoes of Clarke, a historic figure in Baltimore politics in her own right as the first woman president of the City Council. It was Clarke, in fact, who gave Ramos her first, albeit volunteer, campaign job in Baltimore. Like Clarke, Ramos is friendly and approachable, as well as a dogged worker. But they also share an understanding that politics is about a lot more than smiles and glad-handing, and requires an understanding of where the pressure points are on a given issue, in case they need a squeeze.
"People ask me, 'Why [did you run for office again]? You've done all this [other] stuff. Why are you doing this now?'" Ramos says. "I think we can make more transformative change, and I think I can do it from this seat."
While Ramos' election marks a milestone for Baltimore and the city's ever-burgeoning Latinx community, it also marks a culmination of years of hard work by the 48-year-old longtime activist, who has worked her way up to the City Council the old-fashioned way. Over the past two decades, Ramos has led community groups, volunteered with local campaigns, built connections through her nonprofit work, served on the Democratic Central Committee, and even suffered a loss at the ballot box before winning this race.
Her journey stretches back roughly 1,900 miles west, and more than 5,000 feet above the sea-level Inner Harbor to Albuquerque, New Mexico, where Ramos grew up.
In a way, it even reaches back generations and across the ocean to Puerto Rico, where her great-grandmother, Ricarda López de Ramos Casellas, helped lead the island's women's suffrage movement, and then did something incredibly unusual for a woman in 1936. She ran for office.
"My great-grandmother, in Spanish she's called bisabuela, she was very active in the suffrage movement," Ramos says. "And then shortly after, she ran for governor of Puerto Rico. So my dad talks a lot about [her] and the work she did. What's interesting is there hasn't been anybody else in our whole family who's run for public office since then," Ramos continues with a smile. "And my dad, you know, says I look like her. I talk like her."
Ramos' inclination to political activism, apparently inherited from her great-grandmother, emerged at a young age. She traces her interest in public policy back to the early 1980s. Inspired by a teacher's activism, Ramos, as a seventh grader, lobbied city government to create a recycling program.
"I testified before the City Council to say, 'Hey, you need recycling,' and they passed the bill that night, and I was like, 'Wow, this is really cool. You can actually make change,' and so I've been very interested [ever since]," Ramos says. Her activism continued through high school, at one point including a protest of the Persian Gulf War that nearly got her arrested.
After high school, Ramos chose to attend Goucher College. It was during her time attending the tiny Baltimore County liberal arts school, where she served as Goucher College's Student Government president for three years, that Ramos was introduced to the city and its politics.
The summer after Ramos graduated from Goucher, Clarke, then Baltimore City Council president, decided to challenge two-term Mayor Kurt Schmoke. Ramos volunteered for her campaign, and the New Mexico native was charged with voter outreach in southwest Baltimore. Her preternatural ability to connect with voters left a lasting impression on Clarke. "I lost the city, but man did I win southwest," Clarke says.
After graduating from Goucher, Ramos attended Rutgers University and earned a master's degree in Policy Analysis and Public Policy. She then returned to Baltimore and worked for Del. Jim Campbell and later U.S. Sen. Barbara Mikulski. Eventually, Ramos moved into the nonprofit world, serving as the founding director of the Baltimore Neighborhood Indicators Alliance, a research organization that has become Baltimore's well-respected public data clearinghouse of local demographic, health, housing, community, and quality of life data.
While working in nonprofits, Ramos stayed engaged in local politics, in particular around issues of affordable housing, ultimately spearheading efforts to create Baltimore's Affordable Housing Trust Fund. Ramos displayed her political acumen during a battle with then Mayor Catherine Pugh over the dedication of a permanent funding source for the trust fund. During her campaign for mayor, Pugh had supported providing a formal revenue stream to the housing initiative. But she later balked when the legislation came forward.
Ramos, along with other activists, essentially played a game of political chicken with the mayor by pushing a Charter amendment that forced Pugh to cut a deal and dedicate a portion of the city's transfer and recordation taxes to the Affordable Housing Trust Fund. Despite the brinkmanship, Ramos and her fellow activists left Pugh enough room to save face and take credit for signing the measure. It was a piece of maneuvering that even impressed a veteran like Clarke.
"That's good politics," Clarke says. "You don't need to go kill someone."
The fickle fortunes of politics haven't always gone Ramos' way, however. Nearly a decade ago, she launched her first bid for City Council in District 12, which runs from Charles Village to Upper Fells Point. The seat was previously occupied by then Councilman Jack Young, who vacated that post when his colleagues elevated him to Council president following Sheila Dixon's resignation in 2010.
Young then had his ally and friend, former Councilman Carl Stokes, appointed to the vacant seat. As the 2011 campaign season approached, Stokes said he wouldn't run to retain the seat, and would instead run for mayor.
As signs touting Stokes' candidacy for mayor started appearing around the city, Ramos launched her campaign. At the deadline to register, however, Stokes changed his mind, and opted to run to retain the council seat. Once Stokes re-entered the race, it cut off any realistic path for Ramos to win—a devastating blow for someone who had committed significant time and resources in prepping for the run.
Matthew Stegman, a veteran Democratic aide in Annapolis and City Hall, served as Ramos' campaign manager in 2011 and recalls members of her campaign team arguing that soldiering on at that point was futile.
"There were folks who advised her to drop out and try another time, being well aware our chances of success were pretty low going against a well-known incumbent," Stegman says. Nobody in politics wants to view their candidacy as doomed, but serious candidates tend not to be pollyannaish about their odds. What's unique about Ramos, Stegman says, is she found value in campaigning despite the odds. "The whole time I've known Odette, she's been relentless," Stegman says."That's probably her most consistent quality."
Ramos did manage to finish second ahead of six other candidates in the field, and she bounced back, winning election to the Democratic Central Committee in 2014 and 2018. She also continued to build her political network. In 2019, Ramos graduated from Emerge Maryland, an organization that recruits and trains Democratic women to run for office. Working with Baltimore Women United, she also helped recruit other female candidates to run in the Democratic primaries in most of Baltimore's City Council districts in 2020.
All of this organizing positioned Ramos to follow Clarke, who endorsed Ramos to succeed her as councilwoman in District 14. Del. Maggie McIntosh, another long-serving elected official in the district, also endorsed her, and Ramos convincingly won the Democratic primary with nearly 65 percent of the vote.
As election-year politics slide into the rear-view mirror, prominent residents in the district have expressed optimism that Ramos is equal to the task of replacing Clarke, who is legendary for her tireless commitment to her constituents and the city. Among those residents is Acting City Solicitor Dana P. Moore, a longtime Charles Village resident who also praised Ramos' "fierce determination."
"Her willingness to connect at a grassroots level, to understand the issues and then dissect them so that she understands not just why they exist but how they can be resolved, will be an asset for her as a member of the City Council," Moore says. "Surely this is an asset that will inure to the benefit of the 14th and, arguably, all of Baltimore."
Ramos says she isn't basking in the glow of her historic victory. She's focused on the transition to serving as a local legislator. So far, she's doing that by maintaining continuity in office operations and constituent service as she and her new staff get acclimated. A key part of that, she says, is keeping longtime Clarke aide Cindy Leahy on staff. "I've always been able to do lots of different things at the same time, and hopefully I'll be using that skill. But it is a balance," Ramos says. "It's also having really amazing staff."
She's also contemplating how to deal with the expectations that come with being the first Latina on the Council, while navigating the complications associated with the distinction.
One oddity is her district does not include a large portion of the city's Latinx population, which for the most part resides in East Baltimore between white and Black sections of the city. Despite that fact, Ramos says she's hopeful those residents will see her as someone at City Hall who can voice their concerns, and make a difference in their communities.
"As long as I've been here the conversation has always been Black and white," Ramos says. "But I think we have this great opportunity to have a much more rich conversation about who's in our city and what we need."