Photographer Matthew Christopher Documents 'Abandoned America'
Along with photographing long-shuttered psychiatric institutions, Christopher has shot former factories, power plants, churches, schools, mills, and malls across Maryland.
Matthew Christopher graduated from Temple University with a film and media arts degree in 2001, in the middle of the dot-com bust. The job market was brutal. As he went around to various employment fairs, companies and organizations "snickered," as he puts it, at his arts degree. The one place that did offer paid work was a private residential psychiatric facility—after he told them that he was willing to pull the overnight shift.
"So that's why I was working there and eventually, I thought, 'I have to learn more about this,'" Christopher recalls. "I got curious about the history of the psychiatric institutions, which I think is one of the more compelling aspects of American history."
It's a story that begins with lofty ideals and beautiful, state-of-the-art buildings first constructed in the 19th century that were emblematic of the country's commitment to care for those unable to care for themselves—and then were left underfunded and understaffed over time, to sometimes awful consequences. The advent of effective psychiatric drugs, community-based treatment, and massive federal budget cuts in the 1980s led to the shuttering of such state facilities everywhere.
"I started reading about a nearby Pennsylvania state hospital that had recently closed, and I went up there and it was this transformative experience—this was real. And then I was like, 'Okay, well, there are all these other state hospitals and institutions that are out there, abandoned, and I started going to them, taking my camera, and researching and documenting them," says Christopher, who eventually explored the shuttered and infamous Forest Haven asylum in Laurel, as well as the Rosewood Center in Owings Mills, Henryton State Hospital in Carroll County, and Montebello State Hospital, formerly the Sydenham Hospital for Communicable Diseases, in Baltimore—all shortly before they were demolished—sometimes with permission, sometimes without.
"Forest Haven is an absolutely heart-wrenching place," says Christopher, alluding to accounts of rampant neglect, violence, and abuse, as well a long-unmarked gravesite at the location for the nearly 400 former residents unceremoniously interred over the decades. He dedicated an entire chapter to Forest Haven in his hardcover photography book, Abandoned America: Dismantling the Dream.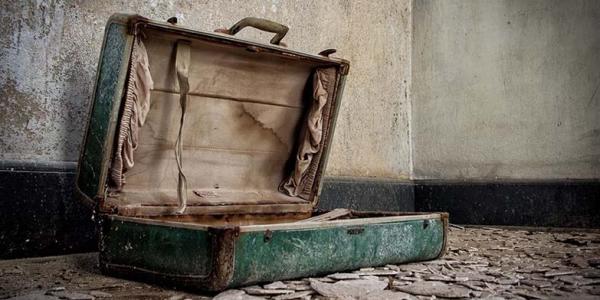 The Rosewood Center, as some know, has its own sordid history, which includes attorneys helping wealthy Baltimore families "adopt" mentally challenged girls and women for use as unpaid servants until the human trafficking operation was exposed in 1937. After combining his interest in psychiatric institutions and background in photography, Christopher moved on to shuttered schools, factories, and churches.
"The next thing," he says, wryly, "I'm obsessed and this is my life."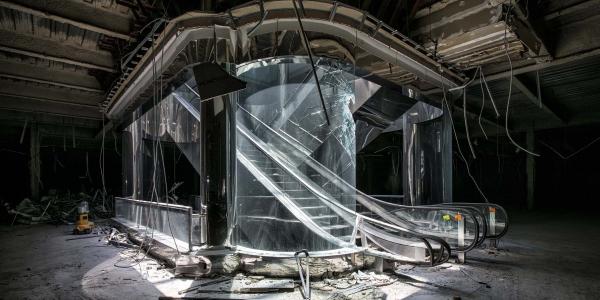 Other shuttered and/or demolished sites he's shot in the region include the former Northern Central Railway's grain elevators in Canton—images just added to his website—the Penwood power station in Sparrows Point, the Gould Street generating station in Port Covington, the 40,000-square-foot Kaufman's department store in the Old Town Mall, the Owings Mills Mall, the old WFBR Radio building—their fortunes fell when the Orioles dropped them in 1987—and the Lebow Brothers Clothing Company factory in Greenmount West.
Between 200-300 people worked at the clothing factory, which included an outdoor rooftop recreation area for women and a separate courtyard area for men. When Christopher visited the closed factory in 2008, it was full of hundreds of coats still in their plastic slipcovers. As he entered, Christopher ran into a man illegally cutting out metal for scrapping. "It would be infinitely easier to steal coats and sell them," he recalls thinking. The factory, thanks to a $26.5 million repurposing effort, now houses the Baltimore Design School.
In recent years, the now 44-year-old Christopher, who went on to earn an MFA in photography and whose work has been featured in national outlets, has ventured farther afield. Surreal ruins include the abandoned Presidents Park in southwest Virginia, which features 20-foot busts of the first 43 American presidents, and the Chernobyl nuclear power plant and its surrounding ghost towns.
"There is a photographer I admire named Richard Nickel," says Christopher. "He shot a number of abandoned and endangered buildings in Chicago. Mid-century urban renewal stuff. He said something to the effect that great architecture has two enemies—water and stupid men. I always liked that. He's a bit of a patron saint. He actually died when the old Chicago Stock Exchange collapsed with him in it."