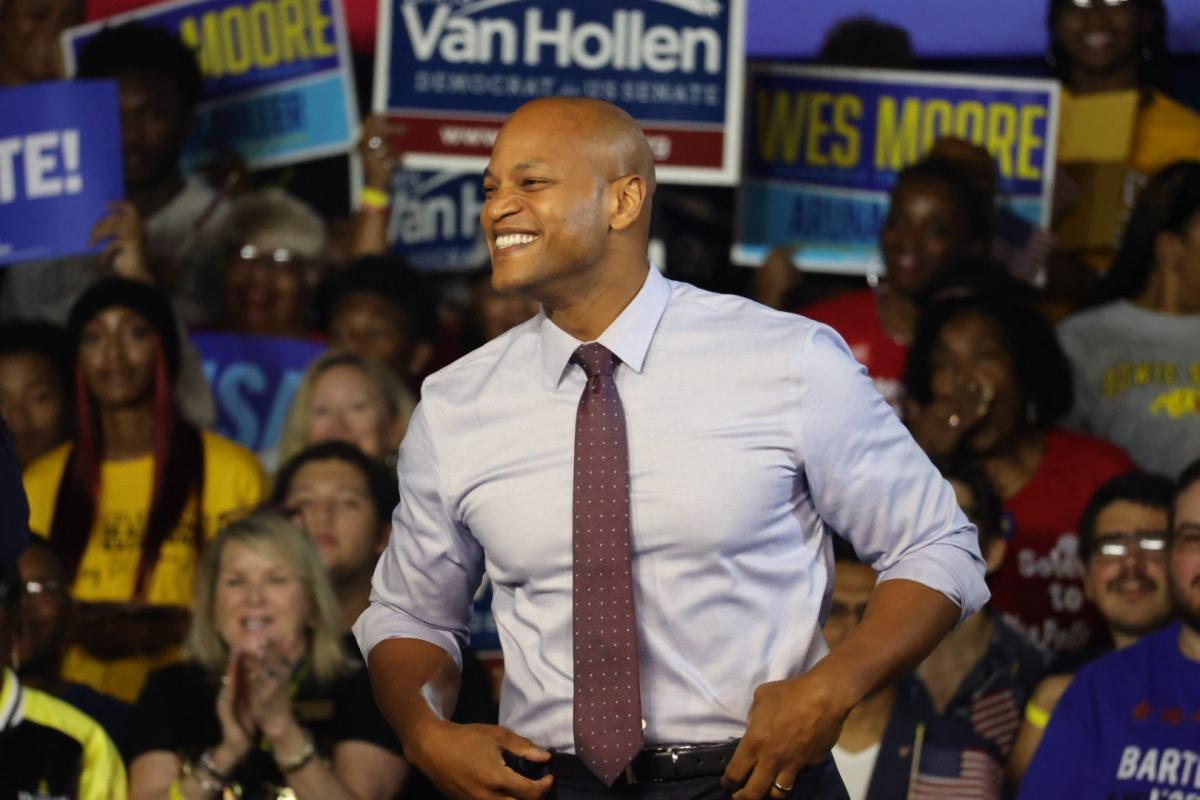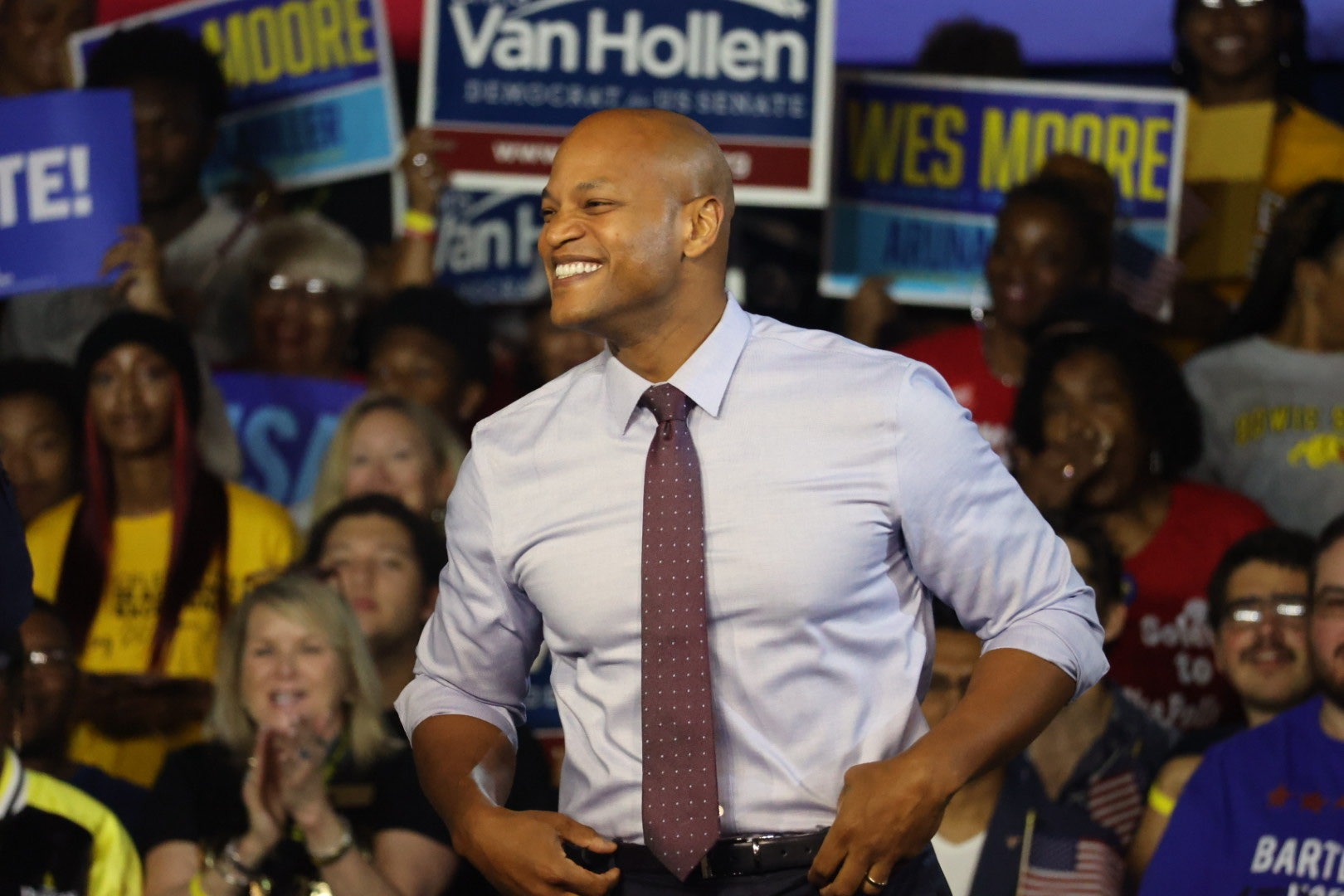 Governor-elect Wes Moore at a campaign rally with President Biden at Bowie State University on November 7. —Courtesy of Wes Moore for Governor via Facebook
Best-selling author, Rhodes Scholar, combat veteran, former investment banker, and nonprofit CEO Wes Moore became the country's third Black-elected governor Tuesday, and the first ever elected in Maryland. He follows Massachusetts's Deval Patrick and Virginia's Douglas Wilder as the only elected Black governors in U.S. history.
Moore and Lt. Gov.-elect Aruna Miller easily defeated far-right Republican gubernatorial candidate Dan Cox and GOP-nominated candidate Gordana Schifanelli by a vote of 59.62 percent to 36.98 percent, with 2066 of 2074 precincts reported.
A first-time candidate, the 44-year-old Moore, who lives in Baltimore with his wife and two children, ran on a pledge to "leave nobody behind," as well as a commitment to education and ensuring women's reproductive rights and access to abortion care. He ran a vigorous, 16-month campaign across the state, and stressed his belief that, economically, Maryland could be both "more competitive and more equitable."
The charismatic Moore, long considered a potential political candidate, received several high-profile endorsements, including those from President Joe Biden, former President Barack Obama, and Oprah Winfrey. Moore emerged from a large and experienced Democratic field, which included initial frontrunner and outgoing comptroller, Peter Franchot, as well as former U.S. labor secretary Tom Perez, former U.S. education secretary John King, and former Maryland attorney general Doug Gansler. His 2010 nonfiction book, The Other Wes Moore: One Name, Two Fates, garnered national attention.
Born in Takoma Park, Moore was raised largely in New York by his mother and grandparents, who were Jamaican immigrants, after his father died of a rare health condition when he was 4 years old. He returned to Maryland to attend Johns Hopkins University.
In his prepared remarks Tuesday night, Moore noted that he lost his 95-year-old grandmother last week.
"Her name was Winell Thomas and we called her Mama Win," Moore said. "Mama WIN. I could not think of a more appropriate name. And I know that tonight she has the best seat in the house. Ella nació en Cuba—she was born in Cuba and immigrated to this country from Jamaica. She taught public school for nearly 40 years. She came here to build a life, and she ended up building a legacy."
But Moore wasn't the only groundbreaking candidate to win statewide office Tuesday. Former two-term lieutenant governor and three-term Democratic congressman Anthony Brown easily captured the general election tally and is set to become Maryland's first Black attorney general. The 60-year-old Brown, who lost a bid for governor to Larry Hogan in 2014, defeated far-right Republican Michael Peroutka⁠—a former one-term councilman from Anne Arundel County⁠—by 20 points, 59.99 percent to 39.87 percent.
Echoing some of Moore's remarks, Brown pledged to work toward building "a more just and equitable state," "defend and expand upon the rights that generations have fought for," and "lift up one another to reach our highest potential."
"Tonight, our state showed the country what Maryland's values are all about," Brown said in a statement posted on Twitter. "We embrace our differences and see each of our neighbors as deserving of respect. We value fairness, safe communities, and a level field where every family has an opportunity to get ahead."
Additionally, Baltimore City state delegate Brooke Lierman will become the first woman to serve as state comptroller. Lierman's race against Barry Glassman, a former Harford County executive, was the closest of the three historic races, but still not close.
Lierman defeated Glassman by more than 14 points, 56.96 percent to 42.96 percent. EMILY's List, a national resource for pro-choice Democratic women, congratulated Lierman, a disability and civil rights attorney and leading environmental advocate in the General Assembly, in a statement. "We know she is ready to rise to the moment and be a tireless advocate for families, communities, and small businesses, lifting up the people of Maryland as the state's first woman chief financial officer."
In a statement released this morning, Baltimore Mayor Brandon Scott highlighted the trailblazing nature of the new statewide elected officials, as well as their Baltimore connections. "Not only do we have our first Black Governor, but we also have our first Indian-American Lt. Governor [Aruna Miller], first Black Attorney General and first female Comptroller," Scott said. "For the first time in eight years, Democrats control Annapolis. More than that, this is a group of elected officials who care deeply about Baltimore, who have roots here, and who—like me—want to see our city thrive."
In terms of the state's congressional races, there is only one possible change remaining. Officially still to close to call, Neil Parrott, a Republican state delegate from Washington County, appears to have a chance to unseat incumbent Western Maryland congressman and Democrat David Trone.
Democratic U.S. senator Chris Van Hollen easily won reelection, topping 60 percent of the vote. Incumbent U.S. representatives John Sarbanes, "Dutch" Ruppersberger, Steny Hoyer, Kweisi Mfume, and Jaime Raskin all held on to their seats by comfortable margins. In the 1st District, largely on the Eastern Shore, Republican Andy Harris, a controversial 2020 election-denier, cruised to victory over Democratic nominee Heather Mizeur.
Marylanders also voted overwhelmingly to legalize recreational marijuana use—with more than 65 percent casting their ballot in favor of the referendum. The possession and use of marijuana would become legal for Marylanders 21 and older beginning this July.
On the national level, Democrats and Republicans remain in a struggle for the control of Congress. While Democrats seem to have exceeded mid-term election expectations, as of Wednesday afternoon they appear nonetheless likely to lose control of the House of Representatives.
The control of the U.S. Senate appears to remain in a dead heat, with a good chance that the outcome will not be decided until Georgia's runoff election in December.