Your Holiday Entertaining Field Guide
Searching for tips on how to be the best host and guest this holiday season? Here's a simple (illustrated) how-to from local pros.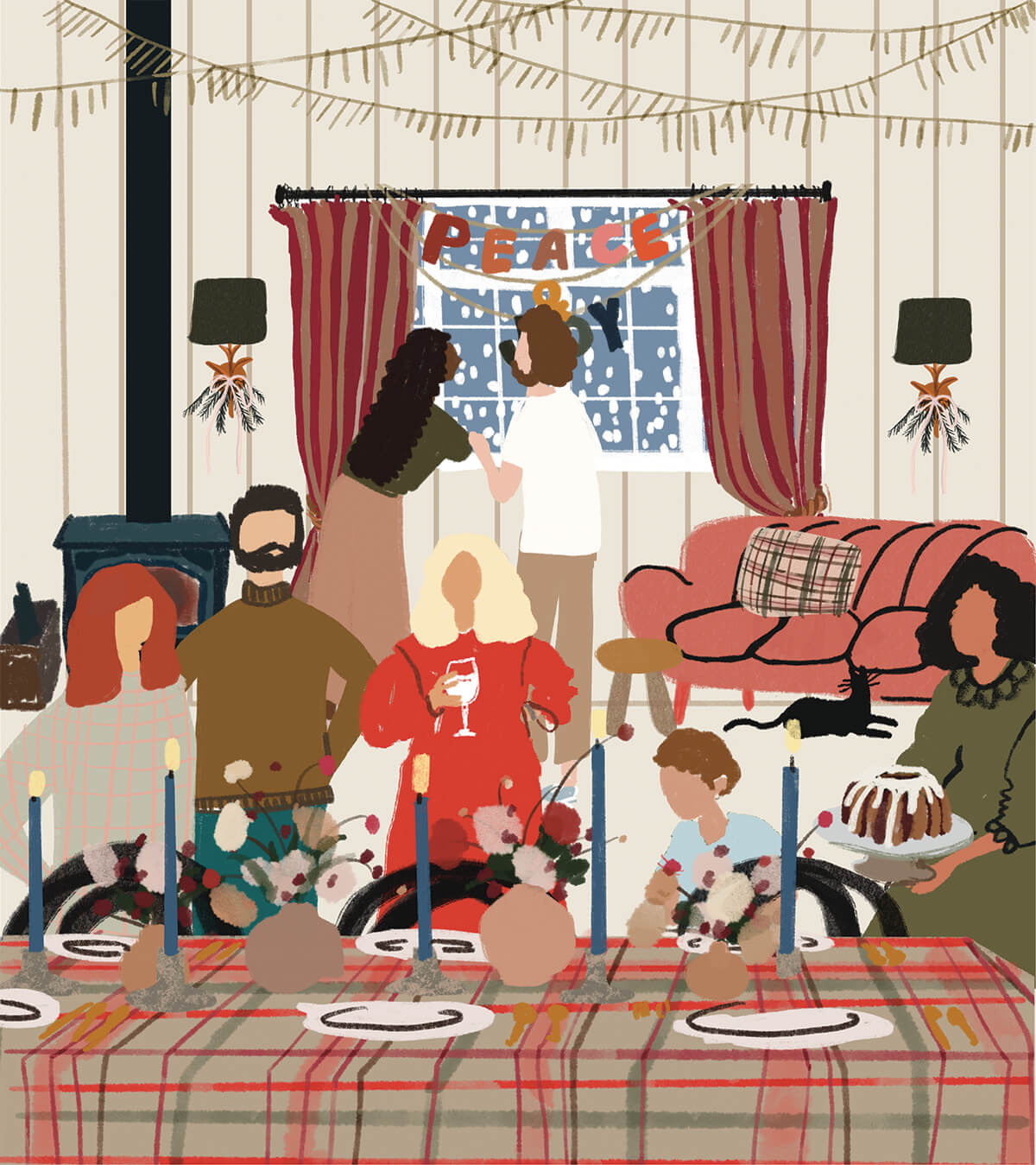 We've blinked and it's that time of year again time  for holiday parties and festive outings. But even the most seasoned partygoers and throwers could use some pointers. Our "Field Guide to Holiday Entertaining" will help you identify everything from what to wear to what to make to what to drink to what to bring. The objective is for every single person to have the very best night. Cheers!
Three Festive Outfits for All of Your Holiday Gatherings
BH&CO
Owner Kohli Flick put together three looks for us, below. A ladies' holiday dinner/white elephant gift exchange, a work cocktail party, and finally, a New Year's Eve fête.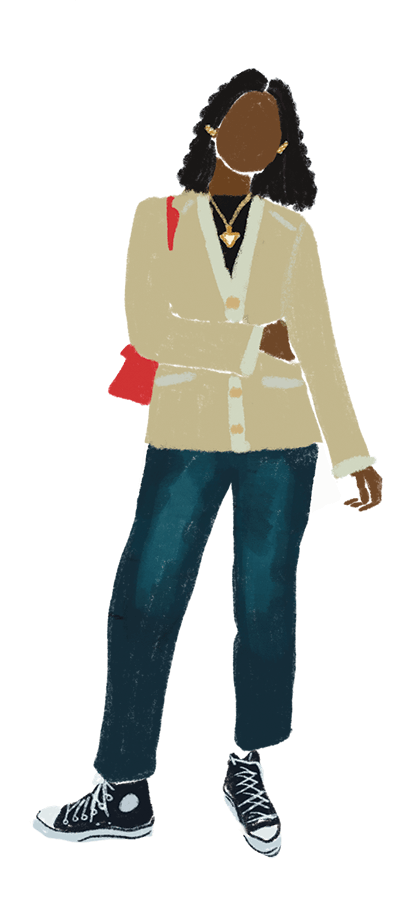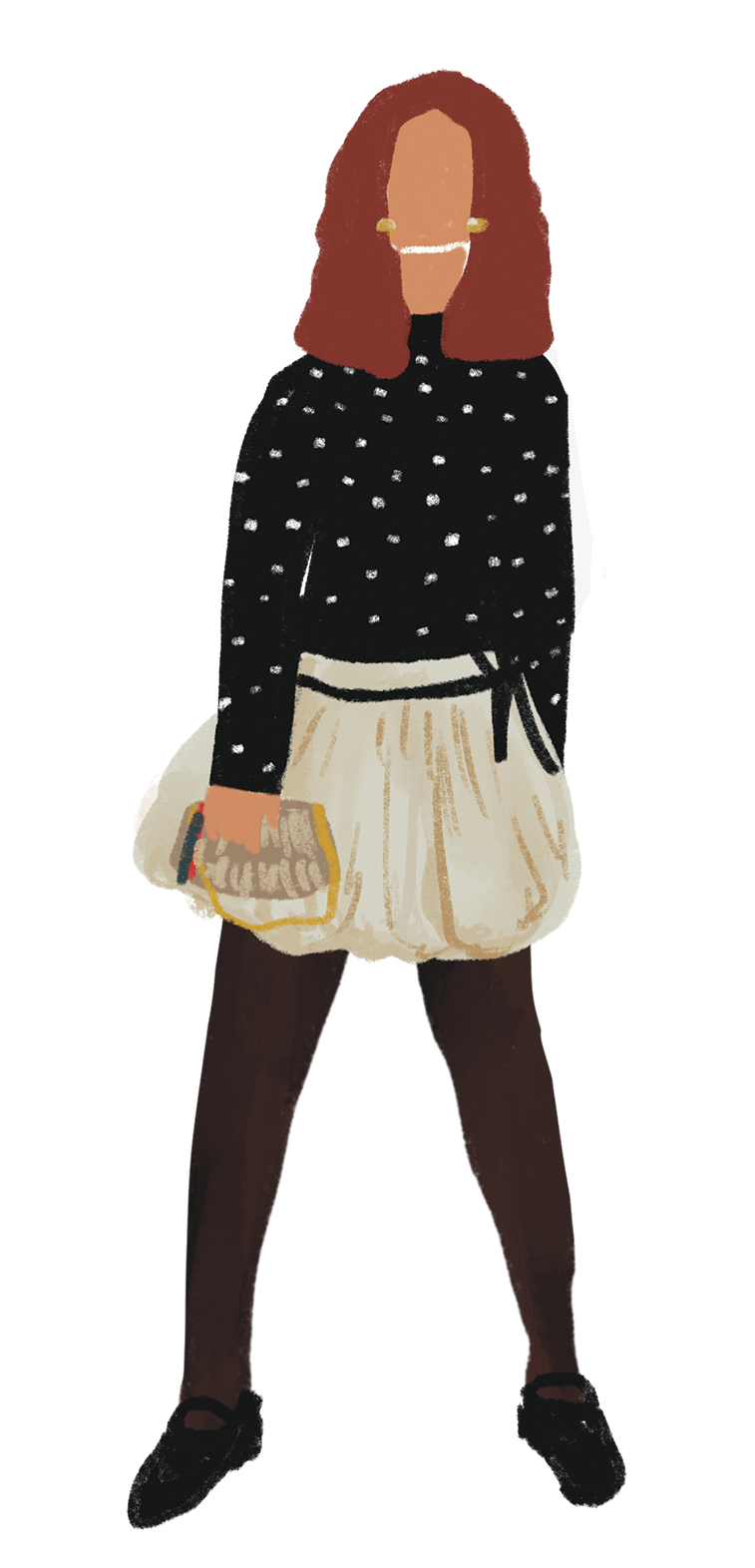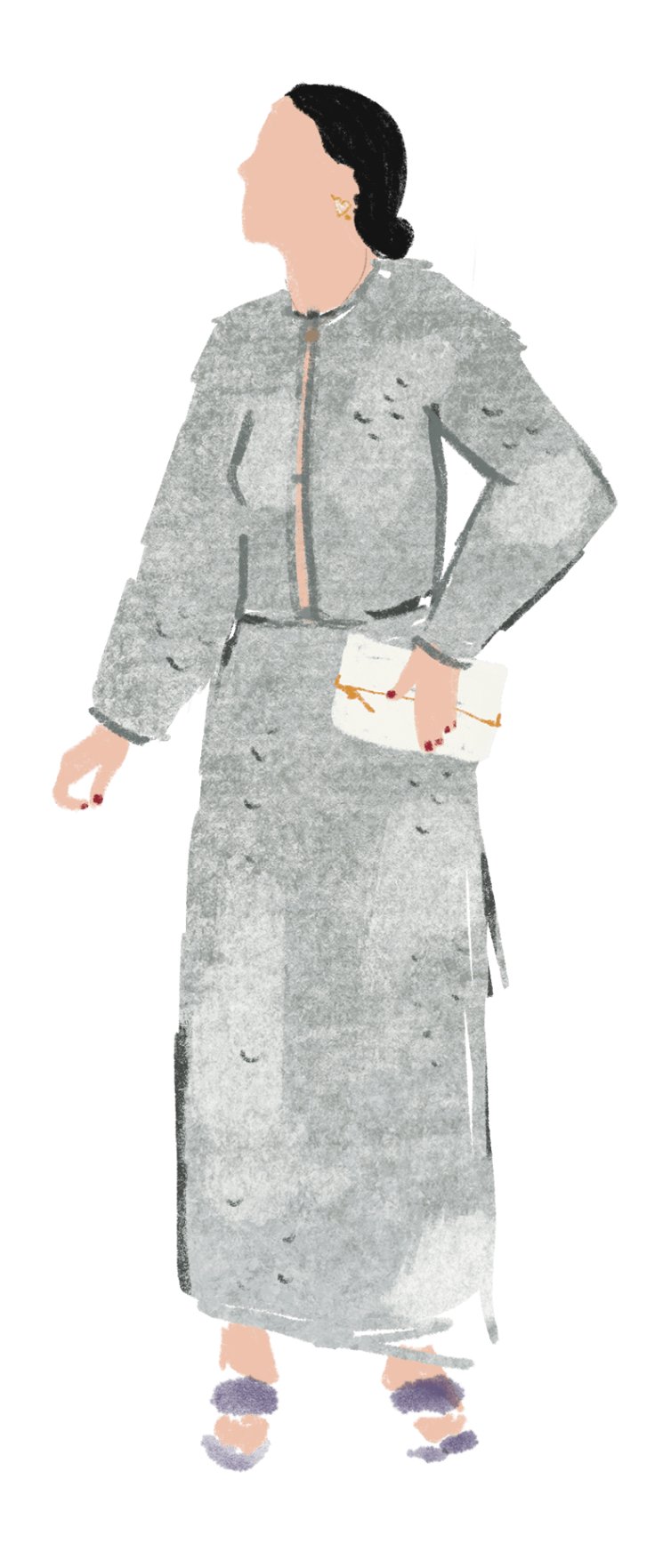 An Ode to The Ugly Sweater
Sam Barsky, artist/knitter of sweaters at @sambarskyknitter
"Throughout most of the 1990s, when I was in college, I had a desire to learn how to knit and make sweaters. I finally learned how in 1999, and about a year later, I was designing my own sweaters. Once I realized I could make sweaters depicting anything, it just seemed natural to include holidays in my collection. And Hanukkah was one of the first for which I made a sweater. When others hear the flames glow in the dark, they become interested in seeing this. The flames are made of glow-in-the-dark yarn. I guess the Hanukkah one is popular because of all its bright colors, and Hanukkah is a time when people have a lot of joy."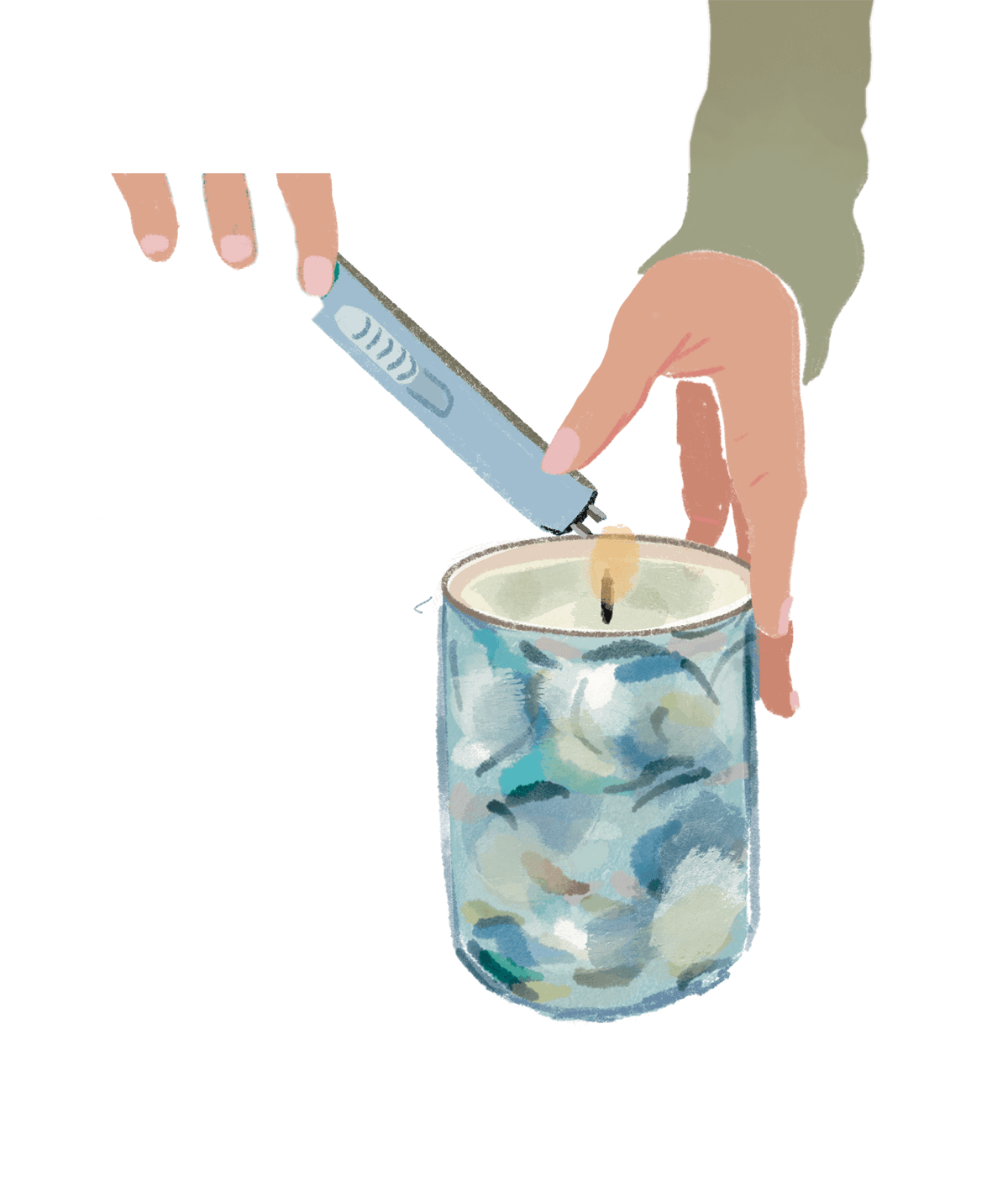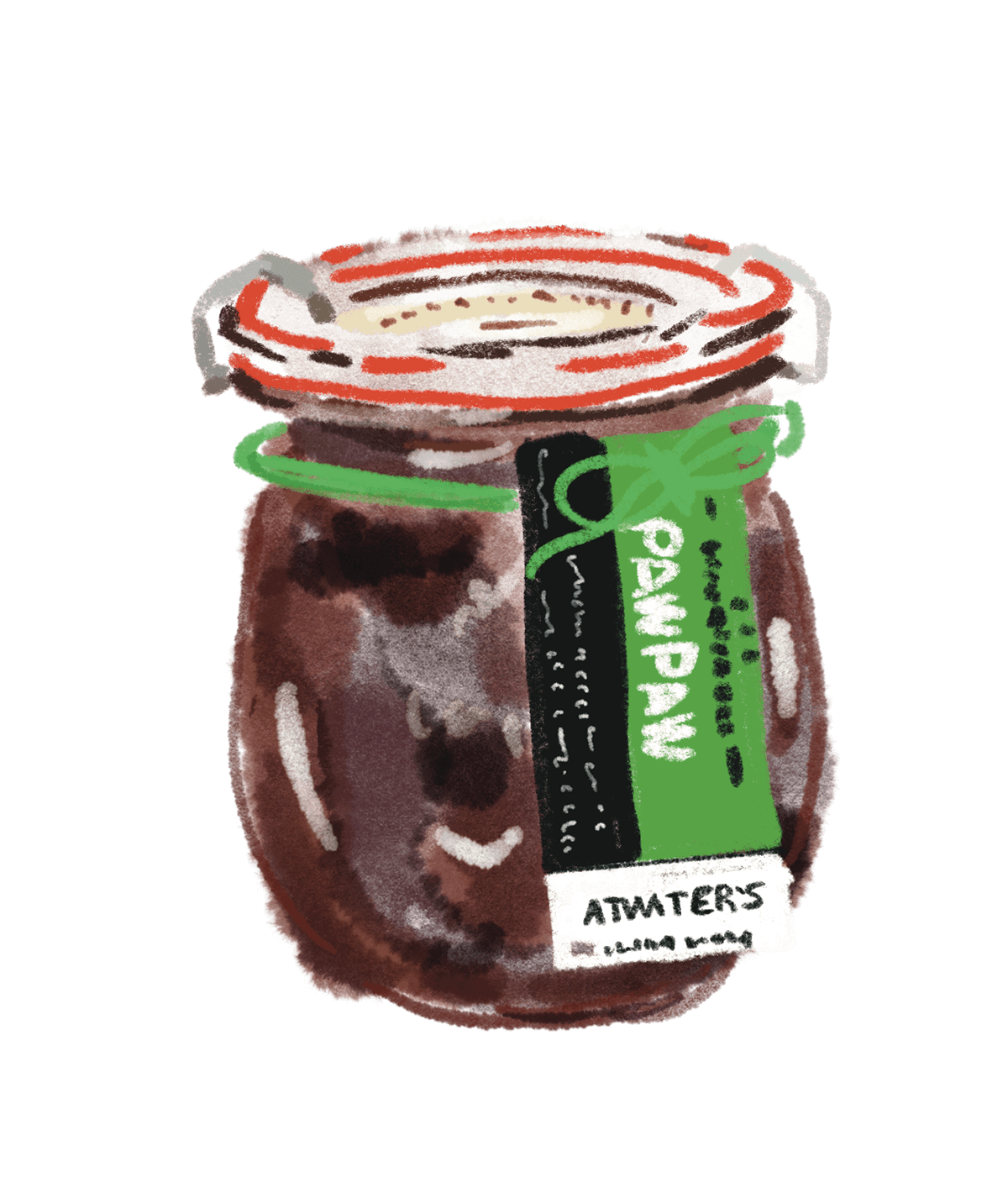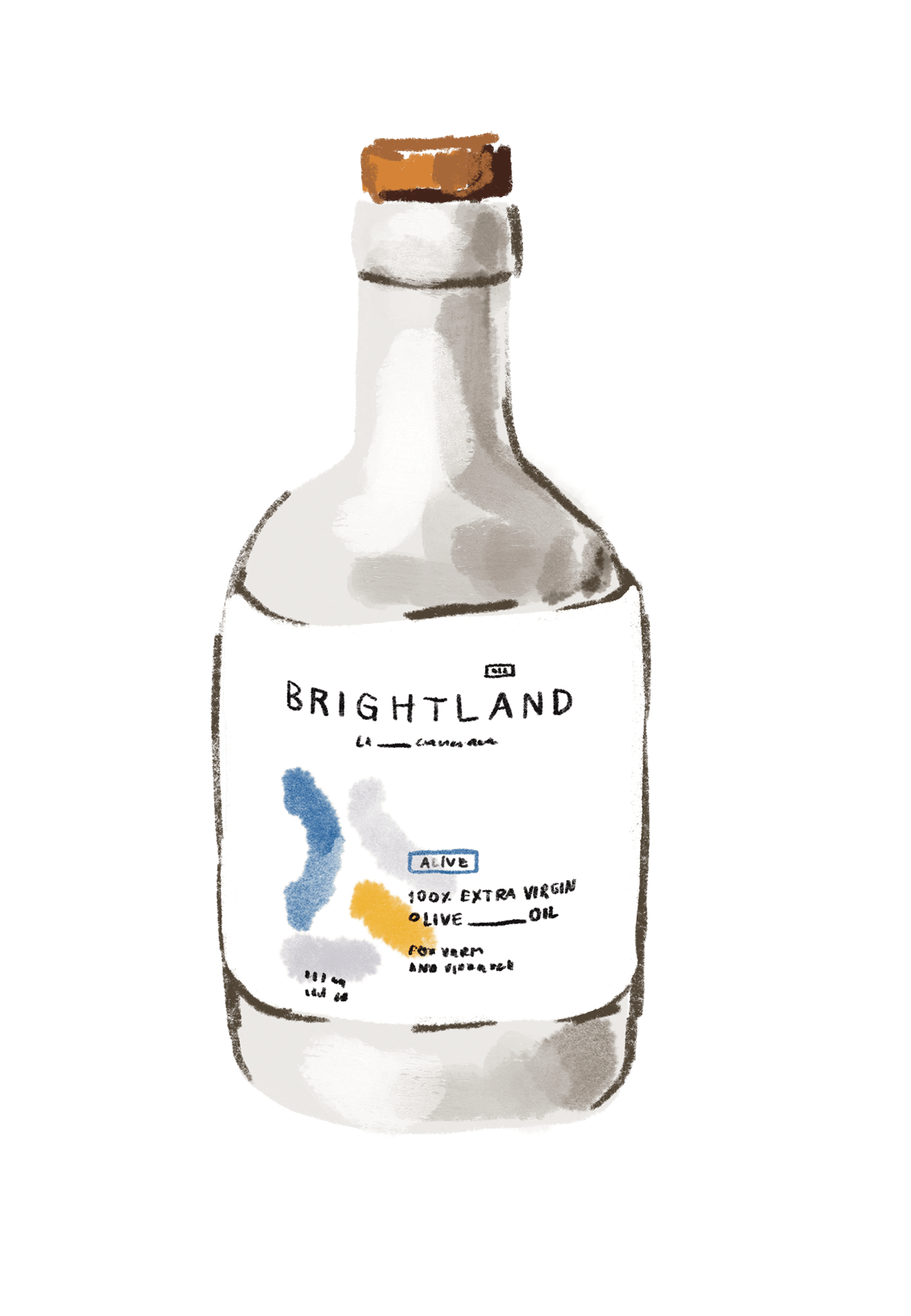 Seven Rules to Be the Perfect Guest
Katey Clark, Creative Director and Owner Lemon & Lime Event Design
RSVP on Time
Don't wait for the host to ask if you saw their invite.
Get that RSVP out within 48 hours of receiving it.
Don't Cancel Unless Truly Necessary
We get it, the holiday season is the busiest time of the year, and nothing sounds better after a busy day of work, sports carpooling, and dinner prep than  parking it on the couch. Unless you or a family member is truly sick, get to that party and have a blast.
Dress Up
Unless noted, most holiday parties encourage festive cocktail attire. Show the host your appreciation and excitement by dressing to impress. Less is not more here.
Bring Breakfast for the Morning
Your host will get plenty of wine and flowers. Bring over muffins, bagels/spread, or a quiche for them to heat up in the morning for an easy breakfast after a late night.
Mingle
Be kind and genuine. Don't hesitate to approach new people and show interest as you're talking to them. Avoid making negative comments on the food, guests, or host.
Clean Up
If kids are invited, budget 10 minutes for your kids to help clean up before you leave. Set a timer and make it fun in hopes other children also join. Kids can destroy a basement in a matter of minutes and this gesture goes a very long way.
Thank You Notes Are a Must
A handwritten note will show your gratitude and help your words to stand out. Handwritten notes are becoming a lost art and will truly impress the host.
Table Setting Tips and Tricks
The Focal Piece: To make a cohesive tablescape, we recommend starting with one element in the setting and building from that. For example, find a component that is a must on your table, whether it's florals, linens, or even something as small as a napkin. These can be the building block for the rest of the table. Whether it's a pattern or a color scheme, having one item act as inspiration will bring everything together in a beautiful and creative way.
Flatware Positioning: Don't forget, for a seated holiday dinner, forks will always go to the left of the plate, with knives and spoons on the right. And the dinner knife's sharp edge should be facing the plate.
Napkin Folds: Don't underestimate the importance of a nice napkin. It can make all the difference when it comes to elevating your tablescape, even for a simple buffet. For a seated dinner, try a  ribbon tie with a festive plaid trimming or use pinecones or berries as place-card holders next to a simply folded napkin.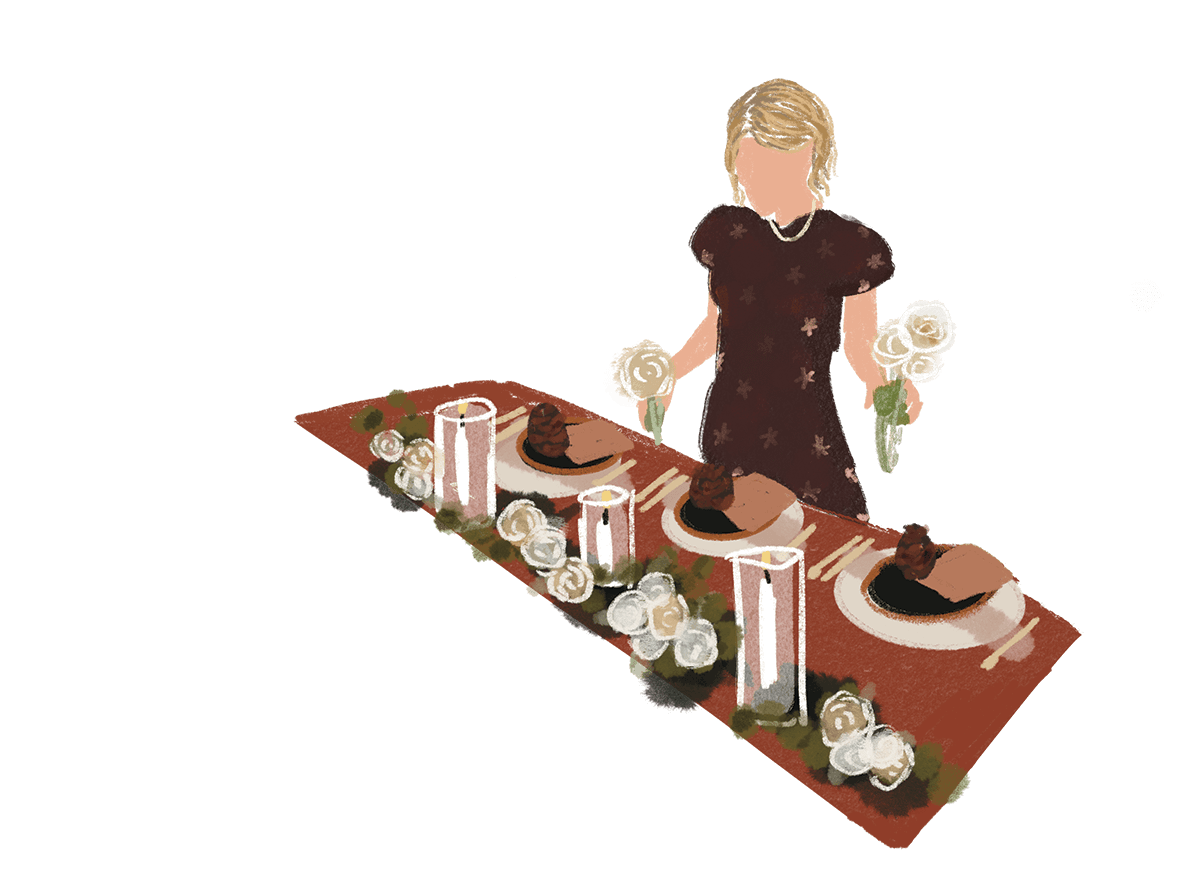 Aunt Effie's Cheese Straws
1 lb New York sharp cheddar
2 cups flour
1/2 tsp salt
1/4 tsp cayenne pepper
1 stick (8 tablespoons) butter or margarine
Sawa cookie press
The following is from my mother's handwritten recipe card; comments in parentheses are mine.
Cream grated cheese and butter well with your hands. (With your literal hands, so please wash them first.) Sift dry ingredients together and blend by hand slowly into cheese and butter. (No, seriously, use your hands.) Mix well. (With your hands.)
(Make sure you buy a Sawa with an instruction manual. Use the disc with a single jagged line, sort of like a robot was frowning. Don't overfill it. The dough is very hard to press, and you will need to practice getting the hang of it, but eventually you will start pumping out ridged rectangles 2-3 inches in length.)
Bake at 350 degrees for about 10-12 min. on an ungreased cookie sheet. Timing always varies. Do not let them brown on top. Look for light browning on the bottom. They should be cooled on racks. They freeze exceptionally well.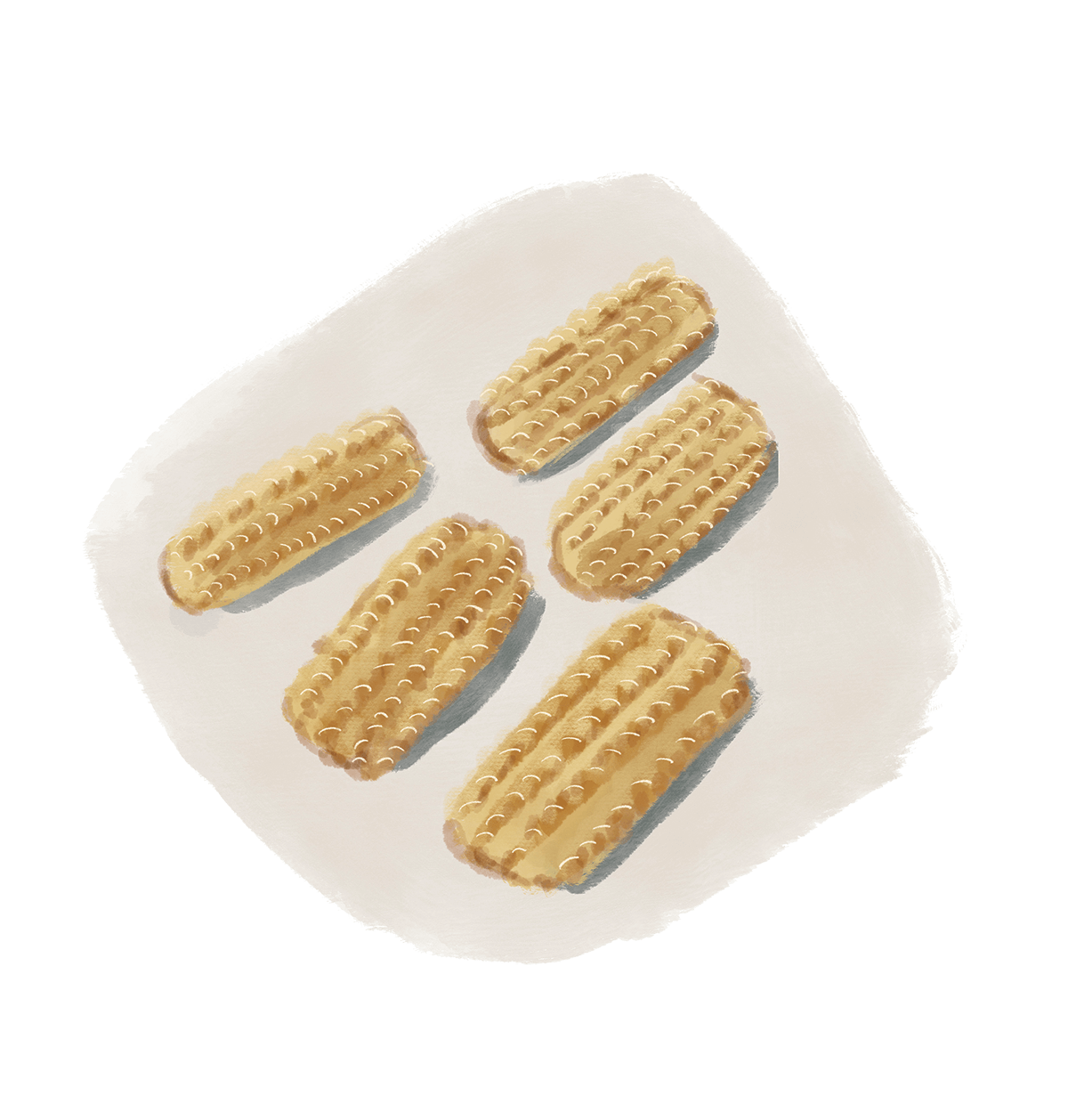 Potato Latkes & Applesauce
2 lbs potatoes (preferably Idaho)
1 medium onion
4 eggs
2-4 tbsp matzo meal
Salt and pepper to taste
3/4 cup olive oil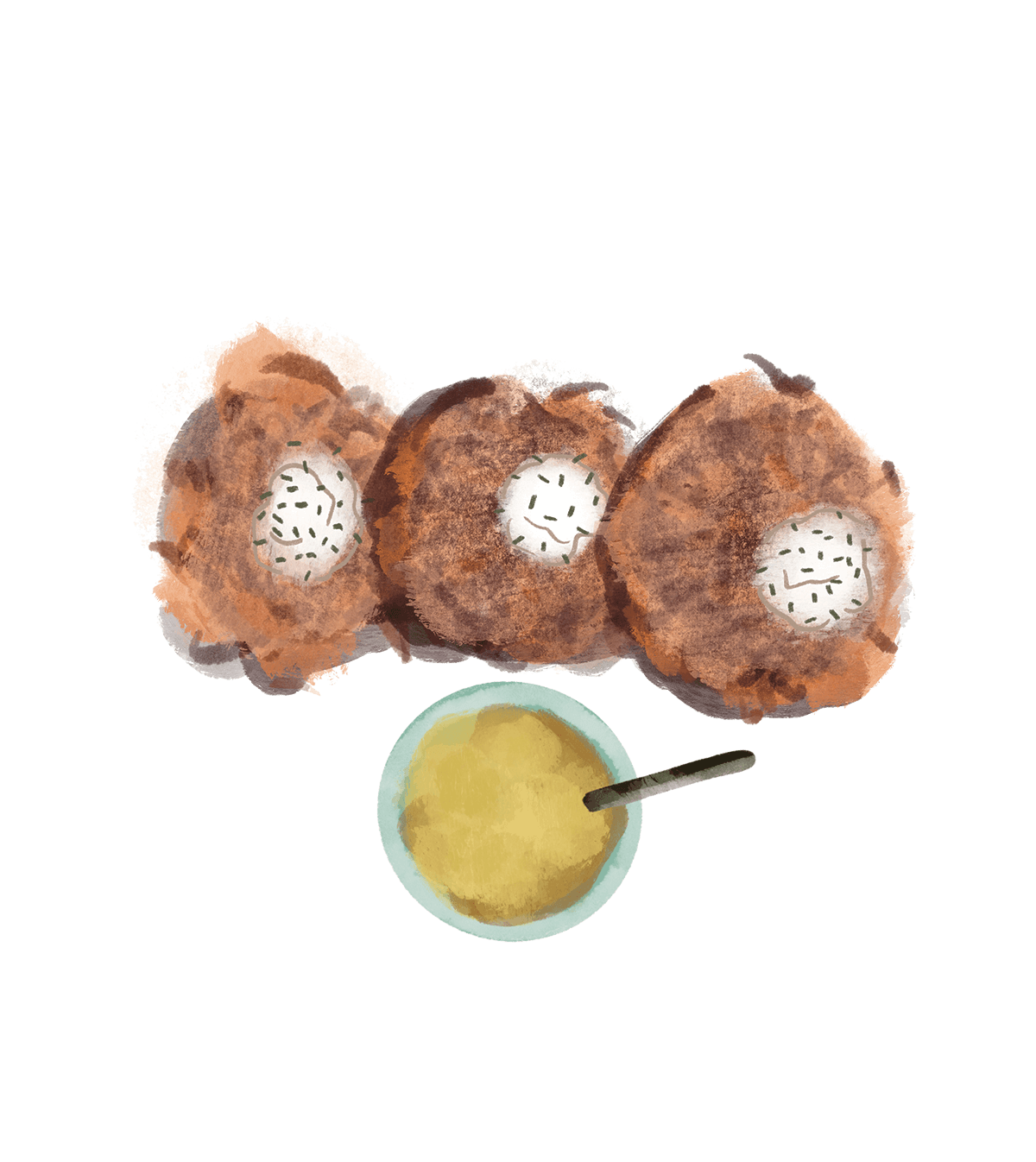 Peel and shred potatoes. Peel and chop onion. Combine potatoes and onion. Add eggs, matzo meal, salt, and pepper; mix well and quickly.
Place oil in a sauté pan over medium heat. Spoon potato mixture into hot oil; press lightly to flatten. When bottoms of latkes are golden brown, turn and brown the other side. Remove latkes from pan and place on paper towels to absorb excess oil. Serve immediately or collect on cookie sheet and keep warm in the oven.
Applesauce
3 lbs apples
1 cup water
1/4 tsp cinnamon and/or grated lemon zest
1/3 – 1/2 cup sugar or to taste
Wash, core, and quarter apples. Place apples in a saucepan. Add water and cinnamon and/or lemon zest and bring to a boil. Simmer 30 minutes or until the apples are soft. Use a masher or plunge blender in apple mixture to desired thickness. Add sugar and stir to dissolve. Chill to desired temperature.
Mistletoe Shortbread Cookies
3/4 cup unsalted butter, softened
3/4 cup confectioners' sugar
1 tsp vanilla extract
1 1/2 cups all-purpose flour
1/2 tsp kosher salt
1/4 cup frozen raspberries
1/2 cup sliced almonds
3 tablespoons granulated sugar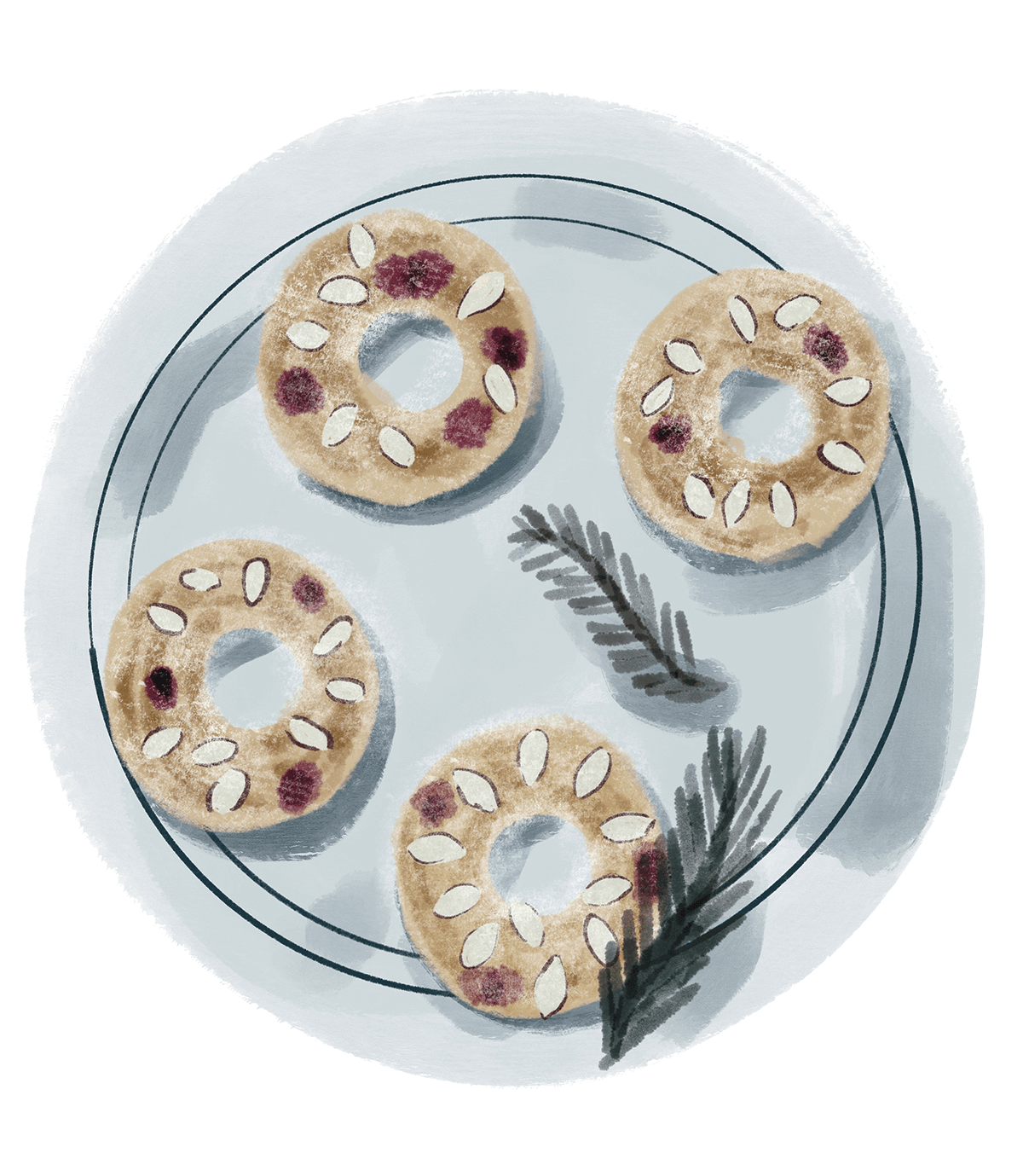 In a medium bowl, beat butter, confectioners' sugar, and vanilla at medium speed using a hand mixer, two to three minutes until creamy. Sift together flour and salt, gradually adding it to the butter mixture. Shape into a disk and wrap in plastic wrap. Refrigerate for two hours. Preheat oven to 350°F. Line two baking sheets with parchment paper.
On a lightly floured surface, roll dough to 1/8-inch thickness. Using a 2 1/2-inch fluted round cutter, cut dough into 24 cookies, rerolling scraps only once. Using a 1-inch fluted round cutter, cut into the center of each cookie, making a wreath. Place 1 inch apart on prepared pans.
Flatten frozen raspberries between two fingers and gently press into dough. Arrange almonds and raspberries around the cookie to make a wreath and generously sprinkle cookies with granulated sugar.
Bake 10-12 minutes. Let cool completely on pans before removing. Enjoy.
First Impressions
Front-door wreaths are a classic and timeless way to add a touch of festivity to your holiday party and set the tone for guests as they arrive at your home. It says the party is here. A door wreath is like putting fancy stamps on an envelope—it's letting everyone know there is something special inside.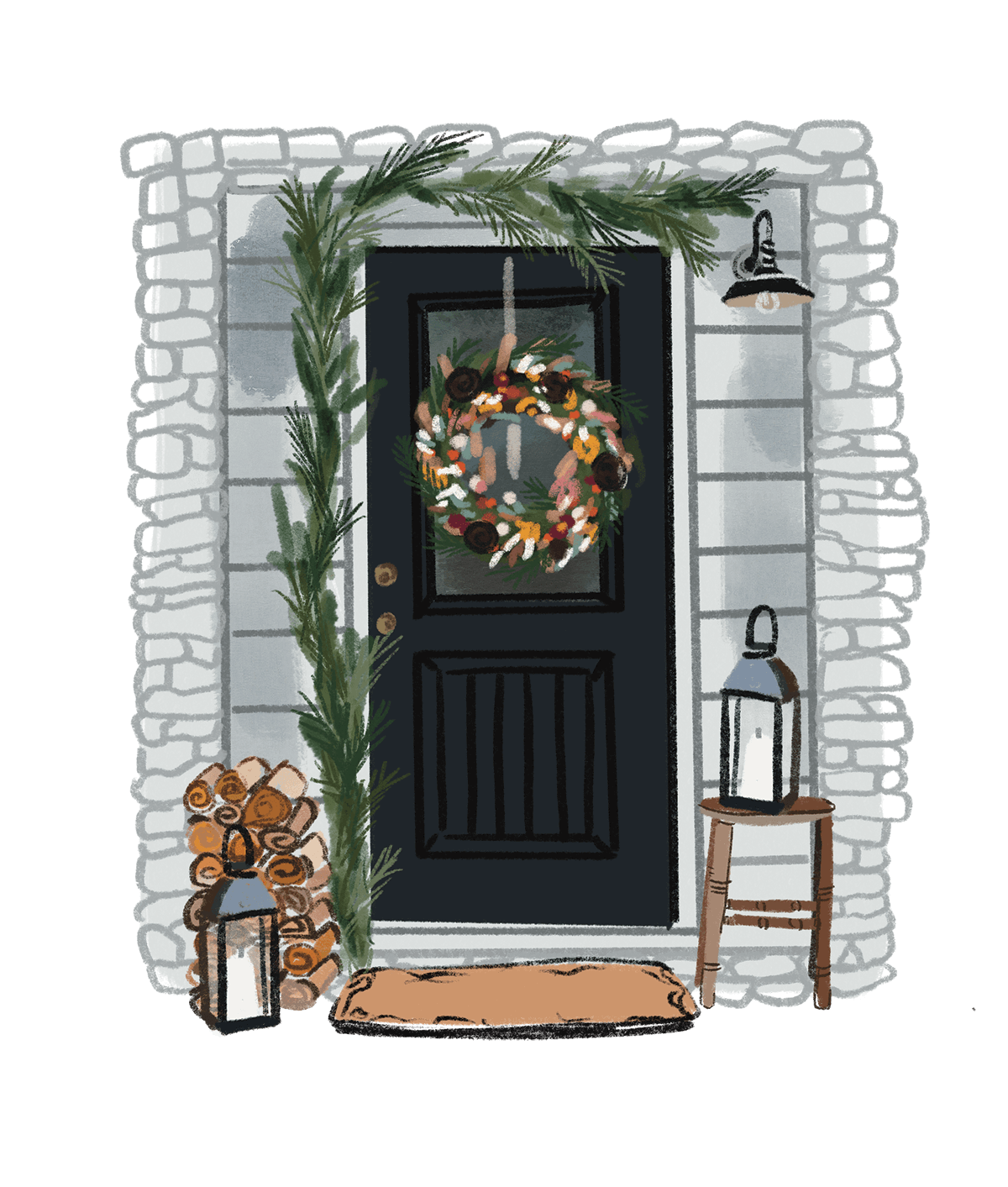 How to Make Your Home Super Comfy and Versatile for Your Guests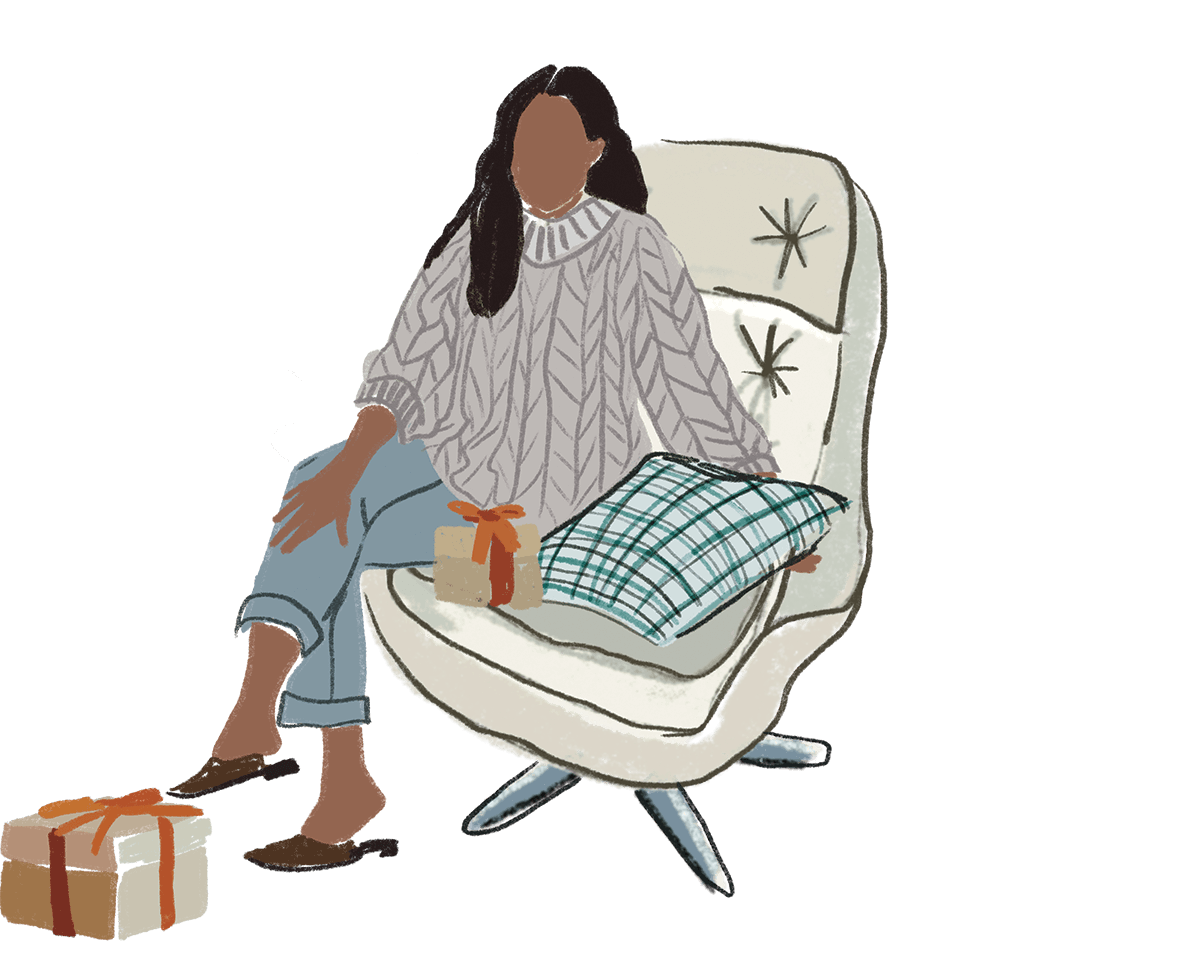 This white vinyl swivel armchair is the perfect seat to gather around as loved ones spin tales of holidays past. And it's a twofer—offering both sleek design and maximum comfort.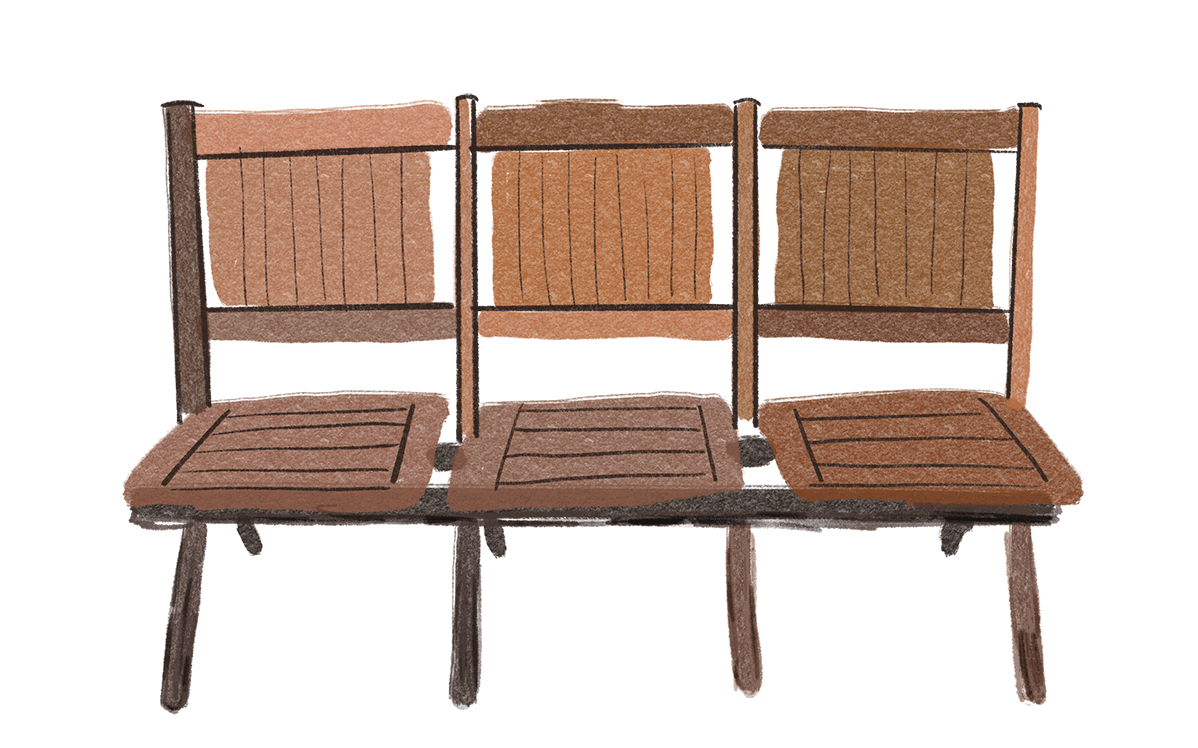 This folding stadium bench is the best seat in the house. Perfect for a trio of cousins cutting up in the corner. And when the show moves, these seats can too.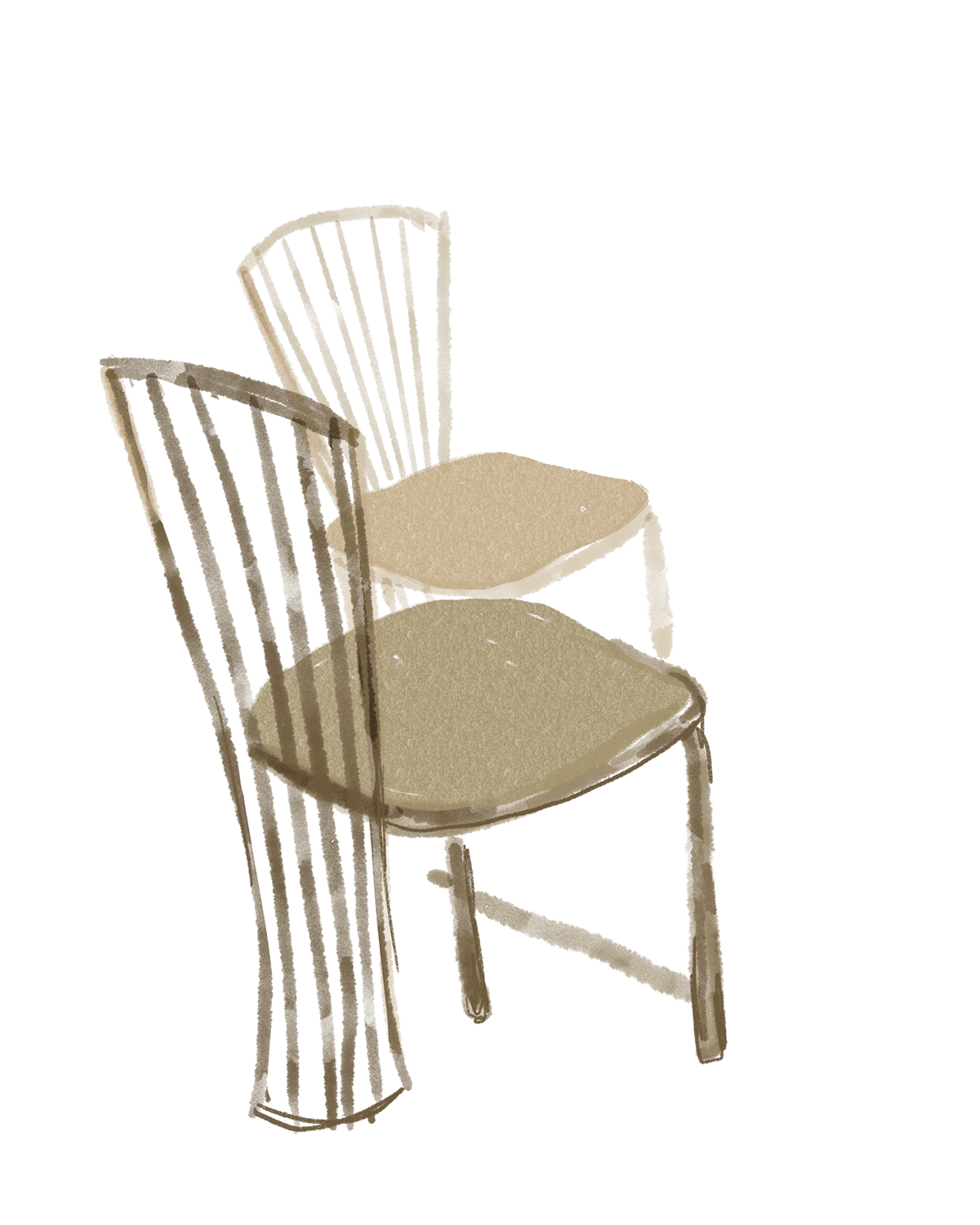 These retro dining chairs will have all of the aunties reminiscing about the good 'ol days. A set of four makes for great seating at the holiday card game. High backs, high seats, and high comfort keep the games going.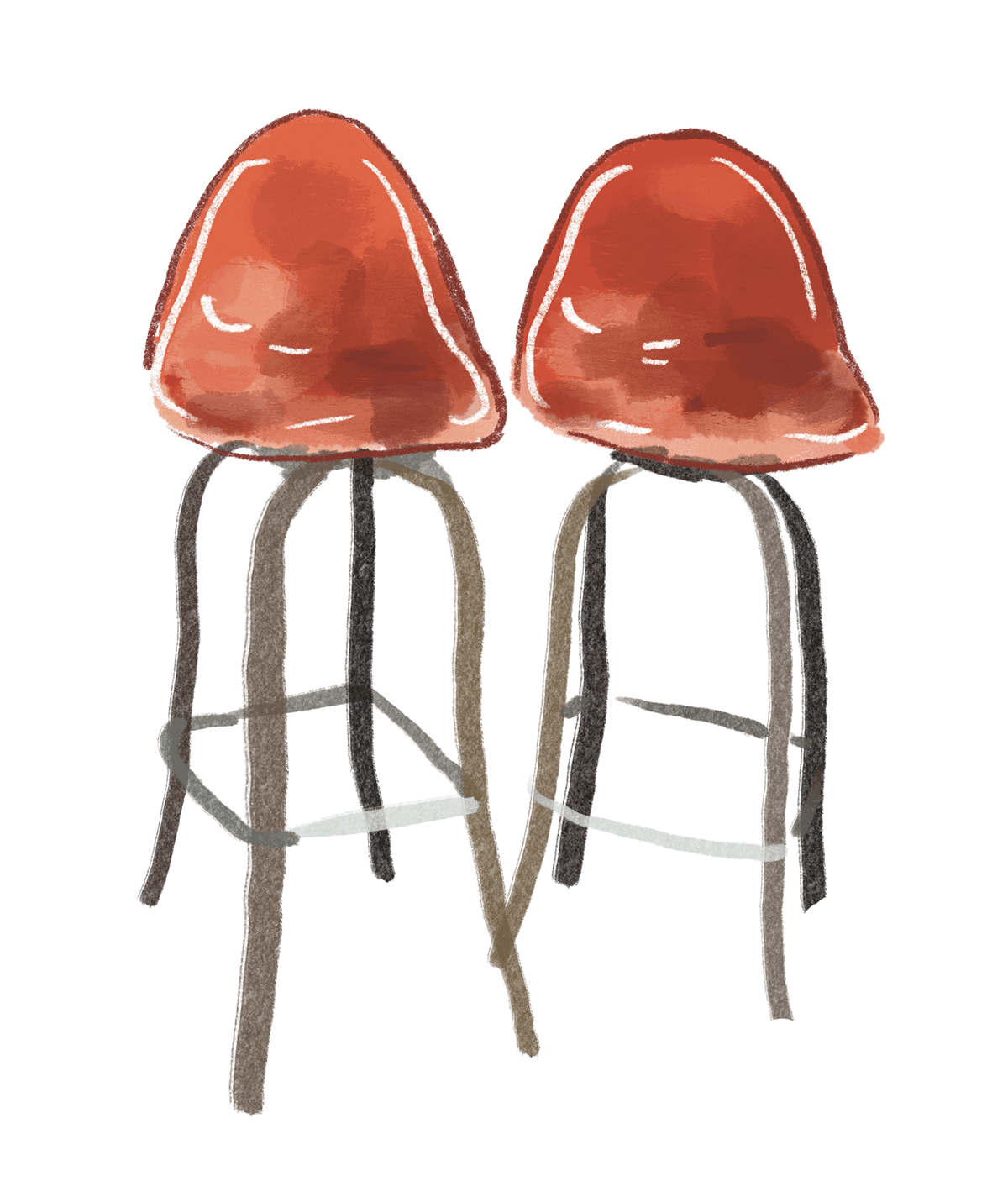 These lightweight swivel barstools will keep you on top and in the mix, and are the perfect pair to flank the bar cart and provide a little extra seating. It's not the holidays without a little holiday cheer, and finding seats closest to the bar setup is a great way to keep the party going.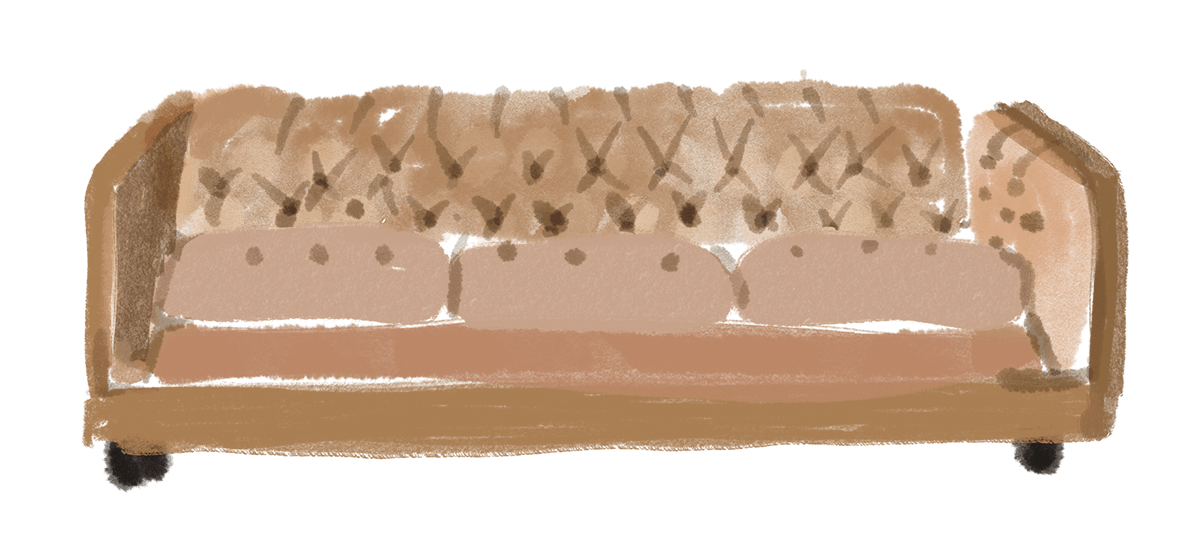 This vintage tufted sofa will be the evening's star player. After the food coma has set in, everyone will fight for a seat on this comfy three-seater.
Cheese, Please
A cheese plate is the perfect way to kick off an evening as friends are pouring their first glass of bubbly and want just a little something savory as the night revs up.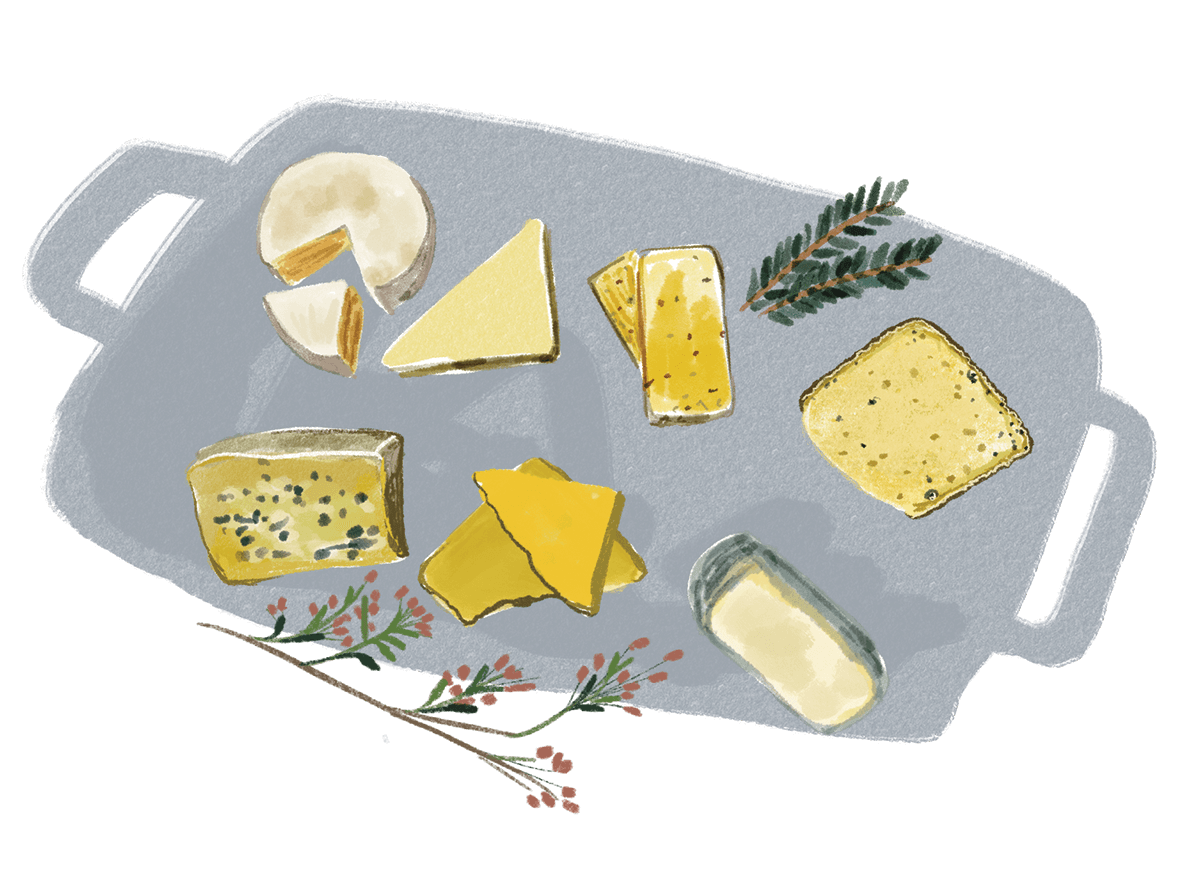 1.5 oz. Farmers Organic Gin
0.5 oz. Fonseca Bin 27 Port
0.75 oz. Lime Juice
1 dash Angostura Bitters
0.75 oz. Spiced Red Currant Syrup (see recipe)
Shake with ice. Strain into a highball glass over fresh ice. Top with Topo Chico soda. Garnish with a dehydrated lime and skewered cranberries.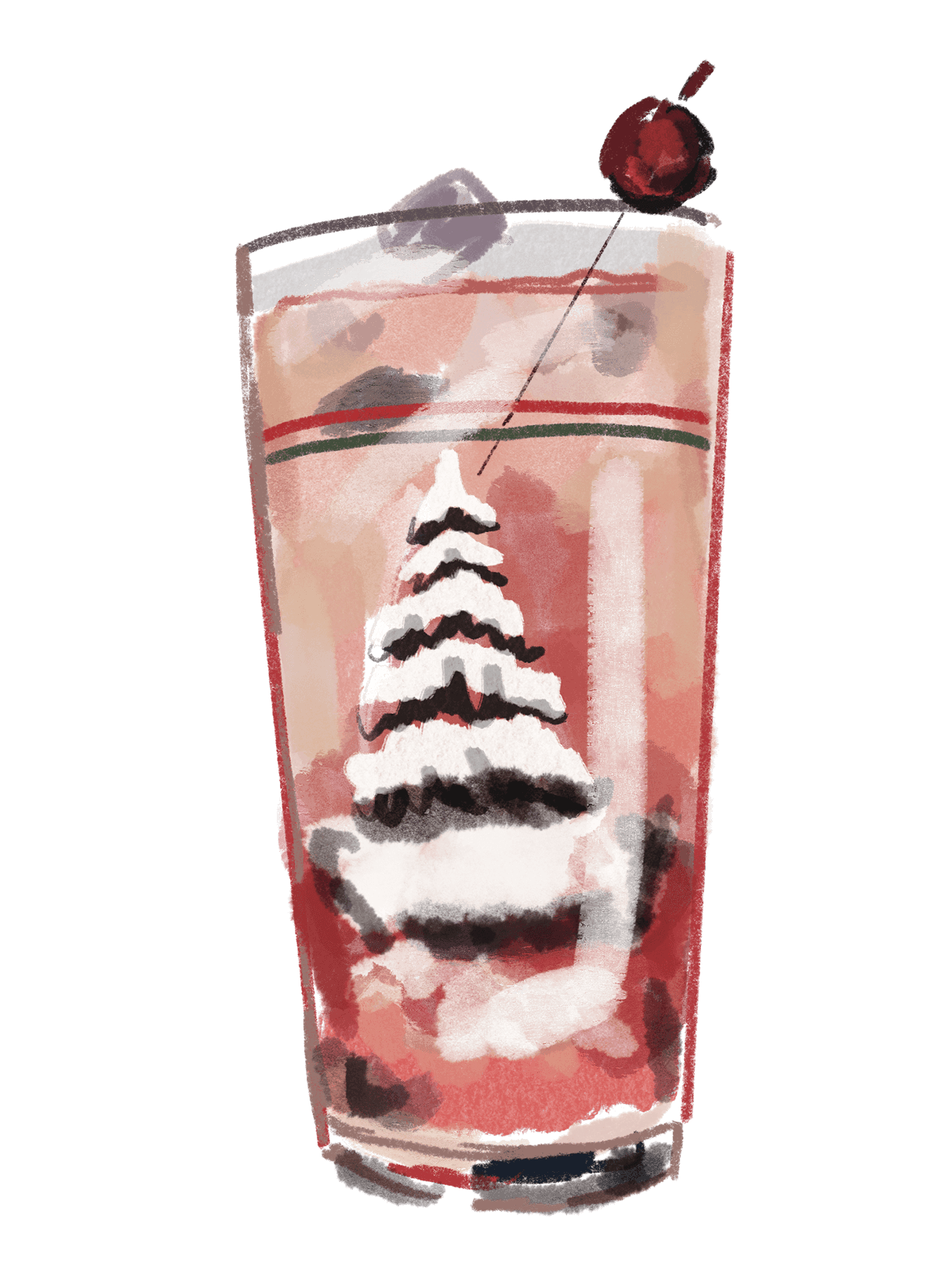 Spiced Red Currant Syrup (yields nearly 2 quarts of syrup)
4 cups sugar
4 cups organic cranberry juice
2 cups dried red currants
2 whole cinnamon sticks
15-20 whole allspice berries
5 whole star anise pods
5-10 whole cloves
1 crushed nutmeg pod
Combine all ingredients, except the sugar, in a large pot over medium-high heat until simmering. Let it simmer for 10 min., until red currants are rehydrated. Add the sugar and stir to dissolve. Let simmer for an additional 10 min., then remove from heat. Allow to cool, then strain out whole ingredients. Bottle the syrup and store it in the refrigerator until ready for use.
1.25 oz. Mezcal
1.25 oz. Amaro Montenegro,
0.5 oz. Ancho Reyes Chili Liqueur
3 dashes Angostura Cocoa Bitters
Stir and strain all ingredients into a chilled coupe. Garnish with an expressed or flamed orange peel.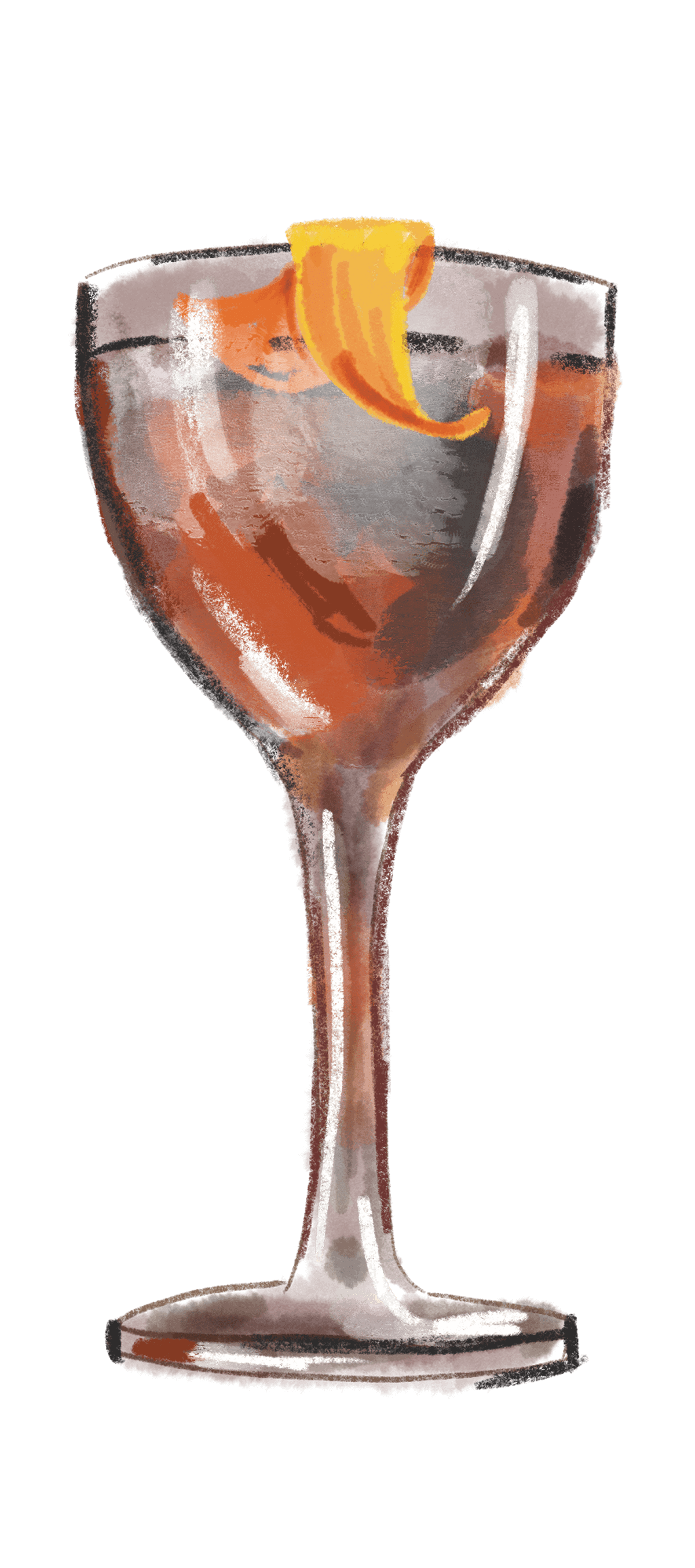 The days of offering sober guests limited options are long gone. There are now dozens of delightful non-alcoholic wines, beers, and spirits that allow you to savor the flavor without the burden of a buzz. Consider making a non-alcoholic holiday punch that everyone can enjoy, allowing guests to add a libation of choice to their individual glass if they wish. That way the host can make sure everyone at their gathering has a great time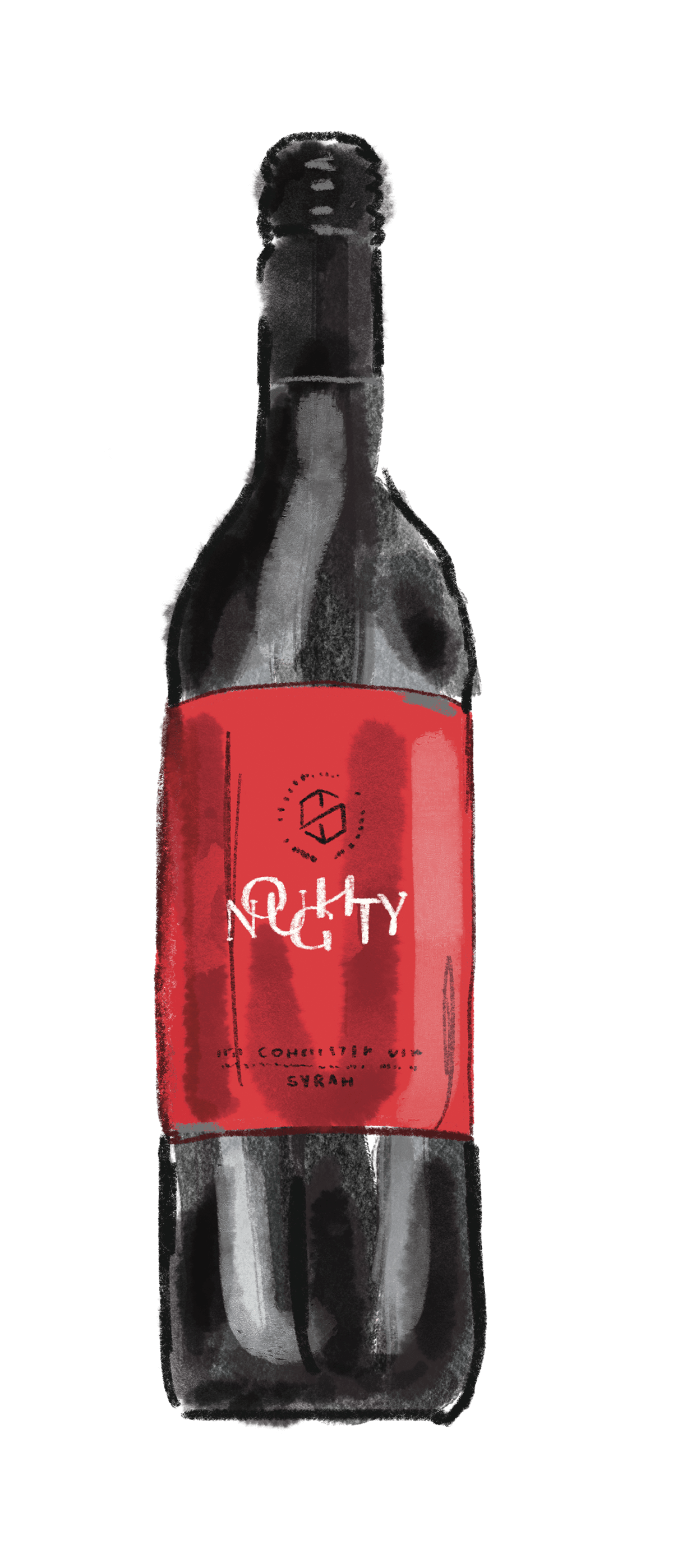 Holiday Mix
In honor of WTMD's 20th anniversary, enjoy this compilation of festive songs.