First Impressions
Here's how to boost your home's curb appeal on any budget.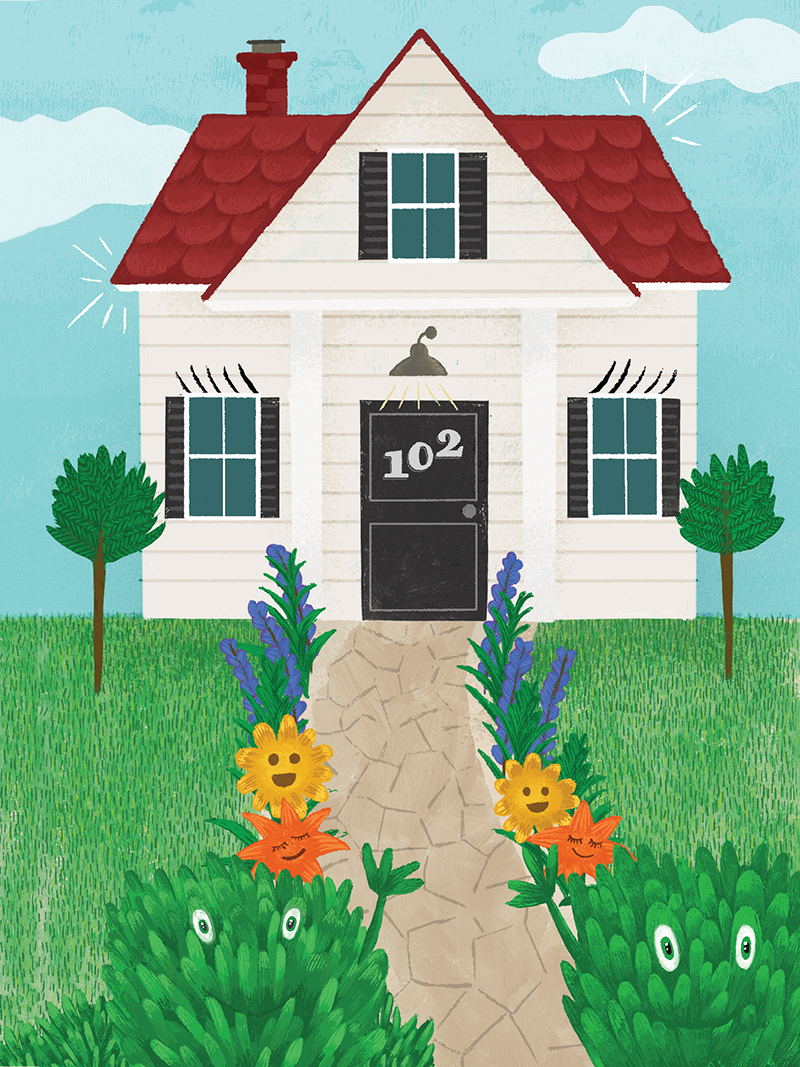 So let's say you want to sell your house. Or maybe you don't want to sell just yet, but realize it's looking a bit shabby from the street. 
In either case, improving curb appeal is about more than just losing the rusting '59 Chevy up on cinder blocks, or cutting back on the three dilapidated toolsheds. It's about making your home look its best from the outside, and to make it look like a good investment, says Allison Williams, co-owner, along with Monica Naslack, of home staging and design company Poppy Production. 
"Most people focus on the inside rather than the outside," Williams says. "But having old paint on the door, or outdated paint colors, or dead plants—it's worse than no plants." Little things really matter, such as re-mulching and re-edging your flower beds, she says. "It makes a huge difference."
Keep in mind that most prospective buyers these days will want to look at pictures of your home on the web before they decide to step foot inside. "If that front shot doesn't look good, people won't even come look at the house," says Williams.   
What's the payback? The website of America's favorite home-improvement guru, BobVila.com, claims that good landscaping alone could increase your home's value by 20 percent. 
Joshua Seek, co-owner of Eden Design Group, agrees that landscaping is a crucial investment for those looking to sell. "Landscaping is definitely the first impression of a home," he says. "The most important thing to me is the entranceway. When someone pulls up, the first thing people see is how the landscaping enhances that. If your walkway is sunken and has standing water, that's one of the first things you should look at."
Of course, there's another crucial factor to consider as you draw up your curb-appeal wish list: How much money do you have to spend? Here are some options, for budgets big and small.
Budget: Less than $500
Mulch, mulch, mulch. If a completely new assortment of plants isn't in your budget, you can give your existing greenery a fresh look by adding some mulch, says Jason Davidov, owner of J.D. Outdoors. "The mulch gives a nice contrast to the look and ties everything together," he says. "It makes the place pop. It's also good for the flower beds, and it keeps the weeds down." 
Freshen up your front door and house number. Adding a fresh coat of paint to your front door "really makes the home stand out," says Paula Henry, owner and principal designer at Simply Put Interiors. "Pretty house numbers also go a long way. There are lots of companies online where you can do them yourself." Even if you're not feeling in a DIY mood, artisan site Etsy offers options for unusual address signs as low as $20. 
Clean up surfaces. "House siding, or even brick and other surfaces, get really kind of yucky over the winter, so power-washing is a nice way to freshen things up," says Henry. Pay attention to your walkway, too: "With concrete walkways, you have a tendency to get mildew on your paving stones, so you could pressure-wash those front walkways so they look clean," says Seek.
Create an inviting place to sit. "Let's say you had an old iron bench. You could scrape off the paint, get some spray paint at Home Depot, spray-paint that bench a nice, bright color, and then go to Crate & Barrel and buy some fun outdoor pillows," says Williams. "You could probably do that for $100 or $200, and it would just create a cute vignette outside your house to draw the eye."
Budget: Up to $2,000
Add more plants to your yard. Consider adding a little pop of color with flowers around the bottom of your mailbox, for example, suggests Davidov.
Install some outdoor lighting. You want your house to look great after dark, too. One way to do that is to buy a lighting kit for your front yard, says Williams. "You put the lights in the ground and orient them to uplight something pretty, like a gable, or even a tree," she says. 
Expand your flower beds. "Larger beds in front of the house make a home look larger," says Seek. "What you can add is a second row of plantings." For example, if you have a row of shrubs in front of your home, consider adding a row of flowers for additional color. 
Budget: More than $2,000
Create the right landscape design. With a bigger budget, you can consider hiring a landscaper to refresh any outdated plant material, or to move plants around for a better visual effect, says Williams. "A lot of times, people will plant shrubs that are just not right for the sun exposure, or the size is not right, or they're not grouped correctly," Williams says. "For instance, you could have a shrub that is just engulfing the side of the house, and you can't even see a beautiful bay window." A landscaper can help you think through those kinds of issues.    
Invest in a wider walkway. "If you've got an old-school, 3-foot concrete walkway that's square going into the house, I would contemplate removing that," says Seek. Instead, add a paver patio that flares out where it meets the asphalt or driveway. "You can flare it out to 7 feet, and it adds a nice flow to the house."  
Mind your backyard. This is especially true if your backyard is visible to someone standing on the sidewalk. "It's always nice to have flowers and trees in the backyard, and my favorite tree to plant is crepe myrtles," says Seek. "There are tons of fruit trees that bloom in the springtime, but only for a couple of weeks. With crepe myrtles, the blooms last four to five months." In addition, the trees are relatively disease-resistant, and because their growth is top-heavy, they don't take up a lot of space in your yard, he says. 
And these fixes could be free. There are a few ways to add curb appeal that don't cost a thing. For example, consider that the human eye is attracted by symmetry. "The window shades could be different in each room, but if they're kept raised and lowered at the same height, then it creates that look of continuity," says Henry. 
Also, make sure your entranceway doesn't look lopsided. "If you have planters on both sides of the door, be sure to have the same kinds of plant material in each one," says Williams.
Finally, remember that new homeowners will want to put their own stamp on your house. So as you freshen up the look of your yard, don't go overboard. Seek's advice: "Keep it simple, clean, neat, and don't overplant."