Family Heirloom
A couple thoughtfully restores a childhood home.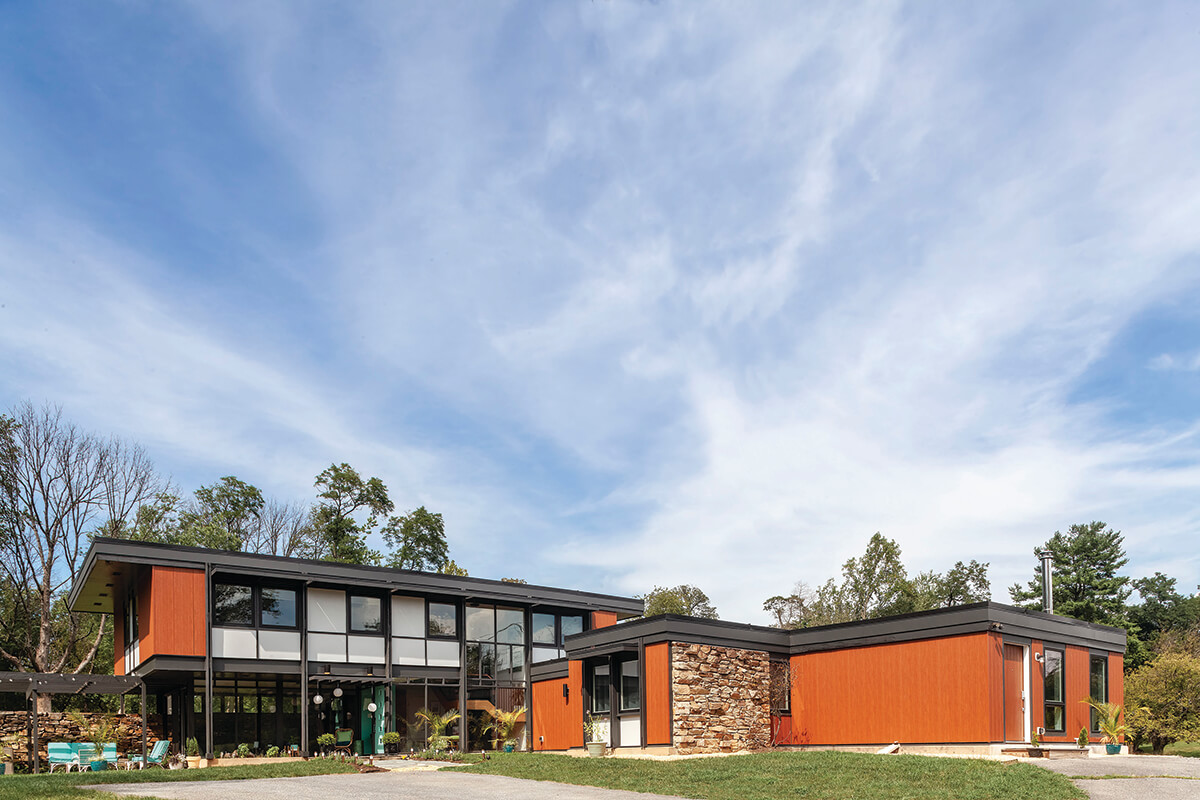 Michelle Knighton and her six siblings grew up on the outskirts of Catonsville on six acres of land abutting Patapsco State Park. Their parents purchased the land in 1962 and, in 1964, completed the construction of a contemporary four-bedroom home. The design featured a stacked stone wall that ran the entire length of the building, ample glass windows, and a floating staircase to rival that of the Brady Bunch.
"It was a charmed childhood," Knighton recalls. "We were always outside. We built forts in the forest and climbed on monkey vines. This was our playground. Even now, we can walk right into the state park."
But as Knighton's parents aged, the house fell into decline. When they passed away, Knighton, a surgeon's assistant, and her husband Barney Kirby, an advertising executive, were considering a move to Baltimore City. Both have children from previous marriages who are mostly grown, and the city seemed a good option for downsizing. But the family home spoke to them, especially Kirby.
"I always thought the house was cool, as was this style of home, the mid-century modern design," he says. "And being close to the park really appealed to me. Also, this was such an iconic home for Michele's family, we didn't want someone else to own it."
While the home had many charming original features, others had not stood the test of time, including single-pane windows, ancient heating, cooling, and plumbing systems, dark wood cabinetry, and '60s-era bathrooms. There were drafts and termite damage. So before deciding to buy the house, Kirby's childhood friend, Chris Owings, an owner at Owings Brothers Contracting, did a site visit to ensure the house was worth salvaging.
"They loved the feel of the house, but it just didn't make sense anymore energy-wise," Owings says. "And we needed to open it up, make it lighter and brighter, and bring it up to today's standards."
The project, which took about 12 months to complete, left the footprint of the house undisturbed and preserved many of the home's most charming assets, like the parquet floors, floating staircase, and funky fireplace mantel. But Owings says, they "took the house to the studs" in almost every other way.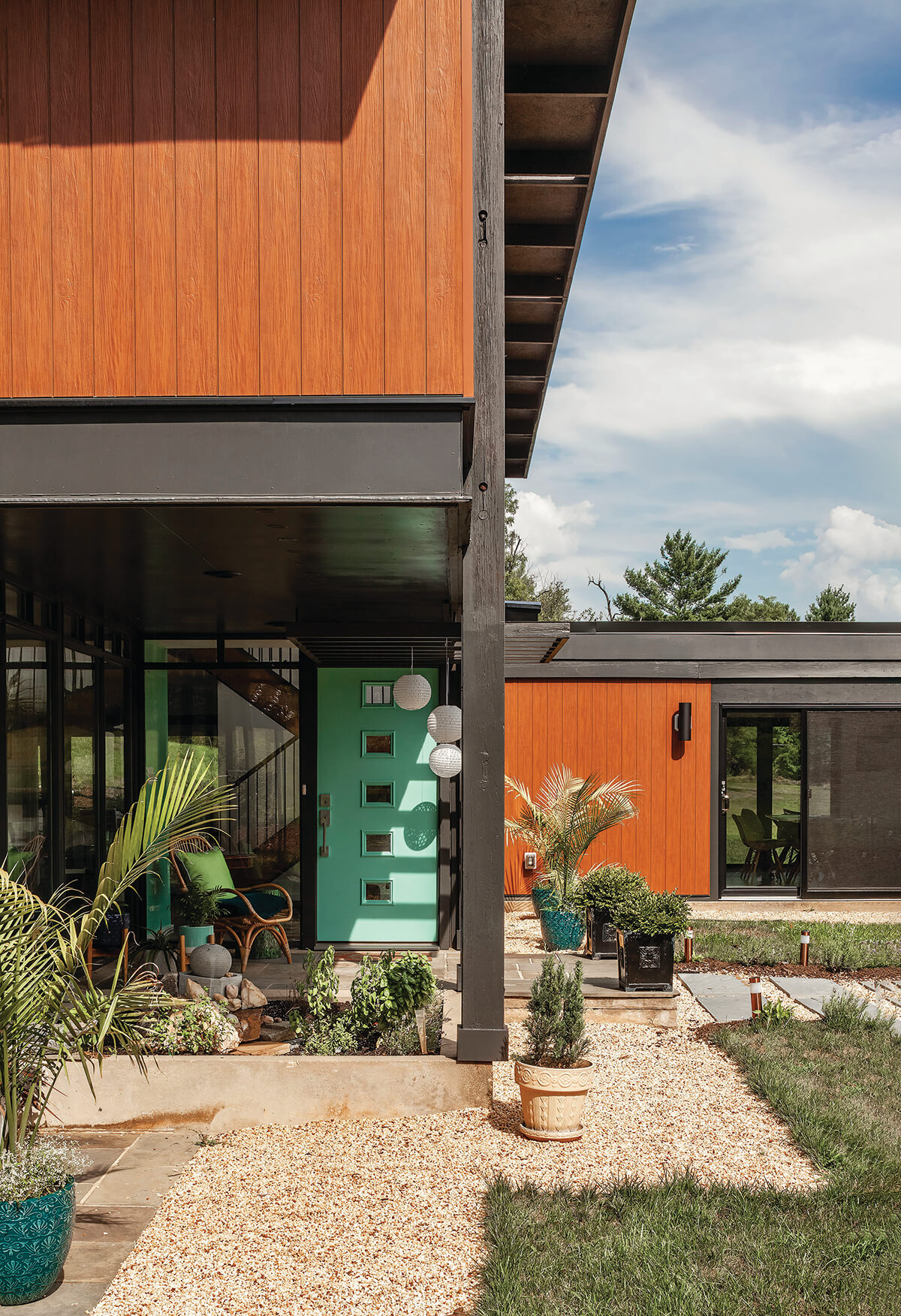 All of the windows were replaced with double-pane, high-efficiency glass and the entire structure was insulated. The aging heating, cooling, and hot-water systems were also replaced. The striking stone wall was shored up in places. In the master bedroom, an adjoining bedroom was opened up to create a master suite with a walk-in closet. In the kitchen, walls that once separated the room from both the exterior views and the adjoining living room were removed to create open, bright spaces. And the garage was converted into an apartment suite.
Knighton and Kirby wanted to retain as much of the character of the home's exterior as possible. Original pergolas and light fixtures were preserved, as were many of the original cedar beams (painted black). The old cedar siding was replaced with a maintenance-free exterior panel system that mirrors the home's original look.
Owings Brothers interior designer Katie Heyman helped select the finishes. She says the inspiration was the home's mid-century design, but she wanted it to be fresher and more modern. In the kitchen, for example, heavy cherry cabinetry was replaced with high-lacquer white cabinets, grey matte glass pantry doors, and a geometric white tile backsplash.
"We wanted a really modern space but we also wanted to have warmer elements too, because there's so much stacked stone and hardwood in the house," says Heyman. "That's why we used the bamboo-style wood grain on the extra-long island. There's boldness and warmth in every room."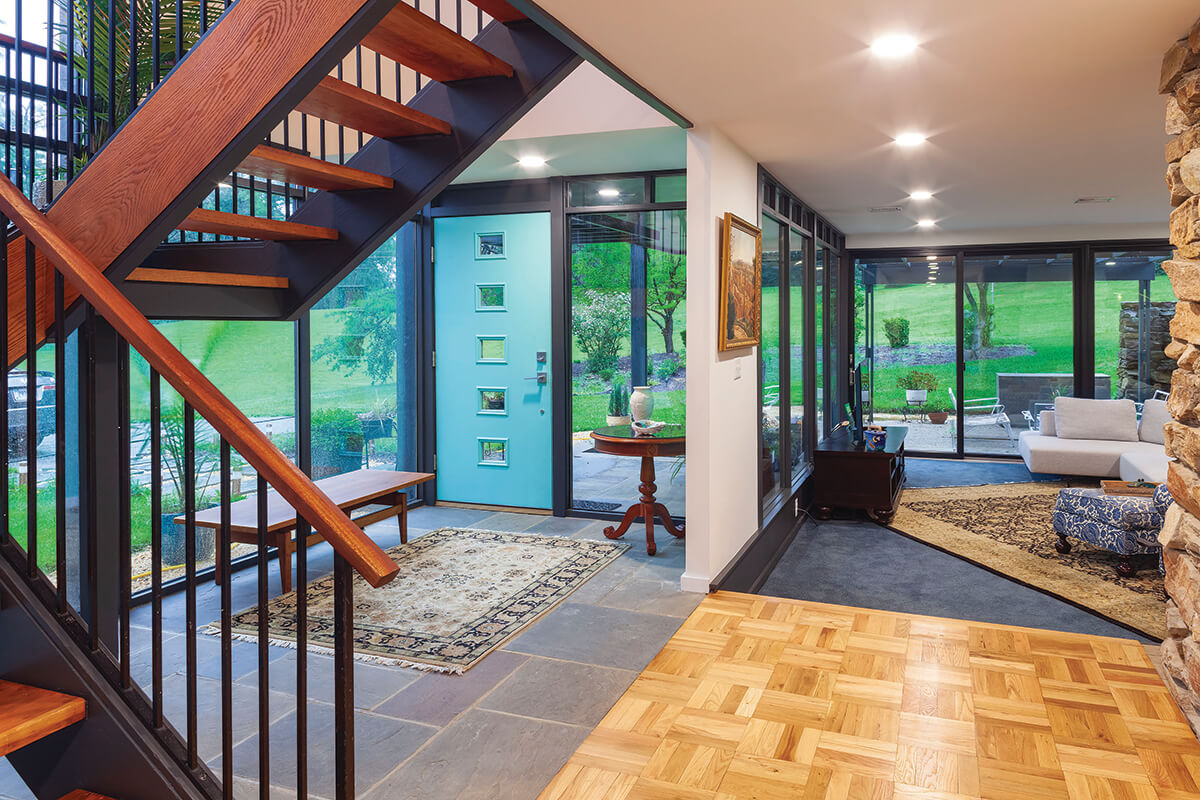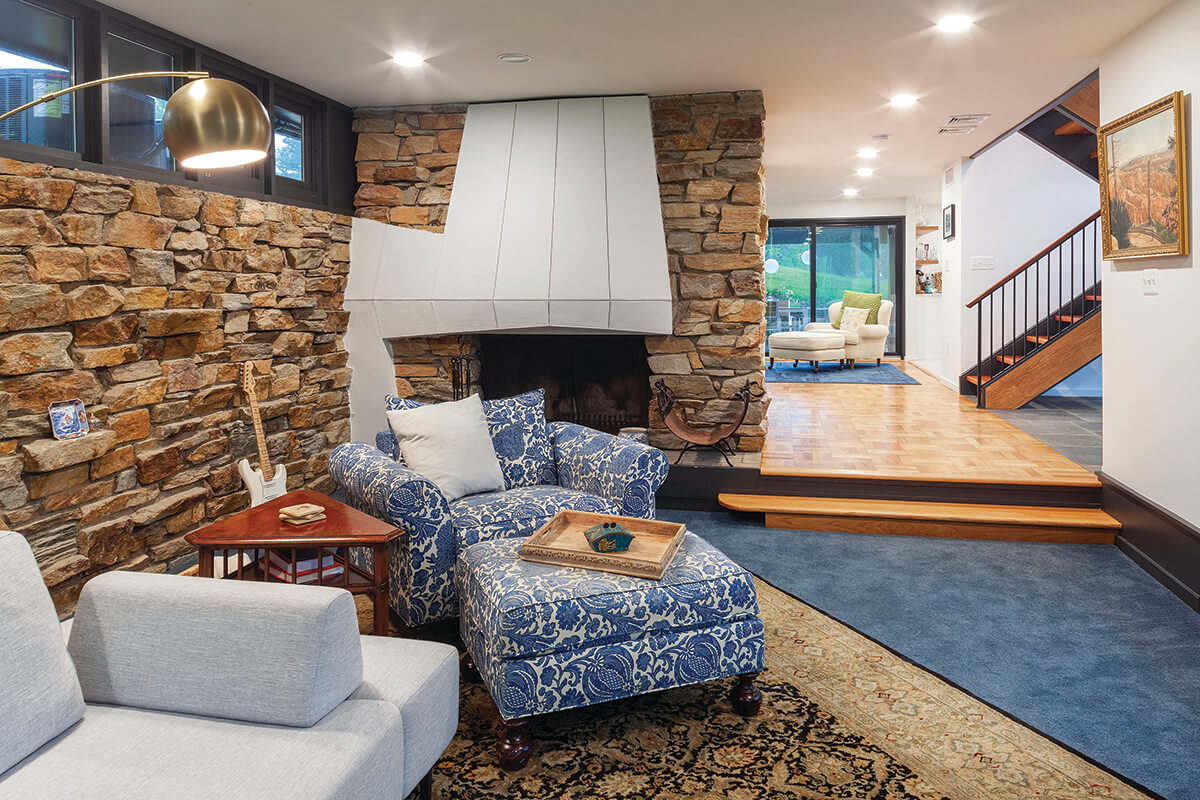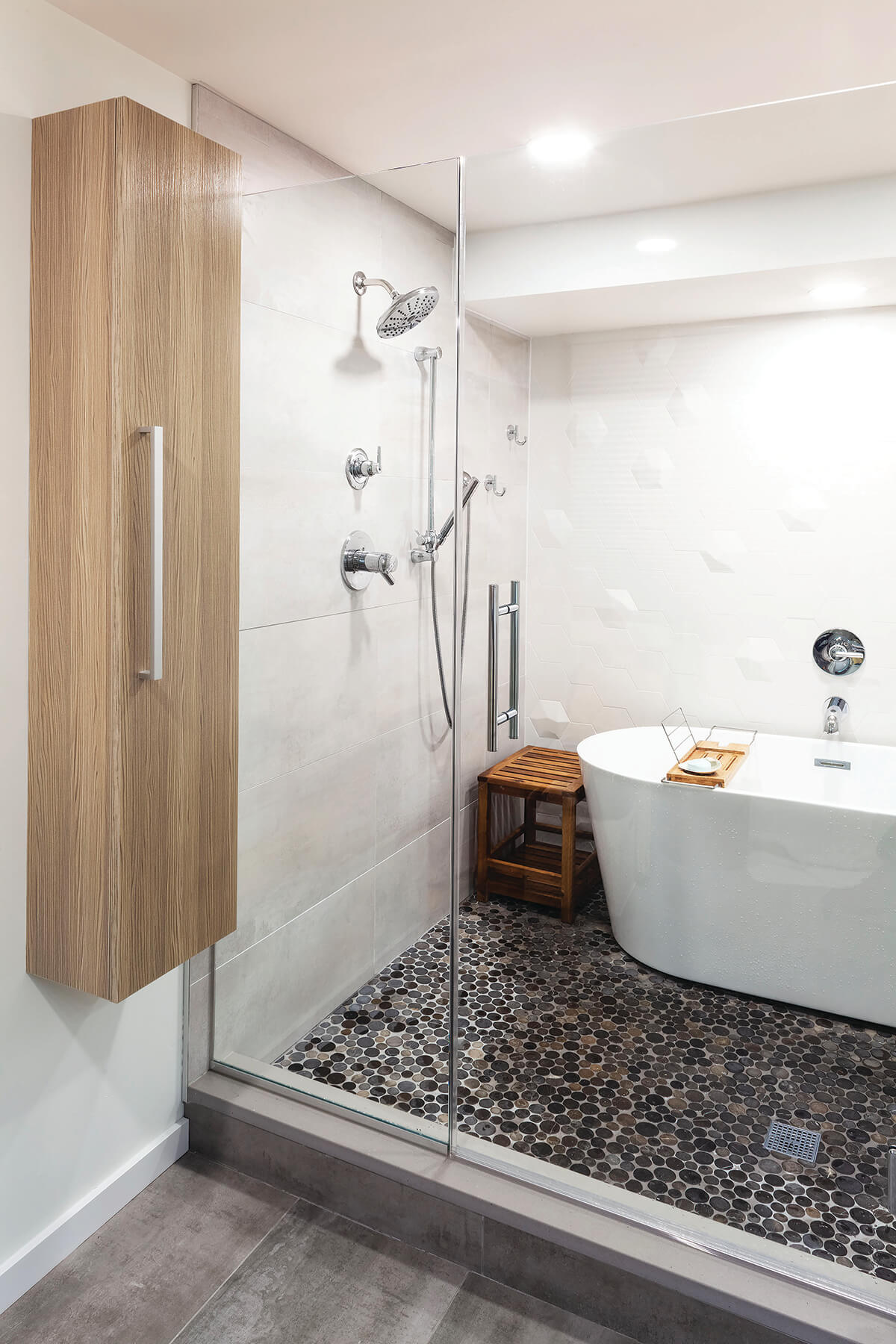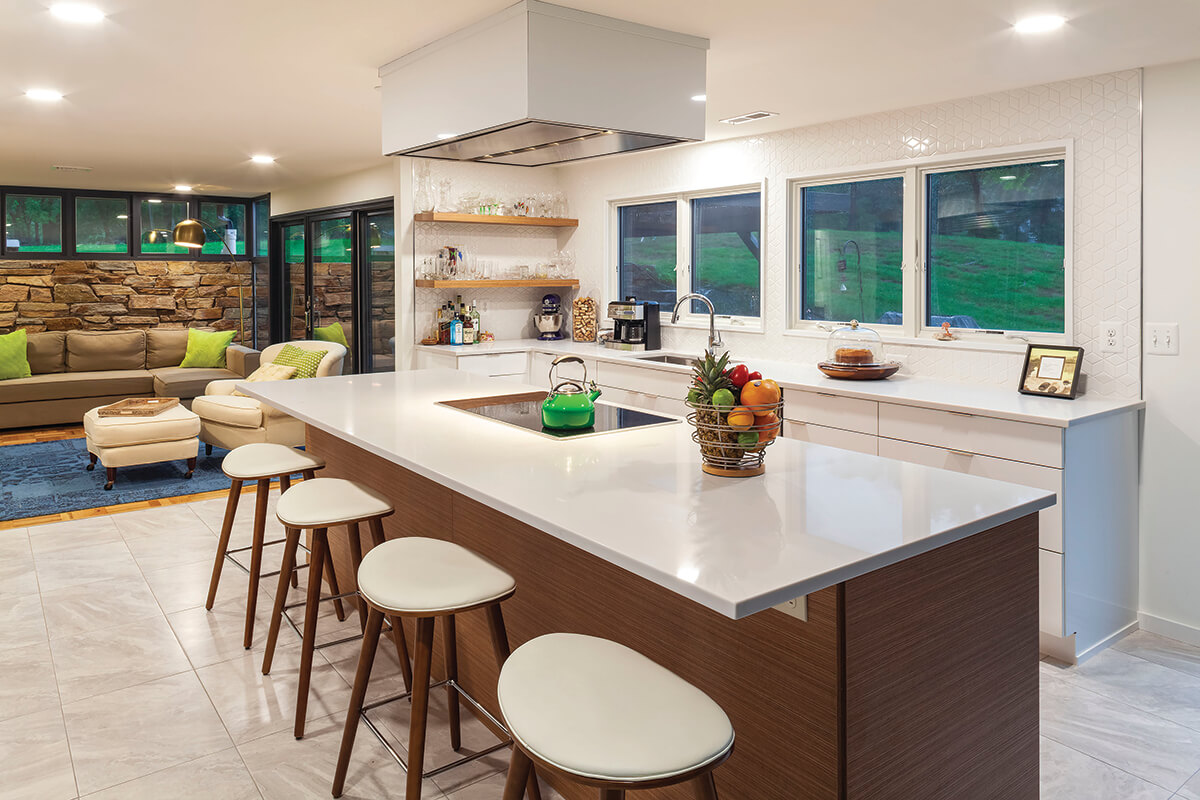 All the dated bathrooms received facelifts, but Heyman liked the second-floor full bath with its shower floor inlaid with pennies, so the copper tone is picked up in the floor tile, all of which is juxtaposed by a cobalt-blue accent wall of ombre tile.
"I love this bathroom," says Heyman. "In a small space, you can go bolder."
The master bathroom is the most unique. Knighton and Kirby had traveled in Europe where the bathrooms are all-encompassing with a shower and toilet in one room and a drain in the floor. They loved that "wet room" style, but, for convenience sake, Owings Brothers suggested a glass partition between the wet areas and the toilet and vanities. Putting the tub inside the shower stall also made practical sense for a bath with limited square footage.
"I wanted an open, spa bathroom," Knighton says. Both a runner and a gardener, she says the room, which features a soaking tub set on a river rock-embedded floor with two opposing shower heads, gets plenty of use.
Knighton has furnished the home her- self with mid-century-inspired finds from Target combined with pieces from Arhaus, Article, and Dwell. And much of the home's artwork is a mix of pieces by her daughter or Kirby's father and uncle.
Knighton uses the Japanese aesthetic term "wabi-sabi" to describe the renovation. It's a house that's beautiful in its imperfections, and also one that's full of old memories—yet ready to make new ones. In fact, the family hosted Knighton's daughter's wedding last May, which Knighton remembers as "simply magical." And her siblings are thrilled that the home not only stayed in the family, but has been restored.
"I was hesitant at first," Knighton admits, "but once we were here, what's not to love? I can walk around and the memories come flooding back of how enchanting it was to live on this property."
So it turns out you can go back home again.