This Charles Village Baker Turned Her Home Into a Cottage Business
Daria Souvorova's artistic background infuses everything she does—especially her sourdough breads and pastries, which customers can order and pick up on her porch.
Daria Souvorova does not like to be idle. Prior to the pandemic she would routinely host 25 people for monthly dinners at the home she shares with her husband, Nicolas Charon, their rabbit, Zaetz, and a shy chinchilla named Nimbus.
The meals were originally organized around cultural themes, with attendees sharing food from their respective backgrounds, though eventually it morphed into Souvorova researching new regions of the world and turning out perfectly executed three- to five-course meals. She called these gatherings Chez Nous—"at our place"—and even self-published a cookbook of the same name detailing menus and planning processes for cooking for a crowd. 
The meals were also a way to keep her agile mind and talented hands busy. So, when the pandemic lockdown began, she was at a loose end.
"I like filling my time and learning new things," she explains. "I've never been good at just sitting."
An art teacher in the Baltimore County Public Schools system, Souvorova, now 35, had three weeks with nothing to do as schools sorted out online classroom teaching methods.
A sourdough aficionado from well before the pandemic, she decided to use the downtime to fiddle with the hydration of her bread, keeping a beautiful journal of her efforts where she combined her artistic sketches with notes on her recipe tweaks. All this tinkering led to more bread than she and Charon could consume. She put the offer out on neighborhood website Nextdoor that her Charles Village neighbors were welcome to take her imperfect loaves off her porch.
"People would come and take the bread and then they started asking if I had more bread and I said, 'Yes, I'll have more bread tomorrow,' then I thought it would be fun to make sourdough croissants since I had all this dough lying around, then people wanted more than I had planned to make so I started promising them things," she says. "If you're already making the time to make a batch of croissants anyway, it's not that hard to make a bigger batch."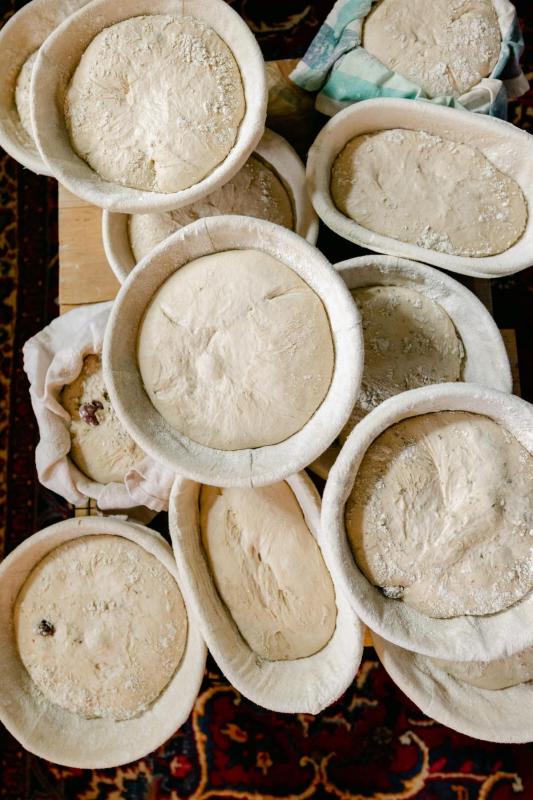 She started finding tribute payments on her porch—butter, wine, plants—and nearby Carma's Cafe gave her a large bag of King Arthur flour at a time when that was a difficult commodity to come by.
She gave her baking some structure, posting a menu of items she was making on Facebook and Instagram once a week that would be available for pickup on Saturdays. When lockdown relented enough that people could socialize in small groups outdoors, she dragged her couch onto her front porch to meet people picking up her baked goods on Saturday evenings.
"People from the neighborhood came and I got to meet them, pet their dogs—it replaced the socialization of the dinners."
That socialization was vital not only for Souvorova, but for others in the community. Amber Simpson met Souvorova at a party before COVID-19, but, as an ICU nurse, she had to endure a difficult self-isolation during the worst of the pandemic.
"I was casually stalking her baked goods for a while," she laughs. Simpson was one of the first people to be vaccinated, at which point she asked Souvorova if she could come, masked, to the Saturday pickup on her way home from work at Union Memorial Hospital. By then, Souvorova was making other little treats, like pizzas from the leftover dough, and Saturday evening pickup had become an informal, outdoor dinner gathering.
"It was the first time I'd socialized with anyone in close to a year," says Simpson, struggling to put into words how profound it was to be able to see people, even briefly, after such a long quarantine. And she continues to go to this day, almost every Saturday. "It's a really wonderful group, almost a family, that's grown up around those Saturday nights."
What began as a way to off-load extra baked goods is now a cottage food business, an official designation under the Code of Maryland Regulations that allows a home baker to sell certain items direct to consumers.
Souvorova posts a menu each week on social media (@cheznousdinners) and at her newly launched website, thebusybeaverbakery.com, and costumers place orders for pickup from her porch—still on Saturday evenings. People asked about baking workshops, so she's begun hosting those for small groups, converting her dining room into a classroom to teach others how to make her trademark croissants. 
Somehow, she manages to fit it all in with her teaching schedule. Before she leaves for school on Fridays, she preps all her doughs in a small but functional kitchen in her Charles Village rowhouse. The kitchen was already installed when her husband purchased the home, but she quickly went after it with a hammer when she moved in. "It's one of the only times we came close to a real fight," she says.
But her demolition quelled any furor when the successful result was revealed. She installed reclaimed 19th-century barn-wood open shelving, balancing the heavy cantilevered beams on chairs while she affixed them to the wall. She swapped out the existing range for a Kucht model she already owned. Her impressive collection of copper pans hangs near the range, some found at Home Goods, others lugged home from trips to France. When the cottage business really took off, she invested in a small second electric oven by Moffat.
When she returns home from school on Friday afternoons, she starts hand-laminating the dough for her croissants, which takes much of the evening. She starts more dough before bed. On Saturdays she wakes at 6 a.m. and begins baking. It's an intricate schedule to get all the various loaves and pastries baked at the right time and temperature.
Souvorova stages and photographs her bakes on her large dining room table. "It feels like a ritual because I decorate them and actively draw on the breads and then I arrange them on the table and take pictures of them before I bag them up," she explains. "It's like a performance piece, just only for me."
The dining room table has pride of place in the circa-1910 home she's shared with Charon for seven years. This is where meals have been shared, where pastries are bagged for pickup, and where people gather for workshops. It's the heart of the home.
Shafts of light filter down onto its surface from stained glass windows, and the walls here and elsewhere are covered with paintings, a few of her own, but most the work of her George Washington Carver Center for Arts and Technology students.
A lover of all things beautiful and beautifully crafted, it's no surprise that Souvorova has expertly displayed unique collectibles from Murano glass and fine china to tribal masks, fossils, and objets d'arte she and Charon pick up on travels or that she finds in flea markets.
"I spent one summer in Germany going to all the museums and I noticed that they had cabinets of curiosities everywhere, so I went to Ryan's Relics and bought myself a fleet of cabinets and have been shoving little things in there, which makes me very happy," she says. "They aren't necessarily valuable things, but they are cool stuff that someone with incredible skill took time to make."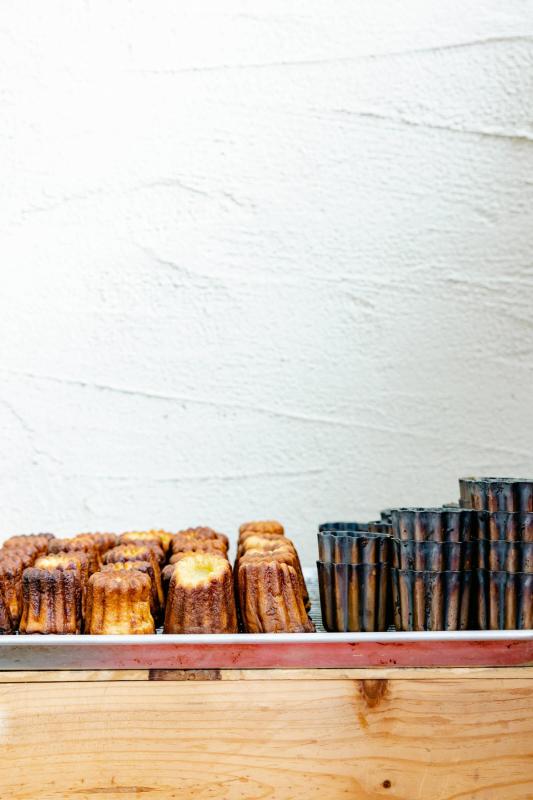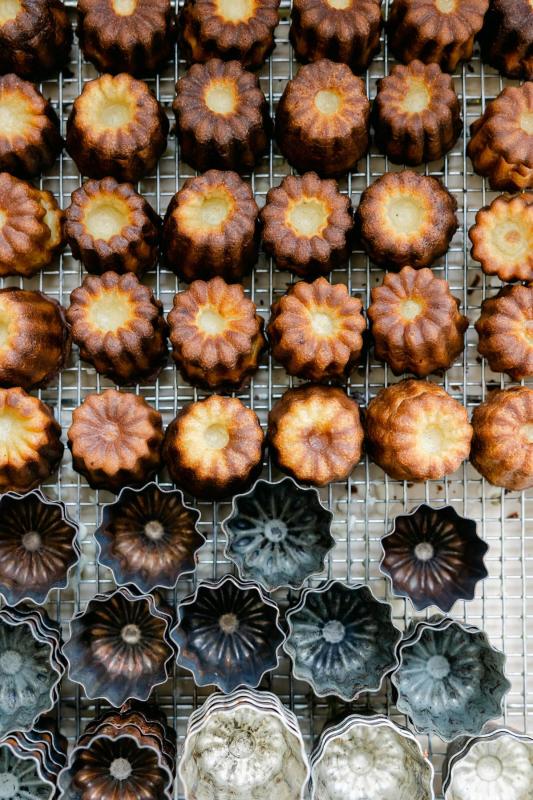 Part of Souvorova's love of good food comes from her European roots. Born in Belarus, she immigrated with her family to North Carolina when she was nine and eventually the family moved to Germantown, Maryland.
Coming to the States speaking no English and thrown by the middle-class norms of the U.S., having come from a Soviet country, Souvorova struggled to make friends. She thought making pastry would win people over. While she says that proved an ineffective way to connect, it did cement her passion for food and feeding people.
But much of what motivated her to bake was her inability to find the things she wanted to eat. Her husband, a Frenchman, shared that struggle. So, she made the things they wanted: European-style bread loaves, sourdough croissants that have a unique tang and texture, baguettes that are crisp outside and pillow-soft on the interior.
While her repertoire has expanded, those are still the cornerstones of her baking. She is emphatic about the quality of her ingredients. She orders stone-ground artisan grain flours from Janie's Mill in Illinois and is particular about her blends. Popular items in regular rotation include her traditional sourdough loaf and the sourdough loaf made with lemon zest, herbes de Provence, and Kalamata olives, as well as double-baked almond and chocolate almond croissants. 
The canelés de Bordeaux, a house specialty, are her husband's favorite and particularly tricky to make. Souvorova says it took her seven years to get them just right. Even finding the special copper molds they require was both time- and money-intensive, as she had to track them down online in France.
Each mold is coated with butter and beeswax before being filled with a milky batter that cooks into a cake with a delicate, almost custardy center. When they are on offer, they are incredibly popular, as is another special, Portuguese pasteis de nata, silky custard tarts in puff pastry. Souvorova is an accomplished forager and in spring it's not uncommon for unique items like ramp buttermilk biscuits to appear.
Simpson explains that Souvorova is incredibly welcoming and interested in bringing people together.
"At the same time, she has very high standards," she says. "She spends a lot of time perfecting her various crafts…most people would reach a level of mastery and be like, 'Okay, I'm good.' She's constantly pushing the envelope."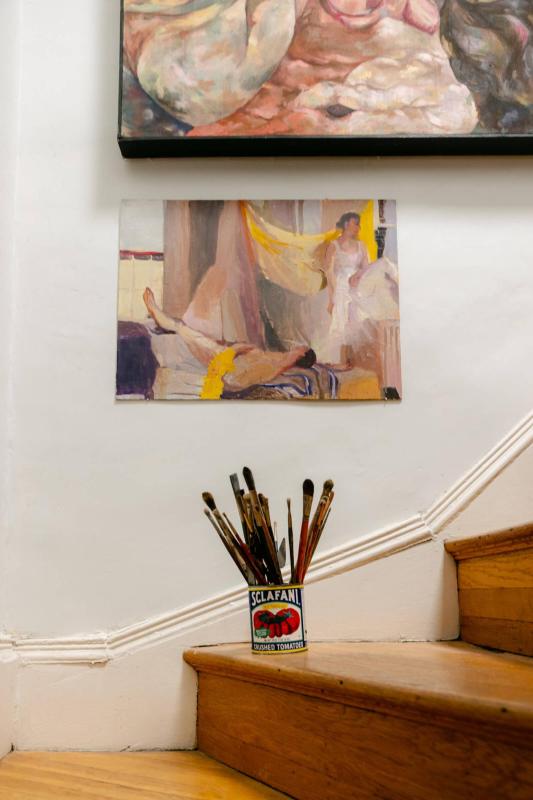 Souvorova didn't set out to become a baker. She is trained in fine art and art history, did her graduate degree at the Pennsylvania Academy of Fine Arts, and a yearlong artistic residency. She worked in galleries in New York City and wanted to teach figurative painting.
"I started applying for jobs and wasn't able to find any tenured positions in colleges or universities; those are disappearing in the arts," she explains. Instead, she took a position at the Carver Center magnet school, teaching advanced art courses.    
Still, her artistic background infuses everything she does, from the exceptional scoring on her sourdough loaves to the exquisite sketchbooks she maintains, recording her own drawings alongside recipes, notes, and menu plans.
The inability to find—or afford—the things she likes is a motivator for Souvorova that goes beyond pastry. "That's very much a part of my personality, that I want the thing and I can neither afford it nor find it, so I have to find a way to make," she says with a laugh.
She loves, for example, designer clothes and handbags. Her mother sewed their clothing growing up and Souvorova often tailored her own clothes when she struggled to find the plus sizes she needed.
"When I graduated from high school I went to New York and was working in a gallery, and all the 'gallery girls' are beautiful and had nice clothes and nice clothes didn't fit me," she says. "I started out altering clothes, taking the extra fabric from the bottom of a dress and adding it to the back or I'd make clothes when I found good fabrics."
Even after she lost weight for health reasons and moved to Baltimore from upstate New York, she still couldn't find clothes that fit her shape, not to mention her exacting standards. "I went to the mall and nothing looked buyable," she says.
When her husband gifted her a Hermès scarf, she really wanted a silk trench coat to match it. She finally found A Fabric Place, the family-owned designer fabric shop on Falls Road in northern Baltimore City, and has become an enthusiastic customer.
She devoted herself to studying classic French designers, sometimes using patterns, sometimes making her own designs, or combining bits of both. She has now sewn a complete wardrobe for herself and hangs her creations lovingly in a room she's converted into her walk-in closet. Similarly, when she wanted but could not afford a fancy handbag, she taught herself leatherworking and hand-saddle-stitched her own designer-inspired bags.
"Daria is fabulously dressed, with a great eye to fashion," says Kirsch Jones, a longtime friend and early attendee at the Chez Nous dinner club. "She's deeply invested in the things she likes to do and extraordinarily talented in so many ways," he continues, noting that she is extremely well-read and has a beautiful singing voice, no doubt something she owes to her mother, a pianist and opera and vocal coach.
He reports that her energy is inexhaustible, relating a story from before the pandemic when Souvorova and Charon helped in an effort to plant trees along the streets of their Charles Village neighborhood. "After hours of hard labor that was enough to exhaust any of us, her next words were, 'What's next?'
"Her creative output is constant," he continues. "Some people are just born to an ongoing creativity and in her case, it's shown in these beautifully executed but widely varied creations."
A perfect showcase for her many talents was her summer 2022 wedding in France to Charon. Simpson, who was in the wedding, says that while most people who plan a destination wedding at a chateau would hire a planner to manage the details, Souvorova made the cake, hand-painted the wedding favors, and yes, even made her own wedding dress.
"She made the most complicated parts of her own wedding and did it impeccably well," says Simpson.
Dedication to craft and an intense work ethic are traits Souvorova can relate to. But she doesn't aspire to owning her own bakery. Carpal tunnel in both hands would make daily baking too physically demanding and her commitment to using the finest ingredients could make her baked goods, on a large scale, cost prohibitive. Plus, "I have so many interests—leather goods and sewing and painting and metalsmithing and jewelry-making," she ticks off.
In other words, the world is big and there's so much left to figure out.