These Home Projects Will Transform Your Space into a Hygge Haven This Winter
Whether you restore an old piece of furniture or play with removable stick-on wallpaper (yes, that's a thing), there are many low stress updates you can make during these drab winter months that you'll enjoy all year long.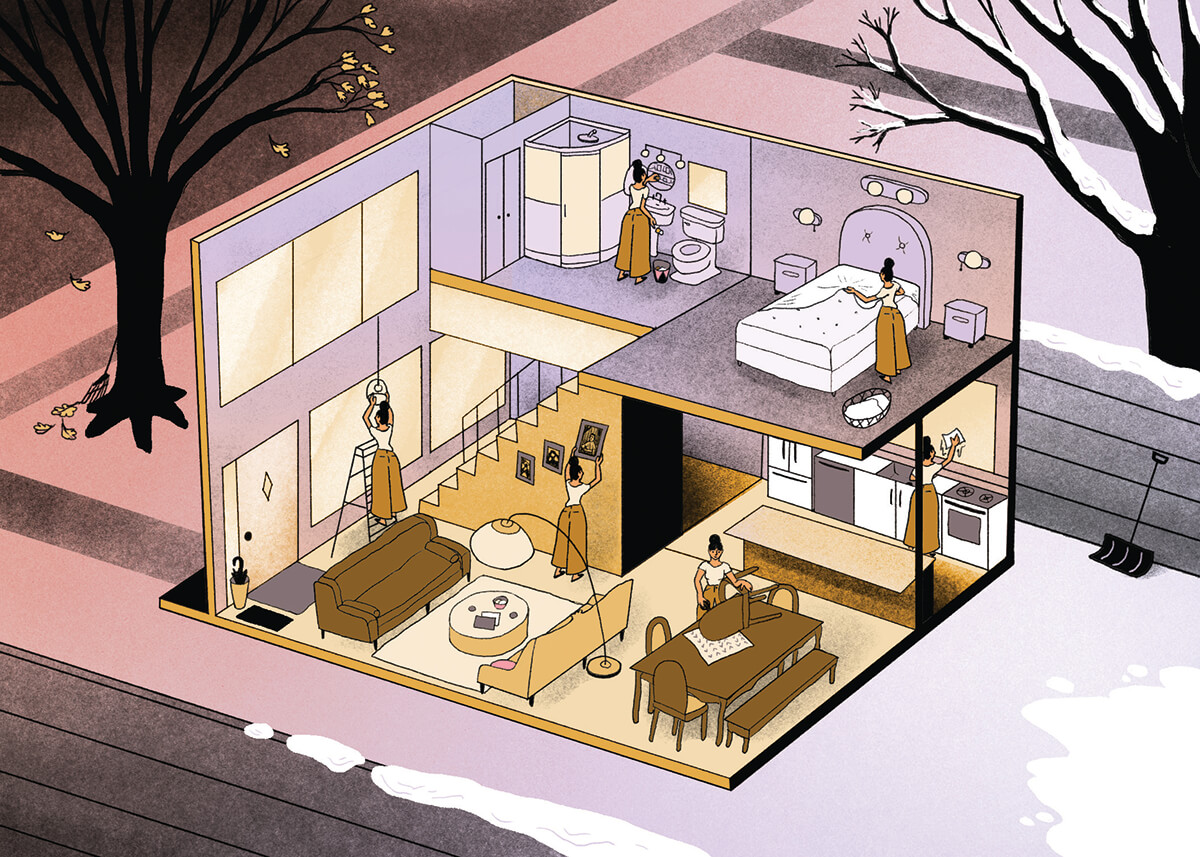 Baby, it's (getting) cold outside. But if you look around your home and find that the inside is less than delightful, might we suggest using the winter months to tackle a few home projects that will refresh your space and transform it into a hygge haven?
Whether you restore an old piece of furniture or play with removable stick-on wallpaper (yes, that's a thing), there are many low stress updates you can make during these drab winter months that you'll enjoy all year long.
√ ORGANIZATION IS KEY

Once your creative juices are flowing, you'll want to start your projects right away. But experts say that's putting the cart before the horse.
"People tend to jump right into redecorating because it's fun, but organizing needs to happen first," advises Cindy Bernstein, who runs the Pikesville-based organizing business Aim 4 Order. "Clutter creates feelings of stress and being overwhelmed, while organization leads to a sense that you're on top of things in your life," she shares. The anxiety comes in part from the cognitive dissonance many of us experience when we know we need to get organized but put off doing it. "It's a nagging stressor, making us feel guilty for not doing something we know we need to do," she says.
Tempting as it may be, Bernstein tells her clients not to start an organizing project by simply running out and buying bins from Target. Containers have a place, but the initial step needs to involve sorting—putting similar items together, then storing or getting rid of what you no longer need. People often realize that they have an abundance of mugs crammed in a kitchen or unworn jewelry muddling the top of a bedroom dresser.
To determine what to remove, ask yourself: Do I use it? Would I buy this again? If you feel remorse at getting rid of something, store it, but don't keep it in storage forever.
"Think of your basement or storage area as a 'marinade box' or a place to stow your stuff while you decide whether to keep it," Bernstein says. "In a year, if you haven't touched the items, and they hold no sentimental value, purge them."
√ REDUCE, REUSE, REPURPOSE 
Also think outside of the box with organizational systems. You can purchase and install a readymade system for your closet or entryway, but you can also repurpose objects found at home or bought second-hand.
Mark Foster, the president and CEO of the nonprofit Second Chance, an architectural salvage warehouse in South Baltimore, says he's continually astounded by the creativity of people repurposing salvaged materials for practical and decorative purposes.  "Social media is ripe with ideas for repurposing, and people are doing all kinds of interesting things that ultimately add character to their homes," Foster says. "Because of the patina of age, these items can't be replicated and are made with a bygone craftsmanship that buyers struggle to find these days."
Bob Baxter, who owns Clifton Upholstery and Design in Lauraville, attests to seeing renewed interest in repurposing older furniture, too.
"People are starting to realize that older furniture lasts longer and is crafted with higher-quality materials, like hardwood, instead of a composite, and springs, instead of foam rubber," Baxter says. "They're buying furniture secondhand or inheriting it from family, and they're bringing it in to get reupholstered in a fresh, modern look."
Like organizing, reupholstering a chair or sofa is a great project to take on this winter—and can add vitality to an older piece or even an entire room. When you take in a piece for reupholstering, you'll need to select a fabric. Options abound but thinking about your needs can help you narrow the selection. For instance, if you have pets or kids, consider a durable fabric with a higher thread count.
"Furniture fashion has a lifespan of about five years that is basically dictated by color," says Baxter, whose family has run the upholstery business since 1915. "Some fabrics, like velvet and chenille, were in style 100 years ago and will be in style 100 years from now," says Baxter, who admits to encouraging his clients to choose timeless over fashionable. But he carries the full spectrum of options, from textured linens to printed geometric patterns, and acknowledges the fun of using fabric to express personal style.
√ BRING ON THE WALLPAPER
While reupholstering can add flair to your wintertime abode, it's not the only way to achieve fashion and hygge, the Scandinavian word for comfort and coziness.
"Wallpaper has made a major comeback and can transform a space," says Erin Friedel, who owns and operates Friedel Design, an interior design business in Baltimore. From metallic patterns that reflect light to grass cloths that add texture, wallpaper selections are endless and, if you go with a peel and stick, easy to apply. "If you're not ready to wallpaper a larger room, start with a powder room or accent wall, like the space behind the headboard in your bedroom or a wall in your entryway," Friedel advises. An added bonus for a playroom or music room, wallpaper made of natural fibers like grass cloth and seagrass also absorb sound.
Right now, patterns and a style known as maximalism are in vogue, Friedel shares. There was a time when the only way you could flaunt your "good taste" was through extreme minimalism. But thankfully, those days are over. "Maximalist interiors involve decorating to the max and an eclectic layering of textures, colors, patterns, and, mostly, personality," Friedel says.
Patterned wallpapers with, say, exploding paisleys or florals can contribute to a maximalist décor, while solid-color wallpapers like a black grass cloth can create a sleek, modern look. And if you're not into wallpaper, you can transform your space with paint.
"Trending paint colors are warmer earth tones, often with sophisticated undertones of gray or green," Friedel shares. If your room doesn't get much light, the biggest mistake you can make is to paint it in a light color, thinking it will look lighter. Instead, "paint it in a rich color like terracotta, deep blue, dark brown, or a deep, sage green to give your space more atmosphere," Friedel says.
√ LAYER THE LIGHTING 
Friedel views atmosphere as key to a cozy, inviting interior and considers lighting the most critical component. Many people overlook lighting, and "if it's not done well, you can be sitting in someone's living room and feel like you're in an operating room," she says.
When helping clients, Friedel pays attention to three layers of lighting. "Ambient lighting is the general light illuminating your entire space, while task lighting provides direct light for tasks like reading and sewing, and accent lighting highlights things like art and plants," Friedel explains. In a living room, for example, you might have ambient overhead or recessed lighting and lamps, along with a task light for reading and an accent light on a bookcase or vase.
Lighting over a table can really set the mood, Friedel adds. To make your space feel more formal, opt for a light fixture with crystals or something metallic, and to make it more casual, consider bare bulbs or round globes.
"Brushed brass and matte black are big now in light fixtures and come in all kinds of configurations, as are single, straight bars of LED lights," Friedel says. "It's a question of your personal style and whether you want a statement piece or something more subdued."
√ GREENLIGHT THE GREENERY
As you freshen up your home for the chilly months ahead, don't forget indoor plants. They're one of the least expensive ways to add warmth. "Research shows that plants can calm us, lower our stress, and even boost our focus and productivity," says Lisa Heckman, who owns Plantacea in Federal Hill. She attributes these positive effects to biofilia, or our human drive to connect with nature. Especially in winter, when we hunker down indoors and spend less time outside, plants can satisfy our innate need to be close to nature. They also give us something to care for and nurture, which Heckman says many of her customers came to realize and need during the COVID-19 quarantine.
While plants can intimidate many, Heckman carries plenty that require little maintenance. Zamioculcas zamiifolia, known as the "ZZ plant," and sansieviera, known as the "snake plant" can both survive in little light and only need watering once a month. Other hardy plants that tolerate low or indirect light, yet require weekly watering, are pothos plants and philodendrons. For spaces with direct sun, try hoyas, succulents, and cacti.
"Regardless of the plant you choose, watering guidelines depend on your home's humidity," Heckman says. To determine the moisture level of a plant, "insert your finger or even a chopstick to the bottom and read it like a thermometer," she says.
Plants, of course, can do more than add an aura of calm to your home—they can also add style. Plantacea carries stark white and black ceramic pots, along with those featuring geometric designs, for a thoroughly modern look. Or you can get playful with the shop's hanging baskets woven with natural fibers or wall-mounted pieces made from barnwood.
You can also let nature do its thing: climb. At Heckman's house in the lush Greenspring Valley, she sat a pot of Rhaphidophora tetrasperma—known as the mini monstera—at the base of her stairs and watched in awe as the plant's green vines wound their way in and out of her cable railing staircase all the way to the second floor.
"There really is no more beautiful art form or home décor than nature," she says, "and nothing that can add more warmth to a home."
And in the cold winter months, what more can we ask for?