Wall Flowers
It's official—wallpaper is back and better than ever.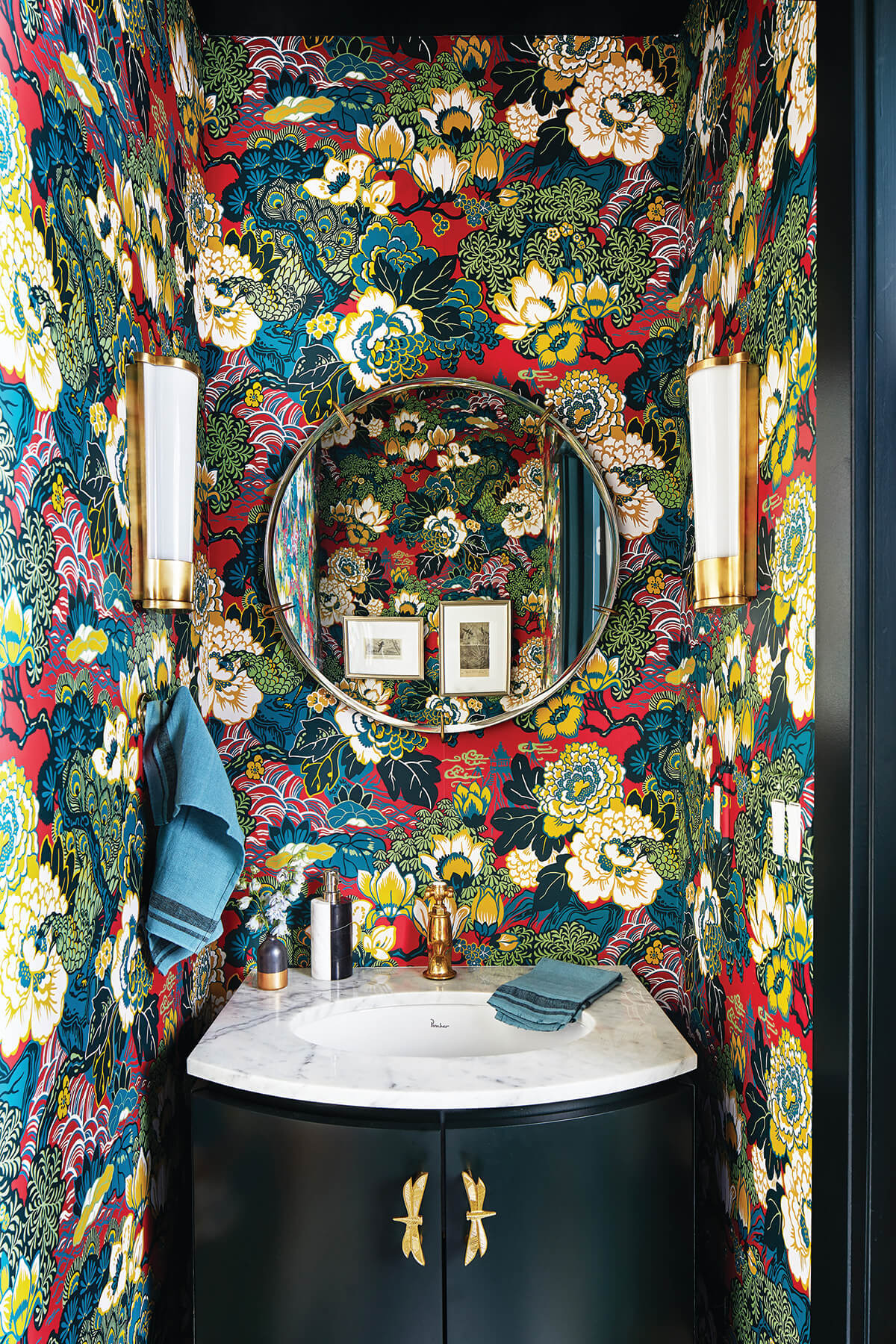 Perhaps you associate wallpaper with a historic Victorian home you once toured, or even Andy Warhol's vividly outlandish rows of pink cows on a yellow background from the '60s. But more likely than not, when someone says "wallpaper," your mind goes straight to your parents' home.
"My parents always thought all homes should have wallpaper," says Catonsville-based interior designer Laura Hodges, who moved from England to Gaithersburg in 1984. "In their case, it was nothing fancy— they mostly employed a neutral-toned grass cloth that added texture," says Hodges, who now runs Laura Hodges Studio. "It didn't matter if you were rich or poor or refined or not, it was just the thing to do."
The popularity of wallpaper seemed to wane in the latter decades of the 20th century, thanks in part to a trend toward minimalism, not to mention the cost and difficulty associated with getting the paper on and off the walls. "We went through this whole minimalist, Scandinavian aesthetic that leaned more toward white walls and less wallpaper," Hodges says.
But there are definite advantages to going with wallpaper. For one thing, it helps create the illusion of a larger space. It can also add an undeniable stamp of personality to an otherwise unremarkable room.
For those and other reasons, some designers say it never went out of style for a certain tier of clients who had the money to pay for installation—and, of course, a designer with an eye to pull it all together. Still, the average homeowner began to veer away from fussy wall treatments.
"For the retail consumer, it came and went, and came back," says Hodges, who adds that she started seeing it pop up again about 10 years ago. "Wallpaper used to have mostly traditional patterns, but recently the newer, more modern styles, including removeable decals, have made wallpaper more popular again."
Designer Jay Jenkins, president of Baltimore-based interior design firm Jenkins Baer, also believes wallpaper never really went out of style, but says the rules once associated with it have loosened drastically, which adds to its accessibility.
"The resurgence of scenic and panoramic wallpaper has almost completely changed the marketplace," says Jenkins, who has been in the design business for 35 years. "Panoramic wallpaper was always strictly used in dining rooms for many, many years, and now the concept has blossomed to being used in bedrooms, hallways, and living rooms."
Growing up in Rockville, Jenkins notes that many of his home's rooms were papered—the foyer, dining room, and bathrooms, not to mention a foil orange and white striped paper paired with a brown shag carpet in his own bedroom. Nowadays, his personal style skews a bit more tasteful, with the designer using subtle papers in unexpected places such as dresser drawers, cabinets, and closets.
"I have a house in Easton, and all my closets are wallpapered," he says. "Like, why wouldn't you?" He feels that the bolder use of wallpaper and a more layered approach to patterns heralds a welcome change from the ubiquitous gray walls that have been trending for a few years.
"It's part of the maximalism phase we're all walking into," he says. "That whole gray room is petering out behind us."
Teddi Alyce Segal agrees. and is on the hunt for how to incorporate wallpaper both at home and in her work. She stages and designs investment houses as president and principal broker of Baltimore-based Honey House, "a strategy-based real estate and marketing collective" that specializes in the rehab of Victorian homes in such neighborhoods as Reservoir Hill and Bolton Hill.
She reports that she hasn't seen much wallpaper in her line of work—except for the layers upon layers of old wallpaper found in the homes she renovates—but that she's eager to start experimenting to see if modern buyers will bite when bold patterns grace the walls.
"I'm dying to use it in my projects," she says. "I like to do stuff that's very period appropriate. The wallpaper for these Victorians has a very specific flavor, and I sometimes wonder if the buyer will understand it and appreciate it. I don't know the answer to that yet."
One way she plans to find out is by using it in her own five-bedroom, three-story 1915 home in Reservoir Hill. Segal is considering wallpapers like Morris & Co.'s Strawberry Thief in indigo and mineral and a largescale version of Van Gogh's "Almond Blossom" for an accent wall beside the staircase and in the small strip of her dining room wall above the wood paneling that climbs almost all the way up to the ceiling.
She likes that these patterns are Victorian-inspired, reflecting her style of period-appropriate but with a modern twist—and unlike the "tacky and busy" wallpapers she remembers from the 1970s.
Experts note that once you've decided to take the plunge into wallpaper and chosen a pattern that reflects your personality, the next step is figuring out how to accessorize without clashing. Hodges says there's no rule of thumb, instead depending entirely on the wallpaper and the artwork. If it's something simple like grass cloth or a clean stripe, most artwork would work just fine.
"Some wallpaper wants to be on its own," she cautions. "Maybe you put up wall baskets or a mirror instead of some paintings. It's just a case of making sure they don't compete."
Jenkins agrees, adding that it really depends on whether you want the wallpaper or something else in the room to be the focus. "If you're using a scenic or panoramic wallpaper, everything takes second place to that," he says. "That's the important design statement you're making. So you just have to make a choice."
Photography by Jennifer Hughes
CUSTOM HOUSE
The increased availability of wallpapers in shops such as Anthropologie and online has certainly boosted the trend, but some fans of wall coverings prefer to completely customize their decor. That's when a company like Holland and Sherry Wallcovering Studio in Owings Mills comes into play.
According to product manager Aubrey Dunn, that very ubiquity is what makes designers seek their custom wallcoverings when looking for something more unique and special.
"Right now, about 30 percent of what we do is completely custom, and that's designing everything from start to finish," confirms Cory Barber, creative director of wallcoverings. They are so customized that Barber often designs the tools to make new papers when they don't have what's needed to create a desired texture or effect.
"It's a lot of repurposing, cutting things apart, and having the background knowledge of how paint application works," he says. And before you ask, yes, it's pricier than prefabricated wallpaper. But you can't put a price tag on individuality.