No Matter the Size of Your House—Host the Party
"We had a crazy, packed house for the first night of Hanukkah last year," writes Home editor Janelle Erlichman Diamond, "and I wouldn't have it any other way."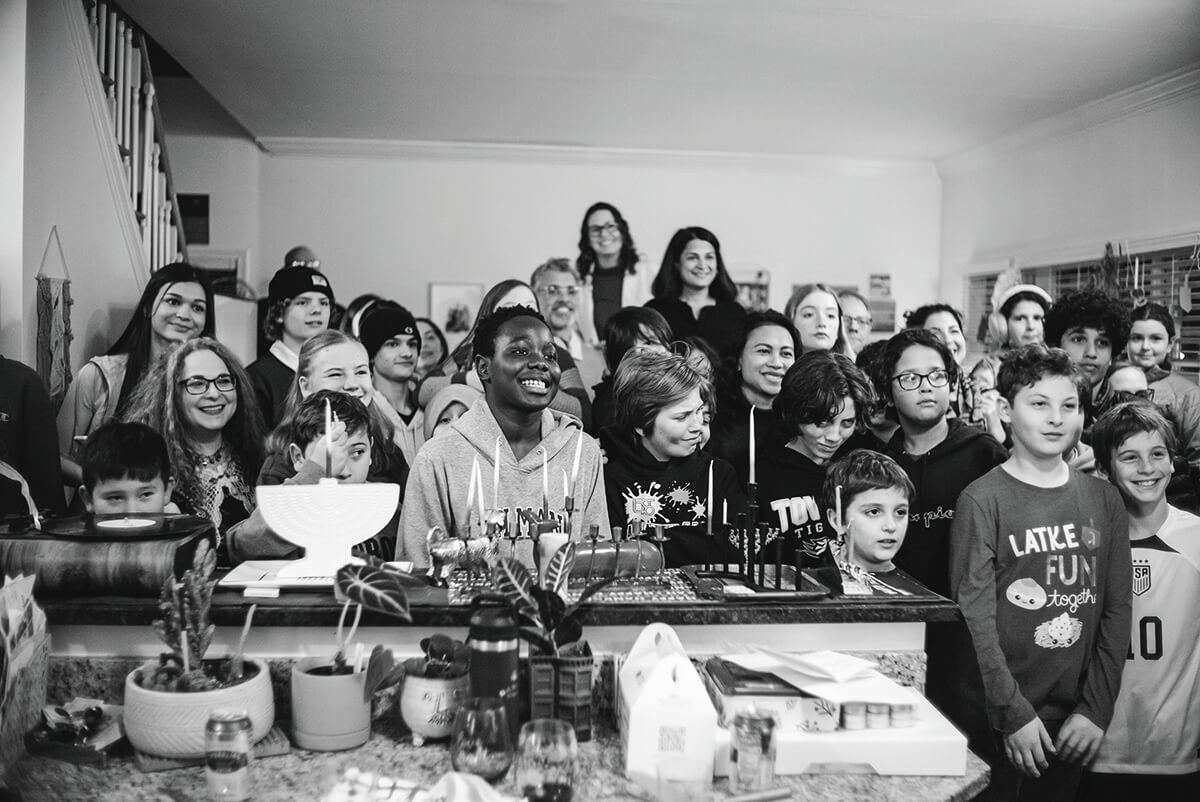 It started more as an act of defiance, in 2018, the very first year we opened up our home. We had always had a few friends over to celebrate Hanukkah, but that year I had posted on Facebook that everyone was welcome to stop by, eat potato latkes, spin some dreidels, and help light our menorahs at a multi-day open house that lasted almost all eight nights of Hanukkah. It was less than two months since the horrific Tree of Life Synagogue shooting in Pittsburgh and I had decided the best way to challenge antisemitism was to fill our home with friends (mostly non-Jewish) who could celebrate with us and learn about our holiday.
And I wasn't going to let our small house, already maxed out on space, with its six occupants plus a dog, stop me from inviting the world. "But how many people are coming?" my husband asked as the open house dates approached. I'd simply shrug my shoulders and place another bulk order for dreidels.
The start of Hanukkah fluctuates because of the Jewish lunar calendar. And so, the 25th of Kislev—the start of the holiday—can be anywhere from late November to the end of December and sometimes even dip its toe in January. In 2018, it started the first week of December, so it wasn't competing with a million holiday parties. Over a few nights, we hosted 37 people. The next year, in 2019, it grew to 84 people. My husband made around 250 latkes, and we lit 176 candles over eight days and across four menorahs.
It was often standing-room-only as friends packed into our family room, spilling up the steps and into the kitchen. If someone offered to bring something, I said yes. So we ended up with tons of disparate food and drink—cookies, wine, salads, limoncello, chicken nuggets, babka—along with lots of smiles, questions, and love.
I laid out a hodgepodge of paper plates and Hanukkah decorations I'd amassed over the last few decades. It was as far from perfect as you could be. There weren't enough seats for everyone. No catering. Barely enough room to park on our street. Things ran out. But I'm so glad that didn't stop me from hosting.
"I realized for me it just doesn't feel like a holiday if I can't share it. And if that means being okay with an imperfect venue, so be it."
I've been thinking a lot about the pressure we all put on ourselves. The social media videos we watch of put-together tables and food displays that look like art. I see gender reveals that are fancier than my wedding. There is a fear that what we can offer isn't enough.
I reached out to my friend Nelle Somerville, who is a great party host and was also the assistant director in the Office of Events at the Maryland Institute College of Art. She even owns a soup tureen. She has hosted countless celebrations at her home in Dickeyville, including a few I've been lucky enough to attend.
She's the type of person that, when life gives her lemons, she makes lemon risotto and invites the whole neighborhood over to eat it. I need someone to tell me that no one cares what my house looks like or how big it is.
"Don't let perfection get in the way of celebration," she tells me. "I'll never forget having 70 people in my 500-square-foot apartment in Dupont Circle," recounts Somerville. And maybe that's just it. She doesn't remember a single person complaining about the accommodations, but she does remember the warm feeling of being surrounded by so many people she loved. "I think the hospitality given by the host is more important than the décor, size, or even what is being served."
That was never more apparent than December 2020. Our first pandemic Hanukkah. The house felt quiet and empty. There wasn't a line for the bathroom or people eagerly awaiting the next batch of fried latkes. We missed the smell of vegetable oil that hung in the air for a full week no matter how many windows we opened. I had no excuse to buy another menorah. That year I placed a bowl of dreidels (with how-to-play directions) and gelt (chocolate coins) on our porch, encouraging friends to stop by. Our family celebrated, of course, but it also felt a little less joyous without all the noise and chaos. (Lighting candles over Zoom just wasn't the same.)
"Don't let perfection get in the way of celebration. I think the hospitality given by the host is more important than the décor, size, or even what is being served."
In the fall of 2021, I started to wonder if we could have people over safely for the holiday. We have an itty-bitty front lawn and a decent-sized covered porch, and I crossed my fingers that the weather would work out—and it did. On the very last night of Hanukkah, we placed tables out front, lit a fire, and waited.
Neighbors—who made room in their driveways for our guests—and old friends, new friends, school friends, Jewish friends, and non-Jewish friends alike filled our yard. We lit menorahs and ate latkes, and I might have given a speech.
There were s'mores made with gelt and lots of dreidels and my husband carrying out trays of latkes. We had sour cream and homemade applesauce, pickles, lox, and cream soda, and lots and lots of sufganiyot—a round jelly doughnut eaten in celebration of Hanukkah. We had a cool and dry night and lit a big, beautiful fire. There was hot cider and lots of laughter and not enough time to talk to everyone.
I realized for me it just doesn't feel like a holiday if I can't share it. And if that means being okay with an imperfect venue, so be it. If I waited for everything to be perfect, I'd still be waiting. And I'd miss out on friends telling me it's their favorite invite each year. And it's not because we have a bartender (just a good Irish friend who makes a mean Old-Fashioned) or a coat check (just a bedroom where jackets get flung on the bed), it's because the act of being together is enough.
Last year I agreed to consolidate our open house to a more manageable two nights. The first one took place on the first night of Hanukkah. (Don't tell my rabbi, but it meant blowing out and re-lighting candles so everyone got a turn.) It was the first year I truly didn't worry about everyone being squished in our house. Or everything not being perfect. Because it felt perfect. Our friend, John, brought his family and camera and snapped pictures of the mass of people gathered to hear the prayers. I have a big, stupid, happy grin in every photo.
I felt like a dreidel that night, spinning around the room, trying to take it all in, talk to everyone, look for more plates and forks. (At one point Happy Birthday plates came out.) It was one of those nights that I cling to all year.
And here we are again, Hanukkah 2023 is fast approaching—thank you Google for telling me it begins sundown on Thursday, December 7th—and I'm already looking forward to an overflow crowd and the inevitable blast from our sensitive fire alarm as the frying pan oil and candle flames reach their peak. It's going to be flawed and splendid.
Want to come over?