Nostalgic Shop JoRetro Offers Vintage and Contemporary Goods
At the Havre de Grace store, owner Jolene Forrester goes all in on her love of vintage wares—with a focus on Pyrex products.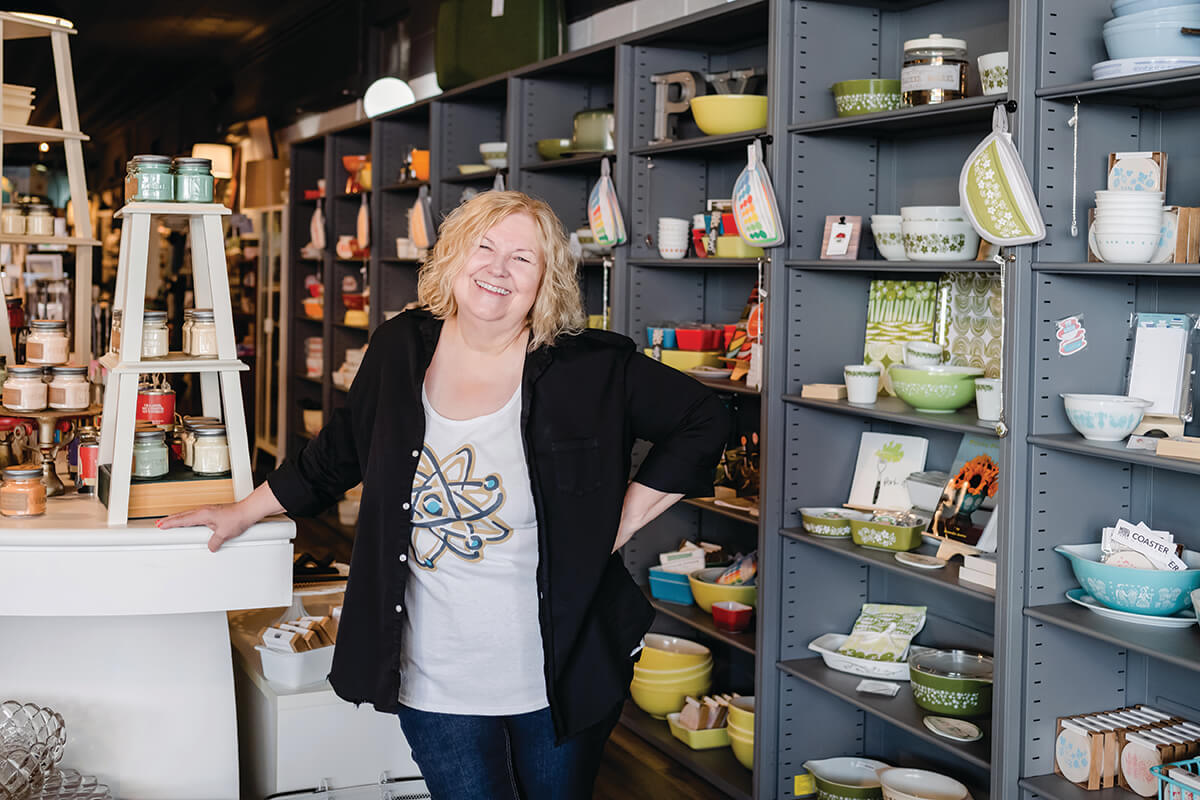 Before she opened JoRetro, a vintage and retro-inspired shop in Havre de Grace, Jolene Forrester worked for 30 years as a commercial office designer in the MidAtlantic region, a career she loved. As her work expanded to the Midwest, designing and maintaining office spaces kept her busy, but Forrester would always carve out time to pick up merchandise to sell at her antique booth every Sunday at Bahoukas, an antique mall in Havre de Grace.
"I would always drive [to each location] if I was able to," says Forrester, recalling hours spent on the hunt at local thrift stores and antique malls after work, on travel days, and during lunch breaks, her car filled with vintage clothing, glassware, and antiques.
Other times, when she flew for work, she'd opt to use a vintage train case as a carry-on for items she collected during travels. Going through security, "I always wondered what they thought of all the stacks of Pyrex bowls and glassware I had with me."
Eventually, a change in corporate leadership meant that Forrester could work from home. So, she upsized her antique booth, graduating to a 1,700-square-foot, shared storefront in the Harford County waterfront city. Her hectic work life meant that she could only run the shop on weekends, but she relished it so much that when her role was terminated, she decided to go all in on her love of vintage wares.
JoRetro became a fulltime enterprise in 2018. Havre de Grace's North Washington Street had a handful of antique purveyors already. But Forrester's permanent 5,000-square-foot shop, its front window emblazoned with a decal of a 1950s Spaceman syrup bottle, was created to stand out.
"I always wanted to do something a little different than a typical antique store. I wanted it to have everything clean, ready to use, and not collectibles, but more things you could use every day," Forrester says of the shop, which draws inspiration from her first apartment with its midcentury design. The walls and ceiling are intentionally a somewhat neutral gray, because all of JoRetro's whimsical and cheery pops of color are provided by its products, a mix of antique items and nostalgic handmade goods.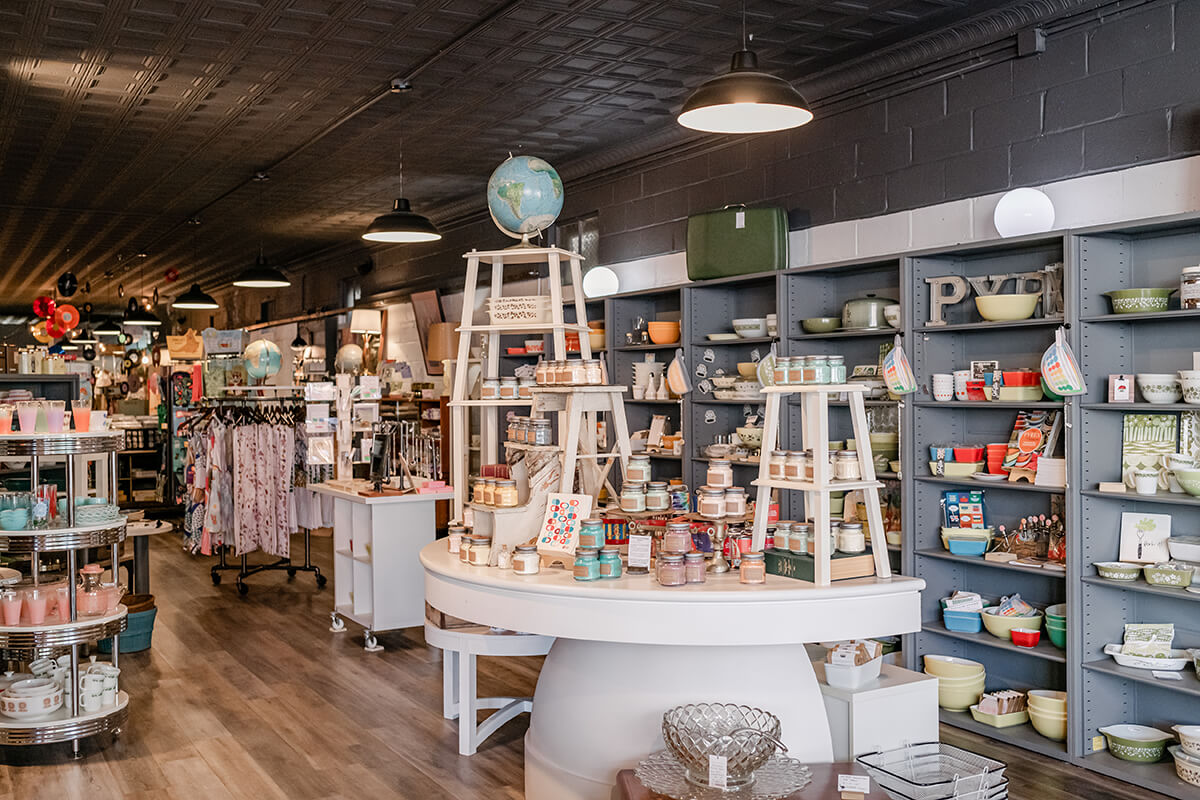 At first, JoRetro sold only vintage, but the pandemic made it difficult for Forrester, who runs the shop along with her son, Luke, to source products in-person and draw in substantial revenue. So, she decided to add new—but still extremely retro—goodies to the mix.
Handmade treasures range from tablecloths and atomic-printed drinkware—not unlike JoRetro's logo, and reflective of the patterns that were common in the Cold War years—to floral-printed serving plates and tissue boxes styled after midcentury ranch houses. And vintage items, such as Little People made by Fisher-Price, the aforementioned spaceman bottles (sold in every color), furniture, and classic vinyl albums all look good as new.
But the main draw at JoRetro is its color-sorted Pyrex wall, with mint-condition glassware from the '40s through the '80s. There is something very comforting about seeing Forrester's perfectly lined wall of Pyrex products.
"I love the organization," says Juliet Ames, owner of The Broken Plate Co. She's teamed up with Forrester over the years to turn shards of discarded Pyrex into jewelry. "I'm a Virgo and the rainbow wall of Pyrex is delightful to me. It doesn't happen overnight. That builds up over time, you know? And Jolene knows her stuff."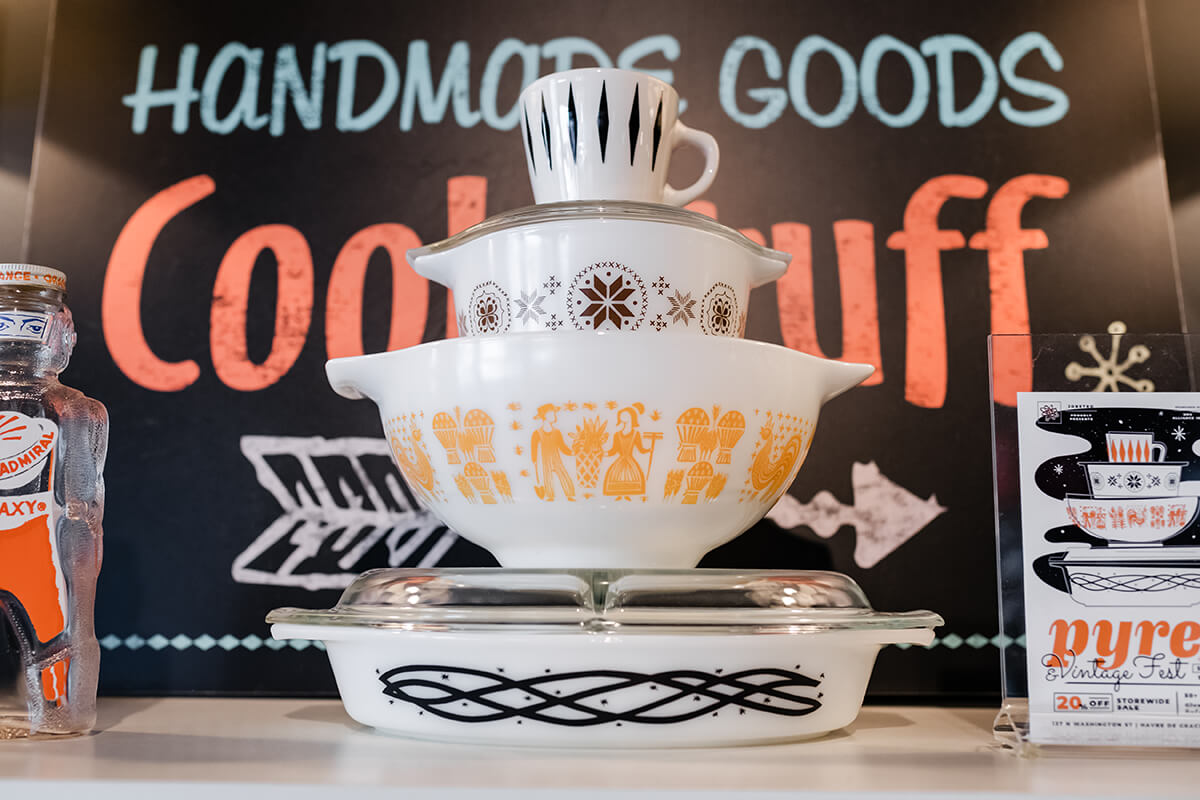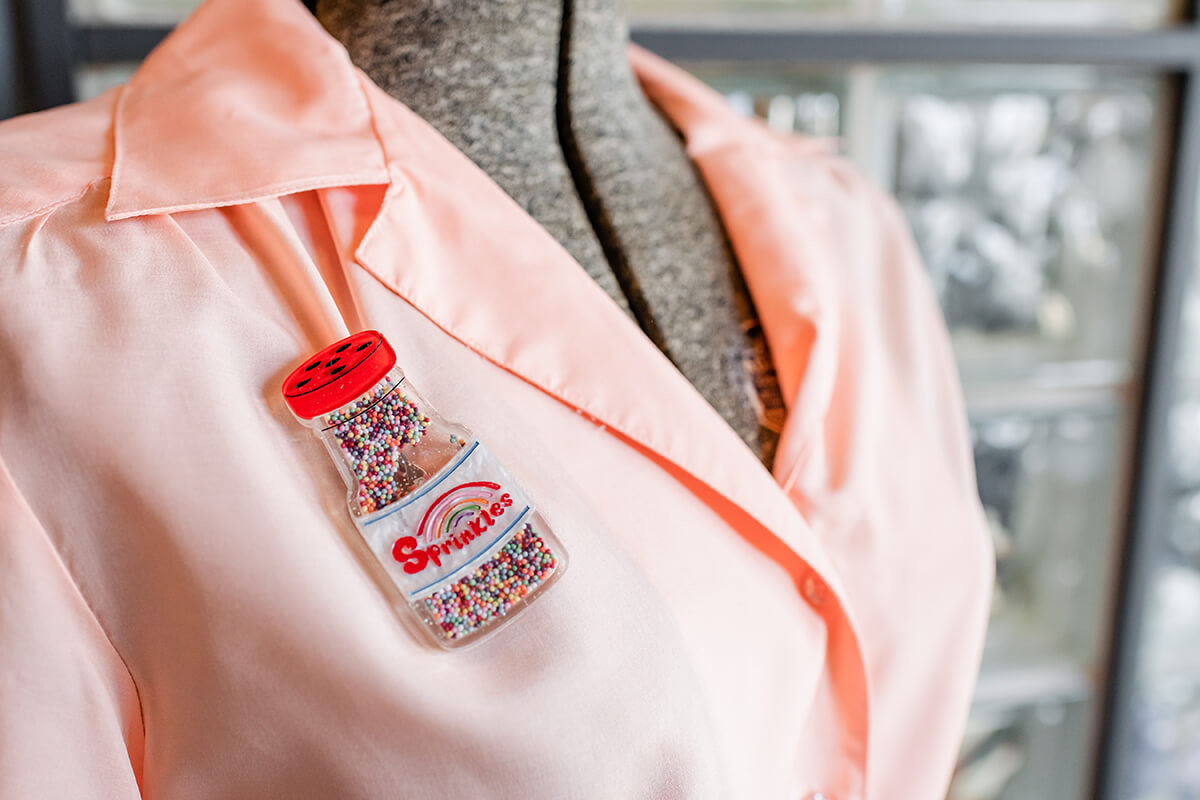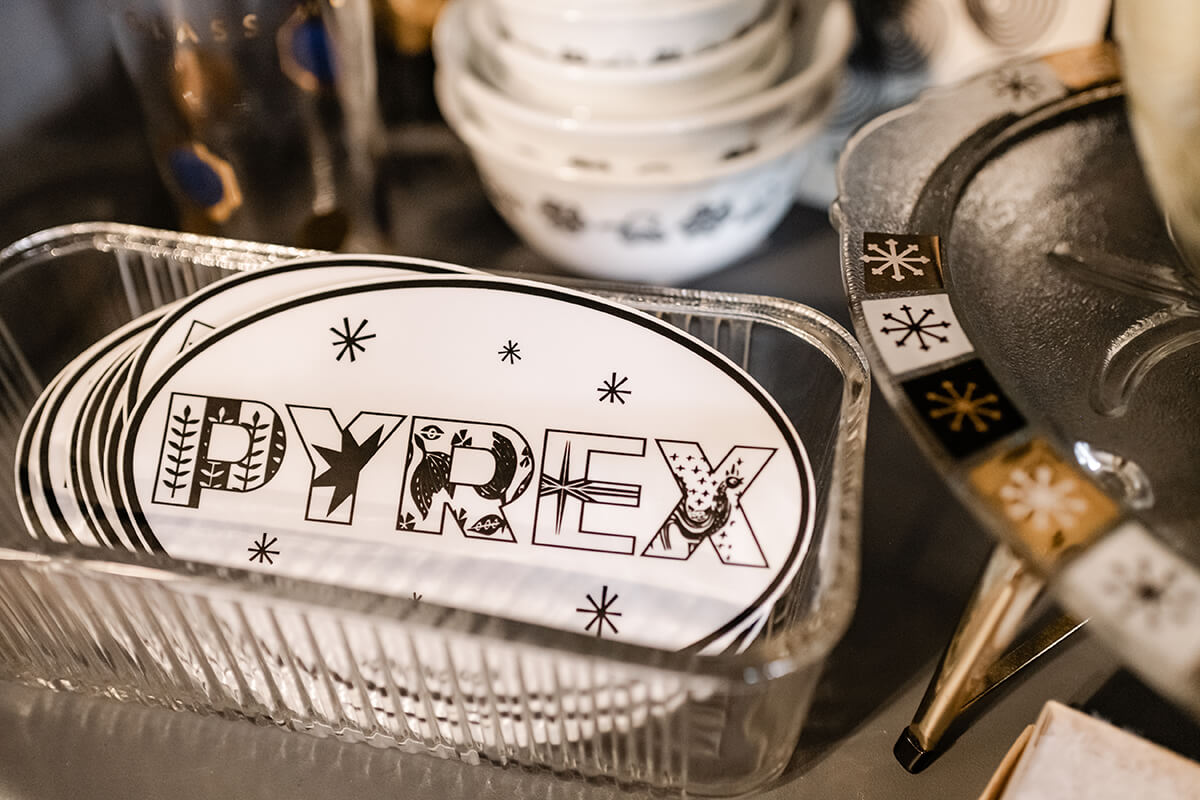 Like Forrester, her customers—and those who come from all over the country for JoRetro's semi-annual Pyrex and Vintage Fest—prefer the older dishes.
"The pieces that people really love to get, and ask for, are usually the early pieces from the 1950s," she says. "The pinks and turquoises are in demand and those prices are really high. They're also a little harder to find in good shape because they've been used longer."
Some customers greet Forrester with hopes to replace dishes from their grandmothers' collection. Others simply want to make a switch to glass from plastic, or find bowls to match their kitchens. Either way, it's all nostalgic, she says.
"When you got married years ago, you could be sure that you were going to receive some Pyrex at your bridal shower—you just needed that to set up your home," Forrester says. "People will come in and they'll tell me what they have left over from when they got married, and I can almost pinpoint what year they were married. It's really interesting."
Connections like these are why Forrester moved from a booth to a shop. And she plans to make even more connections with her Pyrex-themed Airbnbs that she designed with the hopes of drawing in visitors for long weekends.
"[Havre de Grace] is such a special city and I wouldn't want to have my business anywhere else," she says of her hometown. "I haven't even thought of expanding. I'm satisfied to stay here and to see the city grow."