Drinks Are On The House
A Parkville basement might just be Baltimore's most authentic Irish pub.
When Jim Phelan, a former jockey and pub owner, moved to Baltimore from his native Ireland 15 years ago and began looking for a home, he had one big must-have on his list: a perfect basement.
A home with a bar in the basement is hardly uncommon, but most wouldn't have designs on transforming their basement into an authentic pub. Nor would they spend a couple months and several thousand dollars turning a bare space into a bona fide piece of the Emerald Isle on American soil. But lucky for one Parkville street, their friendly neighborhood Irishman isn't most people.
"The worst part about owning the pub [in Ireland] was having to deal with customers," says Phelan, who these days manages farm animals at the Baltimore County Center for Maryland Agriculture instead of rowdy bar patrons. "I joked at the time that I'd love to have a house and just put in a private bar, so I don't have to deal with all the hassle. So eventually when I came over here about 15 years ago, I decided that I would look for a place with a basement that was basically wide open, a blank canvas to build something like that."
He found the future home of Phelan's Irish Pub in a three bed, two bath, 1,334-square-foot house, where the entire lower level had been combined into one room. Just white walls, carpet, a fireplace, and an exit that led up a few stairs into the yard. And with inspiration from a few local pubs back home, Phelan set about designing his own. A bar along one wall, a stage where his band, The ShamRogues, could practice and play, and a pool table were the essentials.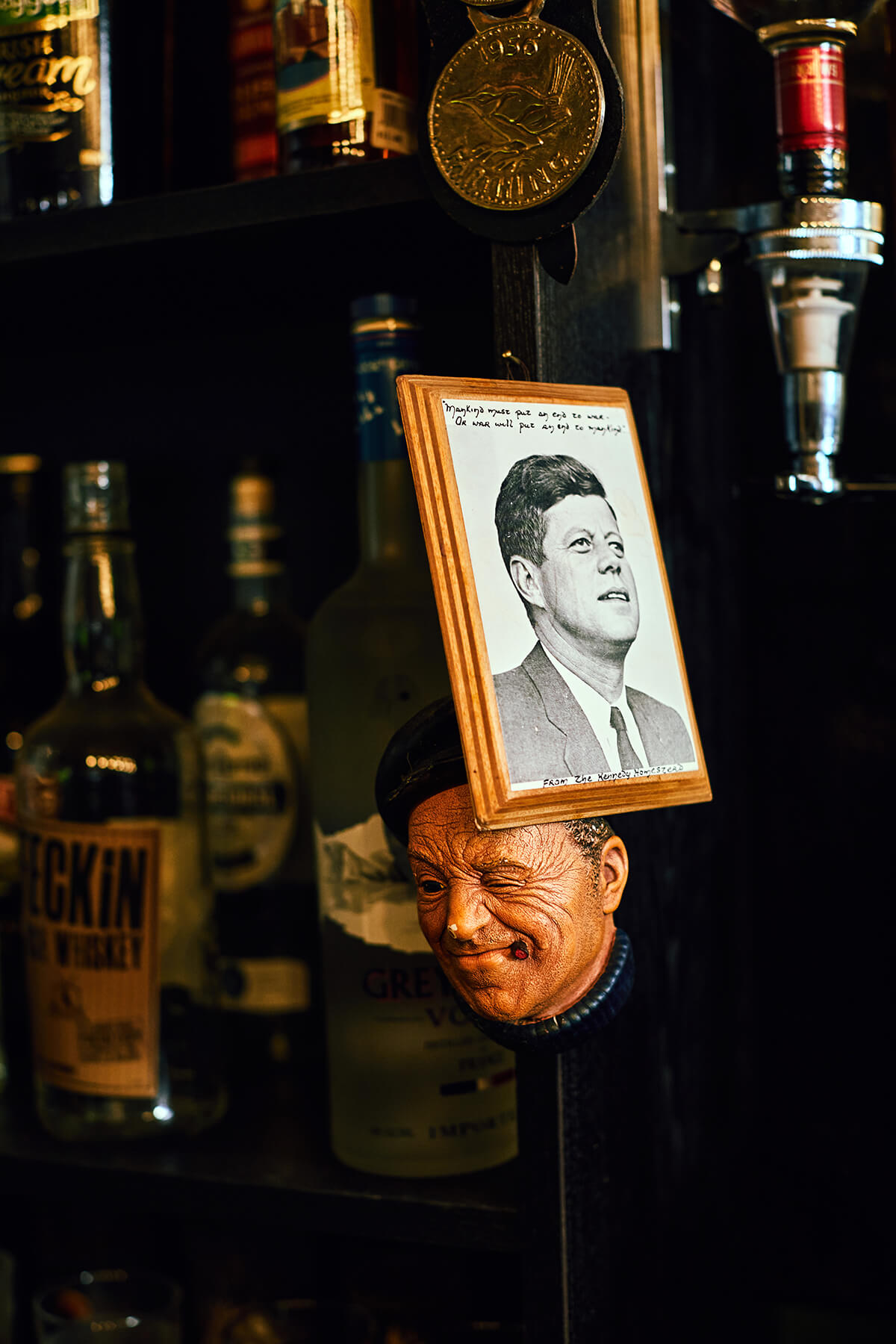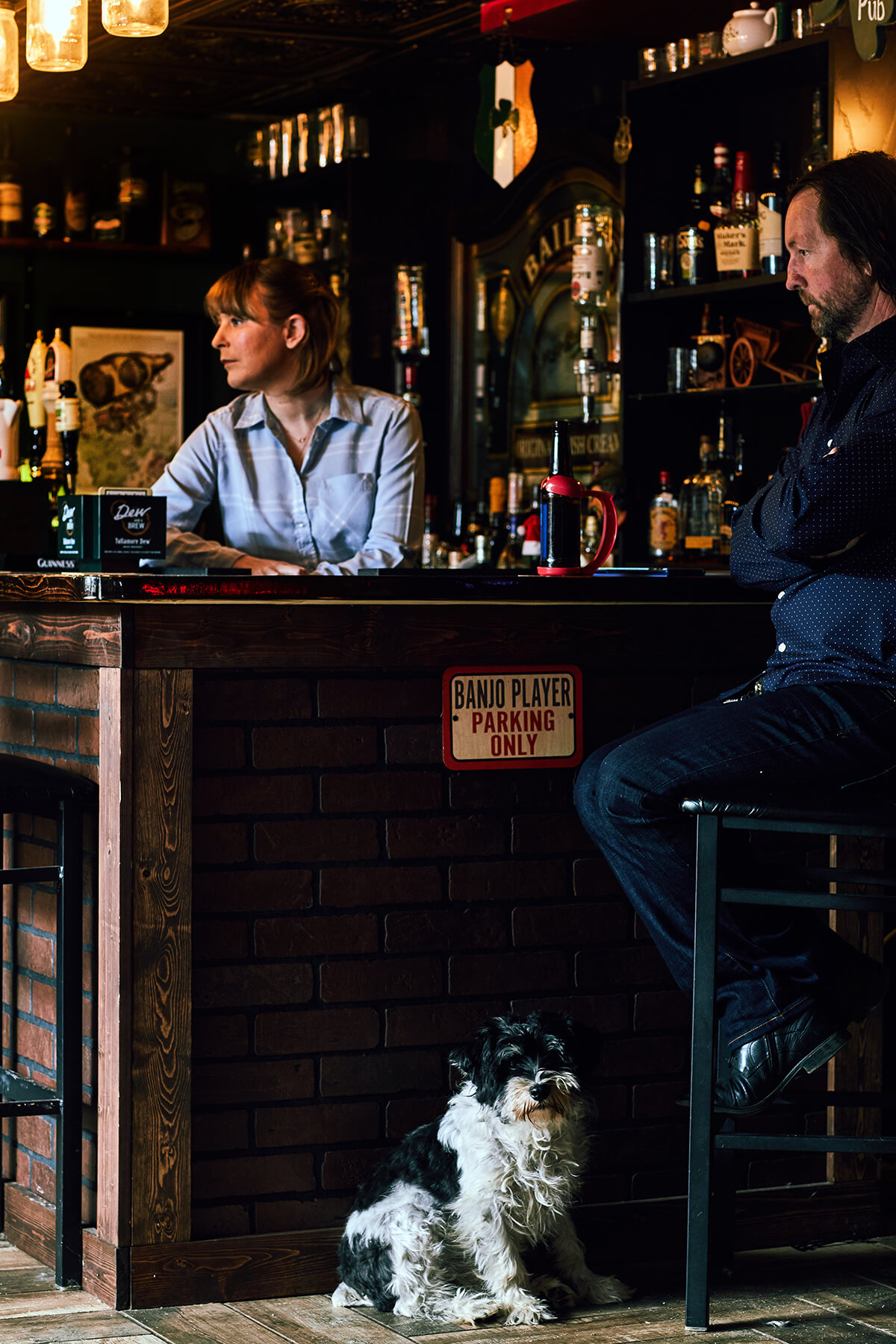 "I just started doing it from scratch, and everything ended up being done by hand," says Phelan. "My wife, Katie, and I did all the building of bits and pieces, like the bar and the stage and everything. My mother-in-law painted the place for me. So it was kind of a little family project between the three of us for a while."
They created every part of the pub together, save for the floors, which were laid down by a friend. A group of friends then joined Jim to lend a hand when flood damage to the space required major repairs three years ago. And the DIY-ing goes all the way up to the mock tin ceiling.
"I had an idea to put in a nice tin ceiling," Phelan says. "I knew nothing about that sort of a thing." After doing some research, he discovered that the real tin tiles ran about $25 apiece, but a cheaper PVC alternative that could be cut at home had a nearly identical look. "I bought a hundred fully expecting that I would return them, that they wouldn't look as good as they did online—like most things. But they arrived, and no one could tell the difference." Instead of $2,500, Phelan ended up spending $600 on the project.
The result is a near-perfect replica of the antique tin tiles that came into fashion around the turn of the 19th-century. With the basement's low seven-foot ceilings, visitors to Phelan's Irish Pub can, and have, reached up to touch the intricate pattern. Still, they don't believe it's not tin. It's just one of the many successful projects that the rookie DIYer took on to create his dream bar.
"I spent a lifetime riding horses, so I never did anything artistic or anything like that before. I kind of joked about it, because I have a wood-burning fireplace upstairs, and I was just going to go out, buy a bunch of two-by-fours, and worst-case scenario, I'll just tear the whole thing down and I've got firewood," says Phelan. "So I started from scratch, and bit-by-bit-by-bit it just started to come together. And the more I did, the more confident I got. I got pretty decent at it by the time it was all finished."
Pretty decent is one way to describe it. Lucky friends and neighbors can take the outside stairs to a door under a glowing Guinness sign and enter a dim, welcoming space with felt green walls for a drink and good company. (To be clear, tempting though it may be, folks can't just walk in off the street. This pub is private, and no one's keeping a tab.)
While Phelan himself is a Bud Light man ("I don't drink whiskey or spirits at all, which is not very stereotypically Irish."), there are bottles of every type lining the back wall and plenty of beer on offer. And whether they choose to belly up to the handmade bar or gather around one of the high tops, there's plenty of history to look at—or sit on.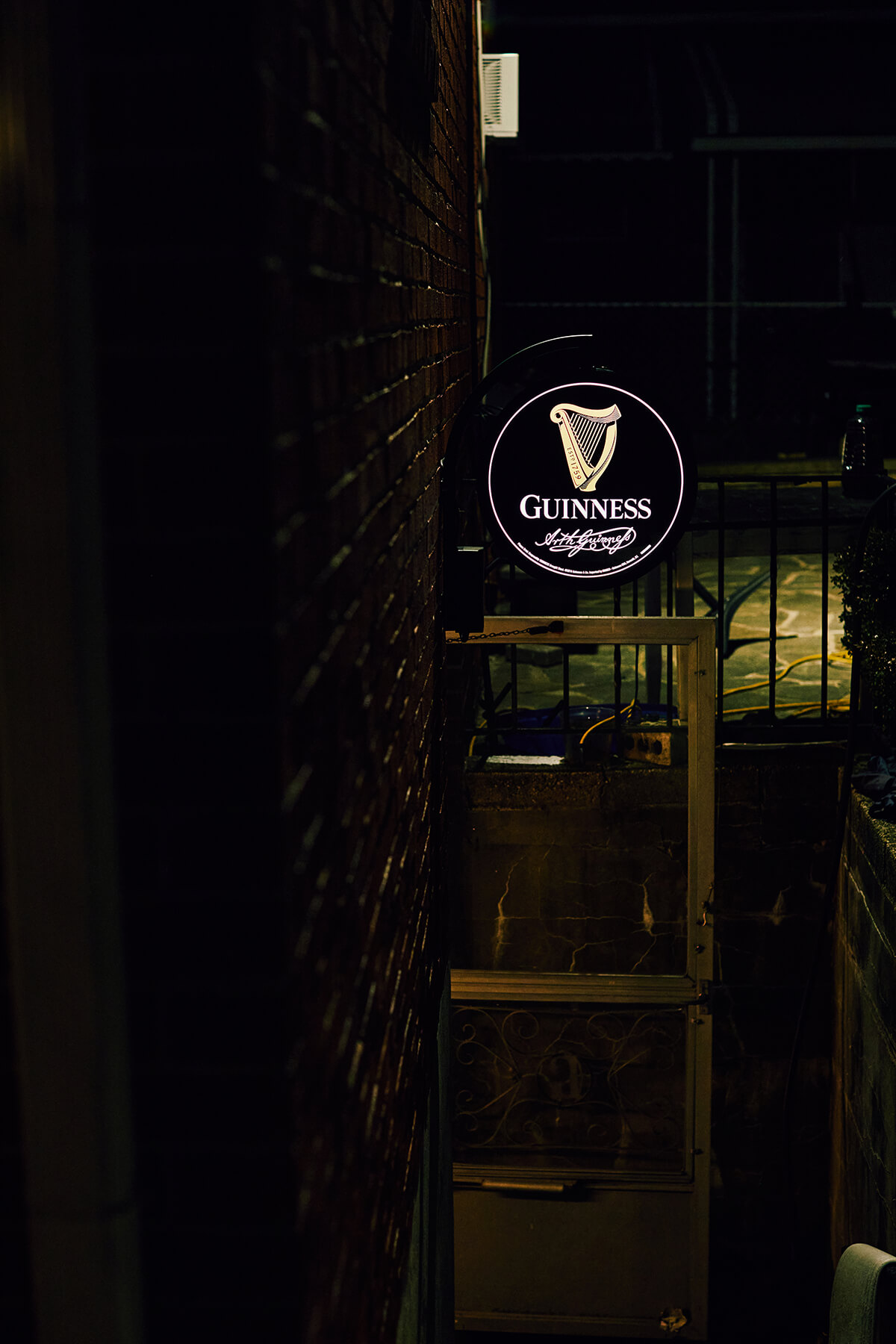 The barstools were saved from Ryan's Daughter, the shuttered Irish pub where Phelan had one of his first drinks in America. So, too, was the shelf on the left side of the bar, where eagle-eyed visitors might spot knickknacks and tchotchkes from the former Belvedere watering hole.
Phelan's home has become a final resting place for relics from quite a few past pubs. As bars have closed, friendly owners who have hosted his band have gifted Phelan with glasses, mirrors, signage, and all manner of ephemera.
"There was one bar in Baltimore called Patrick's of Pratt Street, which was the oldest family-owned Irish pub in America," says Phelan. "They closed down four or five years ago, and Pat, the owner, I knew him very well. He gave me some lovely bits of pieces that had been hanging up in that pub for years and years. He wanted to keep them local, and he said that he'd like to have them in a pub. So he gave them to me."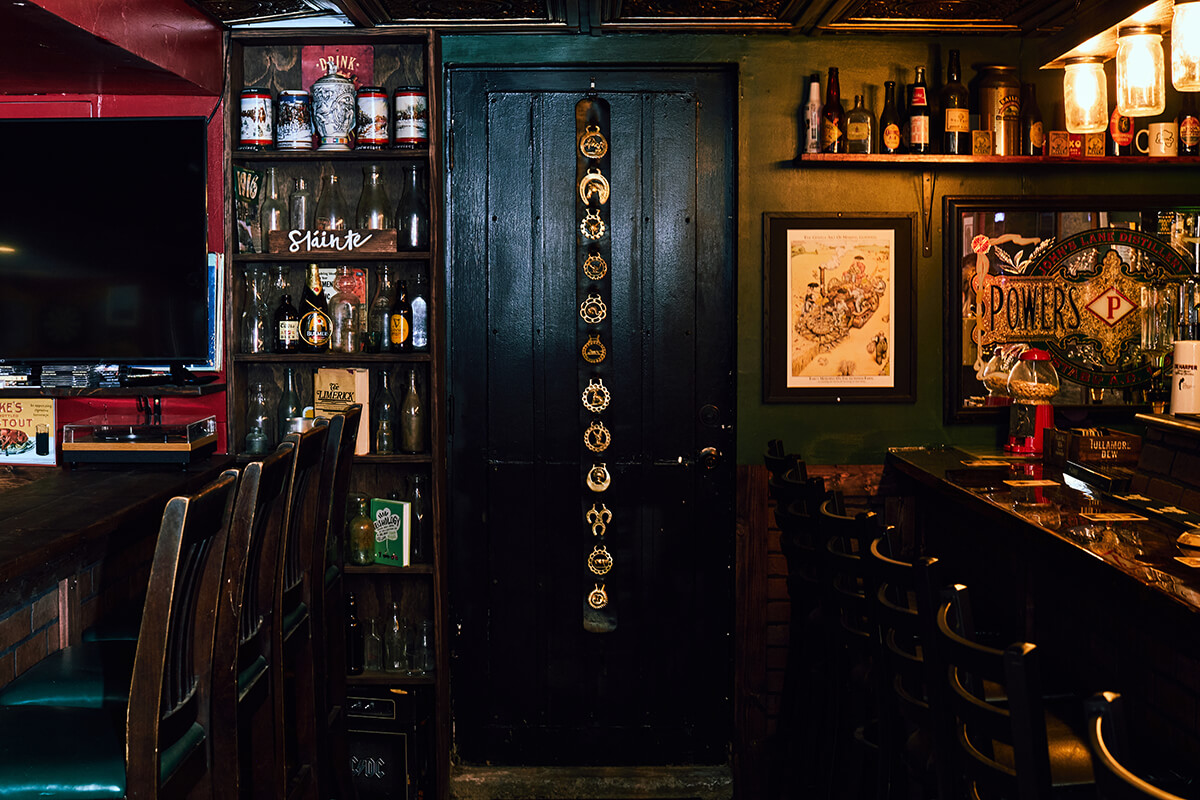 Everywhere you look, there's a theme. One wall is covered with motocross jerseys, plaques, and trophies collected by Katie's brother, Sean Simmons, who died shortly after the pub was completed. Another corner is dedicated to pieces Phelan's brother sent over from his own pub back in Ireland, signs for Guinness and the like.
But the wall above the fireplace features the collection that Phelan is perhaps proudest of. Above the mantel, a custom-built cabinet (another DIY project, with a decal painted by a friend) houses 49 Preakness Stakes commemorative glasses—so far.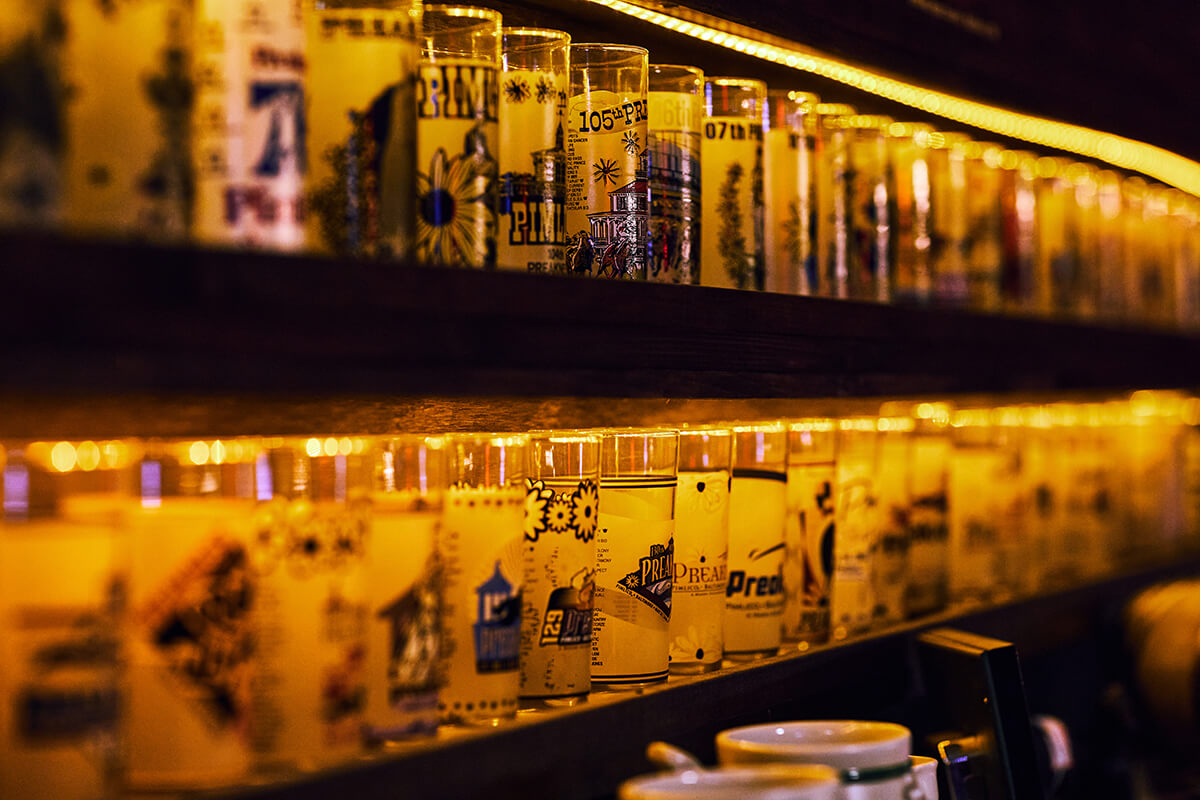 "They introduced the Preakness commemorative glasses in 1973, and there were only a few of them made that year because it was a brand-new thing. But it worked out that Secretariat happened to win the Triple Crown that year. He became the most famous American racehorse of all time. So from that, the glasses became very, very sought after and rare," says Phelan.
He searched all over the country, eventually coming across a 1973 glass in excellent condition. When the cabinet was built, it housed just two glasses. Now, only the slot for 2022 remains. Phelan even had plans to have Secretariat's jockey, Ronnie Turcotte, sign the original glass last year, but the appearance was canceled due to COVID-19.
"I've reached out to his team, and they're going to let me know when he's going to make another appearance," Phelan says. "Wherever it is, I'm going to go and get that thing signed."
Pandemic life slowed the stream of friends and guests that typically filled the space, but pre-COVID, the pub played host to birthday parties, New Year's celebrations, concerts, and gatherings for races and game days. And with restrictions loosened up and vaccinations on the rise, the couple has slowly returned to hosting friends, even getting a few live bands back on stage. As we return to normal, Phelan is looking forward to living above a proper gathering place again.
"It's nothing if you don't have the friends around you," he says. "The people make a great pub."