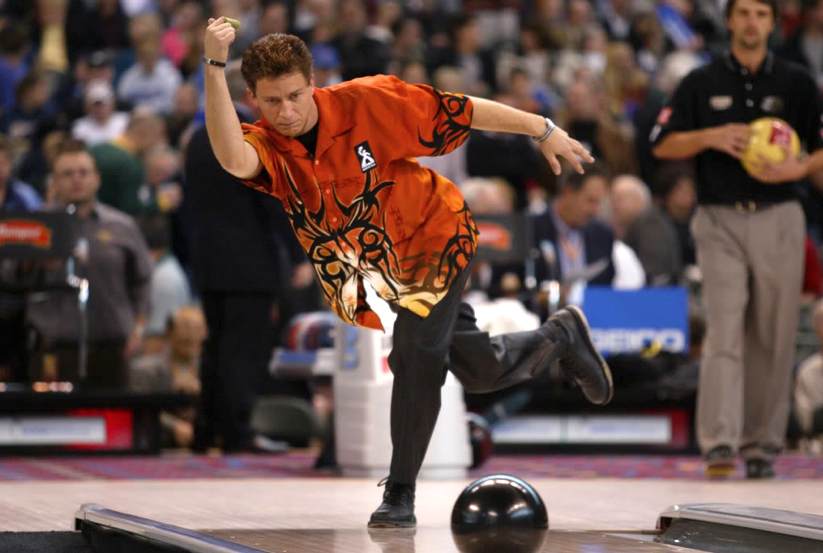 Courtesy: Danny Wiseman
Dundalk-native Danny Wiseman won 12 Professional Bowlers Association titles in his career, including one of the sport's "majors"—the 2004 USBC Masters. He rolled 43 career "300" PBA games, got elected to the PBA Hall of Fame and Maryland State Athletic Hall of Fame two years ago, and ranks No. 42 on the PBA's list of the sport's greatest players of the last 50 years. His first career title came in his first TV appearance, at 22 years old, by coincidence, at the Fair Lanes Open in Woodlawn in 1990 before a vocal hometown crowd. (Check the priceless YouTube clip below and hear Chris Schenkel make the call with Frank Robinson in the house cheering no less.)
The 4th Danny Wiseman Youth Scholarship Tournament is Sunday at AMF Country Club Lanes in Middle River with Charis Contractors serving as presenting sponsor. The event filled up two months ago with 152 youth bowlers from eight states competing, but is open to spectators. Qualifying begins at 9 a.m. with the bracket finals expected to begin around 2 p.m..
How'd you start? Duckpins or tenpins?
Danny Wiseman: Duckpins with my sister and father when I was five. I joined a tenpin bowling league when I was 7. I mostly played baseball, though, until my early teens. Then, I started walking across the field to the old Fair Lanes Bowling Center on Merritt Boulevard every day after school.
And you began hustling on the side, bowling against guys in D.C. for money a few years later?
DW: Yeah (laughing.) Before I went on the tour. There was no "action" up here so I used bowl what they call "pot" games down in Northeast D.C. when I was 18, 19, making maybe a $1,000 a night on Friday and Saturday nights. You'd bowl all night. Start at 10 p.m. I remember a few mornings driving home at 6 a.m. That's actually how one of my first (professional) sponsors learned about me.
When you were coming up, and on tour, how many games a day did you roll in practice?
DW: Usually between 20-25. I just turned 48 and there's wear and tear now. I had wrist surgery in April.
Can you describe what it was like to win your first PBA tournament, in your first ABC television appearance, in Baltimore?
DW: It can be hard as an athlete to perform at home in front of your family and friends. Bowling, too, was on TV every weekend in those days and a bigger deal than it is today. It's hard to explain. You can either give into the fear of failure, which we all have, or you can embrace the moment. I learned how to block out the negative (and fear of failure) and it gave me extra focus to perform in front of the hometown crowd. You just live for the moment.
Tell us about the tournament. There's $19,000 in scholarship money available and a Joe Flacco autographed Super Bowl bowling ball up for bid?
DW: A friend from New Jersey I'd met on tour knows Joe's father-in-law, and he got Joe to sign it for us. Which was great . . . I lend my name to bring youth bowlers from the Mid-Atlantic to compete for scholarship money and there is nothing in this but the satisfaction of knowing I can help—along with the great sponsors that get on on board—with their future education. I took time off from the tour in 2009 to take care of my mother, who was sick and going through a tough time and that helped put things into perspective for me. I've been very fortunate, in terms of pursuing what I set out to do, achieving my goals. I don't need a lot. I live a pretty simple lifestyle and this tournament allows me to give back to the kids in the sport. Whatever they win, the money goes into a college fund, which they can use at the school of their choice when they turn 18 and decide to go to college. It's 5-6 months of work. I'm very hands-on, handle most or all of the logistics, hang the banners, and everything. I want everything to be just right and make this a special tournament for youth bowlers.