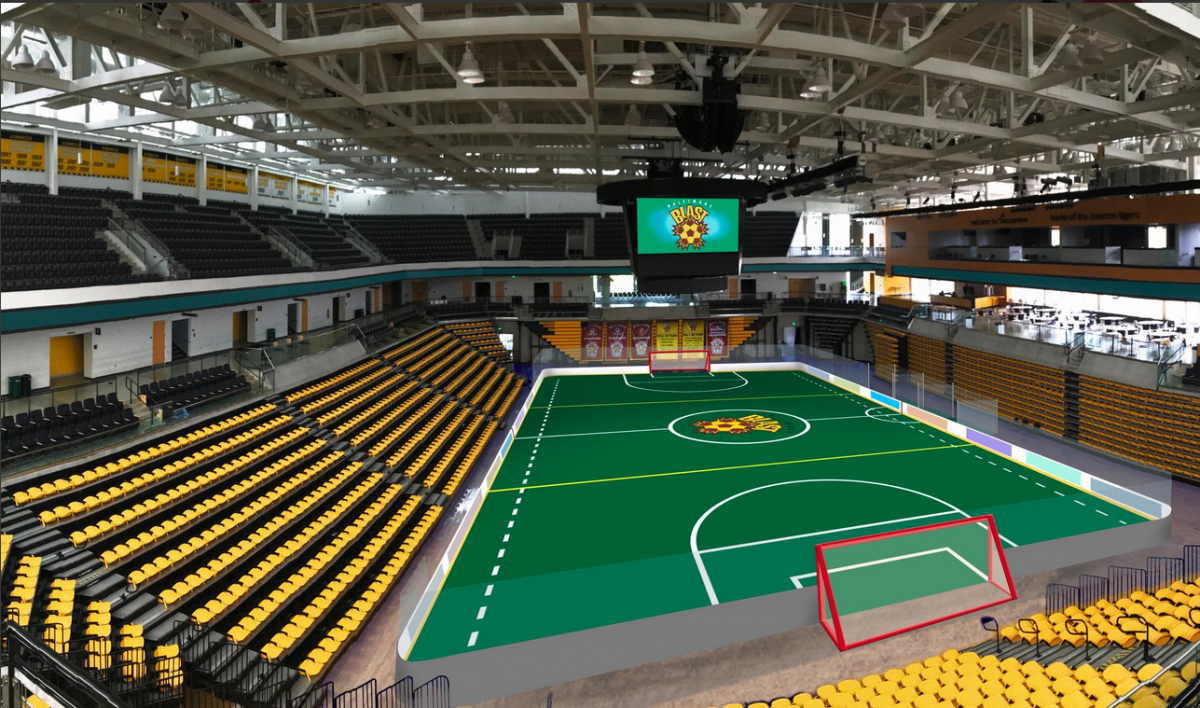 Baltimore Blast
Baltimore Blast moves to Towson
It's the end of one era—and the beginning of another. After 37 years at what is now called the Royal Farms Arena, the Baltimore Blast—Baltimore's Best Team, according to our 2017 Best of Baltimore issue—are moving to SECU Arena at Towson University. 
According to a press release, the team promises, "a more intimate fan experience that will include more convenient parking, better value at the concession stands, and upgraded seating and sight lines that will bring fans closer the action." We always hate to see anyone move out of the city, but we're excited to see the Blast play in their new venue. And you had us at "convenient parking."
O's making us believe again.
The seven-game win streak came to a disappointing end last night, but the O's have truly been on fire—and their excellent play has catapulted them right back into the Wild Card chase. (As of this writing, the team is 2.5 games back in the standings, behind LA, Minnesota, and the scuffling Yankees.) I'll be the first to admit that I had written them off around mid-season, but their combination of solid pitching and clutch hitting—particularly from Manny Machado, who is looking a whole lot like, well, Manny Machado lately—is making me believe. 
Also: Remember the collective shrug we all gave when the O's traded for Tim Beckham? All he's done since is bat .394 with 50 hits and 19 RBIs. Throw in the star-making season that Jonathan Schoop is having, Trey Mancini's Rookie of the Year-caliber performance (*cough* not so fast Aaron Judge *cough*), and Dylan Bundy looking like a legit ace (how bout that beauty of a one-hitter he threw against the Mariners on Tuesday?) and more and more Baltimoreans are finding themselves humming "Orioles Magic" these days.
Baltimore Ravens donated $1 million to the Houston recovery.
The 4-0 preseason was impressive, but this is even more impressive. The team tweeted that they're donating $1 million to the recovery efforts in Houston. And the Houston Texans are appreciative, RTing the Ravens' post and adding "#HoustonStrong." ❤️
Boomer's getting a sibling!
The cutest little minnow in the sea—Boomer Phelps, that is—is about to get a sister or brother. He looks pretty happy about it, according to to the photo Nicole Phelps posted on Instagram when she made the announcement. But maybe they just told him he was getting a pony. 
Speaking of Michael, we all know that he raced a shark (kind of) during Shark Week and now he has a new proposal—going head-to-head in the pool against MMA champ Connor McGregor, who just had a pretty respectable showing in his much-hyped boxing match against Floyd Mayweather. "Should we race as well?" he jokingly posted to Twitter, with a Photoshopped picture of McGregor donning a swimming cap and goggles. Imagine the Pay Per View bank they could make on that one. . . .

Is the Jeffrey Maier curse over?
Y'all remember Jeffrey Maier, right? That annoying little twerp in NY who interfered with the ball and gave Derek Jeter a home run he never should've had in the 1996 ALCS? Well, the O's are surging, Maier is now a 33-year-old man (yikes!), and this adorable little nugget who seemed exceedingly happy that his dad snagged a Machado home run is our new bleachers spirit animal. All hail #BabyBird.