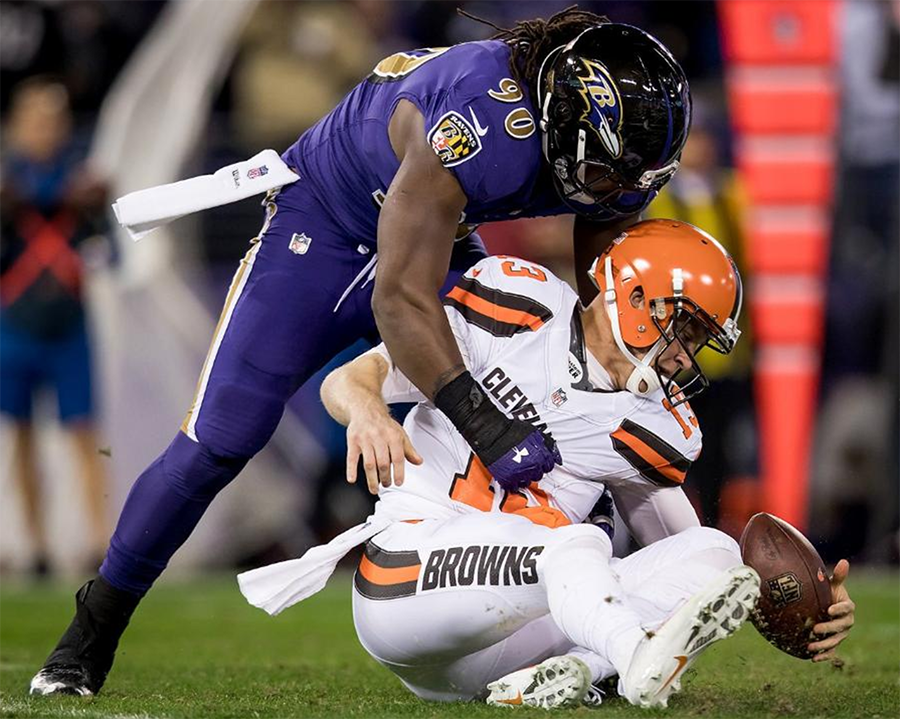 Baltimore Ravens
If Ravens shutout Browns, they'll break a 72-year-old NFL record.
Not to get greedy, but after watching the way the Ravens defense performed in week one in Cincinnati, we are more confident than ever going against the Cleveland Browns at home. And it turns out, if this Sunday's game is another shutout, the Ravens will break a 72-year-old NFL record. According to ESPN Stats & Information, the last team to shutout its opponents during the first two games of the season was, ironically, the Cleveland Rams in 1945. If this all seems a little pie-in-the-sky, consider a few facts:
The game is at M&T Bank Stadium and the Ravens defense has allowed the NFL's fewest points at home since John Harbaugh became coach in 2008.
DeShone Kizer, the Browns rookie quarterback, is making his first career debut. Godspeed, DeShone.
The Ravens held the Bengals scoreless on 12 drives last week, forcing a turnover every time Cincinnati got inside Baltimore's 10-yard line
During the offseason, Browns' head coach Hue Jackson himself called the Ravens defense "legendary."
But the cornerstone of the defense, Terrell Suggs, who deflected a key pass last Sunday, says his strategy is to go into this week fresh. "As far as we are concerned, last week didn't happen," he told ESPN. "We are taking it as our first game, and of course, it is our first home game. It is our home opener. You kind of have to have a short memory. Because this is the NFL; your fate can change in a week. We are acting like last week was just a dream."
Bizarre giveaway at M&T Bank Stadium this Sunday.
Speaking of the Ravens, this has to be one of the weirdest giveaways we've ever seen at a local sports game. Biotech firm Orig3n will be giving all fans that enter M&T Bank Stadium on Sunday free DNA test kits. Fans who opt to participate can learn about their genetic makeup in four different genes, but they first have to swab the inside of their cheek, drop the sample into a stadium bin, and register with the company online. Among the findings, fans will be able to discover if they are "generally predisposed" to have difficulty metabolizing Vitamin D.
While we personally think this is odd and invasive on many levels (though clever marketing for Boston-based Orig3n), the Ravens are calling it "one of the most innovative events a partner has ever spearheaded." If you say so.
Maryland football off to impressive start.
When rumors swirled that Maryland was joining the Big 10, a lot of fans feared that our state football team wouldn't be able to hold its own. A lot of those worries have been dissuaded so far this season, starting with a 51-41 Maryland win against the longhorns in Austin. In true Terp style, the victory didn't come withouts  hiccups, including quarterback Tyrrell Pigrome (not even the planned starter) tearing his ACL.Thankfully, true freshman and big recruit Kasim Hill saved the day—earning 57 yards and punching in a three-yard run to put the Terrapins up by 10 with just over seven minutes left in the game.
Though Towson University football isn't quite on the same level as UT, last week's 63-17 victory over the Tigers was pretty amazing. (Sorry to our buddies on Osler Drive.) One of the key takeaways is just how impressive the Terps running game is. Against Towson, Maryland rushed for 367 yards and six touchdowns—and running backs averaged 10.2 yards-per-carry. Look for backs Ty Johnson, Lorenzo Harrison III, and Jake Funk to continue to excel—as well as wide receiver D.J. Moore to capitalize on Hill's success as QB.
Cal Ripken Jr. will not be commentator during baseball playoffs. 
After some, ahem, lackluster reception, Turner Sports confirmed that Cal Ripken Jr. will not be returning to TBS' Major League Baseball playoff broadcasts. Ripken started working with TBS in 2007 as a studio analyst, transition to game broadcasts in 2012, where he's worked every post-season since. 
Despite his tenure, Ripken never seemed quite comfortable in the role. The Sun's TV critic David Zurawick wrote, "Ripken was sometimes silent for stretches of time, even after Ernie Johnson, TBS' smooth play-by-play announcer, tried to tee it up for his analysis. Compared to MASN's Jim Palmer, who is 15 years older, Ripken seemed somewhere between somnolent and comatose in this playoff series during the first two games." For his part, Ripken acknowledged the learning curve, saying to Awful Announcing in 2016: "I get five or six, I think, of the Sunday games on TBS. So you kind of get back into the position. And over time there is an accumulation of your comfort level, but I could benefit by doing more reps where you could feel like it becomes second nature to you."
Though it's not his strongest suit, we will miss the familiar voice of Carl, I mean, Cal during the MLB playoffs.
We love Ravens Ronnie Stanley. And we love Lola.
Ravens linebacker Ronnie Stanley has made it no secret that he's an animal lover. But there's something about this recent Petco commercial that is particularly adorable.