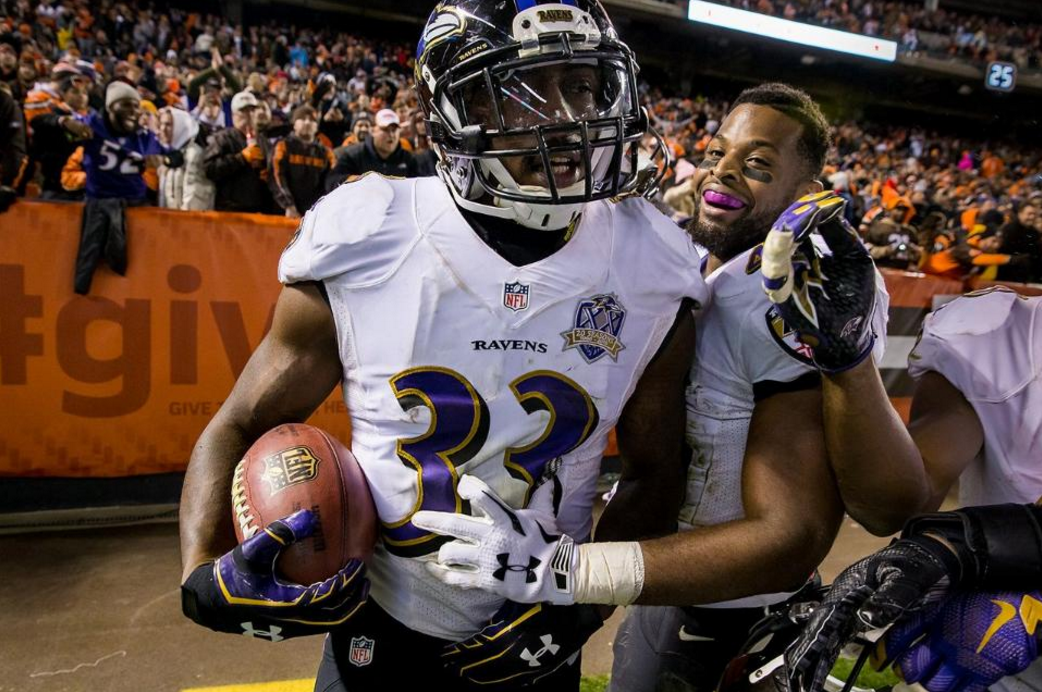 Courtesy of the Baltimore Ravens
The Orioles traded for Mark Trumbo (lol), so where's Chris Davis going? It sure as hell won't be Baltimore.

— Adam Bernstorf (@IDoNotGiveAdam) December 2, 2015
Well the #Orioles told us everything we needed to know with the trade to get Mark Trumbo that we are not gonna re sign Chris Davis

— Matthew Jenkins (@DutchMatt187) December 2, 2015
I don't want Mark Trumbo I want Chris Davis

— Kyle Reinaldo (@KyGuy01) December 2, 2015
The Orioles insist they're still in the hunt for Davis. (And reliever Darren O'Day, to whom they've made a competitive offer). I guess it's always good to have a backup plan.
3. Terps hire new head football coach.
The Terps have got their man. After firing Randy Edsall on October 11, the 3-9 team had been in the hunt for a new head football coach. Lots of high-profile names came up: Tony Dungy, Mack Brown, former MD quarterback Frank Reich. But in the end, it was Michigan defensive coordinator, 37-year-old D.J. Durkin, who landed the job. While not exactly a household name, Coach Durkin has a few things going for him. Michigan's defense was one of the best in the nation. Plus, he was a graduate assistant under Urban Meyer and a coordinator under Jim Harbaugh. If you can't get the best, get a guy who learned from the best? Reports indicate that interim coach Mike Locksley is unlikely to return to the team.
4. Navy football racks up the awards.
Navy cruised to a 7-1 conference record (9-2 overall) it's first year in the American Athletic Conference and it now has the hardware to show for it. Senior quarterback Keenan Reynolds was named AAC offensive player of the year—and is on the shortlist for the Heisman Award—and Coach Ken Niumatalolo was co-named coach of the year. We're sure the rest of the league hates them already.
5. Dundalk Owls make first trip to State Championship.
Let's focus on the positive, shall we? With junior quarterback Darrius Sample leading the way, the Owls had an unlikely and incredible season—and made it to the Class 3A football final for the first time. Alas, all good things must come to an end, as they were overmatched last night at M&T Bank Stadium by an experienced Damascus team, losing 55 to 14. But, while we're seeing the glass half full, let it be known that Damascus stud running back Jake Funk, who scored seven touch downs last night (no, that isn't a typo) is on his way to College Park next year to play for the Terps. D.J. Durkin must be licking his chops.