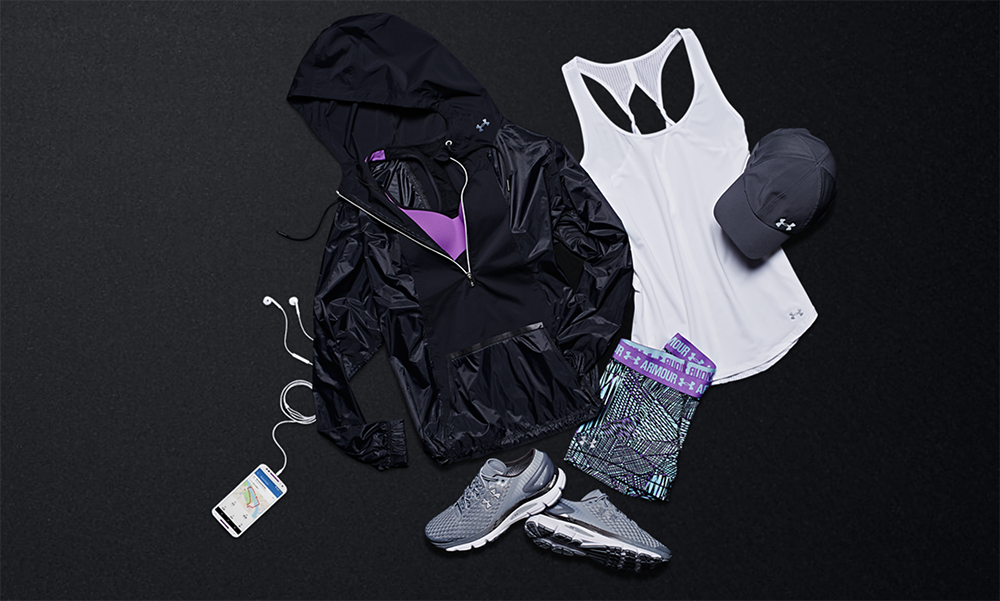 Under Armour
Under Armour launches new subscription service.
Local athletic apparel behemoth Under Armour is adding a subscription service where consumers receive a box of products and keep only what they want. A la companies like Stitch Fix and Birch Box, consumers can opt into the service every 30, 60, or 90 days. To receive an ArmourBox, users complete a personal profile that asks about fitness goals, workout settings, exercise preferences, style aesthetic, and sizing. An Under Armour stylist then hand picks 4-6 pieces of gear that the user has a week to try on and decide what they want to keep before they get charged.
"ArmourBox provides yet another level of customization and convenience," UA said on its website. "For example, subscribers who say they run a certain number of miles each week are sent gear that we know from our Connected Fitness customers and our e-commerce data is frequently purchased and positively reviewed by other people who run those distances."
Baltimore Running Festival takes off this weekend.
Speaking of running a certain number of miles, the 17th annual Baltimore Running Festival takes place this Saturday. There will be some changes to the marathon this year, including a new finish line at the Inner Harbor along Pratt Street instead of Camden Yards. In addition, the aforementioned Under Armour is no longer a title sponsor, but is still providing t-shirts for all the participants. And this will the first year that Catherine Pugh, who first conceived of a marathon in Baltimore nearly 20 years ago, will be mayor during the event.
"Seeing the streets of Baltimore filled with runners is something I look forward to each October," Mayor Pugh said at a press conference. "When we started out, we knew we wanted a marathon, a team marathon, half-marathon, and we wanted a 5K because we wanted families to come to Baltimore."
Of course, be aware of all the road closures and delays that will take place Saturday morning for the full marathon, half marathon, and 5K.
Ravens have a little bit of hope going into Sunday.
We'll be the first ones to admit that the start to the Ravens season has left us feeling underwhelmed. But going into Sunday's game against the Minnesota Vikings, consider these positive signs of hope:
The team has looked better on the road. London aside and, okay, by a very small margin, the Ravens have performed better away (2-1) than at home (1-2). 
Brandon Williams is practicing again. The Ravens defensive tackle's foot injury has prevented him from playing in the last four games. And while a lot of other factors come into play, it's certainly no coincidence that our defense is suffering. (The team allowed 170 rushing yards in the first two games with him and 678 in four games without.) But he practiced on Wednesday and will most likely play on Sunday. However, understandably so, Williams doesn't want all the pressure. "I'm just a guy," he told The Sun. "I'm just a guy who is working to get back on the field. That's all I'm doing."
This could be a redemption game for Mike Wallace. Going against his former team the Minnesota Vikings could prove to be good motivation for the wide receiver. While in Minnesota, Wallace had career lows (39 receptions and 473 yards) and didn't have a single catch longer than 34 yards. "It was humbling just because I've never been in a situation like that where I didn't get the ball or wasn't put in position to make those explosive plays," he told the Twin Cities Pioneer Press. Let's hope he makes some explosive plays this Sunday!
Carmelo Anthony came out swinging in season debut.
Baltimore native Carmelo Anthony made a good first impression with the Oklahoma City Thunder by scoring a 3-pointer to begin the game against his former team, the New York Knicks. He went on to have a strong second quarter, scoring 22 on 8-of-20 shooting in a 105-84 win over the Knicks. "Yeah, that chapter's closed," he told ESPN. "No more Knicks talk. We can just focus on the Thunder and moving forward and what we have to do as a team and organization." Seems like he's pretty comfortable in his new squad.