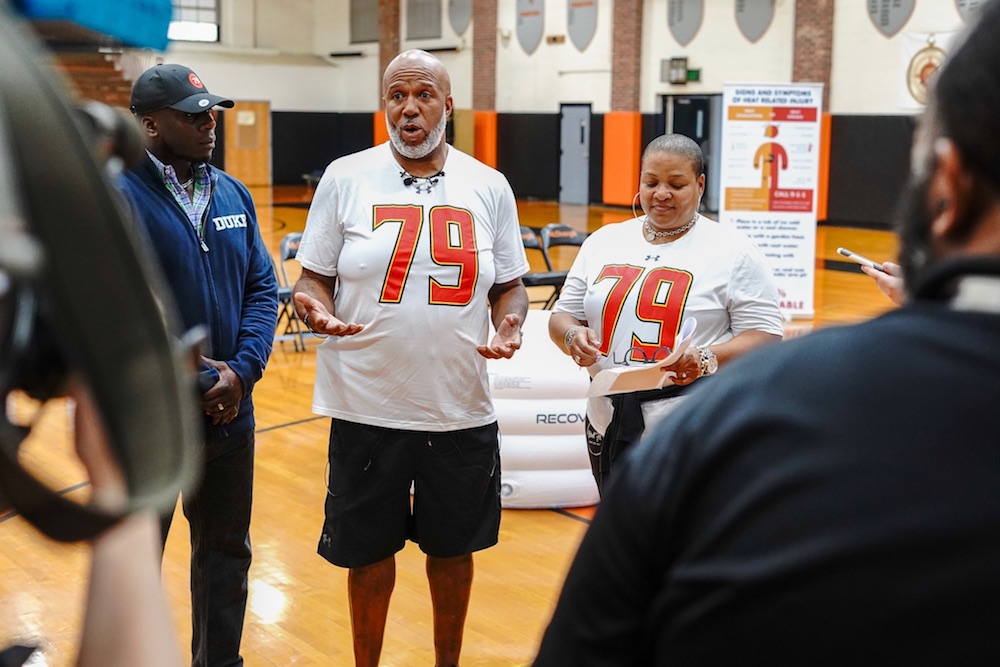 Jordan McNair's parents Marty McNair and Tonya Wilson will host a sports clinic at McDonogh School this weekend. —Courtesy of the Jordan McNair Foundation
Marty McNair long believed his life's mission was to help recovering drug addicts and ex-convicts like himself successfully transition back into society, just as he did after being incarcerated for nearly three years in his early 20s. It was, until his only child died from complications of heat stroke.
Jordan McNair's death on June 13, 2018—a little more than two weeks after the University of Maryland football player collapsed following a conditioning drill on the team's first day of summer workouts—impacted many people, though none more than his parents.
Within days of their son's death, Marty McNair and Tonya Wilson established the Jordan McNair Foundation, dedicated to educating young athletes, as well as their parents and coaches, on how to avoid heat stroke—the most preventable of exercise-induced, potentially fatal conditions.
Nearly two years to the day since McNair's parents hosted their first safety and wellness clinic at the McDonogh School to honor their son's memory, they will once again welcome another group of students, parents, and coaches to the place where Jordan McNair grew into one of the country's most coveted offensive line prospects.
"We wanted to turn a somber day into a day that we could make a difference and at least take the focus off of that early [grief]," Marty McNair said, recalling the 2019 event in a recent interview. "The first [clinic] we put together in two weeks. There were a lot of coaches and parents that really didn't know [about heat strokes]. We were so very new at it, but our hearts were really in the right place to do the right thing. Last year we had a lot more time to think about what we wanted to do."
Though the foundation was limited in what it could accomplish during the global pandemic, Marty McNair is hopeful that this year's event—scheduled for Saturday, June 5 at McDonogh—will have an even larger impact than the first. It comes only a few weeks after Maryland Governor Larry Hogan signed the Jordan McNair Safe and Fair Play Act into law.
"We wanted to turn a somber day into a day that we could make a difference," Marty McNair said, recalling the foundation's first clinic in 2019. "We were so very new at it, but our hearts were in the right place to do the right thing."
Part of a nationwide movement to allow college athletes to profit financially from their name, image, and likeness, Maryland is the first of the 16 states involved to include a mandate that will educate athletes, parents, and coaches about health and safety.
"For us, obviously, to have Jordan's name attached to a bill that can save lives is significant because that's our mission with the foundation—the health and wellness of student athletes," Marty McNair says. "I was blown away. I am glad that Maryland had the fortitude to listen to us."
Maryland state delegate Brooke Lierman, who represents Baltimore City, became the champion of the foundation's cause. Two years after seeing a bill she wrote to get college athletes collective bargaining rights unable to reach Hogan's desk, Lierman said that including Jordan McNair's name helped get it pushed through the legislature.
"I had grown increasingly frustrated with the NCAA's attitude toward college student athletes over the years," says Lierman, a former rower at Dartmouth. "My frustrations run the gamut…culminating with the totally needless death of Jordan McNair."
Introduced to Marty McNair by a mutual friend, Lierman said she tried to take a different tack.
"After talking with the National College Players Association and other experts in the field, I realized that, at this point, a more feasible and results-oriented path forward was going to be granting the name, image, and likeness results and creating a mandate alongside of that for increased health, safety, and academic standards," Lierman says. "It takes a holistic approach."
A few years ago, Marty McNair was as clueless about the dangers of heat stroke as those he is now trying to educate.
"I'd taken Jordan to camps and clinics across the nation, you name it," he says. "There was never anything for the parent of a student athlete to do but to watch their child participate. In all the years that Jordan played sports, I never saw a piece of safety equipment. I never knew what to look for. I never knew what a defibrillator machine looked like. I didn't know what an epipen looked like. I certainly didn't know what a cold water tub looked like."
In some ways, he is still taking his son with him to those camps and clinics as he spreads the main focus of the foundation.
"In all the years that Jordan played sports, I never saw a piece of safety equipment," Marty McNair says. "I never knew what to look for."
With the help of a newly formed medical advisory board—headed by Rod Walters, a former athletic trainer at the University of South Carolina who was hired by the University of Maryland to lead an independent investigation in the aftermath of Jordan McNair's death—Marty McNair believes the work begins with educating coaches.
"We want to teach them that they have to be proactively prepared," McNair says. "When they go to a parent in an attempt to recruit their child, before you can ask them questions in regard to safety training, they're [answering] them in terms of what they're trained in already."
It's part of the overarching theme McNair tried to convey in a book he wrote and self-published last summer entitled, Can My Child Play? The Questions We Should Have Asked. The book grew out of a cathartic journal McNair began to write as part of his own therapy, as his then 19-year-old son lay in a Baltimore hospital barely clinging to life.
"As a parent, you just ask [coaches] 'Can they play?' and 'Why aren't they playing?'" he says. "You don't ask that laundry list of safety questions that really make a difference in between those two questions."
The relationship between Walters and Marty McNair started after the former college trainer sent McNair a note asking for a copy of the book. After Jordan McNair's parents received a $3.5 million settlement from the state in January, Walters and McNair began to communicate about putting together the medical advisory board.
Aside from Walters, the seven-person board includes Dr. Yvette Rooks, who currently heads up the University of Maryland's sports medicine department, as well as Dr. Craig Bennett, who held the same position from 2003 until two months before McNair's death. He is now in a similar role at Loyola University Maryland.
"One of the other people on the committee is Dr. Barry Boden," Walters says. "He's done some research and talks about when the sickle cell trait was identified in the lawsuit after a kid died at Rice, and how they changed the NCAA legislation. [He talks about] how effective we've been, through education and testing, at almost minimizing sickling events causing deaths in college athletics."
Unfortunately, the steps the NCAA has taken with legislation limiting practice time and rule changes—geared mostly toward cutting down on serious head and knee injuries—has not impacted the number of players succumbing to heat stroke.
Since Jordan McNair died, six other athletes have died from heat stroke, beginning with a junior college football player in Kansas who passed away after his team's first workout in early August of 2019, according to the National Center for Catastrophic Sports Injury Research.
In the 20 years since Minnesota Vikings offensive tackle Korey Stringer died from heat stroke during the team's training camp, 50 high school and college athletes have passed away from a condition that can be rectified by a cold water immersion bath within 30 minutes of recognizing the first signs. No NFL players have died of heat stroke since Stringer's death.
"We've taken away two-a-days, we've changed the way they practice, we've done all these things, but we continue to have exertional heat stroke, especially in high profile programs," Walters says. "That's got to change. We've got to change the way we're treating these things. But more importantly, we've got to change the way we're conditioning athletes. Our goal is to continue to get that word out there."
Since Jordan McNair died, six other athletes have died from heat stroke, according to the National Center for Catastrophic Sports Injury Research.
Walters has been impressed with how Marty McNair is getting the message out through the foundation.
"I'm not sure I could do that [as a parent]," Walters says. "To do what he's doing, to bury the hatchet, is commendable. He's running the foundation, but he wants somebody to drive the bus from a medical point, and that's what he's asked me to do. It's been a very good relationship."
Marty McNair, 52, has prepared for much of his adult life for his current role. After being released from a Maryland jail, McNair became the co-owner of a Baltimore mental health and drug education center to help those transitioning as he did. He says he has been sober for the past 27 years, a process that began while he was still incarcerated.
"I was the same person that came through my facility every day," he says. "Luckily, I turned the corner on a positive note at an early age. Through my advocacy and public speaking, I was always trying to set a good example for Jordan. I had no idea I was really preparing for this journey right here."
In some ways, Marty McNair is mirroring what Dr. Lonise Bias, the mother of former Maryland basketball star Len Bias, began as her life's mission after her son died from a cocaine overdose two days after being selected No. 2 overall by the Boston Celtics in the 1986 NBA Draft.
"I would never wish this on any parent," McNair says. "You do question a higher power: 'Why my child?' That's just normal. When you can get beyond the questioning factor of it, I think Jordan's mission might have been just that.
"I'm not glad that it was him, but I'm glad it was me because I jumped right in. I didn't think about it, I didn't hesitate. I jumped right in to make noise about this type of injury. It takes a strong person to jump in and say, 'I'm going to look right at it and do something about it.'"
Meet the Author: Don Markus covered sports for the Baltimore Sun for 35 years, including nearly two decades focusing on University of Maryland athletics..