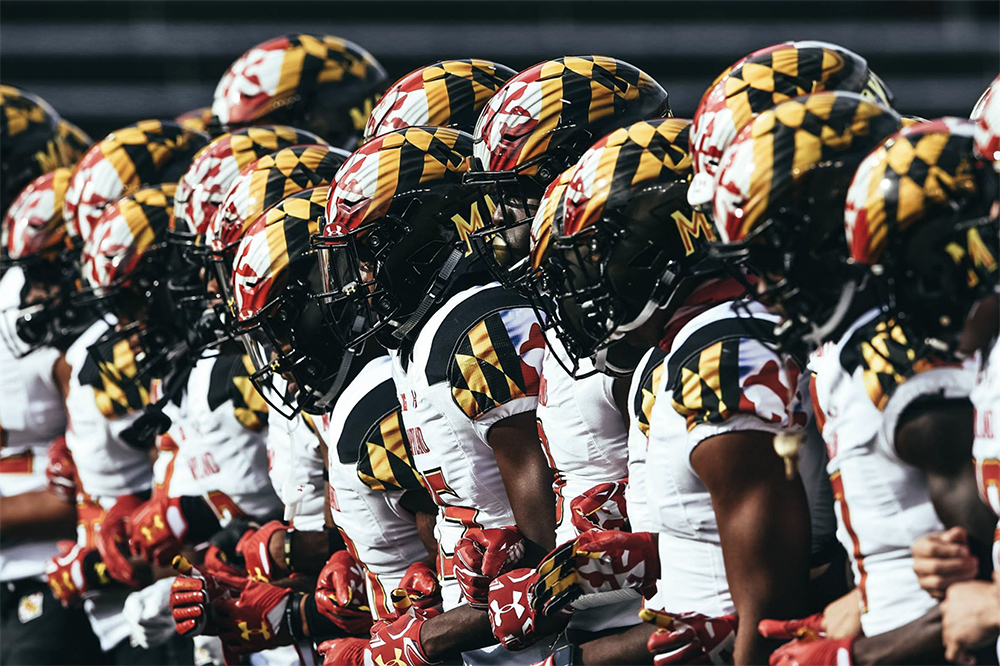 Maryland Football
Two months after Maryland football player Jordan McNair died and only a few days after more details emerged about the circumstances, University of Maryland president Wallace Loh took to a podium in College Park on Tuesday and said the school accepted "legal and moral responsibility" for McNair's death.
The 19-year-old redshirt freshman from Randallstown, who also played at McDonogh, passed away June 13 at the university's shock trauma center in Baltimore, two weeks after suffering heatstroke during a football team workout, according to his family.
Questions have swirled since—mainly how and why?
And an ESPN report Friday, citing former staffers and current and former players, pointed to a "toxic culture" at Maryland under third-year coach D.J. Durkin—and particularly mental and physical abuse by strength and conditioning coach Rick Court. Court resigned on Monday.
Meanwhile, Durkin has been put on leave along with members of the Terps' training staff pending the results of an external investigation due to be completed by mid-September.
The full picture of what exactly happened during and after the May 29 workout is now only known to those who were there on the partly cloudy 80-degree late afternoon. But Loh was confident enough to share straightforwardly on Tuesday that trainers "basically misdiagnosed the situation," in which the 6-foot-4, 325-pound McNair became exhausted during a series of 110-yard conditioning sprints.
No vital signs were taken, nor was McNair treated with cold water immersion, a standard best practice in heat illness treatment, Maryland athletic director Damon Evans said during his remarks following Loh's.
After the outdoor workout, McNair had been first transported to the team's practice facility. An hour later, after 911 was called, he was then airlifted to Maryland Shock Trauma, where the lawyers representing the family say he was admitted with a 106-degree fever. McNair later received a liver transplant in an effort to save his life.
He is survived by his parents, Marty McNair and Tonya Wilson, who last month launched a foundation in their son's name, aimed at educating the athletic community about heat-related illness.
"Our plans did not include his death. Our plans included something more. Our plans included him," Marty McNair wrote in a letter posted on the foundation's website, which describes Jordan, who also played basketball as a kid, as "a quiet spirit, whose size never went unnoticed in any room, but whose spirit took up the entire room."
Loh and Evans traveled to Baltimore on Tuesday to share culpability in his death.
"The university owes you an apology," Loh said, and he told the media Tuesday, "The university accepts legal and moral responsibility for the mistakes that our training staff made on that fateful workout day."
As for the circumstances, anyone who's played in or watched an organized football practice knows grueling workouts and stern coaches can be a regular occurrence. The ESPN report, however, described a culture of excess intimidation where belittling and embarrassment has been common, including one player having had a meal slapped out of his hands and demeaning verbal abuse, for instance.
One unnamed current player said after the team opened preseason training camp on August 3, the attitude of the coaching staff in practice had returned as if "nothing's really changed" after McNair's death. "Have these guys learned their lesson?"
"You can motivate people, push them to the limit, without engaging in bullying behavior," Loh said.
Asked how much responsibility falls on Durkin, who had described Court as "his most important hire" upon taking over the Maryland program in 2016, Evans said, "We have to take a look at that." And he cited the external review being done by Rod Walters, a university-hired, longtime athletic trainer.
Let's not forget this is a state public university, one which joined the Big Ten conference in 2014 in an effort to boost its revenue and profile, with football as the central vehicle.
Durkin is a disciple of Michigan coach Jim Harbaugh (Ravens coach John's brother). He was a splashy hire, made following the departure of Randy Edsall, who former players have similarly criticized for leading a poor culture.
Edsall was the coach who offered McNair a scholarship out of McDonogh, and athletic trainer Wes Robinson and director of athletic training Steve Nordwall, reportedly the trainers placed on leave, worked under Edsall during his tenure in College Park. Court arrived with Durkin.
Court reportedly will receive $315,000 as part of his dismissal, and a large settlement figures to be headed to the McNair family, whose lawyers had previously planned to pursue either a state or federal lawsuit.
"You entrusted Jordan to our care and he is never returning home again," Loh said he told McNair's parents. "I'm committed to doing the right thing, but nothing that we do can bring closure to their enormous loss."
"While Marty and Tonya will never get another day with Jordan," said Hassan Murphy, a managing partner at the law firm of Murphy, Falcon & Murphy, which represented the family of Freddie Gray after his death in police custody. "Dr. Loh's words were meaningful to them and give them some comfort that he will put the university on the path to change the culture of the program so that no Terrapin family will have to endure the heartache and grief that they feel."